Pros
Simple yet Elegant Design
Excellent Power Delivery
Punchy Performance at 40-60Km/h
Loaded Features with Real-World Appeal
One Hell of a Practical Scooter
Cons
No LED Lights!
Slight Delay in Initial Pickup
Engine Struggles Past 60Km/h
Lack of Practical Information in Analog Console
Only Minor Imperfection
Yamaha has always been pioneers in Fuel Injection technology.
The company introduced the FI Engine in its motorcycle lineup, long before it was mainstream. Being a trailblazer is always difficult, breaking barriers and setting new trends for others to follow.
Yamaha Nepal is going to be pioneers yet again, setting a new trend for the Nepali scooter segment.
MAW Enterprises Pvt. Ltd., the authorized distributors of Yamaha scooters in Nepal, announced the launch of Yamaha Fascino 125 FI.
Yamaha Fascino 125 FI isn't just another generic scooter. It is special in many ways, bringing a fresh new design, new features, and many more.
But its defining characteristic lies within its FI Engine, helping it become the first-ever 125cc BS6-compliant FI scooter in Nepal.
Unsurprisingly, this is the second Yamaha scooter with a FI engine. Yamaha NMax 155 was the first scooter with an FI engine in Nepal. It was Yamaha's flagship scooter, offering some of the segment-first features neatly packed in the R15 v3 engine.
However, NMax featured a BS4-compliant engine.
In that regard, Yamaha Fascino 125 FI went on to become the first BS6 compliant scooter in Nepal.
Yamaha didn't just copy-paste the old design with the new BS6 engine. Instead, they went back to their drawing boards, coming up with a fresh take on a neo-retro scooter.
Yamaha Fascino 125 price in Nepal is Rs. 2,49,900. While it is an affordable FI scooter for its segment, the price is pretty steep for a scooter in general. So, today we found out more about Yamaha Fascino 125 FI, and whether it is worth the price it claims to be.
With that said, this is our Review of the new Yamaha Fascino 125 FI.
Yamaha Fascino 125 FI Specifications
Engine Type: Single-Cylinder, 2-valve, BS-VI complaint Fuel Injection
Displacement: 125 cc
Cooling System: Air-Cooled
Starting Mechanism: Electric Starter & Kick Starter
Max Power: 8.2 PS @ 6500 rpm
Max Torque: 9.7 Nm @ 5000 rpm
Top Speed: 80 Kmph
Fuel Tank Capacity: 5.2 liters
Mileage: 58 kmpl
Front Tyre: 90/90-12 – Disc
Rear Tyre: 110/90-10 – Drum
Tubeless Tyres: Yes
Braking System: Unified Braking System (UBS)
Suspension Setup: Telescopic Front Forks and Rear Swing Arm
Seat Height: 780 mm
Ground Clearance: 145 mm
Under Seat Storage Capacity: 21 liters
Colors: Red, Dark Matt Blue, Black, Copper, Yellow, Matte Blue, and Cyan Blue
Yamaha Fascino 125 Price in Nepal (FI): Rs. 2,49,900
Yamaha Fascino 125 FI Review
Neo-retro Design with Classic European Styling
"Neo-Retro" is defined as the modern machine donning a style of a by-gone era.
While Yamaha Fascino 110 did a marvelous job trying to build on that definition, it did feel as though Yamaha held back due to budget constraints. However, Yamaha went all-out in the new Yamaha Fascino 125!
Yamaha Fascino continues to be the scooter for those who love the retro feel.
It features a "Classic European" styling with its bright colors and curvy design. It is something we have already seen in Vespa scooters.
There is considerable love for retro design, bright colors, and a voluptuous body. Perhaps, that is one of the reasons behind Vespa's immense popularity in Nepal.
While the pricing of Yamaha Fascino and Vespa scooters don't match up with one another, both brands cater to the riders who love European design.
Body Design
Yamaha Fascino 125 features an uninterrupted curvy design along with a dash of chrome, which looks stunning!
On the front, you can see the concave-lens headlight along with these chrome accents.
Talking about the chrome accents, the mirrors also get the chrome treatment, making them feel more premium. However, these only offer decent rear visibility. Additionally, Fascino features a halogen DRL, for the first-time, right-on top of the front indicators.
The faux-carbon fiber finishing, right along with the dashboard, matches well with the retro-themed analog instrument cluster.
Talking about the instrument cluster, the information on the offer is okay-ish. Although, I would have preferred "trip meter" just to add to that practicality.
Anyways, the styled patterns on the footboard are also nice.
Talking about the foot space, I'd say it is decent, no complaints here. Though, I should point out that TVS NTorq offers a much larger leg space in comparison.
Anyways, we move to the V-shaped tail light. Yamaha has integrated the side indicator along with the tail lamp.
So, the rear section is the most defining aspect of this scooter. It gives Fascino a fresh look, helping it set apart from the competition. And, Yamaha is going all-in on that retro vibe.
On that note, it does not have any LED lights anywhere. Instead, it comes with a traditional halogen bulb, trying to stay true to that "retro vibe".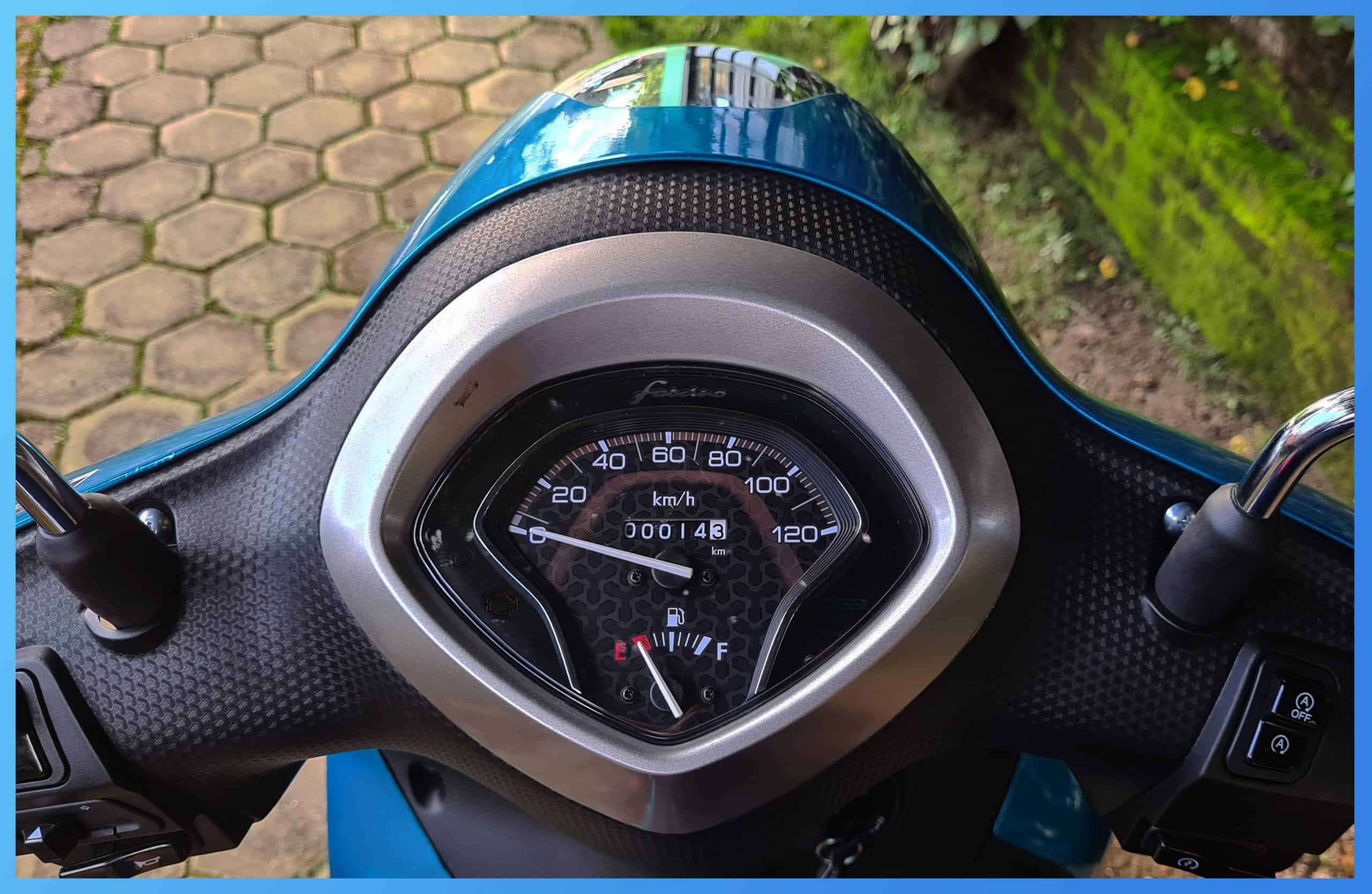 Taking a survey, the reception to the overall design might be polarizing for some… not all but some. However, we love it!
Initially, I was worried if the longer tail section would make it more prone to accidental scratches. But I am happy to report that it won't be a big issue. Rather, the rear section does attract attention, looking pretty unique, sharp, and truly beautiful!
Just talking about the styling, Yamaha has brought their A-game. It shouldn't come off as a big surprise since Yamaha always tries to put extra care on style.
Was Yamaha successful with the design? I'd leave that up to you.
Besides that, almost everything else like the build quality, the style, the responsiveness of the switches, among others feels solid!
Yamaha Fascino 125 FI Design Highlights
Classic European Design
Retro-Themed Styling
Concave Lens Headlamp
Front Metal Fender
Curvy Body with Prominent Rear Section
Bright Colors
Yamaha Fascino 125 vs Yamaha Fascino 110: Design Differences
Yamaha Fascino always looked great with its curvy body and beautiful rear end.
So, if you compare the new Fascino with the old one, you can see a more fleshed out design. You don't see the grille structure on the front, the chrome accents have been pushed on the side which is longer.
Also, you get extra DRLs that weren't there before along with a more prominent headlamp and taillamp. Perhaps, the design is inspired by lady beauty, like a modern classic.
The design does have a sense of originality and premium feel, which was lacking in the 110cc predecessor.
Talking about the colors, Yamaha Fascino 125 is available in five different colors, Black, Cyan Blue, Red, Yellow, and Blue.
Peppy 125cc Fuel Injected Engine
Yamaha Fascino 125 is powered by a new air-cooled, Fuel Injected, 125cc Blue Core engine.
Yes, it is the first BSVI compliant scooter in Nepal.
The new 125cc FI engine can generate a max power of 8.2PS at 6500rpm and max torque of 9.7Nm at 5000rpm. On paper, it should give a 30% increase in power output along with 16% more mileage.
BSVI engines are supposed to be more environmentally friendly and more fuel-efficient with linear power delivery. We've already covered extensively the Yamaha FI engine in our previous video.
Both Yamaha Bikes and Yamaha Scooters share similar components like the side-stand engine cut-off. That remains true for Fascino 125 as well.
Besides more power, the new engine brings in new technologies for the segment. There are three new technologies you should know about.
1. Yamaha Smart Motor Generator (SMG)
Yamaha calls it a "one-touch-start" tech. It means the riders can simply start the engine with a single touch to a start button.
In hindsight, the engine is now smoother, quieter, and more refined. It works flawlessly in any situation.
2. Yamaha Stop & Start System
It is similar to Hero's i3S technology.
I'd like to call it a Smart Engine-Kill switch, which can be turned on or off through this "A" switch. It should be noted that Yamaha opted for this instead of a standard Engine-Kill switch.
So, how does it work?
Whenever you get to a stop, the engine would automatically cut off after a specific interval of time. When you are ready to go, you simply pull on the throttle and get the engine going.
Yes, it's that simple!
During testing, the engine shut off time varied from 5 secs to 10 secs depending on the situation. I got so used to it that I genuinely think this technology could replace engine kill-switch in the future.
There is a slight learning curve, but you will get the hang of it.
3. Yamaha Side Stand Engine Cut Off
It is a pretty common feature in a two-wheeler with an FI engine.
We've already seen this feature in action in Suzuki Gixxer 250, Bajaj Dominar 400, and Yamaha NMax 155.
If you put the scooter on the side stand, the engine automatically turns off. Similarly, if you have the side stand on, you cannot start the engine.
Simple yet pretty handy safety feature.
Yamaha Fascino 125 FI Engine Highlights
Smart Motor Generator (SMG)
Side Stand Engine Cut Off
Stop & Start System
Moreover, these new technologies help to add a new level of complexity to the 125cc scooters segment.
Features
Yamaha Fascino 125 is supposed to be a classy scooter with a practical capability.
It comes with additional features and goodies, to ensure its practicality.
Braking Performance
Fascino 125 features a traditional front-disc and rear-drum combo.
Yamaha has also added a Unified Braking System (UBS) on top of the standard braking configuration, another safety feature.
What's a Unified Braking System (UBS)?
If you press on either a front or rear brake, the UBS distributes the force equally on the front and back. Thanks to this, you become more confident and more capable with the scooter.
We normally expect scooters to have crappy brakes. However, this one is different… kind of.
The overall braking performance does lack initial bite, especially on the rear drum brake. But UBS does improve the overall braking performance.
It isn't as good as a braking performance in a motorcycle, but it is good enough for a scooter. You feel in control!
Suspension
Yamaha Fascino gets a front telescopic fork and rear Unit swing. Both do excellent jobs of keeping the scooter stable at high speeds. It does come at a cost.
You get a stiff suspension feel, making it uncomfortable to ride on potholes and speed breakers. In contrast, the rear passenger might get a softer suspension feel thanks to the rear Unit Swing.
The suspension is perfect for city or highway riding. However, it is not suitable for bumpy roads.
You, as a rider, will try to avoid off-roading as much as possible.
Storage Space
Yamaha Fascino features a massive 21-liter under-seat storage. The storage space is pretty satisfactory, with enough space for most of your stuff.
We weren't able to store a Full Face Helmet, despite our countless attempts. However, it does fit a smaller sized helmet pretty well. Additionally, this specific variant does not have a USB charger. However, you can get it as an add-on.
There aren't any storage cabbies anywhere else. Instead, it comes with a front hook for extra storage.
ALSO READ: Yamaha Scooters Price in Nepal: Features and Specs
Fuel Tank
Talking about the fuel tank, you get a 5.2-liter fuel capacity which should give you anywhere from 45-50kmpl mileage.
The fuel filler is situated under the seat. Hence, you have to open the seat every time you want to fill up the tank, which is disappointing.
Wider Tyres
On top of those features, Fascino also comes with a whole lot of more practical features.
As an example, Yamaha Fascino includes 110mm wider rear tyres for a more balanced ride. It's a 90/90 12-inch at the front and 110/90 10-inch at the rear.
The grip is good enough, performs well on muddy roads with ease.
Wider Seat
Yamaha Fascino gets a wider seat. While it isn't perfect, it is spacious enough with a good riding position for a comfortable ride.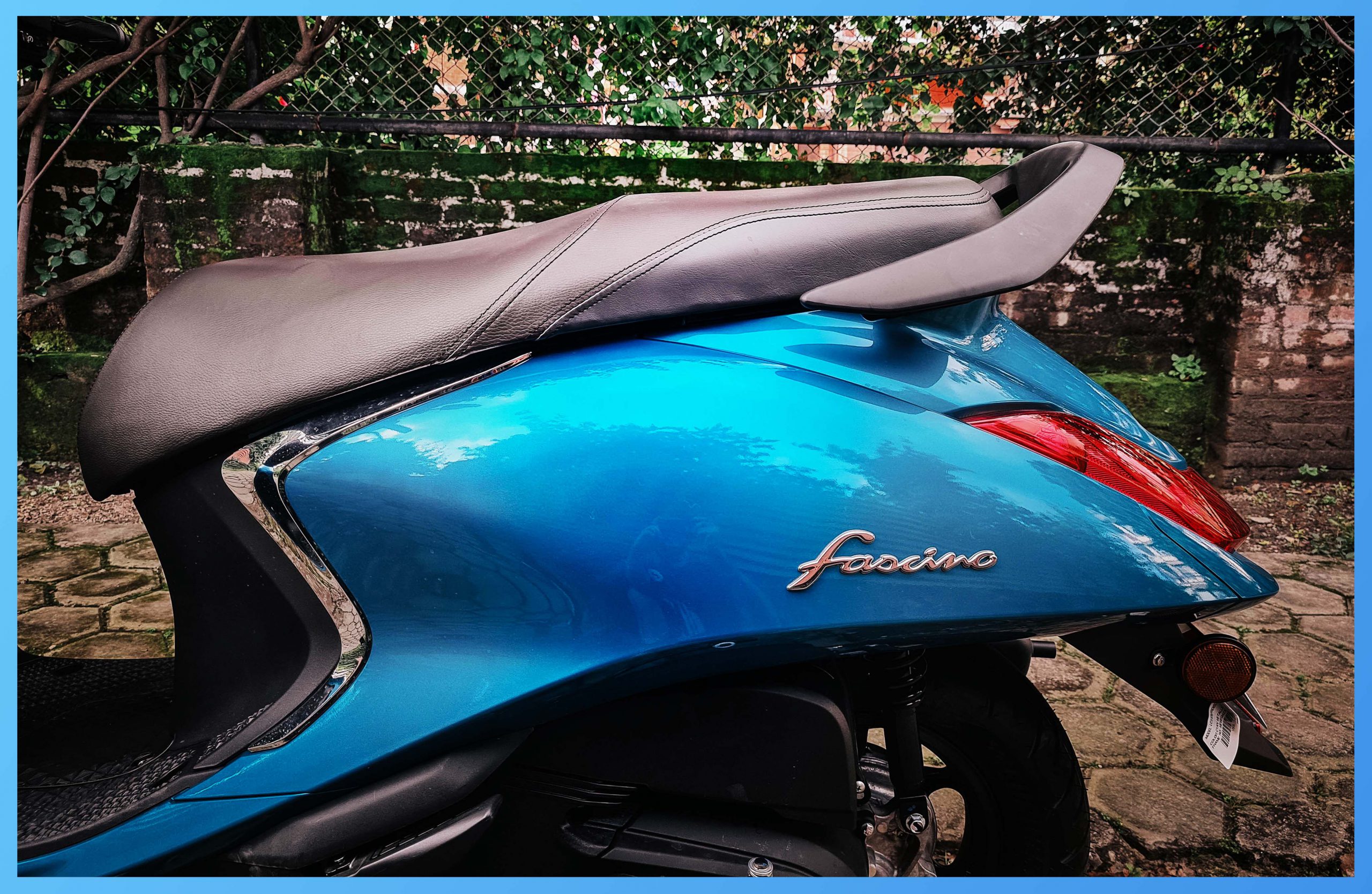 Although, I do wish the seat was softer.
Other Practical Features
Likewise, it includes a multi-function key which allows you to control things, like handle lock or under-seat storage, from this single spot.
I also liked the easy-to-grip grab bar and easy leg reach, which helps a lot from a practical standpoint.
These features are meant to serve best on your commute.
Yamaha Fascino 125 Feature Highlights
Stiffer Front Telescopic Suspension and Rear Unit Swing Arm
Unified Braking System (UBS)
21L Large Under-Seat Storage
5.2-liter Under-Seat Fuel Tank
Wider 110mm Front Tyres
Wider & Comfortable Seats
Multi-function Key Switch
Larger Grab Rails
Easy-Leg Reach
My Experience
I am excited to share my experience with you.
While I was very pessimistic about the new Yamaha scooter, I have to say, Yamaha Fascino surpassed every expectation I had.
Unique Power Delivery
It's unique.
I felt a slight delay in the initial pickup delivery.
It's like if you pull on the throttle, you start to feel the pickup after a millisecond delay. But when you get that pickup, you can easily get the scooter from 0-40Kmph in about 3-4 seconds.
Once you do overcome that delay, you feel the scooter becomes more responsive to acceleration.
From the 40Kmph range, Fascino 125 makes up for the lack of low-end feel.
I think the 40-60Kmph speed range is the bread and butter of the Fascino. This is where you feel the 8.2PS of max power and 9.7Nm of max torque.
During our real-world tests, we kept riding it at 40-50 Kmph speed.
At average city speeds, the engine was relatively silent and felt super refined!
Engine Performance
While it is possible to push the scooter past 60 Kmph, the 125cc engine holds it back.
You'll be greeted with minor vibrations, and you do hear the engine struggle.
Yamaha claims the top-speed to be 90Kmph, which does align well with our test. We pushed the scooter to about 85Kmph speed.
Again, the top-speed might not seem all that impressive. However, it is pretty good for a 125cc scooter.
You need to feel this refined FI engine. On top of that, the engine is so silent and without any vibrations. The case remains true even if you take the scooter on high hills.
We tested this out at the sharp incline point near Jhanda Park, with a rear passenger. We were pleasantly surprised at how the scooter easily carried us to our location without even breaking a sweat.
Most importantly, you should be impressed, because Yamaha Fascino brings much more to the table than just a refined engine.
Practical Performer
High Ground Clearance and Lightweight Body.
These two factors add to the practical nature of the scooter. These little things do help Fascino stand out.
Fascino comes with a 145mm higher ground clearance. For reference, both TVS NTorq and Vespa LX 125 come with a 155mm clearance.
That 10mm difference is negligible in real-world performance. Yamaha Fascino could easily clear most potholes and broken roads without breaking a sweat. It is one of the factors we love about this scooter!
Likewise, Fascino weighs just 99 Kgs! For reference, Vespa and NTorq come about 115 Kg and 118 Kg respectively.
The amount of weight savings gets to the next level of confidence in handling. And, it can be a major selling factor for female riders. After our tests, we can reconfirm that the lightweight body isn't just a marketing gimmick.
The lightweight body makes it maneuverable on any road conditions, crowded traffic, or sharp corners.
Riding with a Pillion
This remains true even with the pillion on the back. I just love the way Yamaha balances out weight distribution on their scooters.
In Yamaha Fascino, the pillion passengers, along with their weights, are practically invisible. And, these don't affect the handling in any way.
You don't have to get overwhelmed by pillion passengers anymore.
Whether you are riding it single or with a second rider, the overall handling, and ride experience continue to remain confidence-inspiring. This remains true even if you put anything heavy on the front footboard.
Battle with Competition
Okay, I kept comparing this with the likes of Vespa scooters and TVS NTorq.
Both are very popular in the 125cc segment.
Can Yamaha Fascino hold its own among the competition?
Yamaha Fascino 125 vs Vespa LX 125
If you look at the most affordable Vespa, aka Vespa LX 125, it offers similar design aesthetics, curvy design, and bright colors.
Now, Fascino does that too.
On a spec sheet comparison with Yamaha Fascino, Vespa LX 125 can generate about 1.72 PS more power than Fascino.
While Vespa initially wins in terms of power output, it loses in engine refinement.
If you have ever driven a Vespa before, you should be familiar with the level of vibrations generated by that engine. Surely, you can blame Vespa's BS4 engines. But the value-for-money proposition does not feel great.
Will you be willing to pay more for less?
Yamaha Fascino 125 vs TVS NTorq 125
TVS NTorq is a perfect scooter in almost every aspect. It comes with better performance, better features, and at a reasonable price.
However, more doesn't come in the "Classic European" design. Rather, NTorq features a more race-themed design.
It might attract our attention. But it doesn't attract riders who love a retro scooter. That's the same riders who love Vespa despite its imperfections.
Taking those things under consideration, Yamaha Fascino lies perfectly between the Vespa LX 125 and TVS NTorq 125.
In the end, you do end up with a stylish curvy scooter with modern FI technology, which comes with enough punch and practical features to justify its price.
Minor Imperfections
Is it perfect?
No. Nobody is perfect, which is true for Fascino as well.
Firstly, the all-around halogen lights.
Yamaha Fascino 125 is supposed to be the new 2020 upgrade. While the halogen bulbs go well with the retro vibe, still an LED headlamp would be a nice addition. The headlamp performs well enough at night, but it could have been better.
Secondly, the analog instrument cluster.
I am completely on board with the analog cluster that adds to the retro vibe. However, I wish it could provide a bit more information. Yamaha could have added a 'Trip Meter' here.
Conclusion
I am trying to find fault in an otherwise perfect scooter.
Yamaha Fascino 125 goes well beyond what it was trying to offer; a simple stylish scooter with practical offerings. Despite its minor flaws, Yamaha Fascino proves its worth among the competition.
It sits carefully between its rivals like the TVS NTorq 125 and Vespa LX 125, offering excellent next-gen engine refinements.
While the Fascino might not come at the top in power figures, it does hold strong with its next-level refinements in the FI engine.
On the exterior, it might seem like an uninteresting or simple scooter. In reality, it offers so many hidden nuances that help it stand out among the crowd.
Yamaha Fascino 125 FI provides a clear glimpse into the BS6 future, where it is an excellent stepping stone into that future.
The only question I am left with is if Yamaha Ray ZR 125 FI can do more than what Yamaha Fascino has already done.