On September 3rd, Minister for Information and Communications (MoIC) Mohan Bahadur Basnet cut overhead cables illegally strung on utility poles in Maitighar. This was done as a symbolic gesture as a part of the project to manage overhead cables in the Valley.
The government has for a long while been talking about clearing the wire poles in the valley. Wires are strung all over the poles often dangerously throughout the valley. And without proper management and regular checks, the number of wires have just been increasing.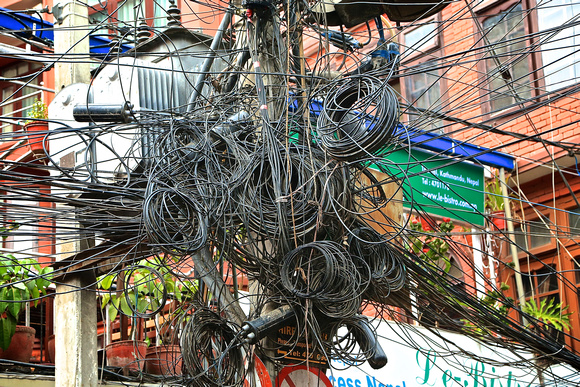 Now, the MoIC, Department of Roads, Kathmandu Valley Development Authority, Nepal Telecommunications Authority, Nepal Electricity Authority, Nepal Telecom, and the Internet and cable television distributors are working together to remove the cables.
In accordance with this project, all untagged and unidentified cables in the Valley will be cut.
Nepal Electricity Authority and Nepal Telecom had been asked to terminate their contract with internet service providers and cable television distributors if their cables were not managed.
Telecom service providers have also been told to lay cables underground.