Yesterday, Qualcomm released their latest System on Chip; Qualcomm Snapdragon 845. The SoC was unveiled at the Snapdragon Summit held in Hawaii.
More details about the chip were released today. The new chip will feature new improvements. The improvements include a powerful modem, new processing technology with a graphics processor and much more.
According to Qualcomm, it will focus more on AI, VR, wireless technology, security and better battery. Before it arrives in flagship smartphone next year, this is the list of things you must know about Snapdragon 845. So, let's dive right in!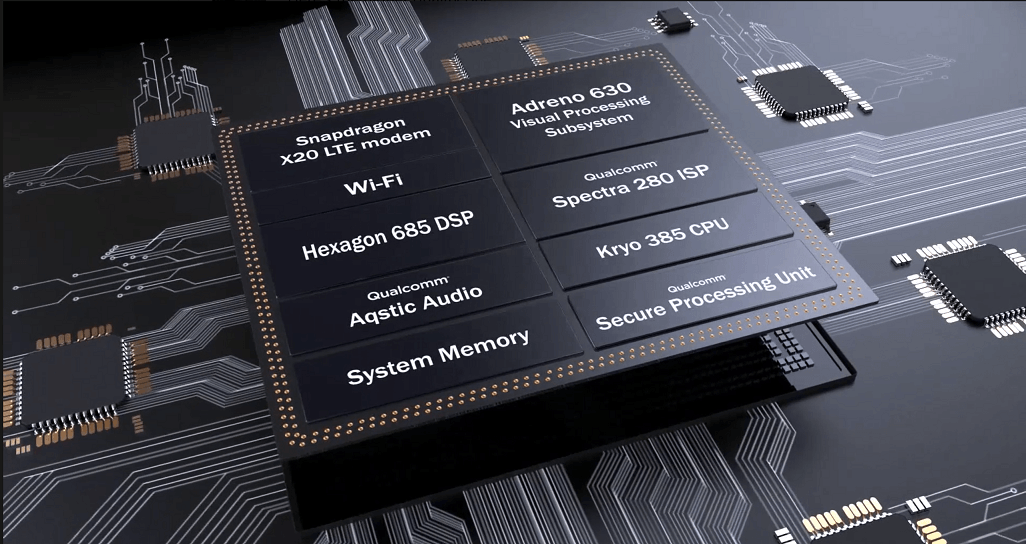 Qualcomm Snapdragon 845 Highlights
---
#5.

Better Wireless Connections

Snapdragon 845 will feature all-new X20 LTE modem. The modem will introduce first ever "5G" technology.  This will drastically improve cellular connections; with peak download speed at 1.2Gbps with upload speed at 150Mbps.
#4.

Powerful Processors
Snapdragon 845 will feature set of powerful processors upgrades. 8 x Kryo 385 will boost CPU clock speed up to 2.8GHz. It will also bring Qualcomm's own Adreno graphics processor. Adreno 630, successor to Adreno 540, which is virtual reality capable. Qualcomm has been improving their computation power with 800 series. And the 845 is set to compete against Apple's A11 Bionic Chip.
#3.

Enhanced Multimedia Experience
Qualcomm has significantly improved media experience. The processor will support up to the 16MP dual camera and up to the 32MP single camera. Also, the display is Ultra HD Premium-ready. This supports 4K (2x 2400×2400) Ultra HD display at 60fps. Another list of features is enhanced video and audio playback.
#2.

Improved Battery Performance
The battery is an important focus for Qualcomm. The company has redesigned their Snapdragon mobile platform, to deliver high-performance. The new architecture reduces power consumption across 4K video capture and VR gameplay. Snapdragon will support Quick Charge 4, which boosts devices to 50% in 15 minutes.
#1.

Security
Security in 2018 is a major concern. Considering this, Qualcomm has personalized mobile security. New hardware, Secure Processing Unit, has been added for better protection. This will protect sensitive information by improving biometric security measures.
Qualcomm's Snapdragon 845 is definitely something to get excited about. Next flagship smartphones will include this chip. Until that moment, check out the key differences between Qualcomm Snapdragon 845 and Snapdragon 835.
Snapdragon 845 vs Snapdragon 835

| Specs | Snapdragon 845 | Snapdragon 835 |
| --- | --- | --- |
| Clock Speed | up to 2.8GHz | up to 2.45GHz |
| CPU core | 8x Kryo 385 | 8x Kryo 280 |
| Graphics | Adreno 630 | Adreno 540 |
| Modem | X20 LTE modem | X16 LTE modem |
| Speed | 1.2Gbps download & 150Mbps upload | 1Gbps download & 150Mbps upload |
| Image Sensor Processor | Spectra 280 | Spectra 180 |
| Video | up to 4K Ultra HD at 60fps | up to 4K Ultra HD at 30fps |