Notches had been a problem in the smartphone industry for quite some time. While some people don't mind it, most people don't like it. Also, it breaks the symmetrical appearance of a bar phone.
There have been several attempts to get rid of it. Oppo introduced the world to the teardrop notch that takes as little space as possible. Oppo also gave the world a sliding phone where the front camera hides beneath the display and comes up when you need to take a selfie. Now, we are going to see an even more ridiculous and daring approach to curing the notch; holes. That's right. Huawei will be unveiling the Nova 4, possibly the first phone to feature a display completely wrapped around the front camera. You can probably see how the phone will look like in real life.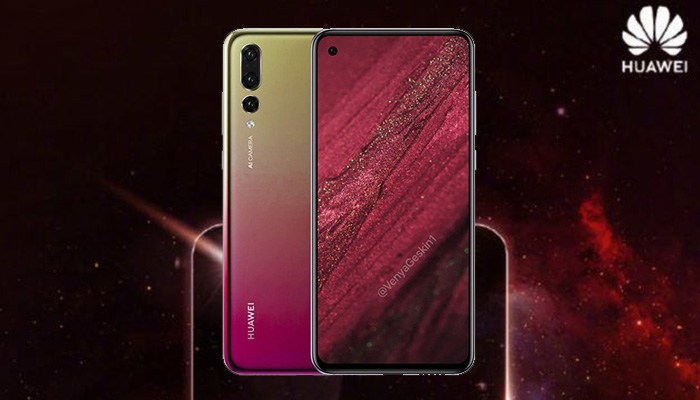 Huawei revealed a December 17 launch date for the device on its Weibo account. Also, there's an official teaser video for the Huawei Nova 4 showing off the almost bezel-less display with a cutout for the front camera. It's an otherwise almost completely bezel-less display, something which smartphone manufacturers are actively trying to achieve. They tried with the notch in 2018 and it appears that the hole in the display will be their weapon of choice in 2019. This phone would probably launch exclusively in China at first.
We don't know much about the phone except for the fact that it doesn't have a headphone jack. Also, there is a very thin chin at the bottom. As the Nova 3 packed within the same processor that the more expensive P20 pro packed inside it, we are expecting to see the Kirin 980 inside the Nova 4. Huawei Nova 4 also takes some visual cues from the Huawei P20 Pro, especially the rear mounted triple lens array. It's expected that the Huawei Nova 4 will sport a 6.4 inches LCD display with a screen resolution of 1440 x 2880 covered by Gorilla Glass 6. Also, it is expected to arrive with either 6GB or 8GB RAM.
Huawei isn't the only company making such a device. Samsung was the first one to tease the smartphone with a hole; the Galaxy A8s which will be launched on December 10. And Lenovo Z5s will also launch with a hole in the display. So, it seems like 2019 is going to be the year of the holes!
As you can see, not many details have been leaked until now. But we will keep you updated as we learn more about this phone with a hole on the screen.