Pros
Simple Styling with Chromed Accents
Refined Carburetor Engine
Excellent Fuel Economy
Confidence Inspiring Braking Performance
Lightweight and Super Practical
Cons
AC Lighting Setup
Bare Bone Instrument Meter
No CBS
Lack of 5-Speed Gearbox
This is a detailed review of the Honda CB Shine 125.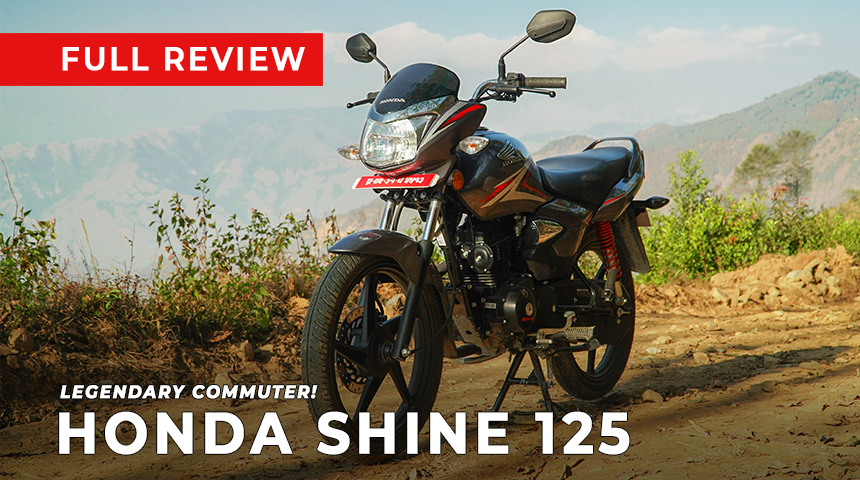 Since its introduction in 2006, the Honda Shine has been the face of the 125cc commuter segment. It is the benchmark for a practical commuter, offering reliability and trustability.
Despite the onslaught of much more advanced commuters, it is still amazing to see it retain its popularity after all these years.
Honda Nepal has refreshed the styling by a bit. It includes a few interesting graphical changes with chromed touches. However, the engine continues to remain a BS4-compliant carburetor.
We are going to test out the new Honda CB Shine 125 Disc variant for this review. During our review, we will try to unravel the mystery behind the popularity of the Honda CB Shine 125.
Is the legend behind the Honda Shine justified?
Today, we will find out!
This is the Honda Shine 125 Full Review.
Honda CB Shine 125 Specifications
Engine Type: Single-Cylinder, 4-Stroke, SI Engine (Carburetor)
Emission Standard: BS4
Displacement: 124.7 cc
Cooling System: Air Cooled
Starting Mechanism: Self Starter and Kick Start
Max Power: 10.57 PS @ 7500 rpm
Max Torque: 10.30 Nm @ 5500 rpm
Gearbox: 4-Speed
Top Speed: 93 Kmph
Fuel Tank Capacity: 10.5 liters
Mileage: 65 kmpl
Front Tyre: 80/100-18 – Drum (Disc Optional)
Rear Tyre: 80/100-18 – Drum
Tubeless Tyres: Yes
Braking System: Standard Braking
Suspension Setup: Telescopic Fork and Spring Loaded Hydraulic
Seat Height: 791 mm
Ground Clearance: 157 mm
Kerb Weight: 123 kg
Colors: Black, Brown, Grey, Blue, Red, Rebel Red, White
Honda Shine Price in Nepal: Rs. 2,53,900 – Rs. 2,63,900
Honda CB Shine 125 Overview
Iconic Design
The iconic Honda CB Shine styling remains the same.
Interestingly enough, Honda hasn't drifted far from its original styling. It has included sharper aesthetics. And, there are plenty of chrome elements than before.
The front headlamp integrates a Chromed element in the front visor. Along with that, it gets additional chrome treatments in its classic Honda Wing emblem, side panel, and muffler.
While it seems simple and basic at first, it ultimately does enhance its overall appeal.
These elements are enough to move away from the bare-bone commuter mindset. Instead, it does set the new Shine as a premium commuter offering.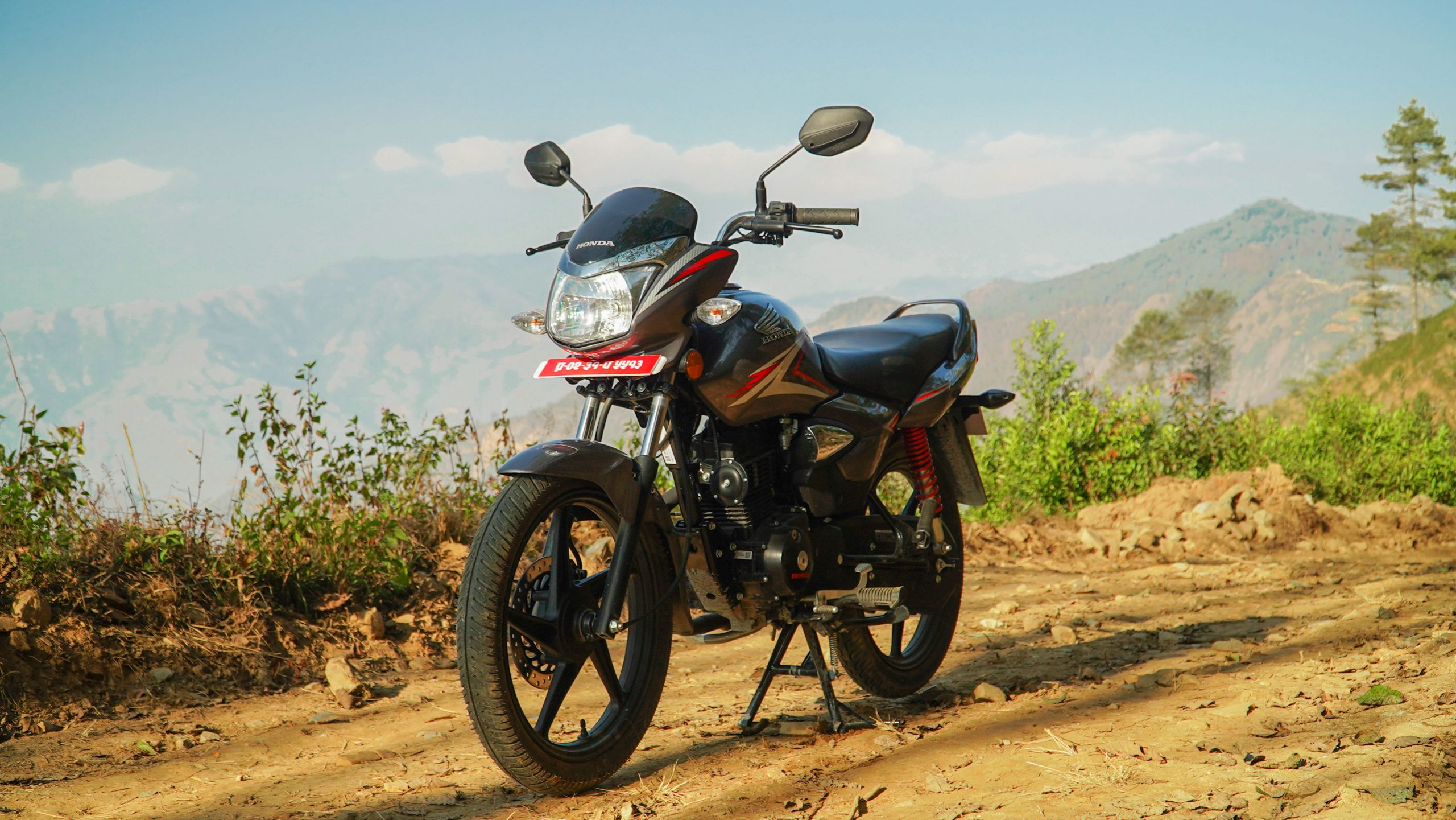 Considering the asking price, it should now be considered as such.
Both the front and rear headlamp sports a sharper undertone.
All lights are halogen, based on the AC System instead of the DC System.
In this system, the headlamp brightness directly depends on the engine rev. Higher engine revs result in higher brightness.
This is clearly done for cost-cutting. I don't like it, but, it does not hamper the nighttime visibility.
Honda Shine finishes everything up with its glossy paint and attractive graphics.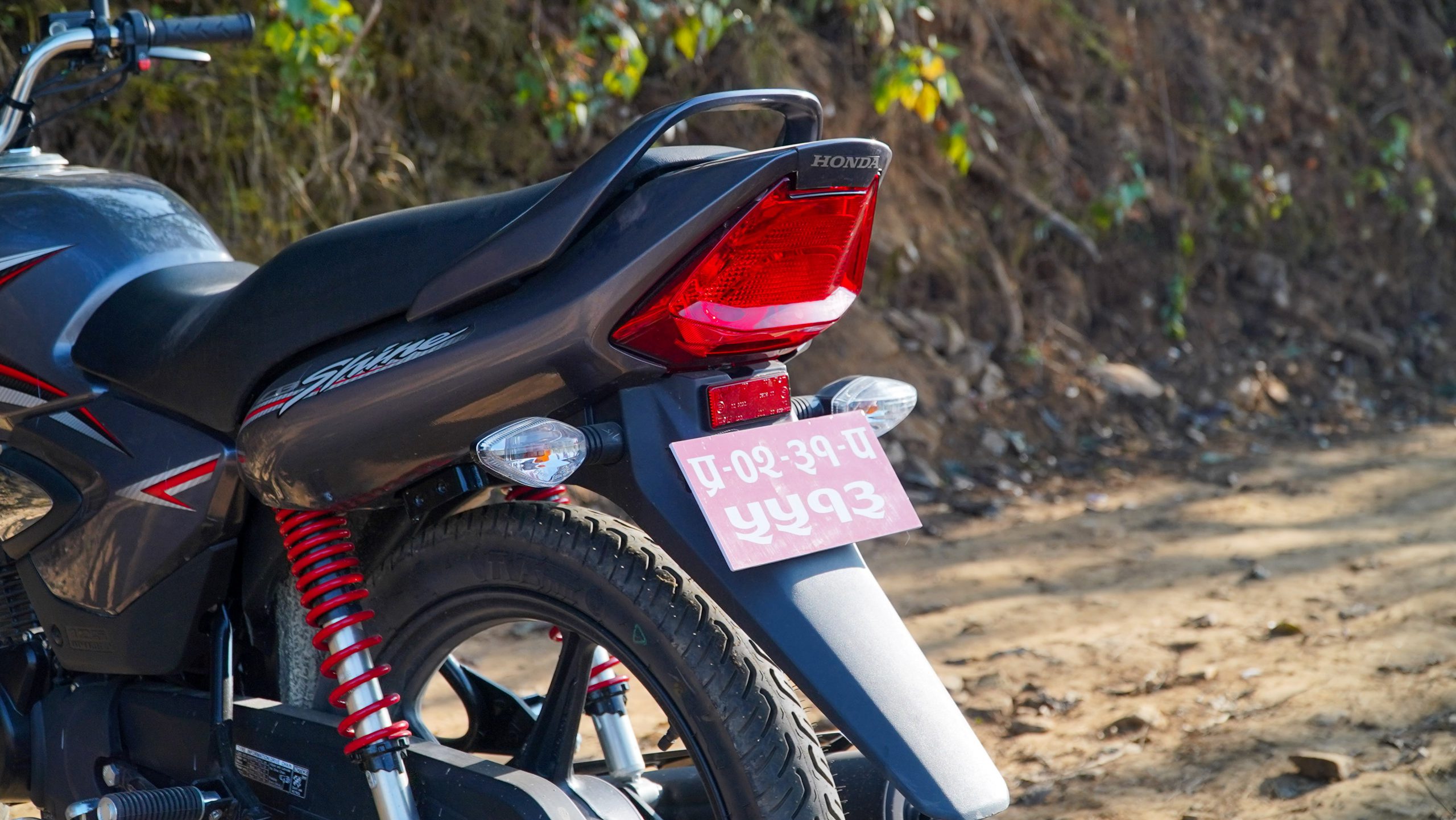 The Honda CB Shine is available in seven colors: Red, Dark Red, Brown, White, Black, Grey, and Blue.
Performance
Honda Shine 125 is powered by a 124.73cc, Single-Cylinder, 4-stroke, Air-cooled, SI engine. It can generate a max power of 10.57PS at 7500 rpm and a max torque of 10.30Nm at 5500 rpm.
Moreover, it is mated to a 4-speed gearbox with a 10.5-liter fuel capacity.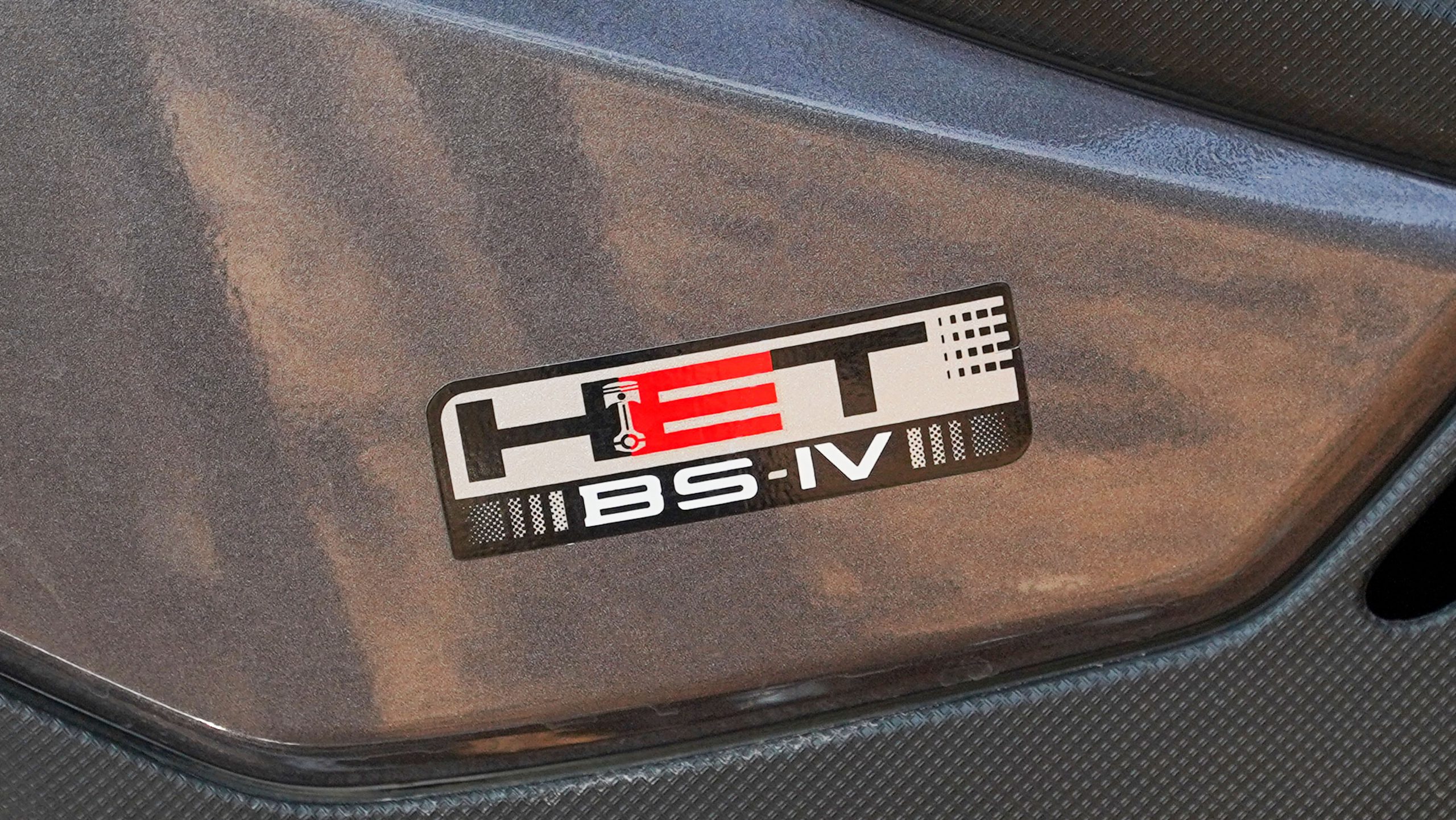 It is still a BS4-compliant Carburetor engine.
As you know, starting a carburetor engine is a challenge during cold winter mornings.
To solve that issue, Honda has included the nifty Choke switch right at the handlebar. Pull on it and the bike was able to start up early without any problem.
Additional Details
The dimensions are 2012 mm in length, 762 mm in width, and 1090 mm in height. Moreover, the wheelbase sits at 1266 mm.
Honda CB Shine has a 157 mm ground clearance. And, the kerb weight is 123kg.
Decent Features
Honda Shine isn't great on features. But that is expected for a commuter.
Nevertheless, Honda tries its best to include what is possible.
Braking Performance
Honda Shine sports a Disc-Drum braking configuration. Unfortunately, it does not even get CBS or ABS.
I can understand the exclusion of ABS, but CBS should have been included!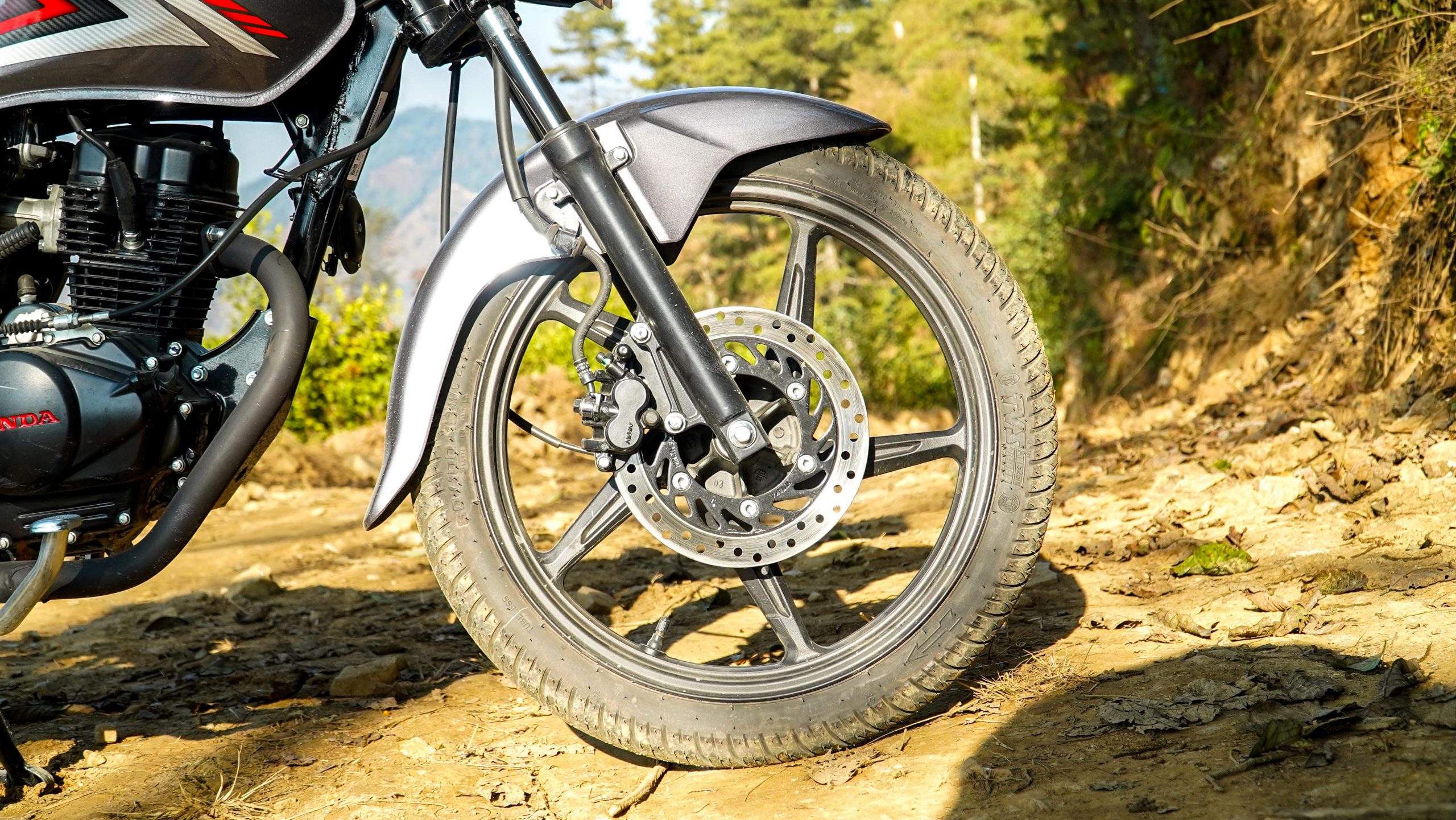 But I did find something surprising.
The front brakes are equipped with NISSIN brake calipers. These brake calipers are usually reserved for premium commuters.
It does help build up confidence.
The braking performance is good with the front brakes providing bite-heavy feedback. While I do think CBS should have been included, the Honda Shine excels despite it being missing.
Tyres
Honda Shine gets 18-inch tubeless tyres.
Both the front and rear tyres have similar sizes at 80/100-section. These are similar tyres. But, it provides a good on-road performance.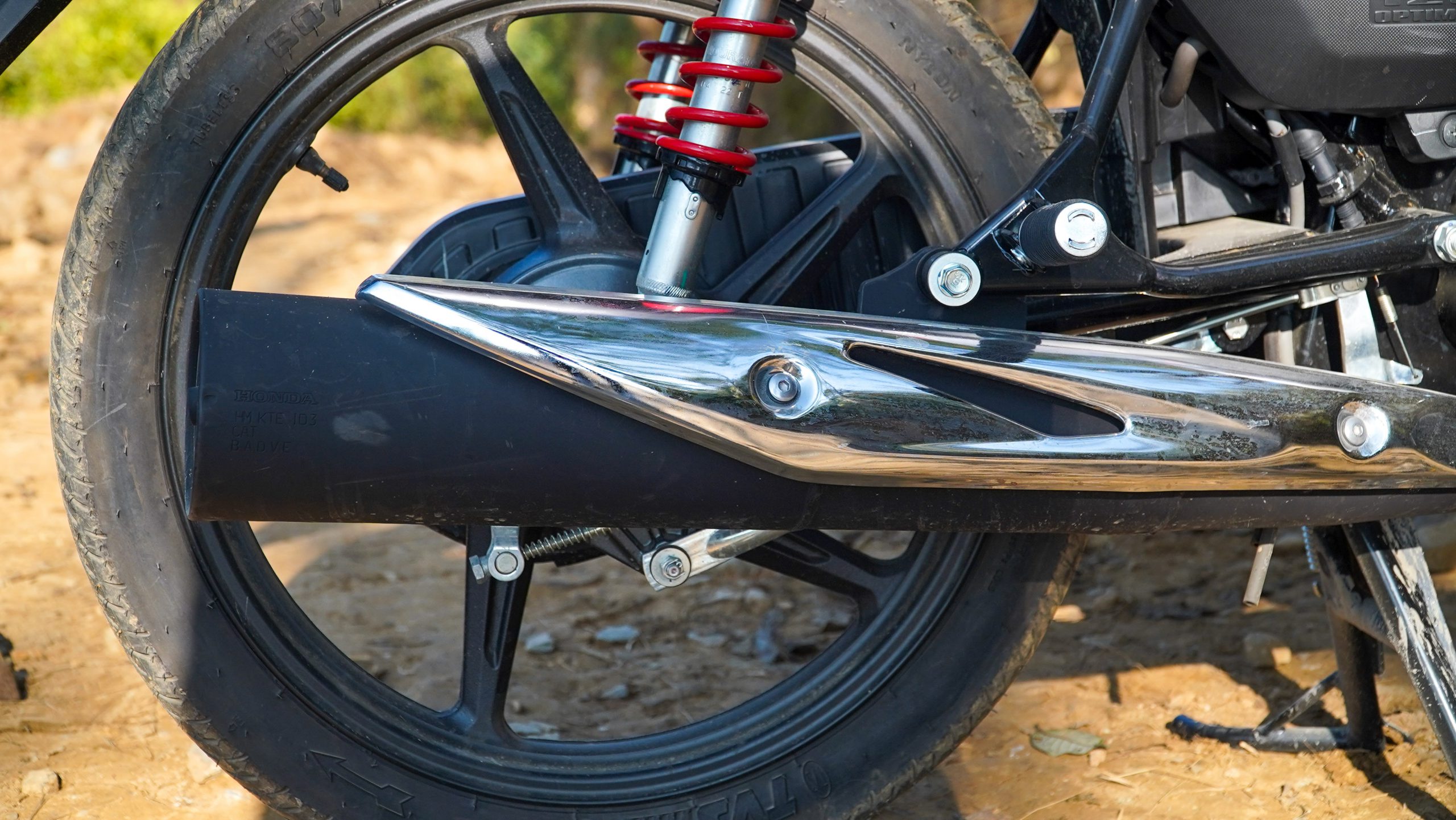 The tyres do a good job of tackling corners, tight traffic, and even highways.
Don't expect them to match the on-road performance of wider tyres. But, it does a good job all things considered.
Suspension
Honda Shine comes with a traditional suspension setup.
It gets the Telescopic Fork at the front and Twin Spring-loaded Hydraulic at the rear.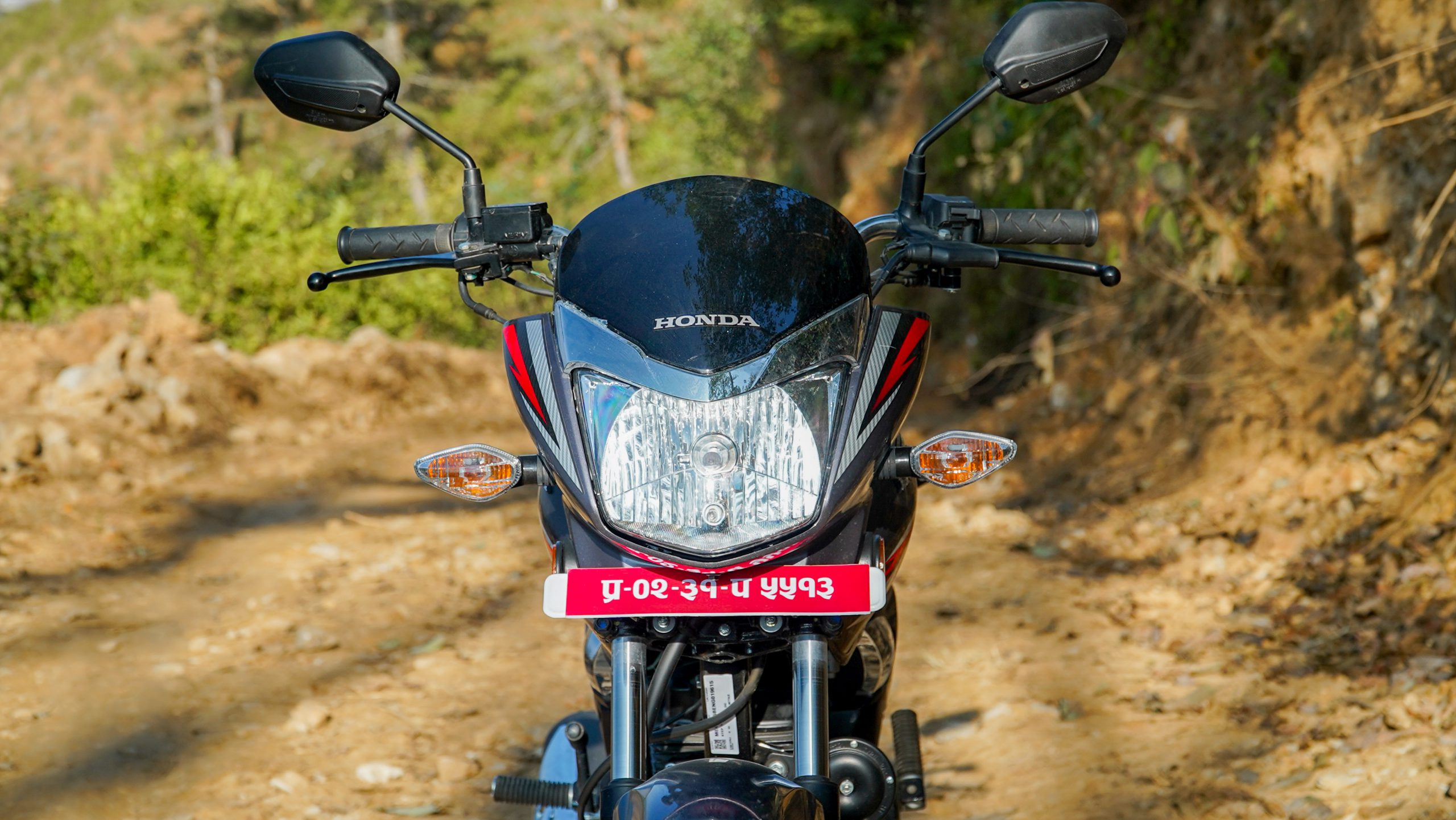 The suspension performs great in its factory settings. The setup is softer during slow rides, and stiffer during higher speeds.
It holds a fine line between hardness and softness.
If you think a different setup is preferable then the rear can be adjusted up to 5-Step.
Seat Comfort and Pillion
As a commuter, the riding position sits very upright.
Both the single-piece handlebar and the center-set footpegs work in combination, providing a super comfortable seating position.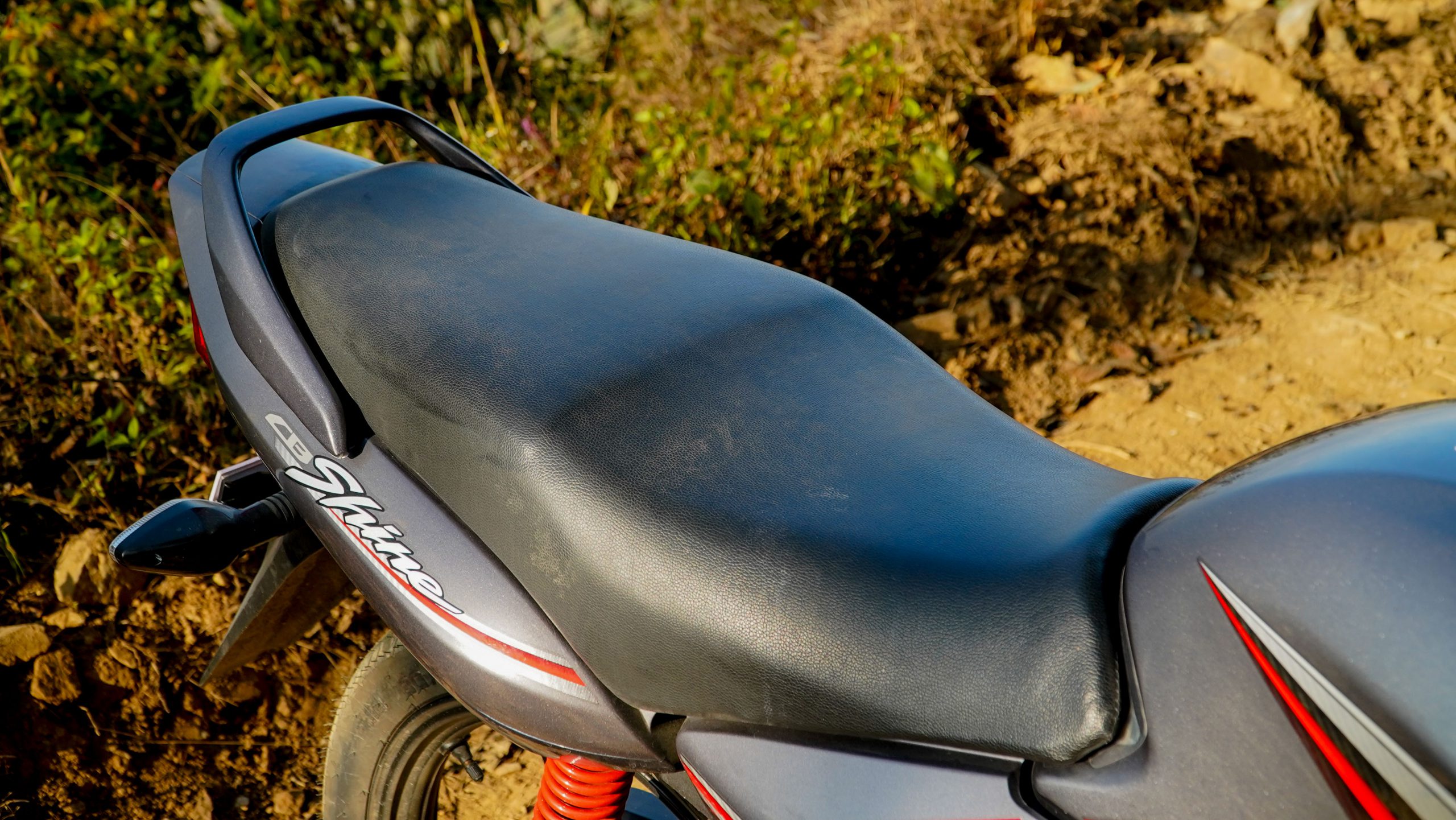 Furthermore, there is enough space for both pillion and the rider.
During long rides, I did have to change my seat position a few times. Other than that, the seats are super comfortable on long rides as well.
Fuel Tank Capacity and Mileage
Honda Shine comes with a 10.5 liters fuel tank capacity.
We tested it out with a fair bit of a mix of riding styles. During that, we managed to get around 55Kmph mileage. Considering that base point, the rider should get more than 577 Km on a Full Tank.
I strongly believe that the Honda Shine can achieve higher mileage if ridden properly.
Analog Meter
We finally come to its analog meter.
Compared to everything else in this motorcycle, the meter is very disappointing.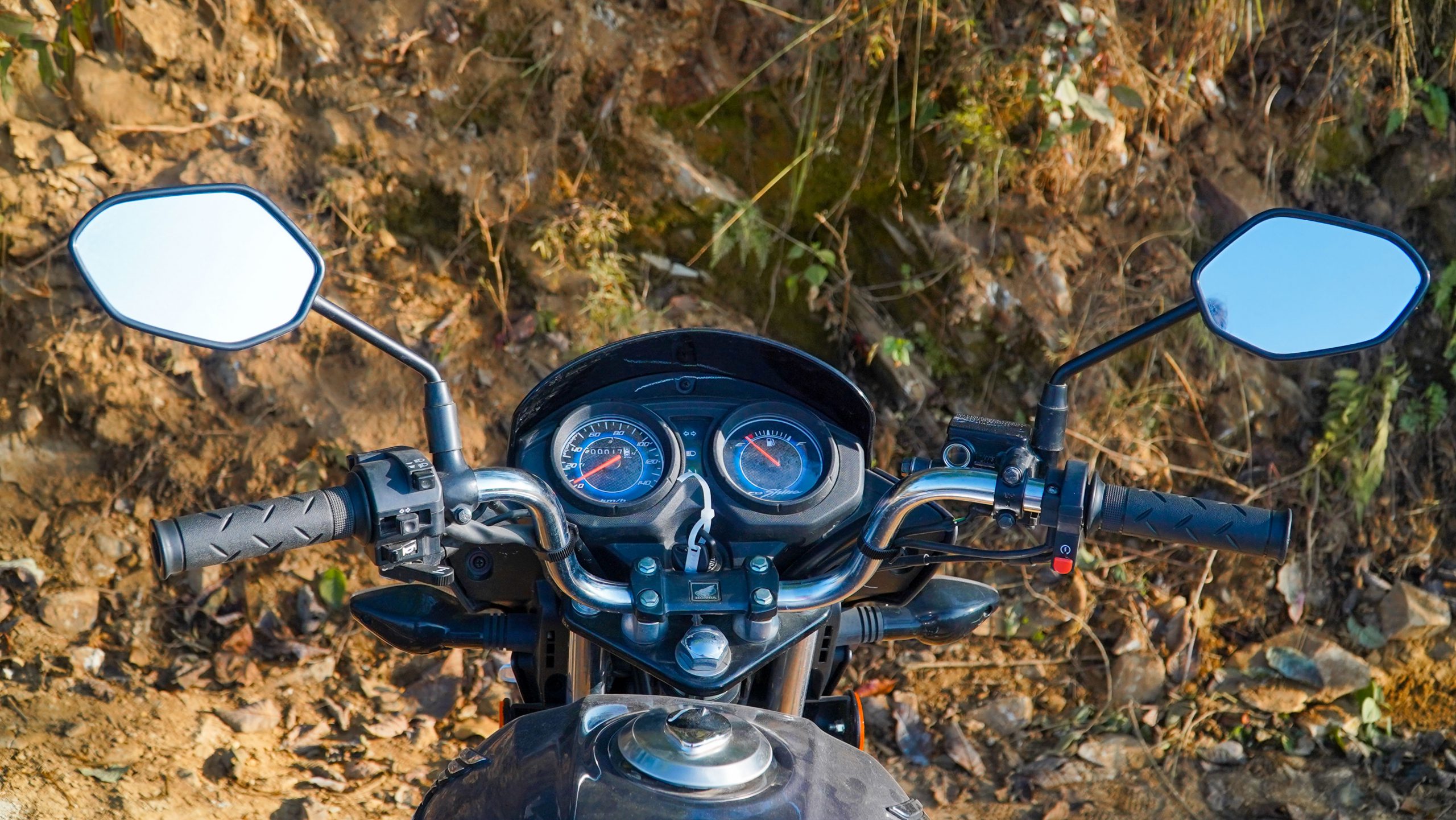 It does not provide any valuable information. It features bare-bone information like an odometer, speedometer, and fuel indicator.
Due to its lack of practical information, I rarely looked at the meter.
Honda should have provided at least a single Trip Meter to enhance its practical information.
Honda Shine Feature Highlights
125cc Honda HET Engine
Honda Eco Technology (HET)
Modern and Stylish Graphics
Automatic Headlamp On (AHO)
Outstanding Tail Light
Trendy Front Visor
Tubeless Tyres
Premium Chromed Touches
5-Step Adjustable Suspension
Front Disc (Optional)
My Experience with the Honda CB Shine 125
Real-World Performance
Honda Shine is an excellent commuter.
The low-end and mid-range performances are smooth, practical, and praiseworthy. The vibrations are well-maintained, but not completely absent.
The vibrations are apparent when the rider pushes the engine hard. At that point, the vibrations are felt on the handlebar and footpegs.
Despite that, the engine refinements in on another level.
While cruising at 30-50Kmph speed, you come to admire the tuning.
Interestingly enough, the lightweight body further assists in its real-world practicality. It gives riders noticeable adaptiveness and responsiveness.
It excels on city roads and tight traffic. Moreover, off-road performance is also doable.
However, it does struggles on highways.
Nevertheless, it is understandable, considering this is just a 125cc engine. The gear shifts are smooth, providing a linear acceleration.
It does hinder the overtaking experience by a bit.
Nonetheless, overtakes are possible only after applying caution.
Shortcomings
There is one thing Honda has to improve on the Shine 125.
4-speed Gearbox.
It is the only downside here. Especially considering that the other bikes in this segment and price point already have a 5-speed gearbox.
The first two gears are short.
During my time with the Honda Shine, I spent the majority of my time in Third and Fourth Gear since the higher gears provide a balanced output of torque and power.
An additional Fifth gear would drastically improve its rideability.
I know Honda agrees with this statement as the company has included a 5-Speed Gearbox in its BS6 iteration.
Battle with Competition
Honda Shine rivals Hero Super Splendor, TVS Raider, and Bajaj Pulsar 125.
The competition has a strong hand against the Japanese commuter. Moreover, the Honda falls short both in terms of offering and features.
In retrospect, the TVS boasts many segment-leading features. Whereas, the Bajaj brings the iconic Pulsar design to the 125cc segment.
Surprisingly, the Hero Super Splendor with BS6-complaint Fuel Injection engine.
None of the rivals can match the legacy of the Honda Shine. Nearing in at almost two decades, the Honda Shine is synonymous with reliability and trust.
Conclusion
Honda CB Shine is intriguing. While it does miss out on modern features, it provides almost everything needed for a good commuter.
It needs to improve on two things: a 5-Speed Gearbox and a Practical Meter.
If you are unable to wait until Honda Nepal brings in the BS6 iteration, there is a good alternative.
Go for the Honda Shine SP.
Adding a few extra bucks will get you extra. Honda Shine SP gets the Extra Gear, a Digital-Analog Meter, and Sportier styling.
If you just want a basic commuter, the Honda Shine 125 will do. Else if you are looking for something more, then Honda Shine SP is the way to go.