Harley Davidson motorcycles need no introduction. It's an iconic dream of every motorcycle enthusiast and rightly so. After much speculations, Harley Davidson finally made its debut in Nepal, officially headlining the NADA Auto Show last week. Iron 883 (XL 883N) will be the first ever Harley Davidson motorcycle to enter the market.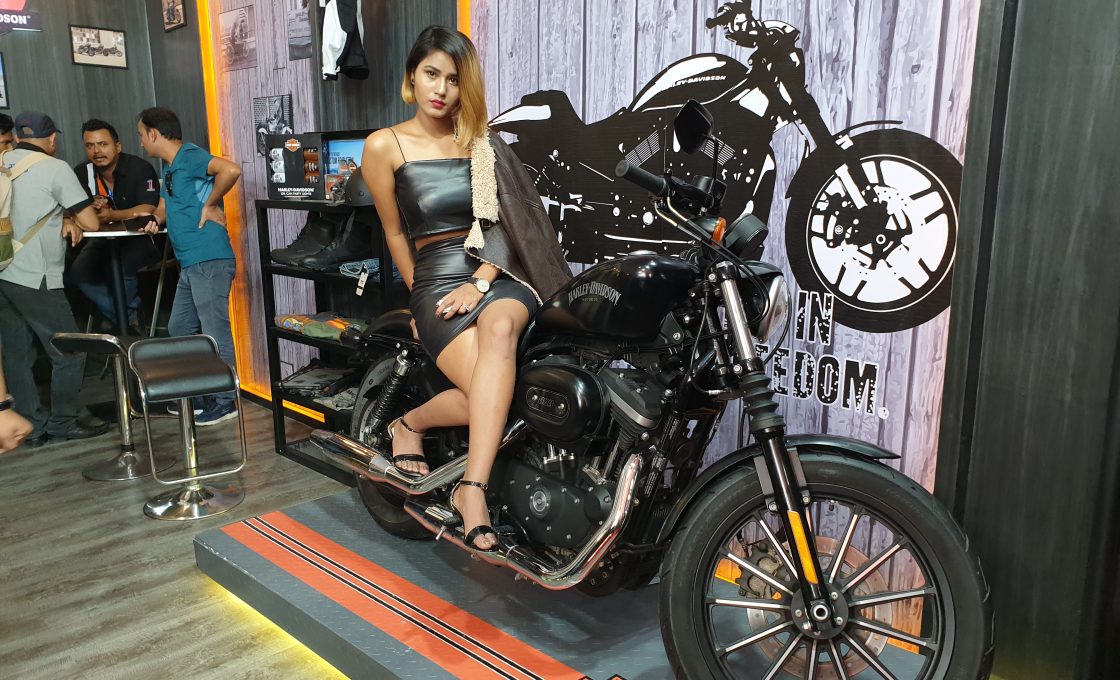 Harley Davidson Iron 883 is yet to be launched. According to the company representative, the official launch is expected around early October. The official price is up for speculations while some claim it to be one of the most premium motorcycles to hit the Nepali market. However, Harley Davidson isn't the only international brand making its debut in Nepal. SWM, an Italian motorcycle company has also recently made its debut in Nepal. As for the price speculation, Harley Davidson Iron 883 price in Nepal is expected to be from Rs. 45 Lakhs to 48 Lakhs.
Harley Davidson Iron 883 Overview
Iron 883 is powered by a 2-Cylinder, air-cooled, 883cc Evolution V-twin engine. The engine is powerful, generating max torque of 70Nm at 3500rpm and 50.6PS at 5500rpm, without breaking a sweat. Additionally, it is equipped with a 5-speed transmission with Belt Drive support. Riders can achieve a top speed of 200+ km/hr. It is equipped with features like Bobber tuck and roll seat, black staggered shorty exhaust with dual mufflers, chopped rear fender, and black 9-spoke wheels with machined highlights. Adjustable rear shocks and front forks with cartridge damping technology is also included.
This slideshow requires JavaScript.
As for safety, both tubeless tires come with a disc brake with dual channel ABS. At last but not the least, the instrument cluster is a mix of analog speedometer along with digital trip meter, tachometer, clock, and much more. Interestingly, the motorcycle just doesn't look massive, it actually is 256kg of running weight.
Iron 883 comes in five different colors: Black Denim, Industrial Gray Denim, Wicked Red, Bonneville Salt Denim, and Hard Candy Chameleon Flake. The names it gives to its motorcycle color scheme seems to be as iconic as the motorcycles.
Harley Davidson Iron 883 Key Specifications
Engine Displacement: 883cc
Maximum Power: 50.6PS @ 5500rpm
Maximum Torque: 70Nm @ 3500rpm
Mileage: 17kmpl
No. of Gears: 5
Front Brake: 483mm, Single Disc with ABS
Rear Brake: 406mm, Single Disc with ABS
Kerb Weight: 256 kg
Fuel Tank: 12.5 liters
Harley Davidson Iron 883 Price in Nepal (

Expected

): Rs. 45 Lakhs – Rs. 48 Lakhs
Harley Davidson is an iconic motorcycle brand. However, every motorcycle has its own pros and cons. And, Iron 883 is no different. While I did love the overall atheistic of the motorcycle, it has few hard to miss shortcomings. The ground clearance of 140mm might not be ample, so riders must constantly watch out for the speed breakers and potholes. With the mileage of just 17kmpl combined with an average 12.5L fuel tank, refueling might just become a daily chore. And, it doesn't even get a LED light!
Finally, the price! Harley Davidson is a brand that carries a historic legacy. But it still comes with a price tag as much as a new car. Yes, this is mostly due to tax laws on the imported motorcycle but spending half a crore on a motorcycle, seem unreasonable. Especially when other bikes from KTM, Royal Enfield, Honda, and SWM seems more affordable in comparison.
But motorcycle enthusiast sees more in the Iron 883 than just the real-world use. It's about the joy of riding, turning heads with the incredible design, and revving up one the most pleasant sound in the world: the exhaust notes. Honestly, it really does make it worth the price you pay.
Harley Davidson of Kathmandu will open the showroom during the second week of October. Test Rides for the Iron 883 will be available once the showroom opens. Catch you there!