Over the last 3-4 years, online food delivery in Nepal has grown in popularity to the point where office goers and middle-class families have started ordering restaurant foods once in a while. With the pandemic, which has created limitations for people to go outside for fast foods, the familiarity with food delivery service is growing even more.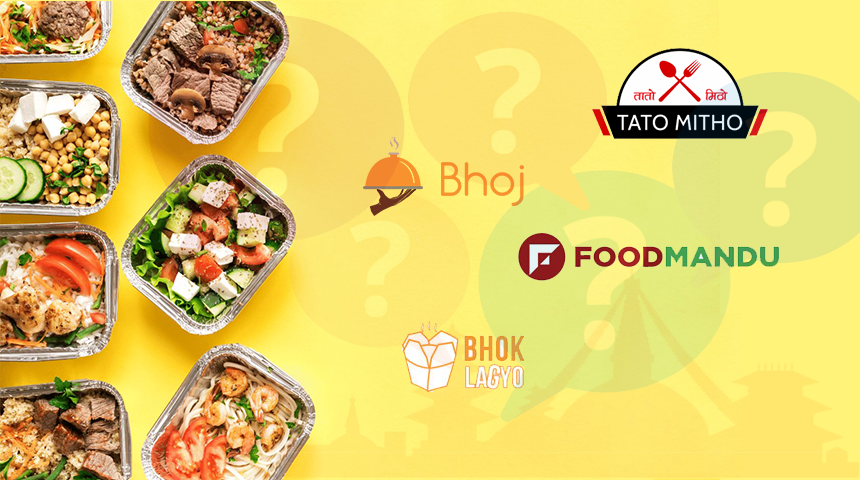 Though cooked food delivery services have been halting their operations due to high Covid cases, industry players feel positive about seeing its growing market popularity and potential in the future. Few active food-tech ventures are FoodMandu, BhojDeals, Pathao Food, Bhok Lagyo, TatoMitho, etc.
Right after the government eased the lockdown last year, the demand for cooked food went up to 25 percent, observes Shyam Mali, brand, marketing and sales, FoodMandu.
Helping the restaurants stay afloat    
Hospitality and restaurant businesses have been highly vulnerable areas. They represent a key pillar of the economy and have given jobs to millions. Hence, the health crisis has affected a large number of people. But thanks to food tech companies which has been playing an important role to keep their business sustaining.
Prithvi Man Rimal, Operation and Human Resource Manager of Roadhouse Café says that food delivery companies have played a very crucial role to keep them afloat for around six months after the lockdown in 2020. "Our customers mainly consisted of foreigners during the normal times. But, the pandemic helped us to reach the local through food delivery companies," he says.
Subash Gauchan, managing partner of Dalle Momo, says that around 20 percent of their total sales are from home delivery during normal times. "The number increased to around 40 percent in 2020," shares Gauchan.
Gauchan shares that it is not only about delivery charges but also about time. "Instead of waiting for the delivery persons, many customers themselves come to save their time," he says.
ALSO READ: Online Pharmacies in Nepal Achieve up to Five Times Growth Just in a Year
Recent growth and order trend 
The innovation in Nepali food tech industry had begun around 11 years ago when FoodMandu started its operation as the first food delivery company. The early years were quite lean as the online food ordering trend was almost nil.
"It has just been around 3-4 years since we have started growing. The sales are growing by 100 percent every year," says Mali from FoodMandu. FoodMandu has partnered with more than 80 plus restaurant brands. "We are in partnership with 800 plus restaurant outlets in Kathmandu and 70 restaurants in Pokhara," says Mali.
Similarly, Niket Agarwal of BhojDeals sees that the sales have increased to almost double compare to last year. "We calculate the sales number after every Annual Food Carnival. The number is exactly double than last year's April," says Agarwal.
It has been four years since BhojDeals has entered the industry. BhojDeals has partnered with 500 plus restaurant outlets in Nepal (Pokhara and Kathmandu).
Another food-tech venture TatoMitho saw good growth right after the lockdown was eased in 2020. Managing Director of TatoMitho, Nischal Karki says that the sales went high by around 80 percent in between. The company which was started at the end of 2019 focused on restaurant food and grocery delivery. TatoMitho has partnered with around 500 restaurant outlets in Kathmandu.
ALSO READ: Kisan Credit Card: Bridging Gap between Banks and Farmers by Providing Cashless Subsidized Loans
Market trend      
The food delivery companies share that most of the orders come during the evening time.
Mali from FoodMandu says that 50 percent of the total order is after 5:30 PM.
TatoMitho also does 70 percent of its delivery from 4 PM.
Similarly, Agarwal from Bhoj shares that the majority of the orders come after 2 PM.
Mali says that the order size is also bigger during the evening. "The average order is Rs. 1500 in the evening," he says.
The majority of the customers place the order through the app.
On average, only around 25 percent of customers prefer to order through social media messages and calls.
According to Agarwal from BhojDeals, the ratio between the number of orders through app and the number of orders through call is 80:20.
FoodMandu receives around 70-75 percent of orders through its app. The ratio of TatoMitho is also similar. "We receive 70 percent orders through app and 30 percent through call and social media," shares Karki.
Challenges 
If we see the data above, the majority of the orders are done in the evening. This shows that food delivery service is mostly chosen during a small get-together or dinners for the family. Most of the office goers still choose to go outside for their snacks or lunch. A few of the reasons for this may be because of a limited menu, too few options for healthy foods or high price due to additional delivery charges.
Restaurants say that still most of the customers prefer self-takeaway rather than ordering from delivery companies. "Ours is a budget-friendly restaurant, so most of our customers prefer to order directly from restaurants and takeaway the food on their own. This saves their delivery charge," shares Gauchan from Dalle.
Apart from this, getting the right location while delivering orders has always been a problem here. There is no proper street number or house number due to which both delivery person and customers will have to follow up repeatedly during the delivery. "This delays the time slot of delivery. It is a huge challenge for delivery companies like us," says Karki from TatoMitho.
Will food tech grow in future?
According to global prediction, the food delivery service market is expected to grow from $115.07 billion in 2020 to $126.91 billion in 2021 at a compound annual growth rate (CAGR) of 10.3%.
According to the Online Food Delivery Services Global Market Report 2021: COVID-19 Growth and Change to 2030 market is expected to reach $192.16 billion in 2025 at a CAGR of 11%. The data is based on the market research in the countries including Brazil; China; France; Germany; India; Indonesia; Japan; South Korea; Russia; UK; USA and Australia.
Being a small market, Nepal does not fit anywhere into the global trend. Also, like any other online business, the food tech industry is in a nascent stage. But the industry can create a significant local market in major cities in the days to come if they work on the limitations and challenges.
Agarwal shares that there are a lot of untapped areas where food tech companies should go into. "For example: Along with other customers, we also need strategies to cater to customers who have to eat outside every day. For this, we can prepare patters consisting of various food, including rice, fruits, salads, and fast food. This way we can bring an appealing option for customers who order every day," he shares.
"It is all about filling the gaps in the market. If companies identify problems and try to solve them, the industry will gradually grow," he says. He believes that just following and copying the trend won't bring any impact or change customers' mindsets.
Mali from FoodMandu opines that the investment for the food tech industry is promising. FoodMandu has already raised two rounds of investments in 2016 and 2020. "Now, as the industry is going gradually, we need the right policies. As there is no regulation and guidelines for food tech ventures and overall eCommerce ventures, we have to face many problems from the government officials," he says.
READ NEXT: Understanding Electric Vehicle Tax Structure in Nepal: Past and Present!