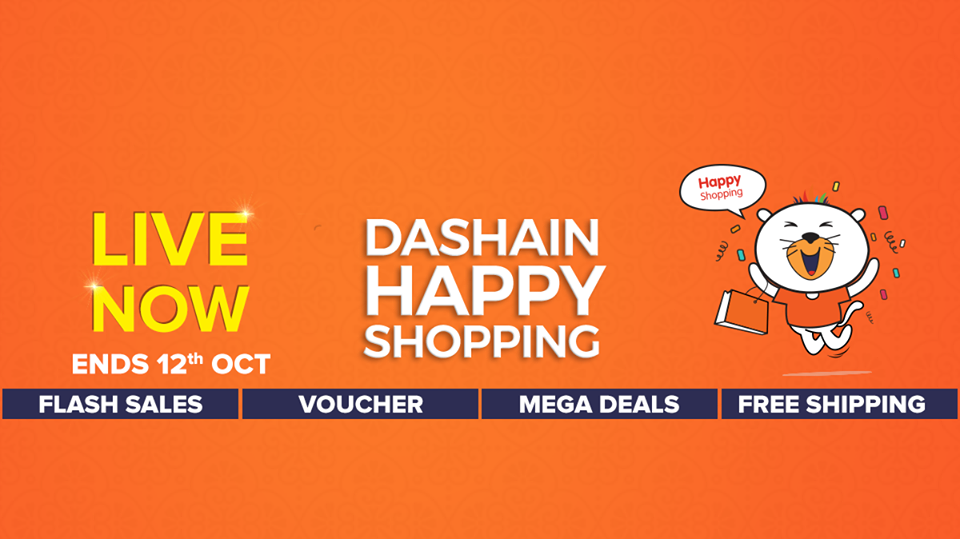 Daraz is bringing you the Great Dashain Megadeals this festive season. Unmatched deals are up for grabs with the limited stock and time from 8th-12th October 2018. The five-day sale will see great deals on top mobile brands, up to 23% off on televisions and electronic devices, and up to 80% off on fashion, home decor, personal care products, among others.
Apart from these offers, Daraz is offering lucrative discounts and offers across categories like apparels, gadgets, accessories, and smartphones
Time to surprise your loved ones
At just Rs 49999, OnePlus 5T has a minimalist, elegant design, fits 6-inch display within the dimensions of a one-handed phone with thoughtfully optimized software and reading mode. Apart from the existing discounts, you will be provided with an extra 5% off at checkout in the newest series of smartphones from Oppo, Vivo, Sony & Nokia.
With that, new Xiaomi mobile phones are up for grabs with the competitive price. Xiaomi Mi A2 is priced at 30,999, A2 lite (3GB,32GB) at 20,999, A2 lite (4GB,64GB) at 24,999, Xiaomi Redmi 6A at 12,999 and Samsung A8+ only at Rs 42,120.
Get an additional 20% off on the purchase of any 5 products from D-mart. It is time to abandon the long and tiring queue of the shopping mall. Every product will be delivered at your doorstep with the assurance of Daraz.
It is that time of the year when you are occupied with all the shopping of Dashain and don't have time for other shopping. Here at Daraz, D-Mart has brought you the hassle-free grocery shopping.
From making you smell awesome to making your household clean, Dmart has got all the products you need. There is a whole range of products where you can choose from. The products are the essentials and necessities of every household.

Missed out on the sales last time? No worries, it is time to invest in the new household appliances. Upgradation doesn't cost you a heavy hole in your pocket with an additional 5% off at check out with the existing discounts of 45% and 27% on televisions and washing machines. There are also unmatched discounts this Dashain on vacuum cleaners, microwave ovens & pressure cookers.
Make a fashion statement
This festive season, stay in the trend with the latest fashion at Daraz. To be in fashion won't empty your wallets. Ladies! start shopping for your dresses, watches, bags and personal care with discounts up to 65%.
Grab all the offers till the limited stock runs out.
Happy Shopping!