Pros
Sculptural Purity Based Styling
Punchy 250cc DTS-i Engine
Bright Headlight Visibility
Dual-Channel ABS
Excels in Real-World Practicality
Cons
No Bluetooth Connectivity
Lack of Radial Tyre
Extra Sixth Gear Should Have Been Included!
This is a detailed review of the new Bajaj Pulsar N250.
The Bajaj Pulsar series has continued to rule the motorcycle world for more than two decades. And, it is time to do it all over again.
Bajaj Pulsar N250 is based on a brand-new platform, ready to take on all of its modern competitors.
With the price of Rs. 4.94 Lakhs, it comes in the brand-new Brooklyn Black color with the Dual-Channel ABS and 37mm Telescopic front suspension.
In this review, we will explore what the new Bajaj Pulsar N250 brings to the table.
Does the asking price validate the features on offer? Will Bajaj Pulsar N250 be a guaranteed success?
We will find that out today!
This is the Bajaj Pulsar N250 Full Review.
Bajaj Pulsar N250 Specifications
Engine Type: Single cylinder, 4 strokes, SOHC, 4 Valve, Oil-cooled, Twin Spark, FI
Emission Standards: BS6
Displacement: 249.07 cc
Cooling System: Oil Cooled
Starting Mechanism: Self-Starter Only
Max Power: 24.5 PS @ 8750 rpm
Max Torque: 21.5 Nm @ 6500 rpm
Gearbox: 5-Speed
Top Speed: 140 Kmph
Fuel Tank Capacity: 14 liter
Mileage: 30-35 kmpl
Front Tyre: 100/80-17 – Disc
Rear Tyre: 130/70-17 – Disc
Tubeless Tyres: Yes
Braking System: Dual-Channel ABS
Suspension Setup: Telescopic Forks and Multi-step adjustable Mono shock with Nitrox
Seat Height: 795 mm
Ground Clearance: 165 mm
Kerb Weight: 162 kg
Colors: Brooklyn Black
Bajaj Pulsar N250 Price in Nepal: Rs. 4,94,900
Bajaj Pulsar N250 Overview
Muscular Design
Bajaj Pulsar N250 is bolder, muscular, and strong.
It is sculpted and pure, sporting a tone-on-tone dynamic with metalized dual colors and satin silver components.
The front profile gets a darker shade moving towards a lighter shade towards the rear. This helps emphasize the contours of the beast.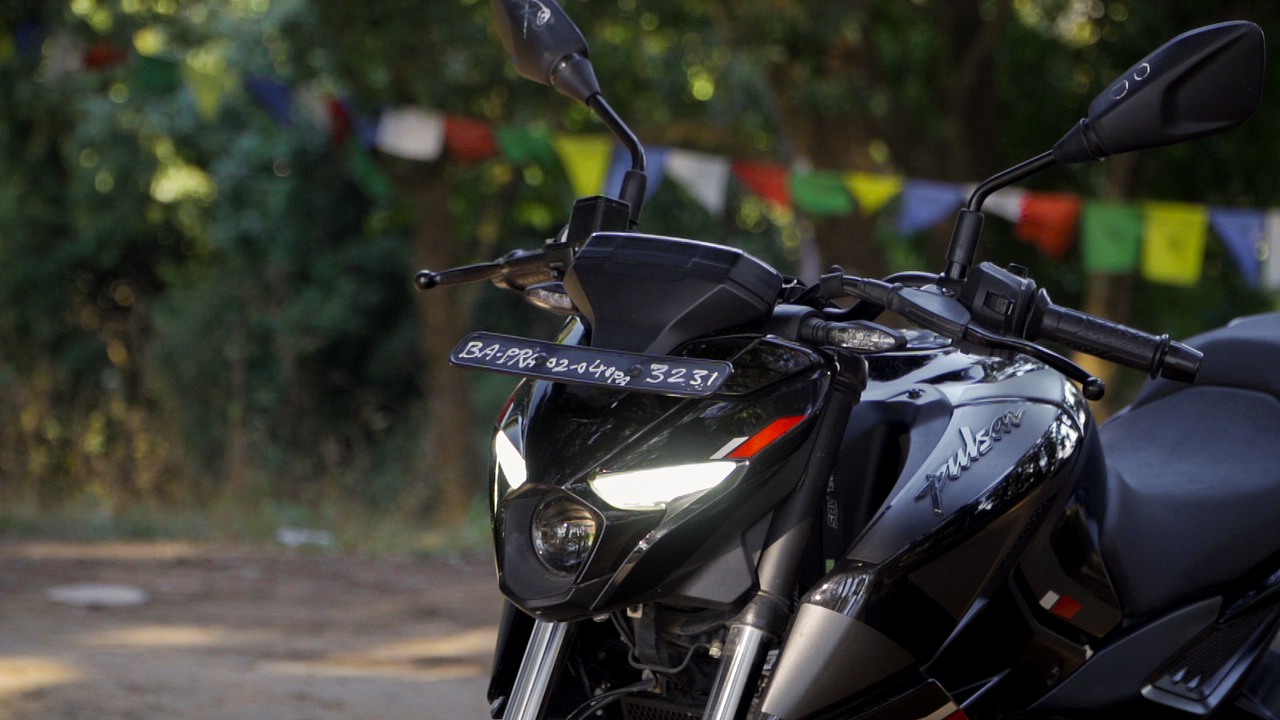 It gets a Bi-Functional Projector LED headlamp with Twin-LED DRLs. Moreover, nighttime visibility is one of the best ones, where both the low-beam and high-beam perform above expectations.
The side styling highlights its prominent muscular aesthetics.
It is an interplay between three interesting themes: Muscular Profile, Sharper Aesthetics, and Bolder Finish.
Whether it is the engine cowl or the tank shrouds, the design philosophy remains the same.
Like before, the mirrors are large enough and provide good visibility.
Similarly, other iconic Pulsar elements like the Pulsar emblem, Split-Seat Setup, and signature Twin Crystalline LED Tail Lamp with Stylish Grab Rail are shared between N160 and N250.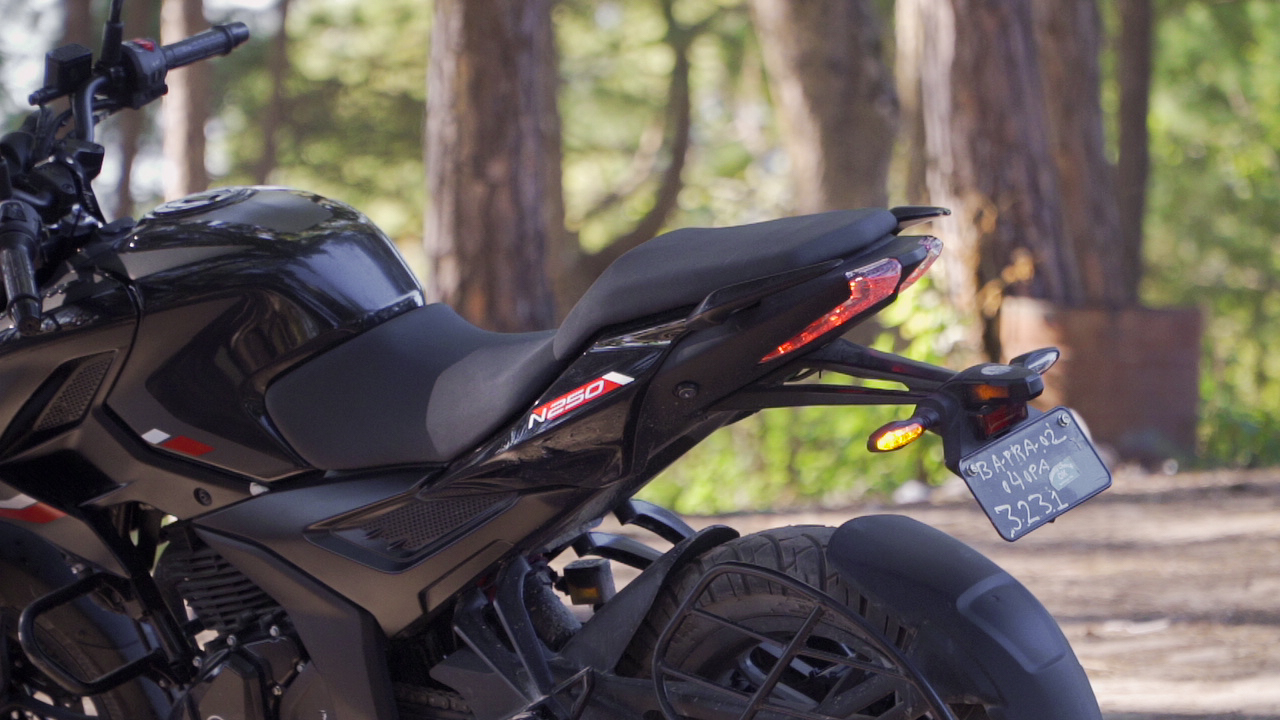 Additionally, Bajaj Pulsar N250 comes only in one color: Brooklyn Black.
N250 vs N160: Design Difference
Both N250 and N160 look the same from afar. However, the differences are more apparent with a closer look.
For starters, the N250 sticker does its job well.
Another key difference includes the Exhaust and LED Indicators.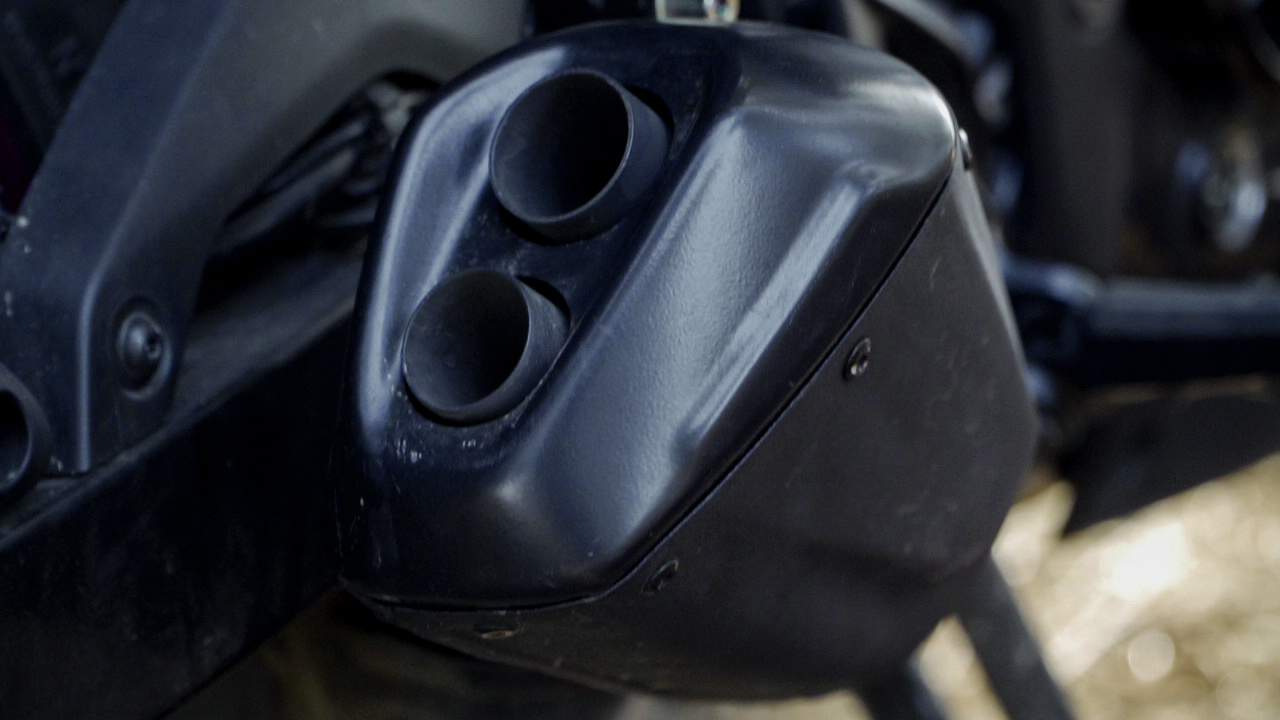 The N250 swaps out the under-belly exhaust for the chunky Dual-Port Exhaust. Similarly, the Halogen-bulbed Indicator is replaced by the LED indicator.
Moreover, the N250 falls on the heavier side by 8 Kilos.
Performance
Bajaj Pulsar N250 is powered by the all-new 249.07cc, Single-Cylinder, 4-stroke, 2-valve, oil-cooled SOHC FI engine. It can generate a max power of 24.5PS at 8750rpm and a max torque of 21.5Nm at 6500rpm.
Moreover, it is mated to a 5-speed gearbox with Slipper Clutch!
Developed from the ground up, the N250 comes with a DTS-I BS6-compliant FI engine. As with many BS6 bikes, it includes the side stand engine cut-off as standard.
Additional Details
It is built on a Tubular Frame with an Engine as a stressed member
The dimensions are 2017mm in length, 804mm in width, and 1060mm in height. Moreover, the wheelbase sits at 1358mm.
Bajaj Pulsar N250 has 165mm ground clearance. And, the kerb weight is 162kg.
Interesting Features
Bajaj has introduced many segment-leading features. However, the feature set still misses out on Bluetooth Connectivity or any other performance-assisted features.
Nevertheless, the Pulsar N250 takes the courtesy of introducing practical features.
There are no gimmicks in this one. Although, a few gimmicky features would have been nice.
Braking Performance
Bajaj Pulsar N250 features Dual Disc Brakes with Dual-Channel ABS.
It uses a 300mm Disc at the front and a 230mm Disc at the rear. Interestingly enough, these Disc sizes are the same used in the N250.
The brake calipers are Grimeca.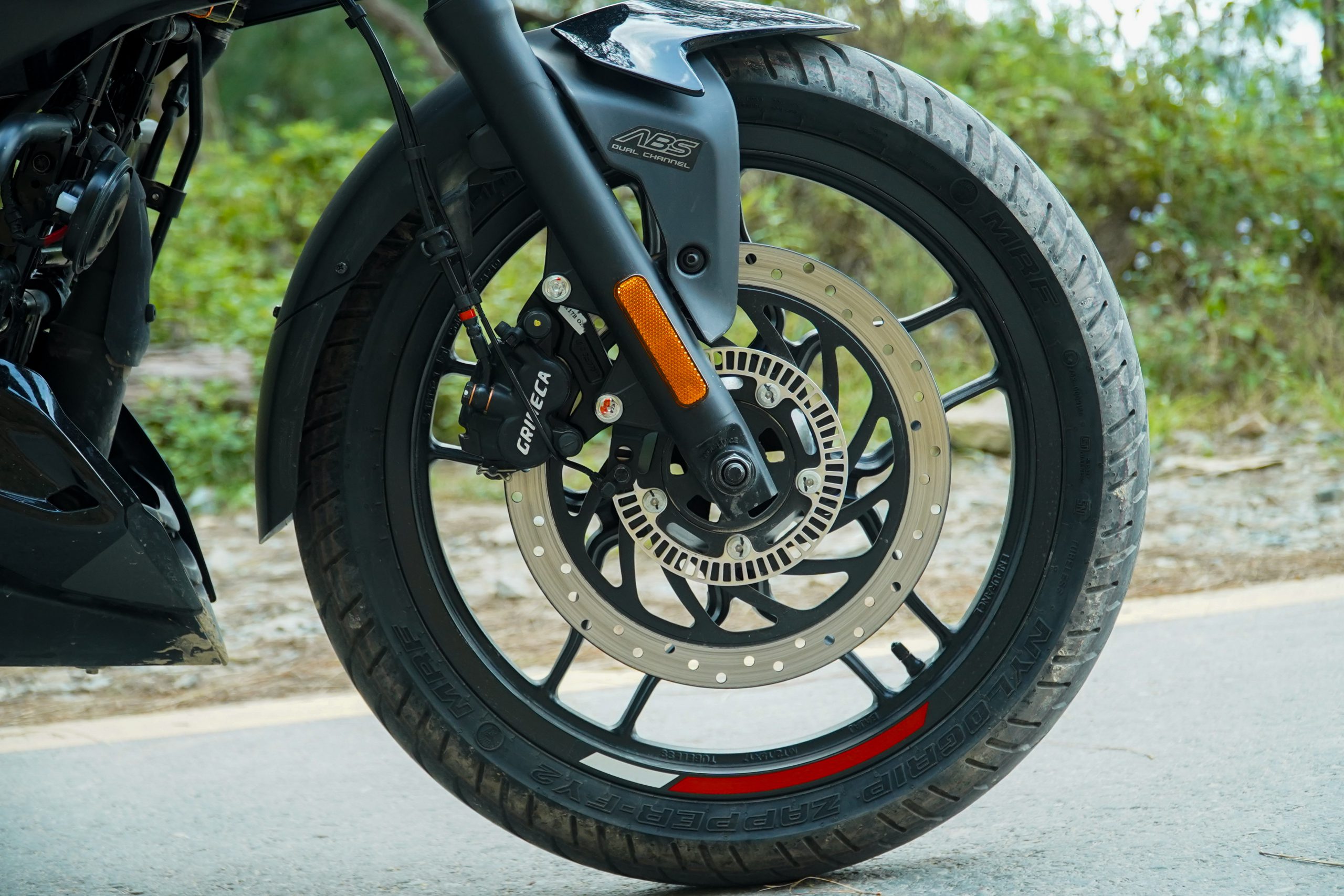 With the same calipers and the same disc sizes on board, the braking experience is very similar in both N250 and N160. The brakes have mature braking feedback.
It is still confidence inspiring!
Like before, the rear brake does lack a bit of feedback. However, the Dual-Channel ABS helps overpower that shortcoming.
Tyres
Like the Disc sizes, the N250 also includes the same tyre sizes. Both are 17-inch tyres with a 100/80-section at the front and a 130/70-section at the rear.
We need to address the lack of Radial tyre.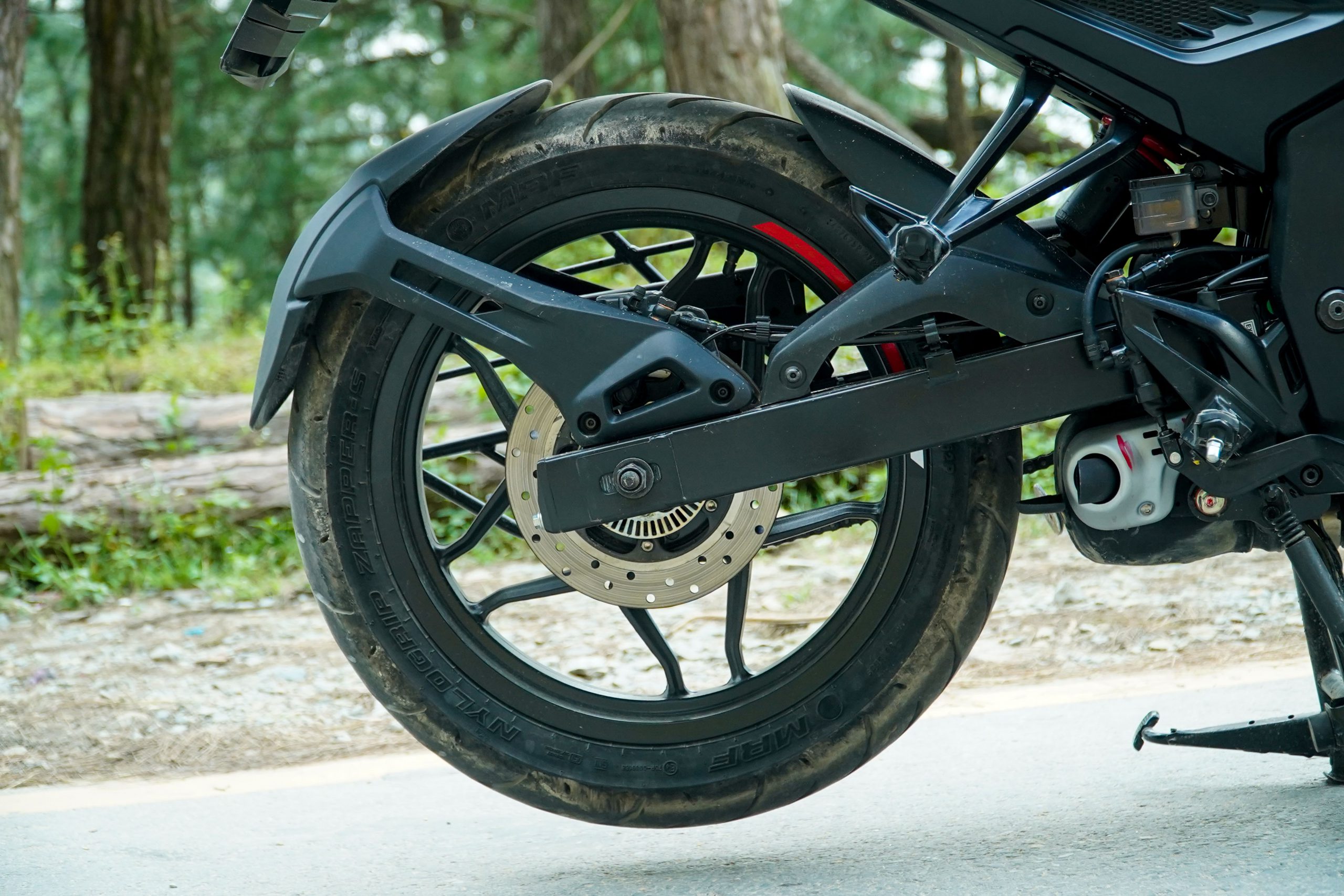 The lack of a Radial tyre can be considered a cost-cutting measure in N160. However, the same reason cannot be held for the N250.
A Radial tyre is an absolute necessity in the 250cc segment.
Here, the lack of radial tyres is disappointing.
Suspension
Telescopic Fork and Mono Shock handle the suspension duties.
The setup falls on the softer side, easily absorbing most bumps. However, there is a slight hint of stiffness on the Mono shock.
It can be a bit annoying during off-roads.
This shouldn't be an issue as the rear suspension is preload adjustable.
Riders can adjust their preload in five different steps.
Seat Comfort and Pillion
Bajaj Pulsar N250 gets a Split-Seat setup.
It is a familiar seating position. It can accommodate both riders and pillion.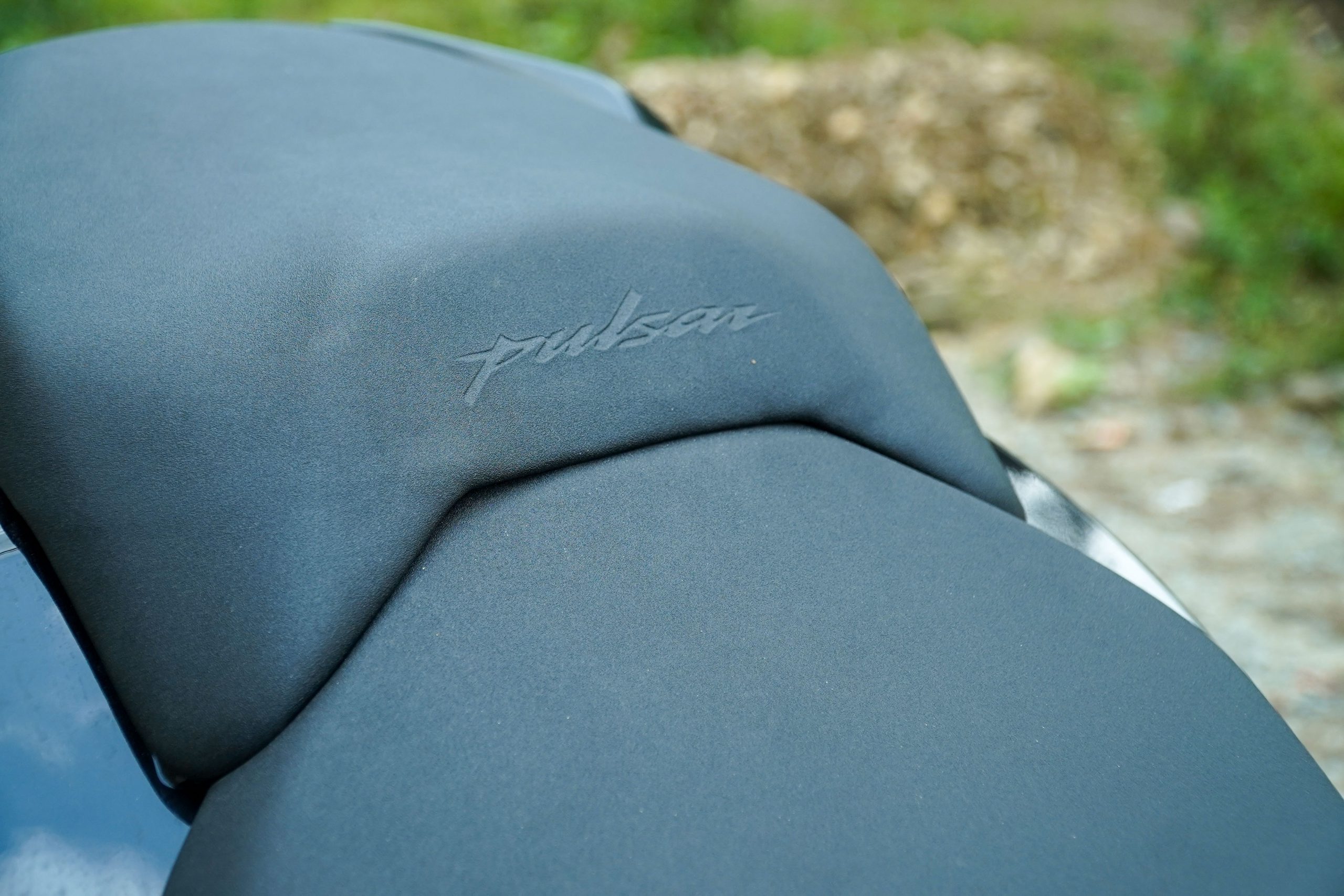 The seating material is a bit unique, kind of like an Alcantara finish. It has a softer setup, largely focusing on comfort.
The short rides are comfortable. However, there might be slight discomfort on longer rides.
Fuel Tank Capacity and Mileage
Bajaj Pulsar N250 gets a 14-liter fuel tank capacity.
After testing it out, we managed to get around 37 Kmpl. Riders can achieve more than 35-38 Kmpl with more economical riding.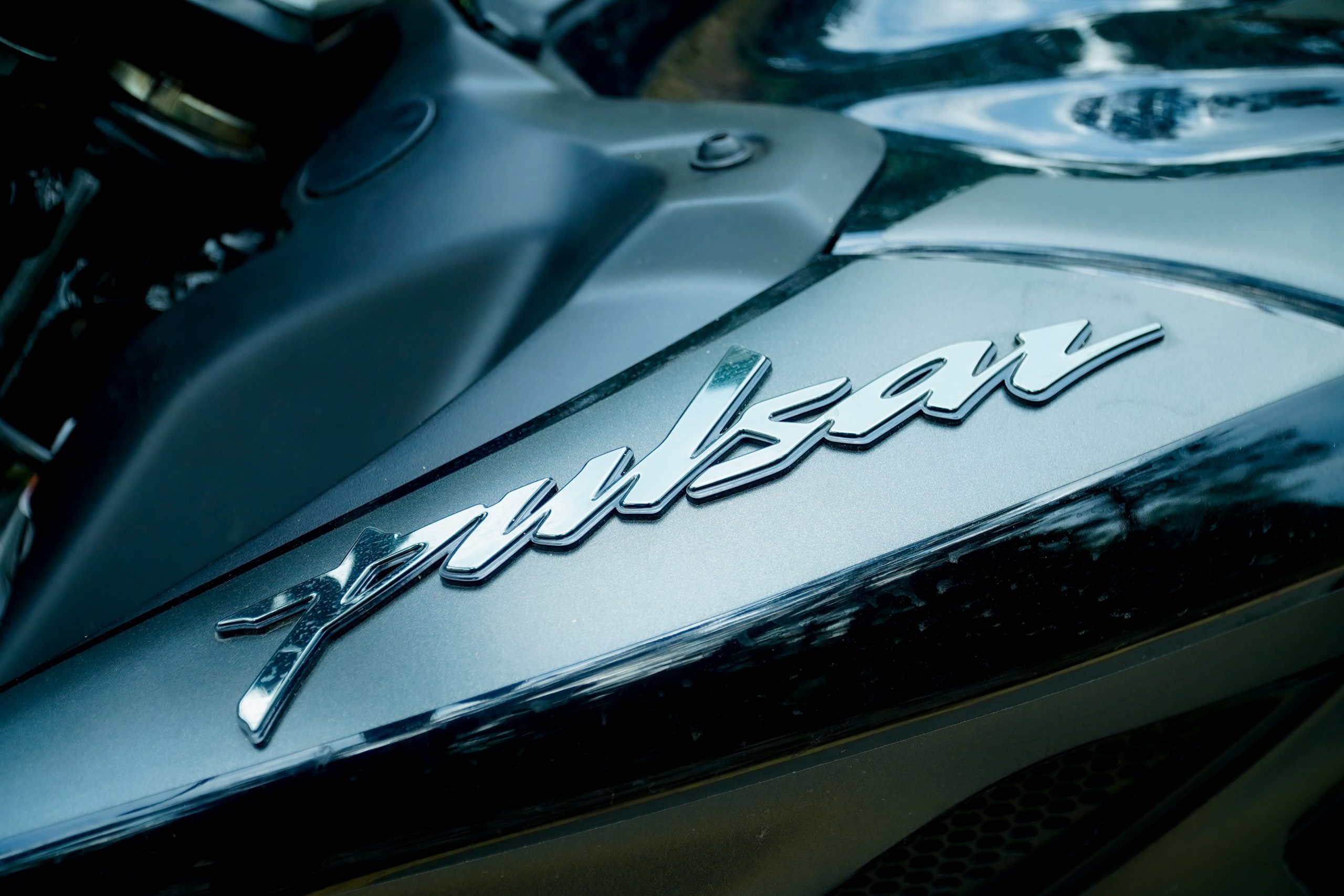 It should give 490 km on a full tank.
Infinity Display
Bajaj Pulsar N250 sports an all-new Infinity Display.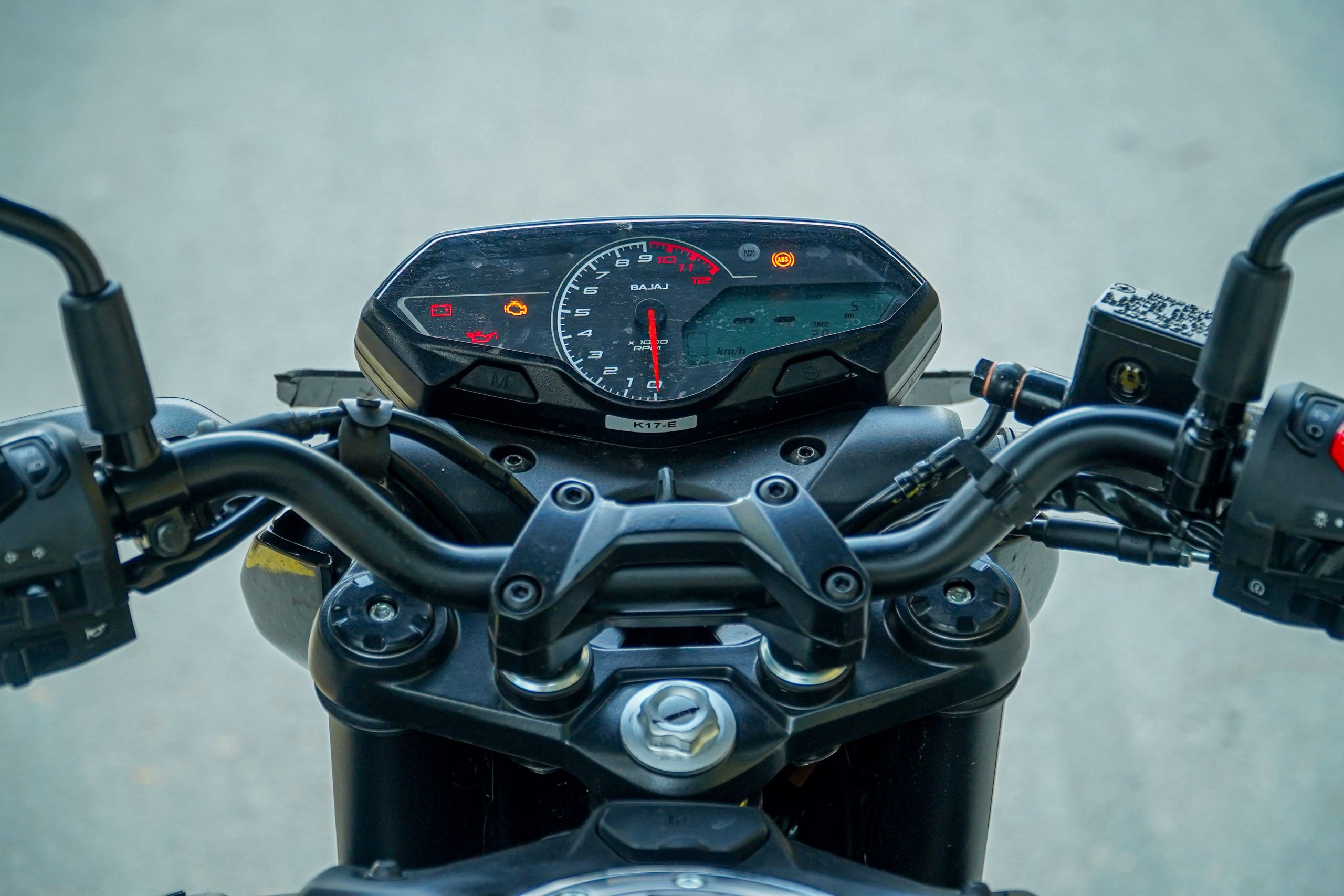 It is a Digital-Analog meter with a borderless design. It provides essential information like Trip Meter, Clock, Gear Position Indicator, Real-Time Fuel Economy, Distance to Empty, and more.
As stated earlier, there is no Bluetooth Connectivity, no Turn-by-Turn Navigation, no Riding Telemetry, no nothing.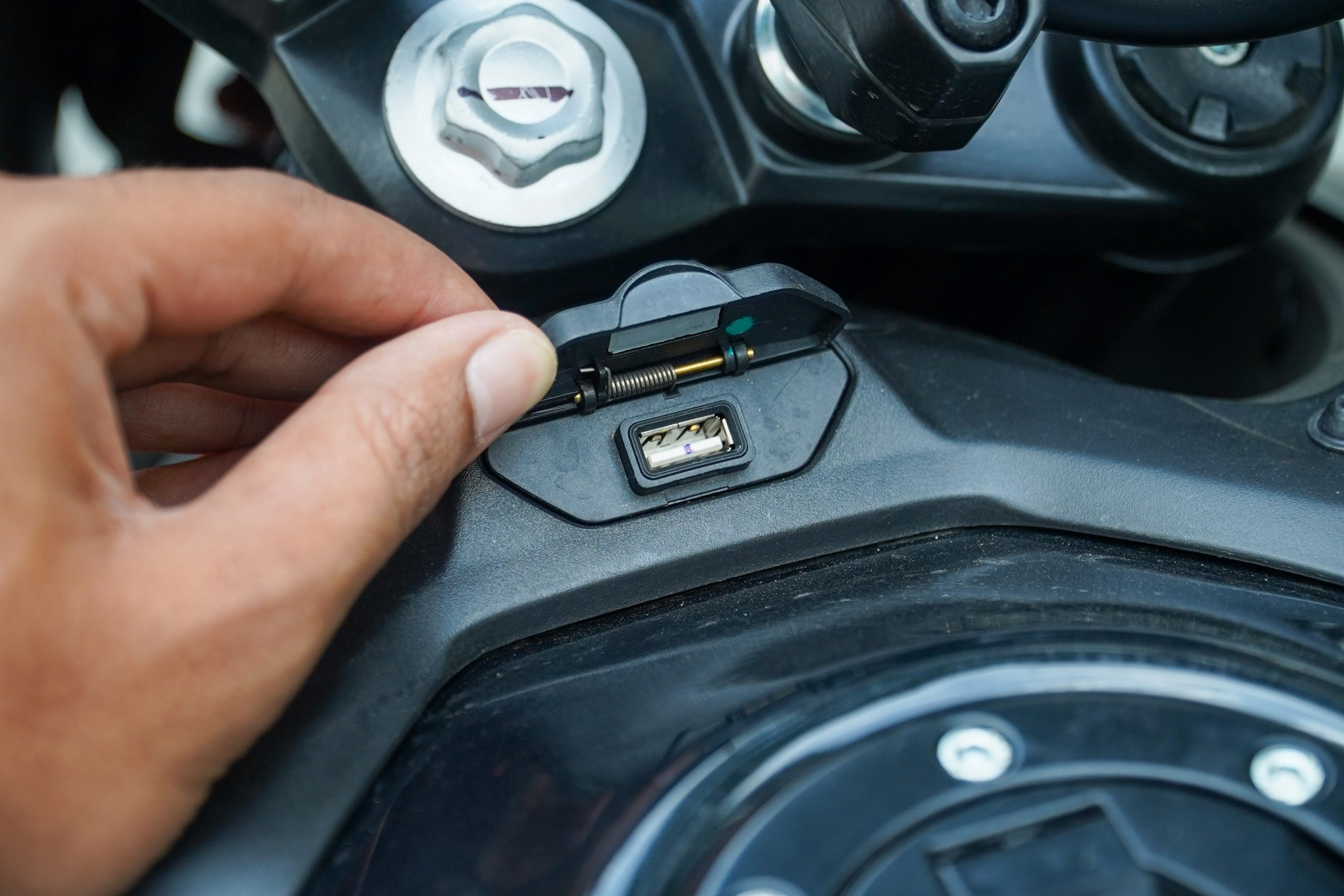 At least, Bajaj has included a USB charging right under the handlebar.
Bajaj Pulsar N250 Features Highlight
Aggressive Naked Sports Styling
160cc Twin-Spark FI Engine
LED Projector Headlamp with LED DRLs
Twin LED Tail Lamp
Chunky Engine Cowl
Infinity Analog-Digital Meter
Single-Piece Handlebar
5-Speed Gearbox with Slipper Clutch
Under Belly Exhaust
Split Seat Setup
Dual Disc Braking
Dual-Channel ABS
37mm Telescopic Front Suspension
My Experience with Bajaj Pulsar N250
Pulsar-Centric Performance
Bajaj Pulsar N250 is exhilarating!
The engine offers a wide torque band generating 85% of peak power over a wider rev range. Bajaj calls this, "Torque on Demand".
Due to this, the peak torque is accessible just between 3000rpm to 7000rpm. Thanks to this, both the acceleration and pickup are almost instantaneous.
Plus, the exhaust note hits the sweet spot! It is loud and bass-heavy!
Interestingly enough, the vibrations add that Pulsar character. The handlebar starts to vibrate above 4000rpm, and going further the seat starts to vibrate at 6000rpm.
The low-end performance isn't that interesting.
But, it shines in the Mid-Range and Top-End performance.
The powertrain figures are in line with the segment. However, Bajaj has opted for some controversial choices.
Pulsar N250 opts for an Oil-Cooling instead of Liquid-Cooling. Even more outrageous, it utilizes a 5-Speed Gearbox instead of a 6-Speed.
We tested out the Pulsar N250 keeping that in mind.
Looking at the specs, choosing the oil-cooled system seems questionable. However, it does indeed a fitting job in the real world.
We tested it by riding it uninterrupted for more than 5 hours on the highway. The cooling system does an excellent job of handling the engine heat. There wasn't any dip in performance or riding experience.
The 5-Speed has a tall gearing ratio, providing a smooth and effortless experience. Hence, there is no need for continuous gear shifts.
Even if you are in a higher gear, you can easily overtake without any downshifts. Furthermore, the Assist and Slipper Clutch makes intense downshifting safer.
The gear ratios are well-equipped to handle city and off-road conditions. However, it felt a little short on the highway.
While there is the need for the sixth gear, that need is only felt on the long stretch of the road. The extra sixth gear would have taken the top-end performance a step further.
Otherwise, the 5-Speed gearbox is enough for the majority of riding conditions.
The overall performance goes beyond expectations for city rides, commuting, or quick ride out with friends.
Superior Practicality
Despite the 8 Kg weight difference, the bike only feels heavier at first.
Once you get used to it, it feels right at home.
Thanks to the higher engine displacement, it does not hinder performance at all. But, it has a fair share of pros and cons.
It improves stability at higher speeds.
However, it has slightly reduced the flexibility for tight turns. Rather than being quick and nimble like in N160, the riders will have to be slow and cautious.
After riding it out for more than a week, it does feel super practical.
It just struck the right chord for the Nepali roads. It does things just right.
Shortcomings
Let's reiterate two things that felt short: a 5-Speed Gearbox and a Lack of Radial Tyre.
Talking about the Gearbox, it is purely conditional.
It only falls short at the long stretches of the roads. Otherwise, the 5-speed setup is enough in most cases.
As for the tyres, it is good enough.
However, it must have a Radial Tyre. It could have easily improved the cornering performance, which would have ended in N250's favor.
Even if you look at the rivals, everyone is fitted with a Radial Tyre.
Bajaj continues to skip out on Radial Tyre on its 200cc and above motorcycle.
Well, that wouldn't have been a debatable point for older products. However, it is disappointing to see it being missed from a newly launched motorcycle.
Battle with the Competition
Bajaj Pulsar N250 rivals Yamaha FZ25 and Suzuki Gixxer 250.
All three bikes are equipped with Fuel Injection, Dual-Channel ABS, and a similar powertrain. Nevertheless, the Gixxer 250 takes it a step further by including a 6-Speed Gearbox and Radial Tyres.
Interestingly enough, the Pulsar N250 doesn't shy away from the competition. It features a BS6-compliant engine with an LED setup, Assisted Slipper Clutch, and more.
Each bike is excellent in their class.
If you want to choose between the three, just let your experience do the job.
Conclusion
Despite its shortcomings, the Bajaj Pulsar N250 impressed us with its new engine, new platform, and new everything.
It does well to validate the features on offer, especially considering the asking price. It recreates the magic of the old Pulsar while setting precedence for future Pulsar Mania.
Now, will Bajaj Pulsar N250 be a guaranteed success for the N250?
Well, that is not for me to decide. That responsibility lies upon the Pulsar Maniacs.
This is the biggest Pulsar ever!
This is the Bajaj Pulsar N250.