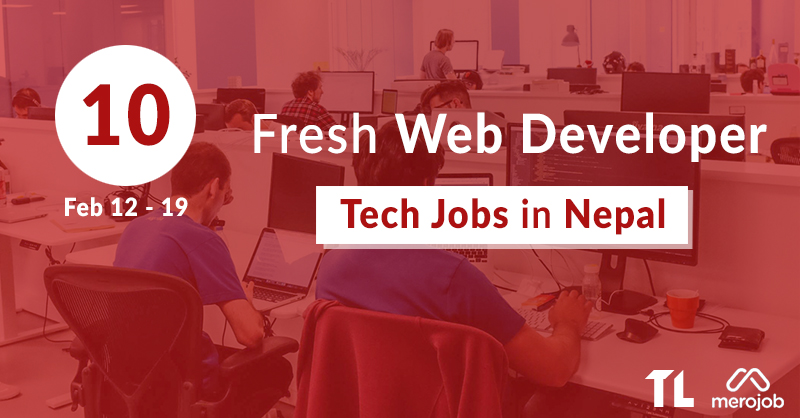 Each week, we bring you a curated list of ten technology jobs from a good mix of companies in and around Kathmandu. This week we're featuring web developer jobs for those that are looking to switch their career.
The tech jobs on this list are ranked in no particular order.
Powered by our Career partner, merojob.com. 
10 Fresh Web Developer Jobs in Nepal 
---
Classic Tech a licensed Internet Service Provider (ISP) and Network Service Provider (NSP) in Nepal.
They are looking for a PHP developer with a Bachelor's Degree in Computer Science or related subject and a minimum experience of 2 years with robust knowledge of web development technologies including HTML, CSS, JavaScript, and JQuery
---
#9. 

Senior PHP Developer, Theme Grill

Theme Grill is a WordPress Themes/Plugins Shop.

They are looking for a Senior PHP Developer to work on WordPress with extensive knowledge of core PHP or PHP Framework and a minimum of 3-year experience in PHP or WordPress.
---
Mavorion Systems is an IT Services and Software firm specializing in Online Applications, IP Networks, Data Center, Cloud Services, System Integration and Managed Services.
They are looking for a programmer who has experience with programming in PHP along with frameworks such as Codeigniter or Laravel and have good command of a VCS.
---
Capital Designs Inc. is a direct marketing industry in Nepal.
They are looking for 5 home based web developers with excellent English.
---
#6.

 Front-end Developer (Web Developer), Volaj Technology

Volaj Technology is a Web Design & Development Agency.

They are looking for 2 front-end developers with a minimum of 1 year of proven front-end web programming/developing experience. They should have in-depth knowledge of CSS, HTML, JavaScript, jQuery, and Bootstrap and knowledge of responsive design, Cross-Browser Development, testing/debugging
---
Genius Designs is a graphic designing company that specializes in Visual Graphics, Web Design, and Printing
They are looking for PHP developer with experience in popular PHP frameworks esp.Wordpress, Codeignitor, and Laravel
---
3 Callistos Services is a modern mobile/web solution provider based in Nepal.
They are looking for PHP programmer with knowledge of GIT and scrum will be plus point and knowledge of LINUX/ UNIX will be plus point.
---
#3.

 Web Designer/ Developer, Raman General

Raman General supplies various types and ranges of construction equipment and materials to the needy customers in Nepal.

They are looking for 4 designers with bachelor's degree in computer engineering and 3-5 years of experience in the related field.
---
Khoz Informatics is an information portal for businesses in Nepal.
They are looking for 2 mid-level developers with strong proficiency in JavaScript, including DOM manipulation and the JavaScript object model and experience working in MERN (Mango DB, Express JS, React JS, Node JS)
---
#1.

 Web Designer and WordPress Theme Designer, Sparkle Themes

Sparkle Themes is a Web and WordPress theme developing company.

They are looking for 2 intermediate designers with  1 year of experience in word Press theme design and HTML/CSS Slicing and be familiar with  Graphic tools like Photoshop, AI, Sketch, and HTML5 and CSS3.
---
We will come with such curated and handpicked tech jobs list every week.
So, stay tuned and keep following TechLekh!