If you are a tech enthusiast who is looking for a chance to make a valuable contribution not only to your society but to the nation as a whole through your original ideas, then here is a golden opportunity for you.
Youth Thinkers' Society (YTS) – a youth lead organization working for the empowerment of young minds has initiated a program called "Call for ideas 2015". YTS call for ideas 2015 provides a platform for youth to implement their original ideas and make a valuable contribution to Nepalese society when we are at our most vulnerable.
Currently, there are hundreds of young people with the desire, motivation and fresh ideas to make a difference in the community.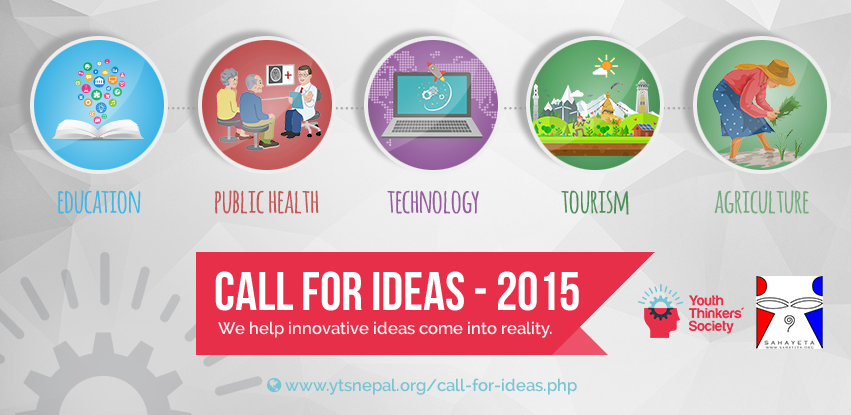 YTS call for ideas 2015 provides an opportunity to carry youth ideas and try to make a positive change in the world around them. They intend to fill the gap between youthful motivation and effective action and effect substantial change within the community
Also Read: 5 Interesting Quora Discussion on Startups in Nepal that you should not Miss
YTS call for ideas 2015 has five themes:
1) Education
2) Public Health
3) Information Technology
4) Agriculture
5) Tourism
You can submit your ideas typed in either English or Nepali. There are alternative also, you can describe your idea through infographic and videos too. 18th November, 2015 is the last date to submit you idea. You can land on YTS Call for ideas 2015 page to collect further information about criteria's for participation and other related information.
Top 2 ideas from each theme will be selected by YTS. A total of 10 creative ideas will be qualified to run a pilot project for a period of 3 to 5 months depending upon the nature of the idea.

The most stimulating thing is, Top 5 ventures from the concluded pilot projects will receive further funding's, investment and grants worth NRS 2.5 million (25 lakh) from YTS sponsors.
Being a tech enthusiast, this is the time we should take all our chances to build something that can help to make  a better Nepal; that we all always want. As a technologist, we should utilize technology to enable the relief, recovery and rebuilding efforts.
Upcoming Event: WordCamp Nepal 2015 is being Organized by WordPress Nepal, this is One of the Biggest Event Celebrated by WordPress Lovers around the Globe
This piece of information can be vital to all, not only to techies, so make your contribution by sharing this post. Don't forget to buzz us with your comments!