Pros
R7 Inspired Sporty Styling
Super Fun and Refined 155cc Engine
Better Top End Performance with VVA
Feature Packed
Excellent Performance with Good Mileage
Cons
Committed Riding Position
Awkward Pillion Seating Position
Uncomfortable in Off-Road Conditions
No Navigation Option in Digital Meter
Too Expensive
This is a detailed review of the new Yamaha R15M.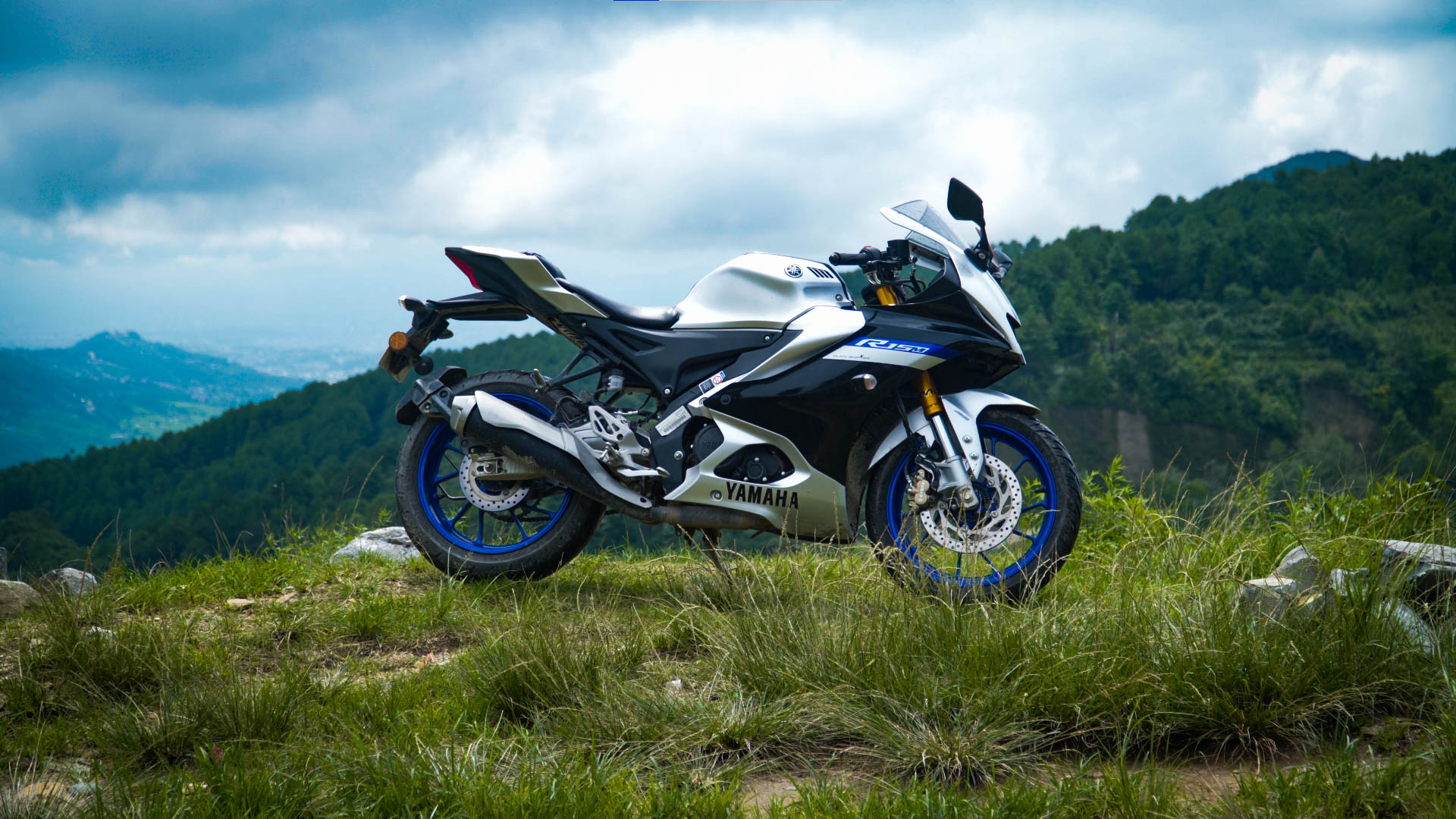 Since its early introduction in 2008, the Yamaha R15 has grown up to be a household name. It went from a proof of concept to a flagship-level sports bike for the masses.
MAW Enterprises, the authorized distributor of Yamaha motorcycles in Nepal, has introduced the fourth iteration with a drastic jump in price.
Yamaha R15M is priced at Rs. 5,87,900 in Nepal for 2022.
It is almost Rs. 63,000 more than the outgoing v3. However, Yamaha has introduced plenty of new elements to justify its new asking price.
Are these changes gimmicks or do they genuinely bring something different to the table?
More importantly, is it still the city-friendly sports bike everyone loves? Or, has it changed into something different?
We will answer all of these burning questions in a bit.
This is the complete review of the new Yamaha R15M in Nepal.
Yamaha R15M Specifications
Engine Type: Single-Cylinder, 4-Stroke, 4-Valve, SOHC
Emission Standard: BS6
Displacement: 155 cc
Cooling System: Liquid Cooled
Starting Mechanism: Self Starter Only
Max Power: 18.4 PS @ 10000 rpm
Max Torque: 14.2 Nm @ 7500 rpm
Gearbox: 6-Speed
Top Speed: 136.88 Kmph
Fuel Tank Capacity: 11 liters
Mileage: 48.75 kmpl
Front Tyre: 100/80-17 – Disc
Rear Tyre: 140/70-R17 – Disc
Tubeless Tyres: Yes
Braking System: Dual-Channel ABS
Suspension Setup: USD Front Forks and Rear Linked Monoshock
Seat Height: 815 mm
Ground Clearance: 170 mm
Kerb Weight: 142 kg
Colors: Blue, Red, Black, Metallic Grey
Yamaha R15 v4 Price in Nepal: Rs. 5,87,900
Yamaha R15M Review
R7 Inspired Styling
Yamaha R15 has always taken design inspiration from its bigger Yamaha siblings.
Previously, it was heavily inspired by the iconic R1. It continues to do the same yet again, passing on the R-Series DNA.
There is a heavy resemblance with the Yamaha R7, and a few hints of the discontinued R6.
The front section sports an all-new Bi-Functional LED Projector headlamp with unique LED DRLs. It is the same Class D unit shared with the Yamaha MT 15.
Yamaha has put more focus on improving aerodynamics.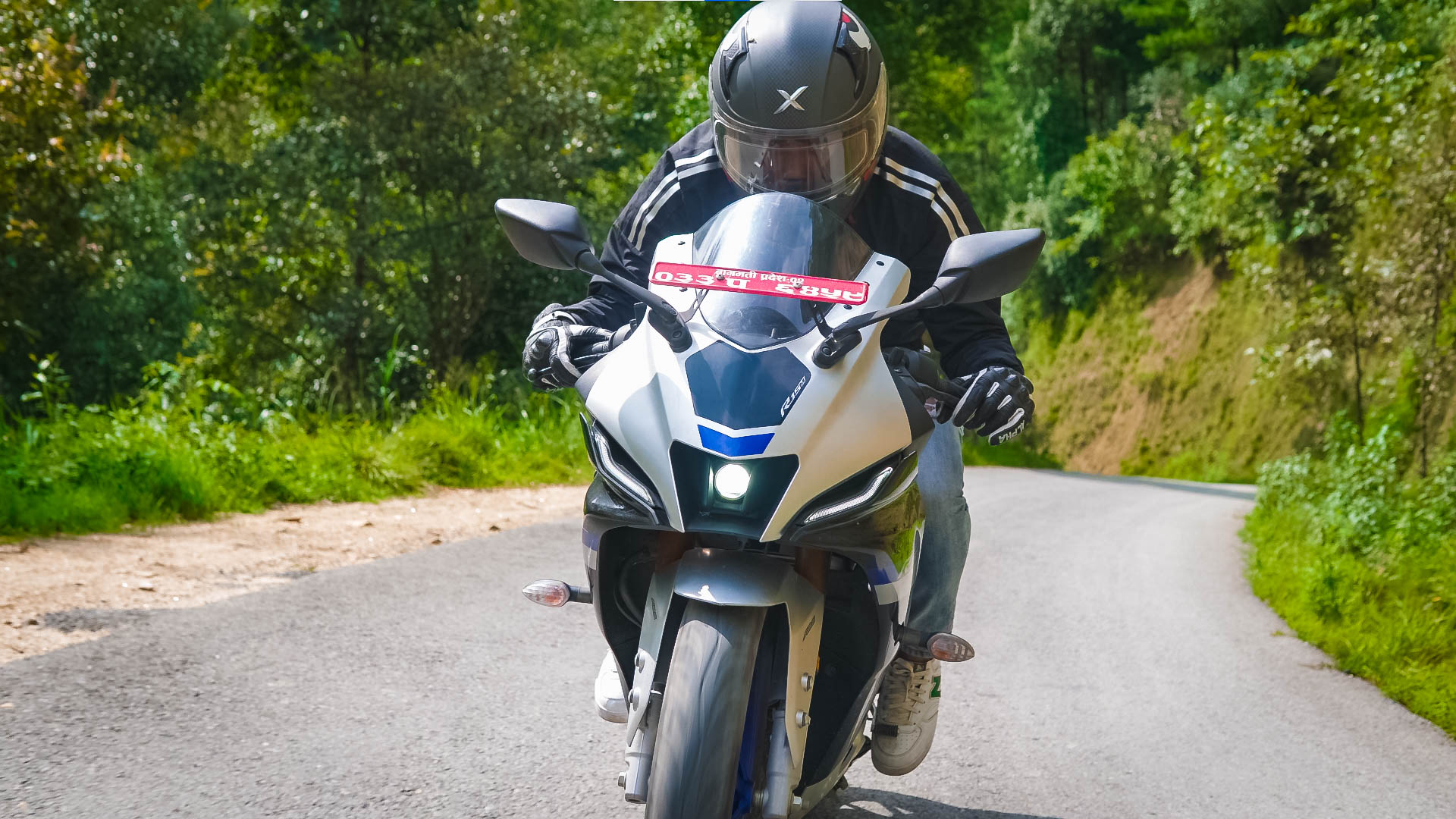 There is a minor change in mirrors, visor, and front profile. It looks a bit bulkier and more muscular than before.
Similarly, there are minor changes in logo placement here and there.
The side profile also sports minor revisions. And, the sculpted lines are a bit more prominent than before.
Elements like side fairing, split-seat setup, and exhaust pipe get minor design revisions.
Other than that, the rear LED tail lamp continues to remain the same.
R15M vs R15 v4: Visual Differences
Both R15M and R15 v4 are the same motorcycles.
It should be noted that the R15M and R15v4 are the same, both mechanically and visually.
However, R15M is a slightly more expensive variant that features six different add-ons.
Firstly, the Yamaha R15M comes only in the Metallic Gray color option.
Other visual elements include a 3D R15M Logo, Blue-colored R15M Fork Caps, Golden Colored Brake Caliper, a Gray-colored Swingarm, Faux Carbon Seat Covers with Embroidered Logo, and a Gray-colored Muffler Guard.
Since R15 v4 isn't available for the Nepali market right now.
You can consider those addons as standard until R15 v4 officially launches in Nepal.
Performance
Yamaha R15 v4 is powered by a 155cc, Single-Cylinder, 4-stroke, 4-valve, Liquid-cooled FI engine. It can generate a max power of 18.4PS at 10000rpm and a max torque of 14.2Nm at 7500rpm.
Moreover, it is mated to a 6-speed gearbox with an assisted slipper clutch.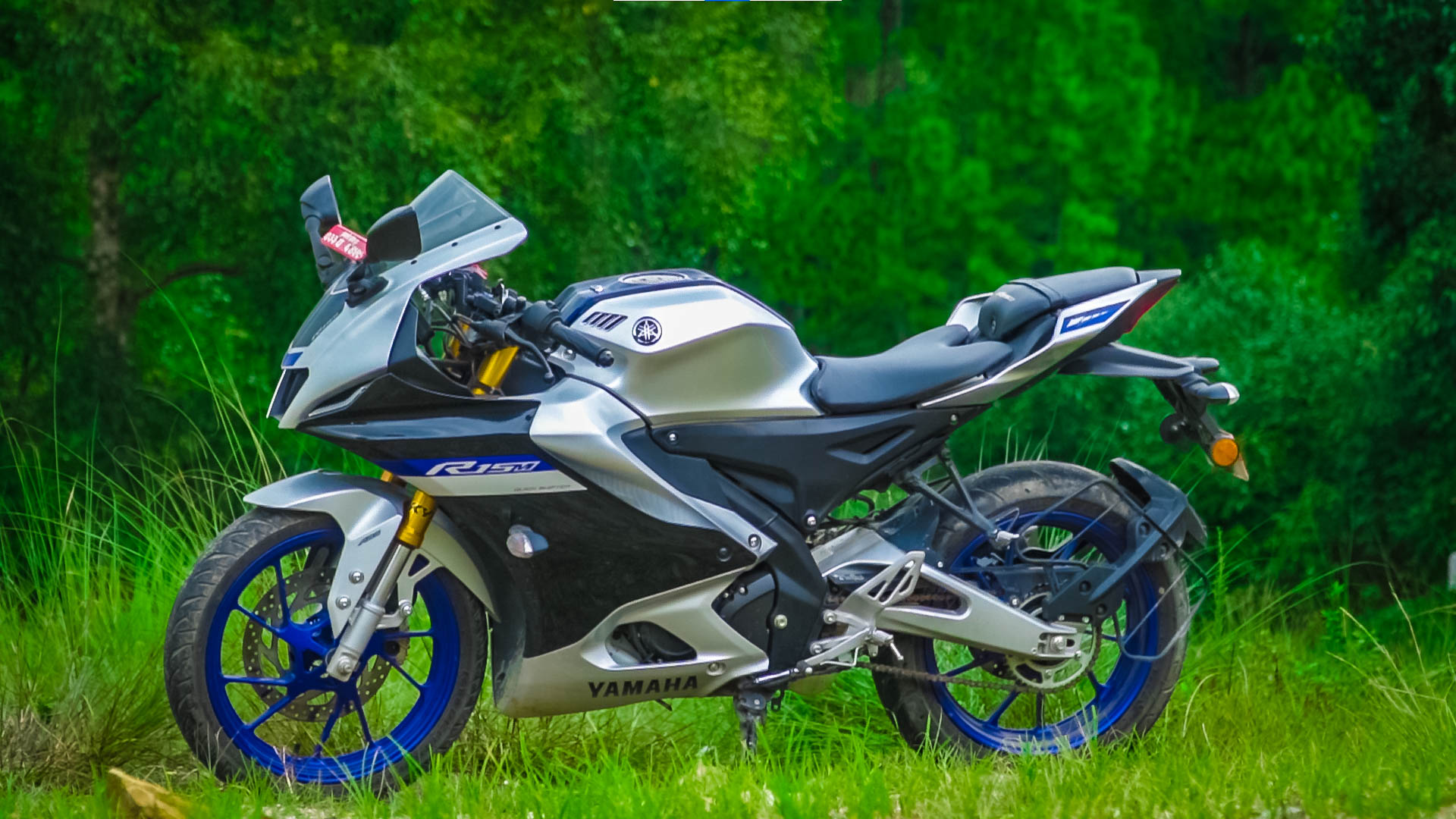 There is a minor change in the powertrain.
On a direct comparison with the R15 V3, the R15M generates 0.2PS less power but 0.1Nm more torque. Furthermore, the peak torque comes in at 7500rpm instead of 8500rpm.
Despite being a minor change, the new R15M does feel a bit peppy with performance.
Familiar Features
Yamaha R15M doesn't introduce any big game-changing features. However, there is a considerable quality of life changes.
Thanks to its nifty new features, the Yamaha R15M is better and safer.
Braking Performance
Yamaha R15M comes equipped with a 282mm Disc at the front and 220mm Disc at the rear. Like before, it features Dual-Channel ABS as standard.
The braking feedback is incredible.
Both the front and rear brakes work like a charm. It is so well-tuned, picking up on minor nuances.
Unsurprisingly, it allows riders to stay at higher speeds for a longer period. And, the rider remains in control with confidence across all speed limits.
Tyres
Yamaha R15 v4 sports 17-inch tyres while the tyre sizes remain unchanged.
It gets a 100/80 at the front and 140/70 Radial at the rear. The tyre performance is excellent and continues to perform as expected.
It excels in high-speed agility in combination with good braking performance. Moreover, it continues to maintain confidence in tight cornering as well.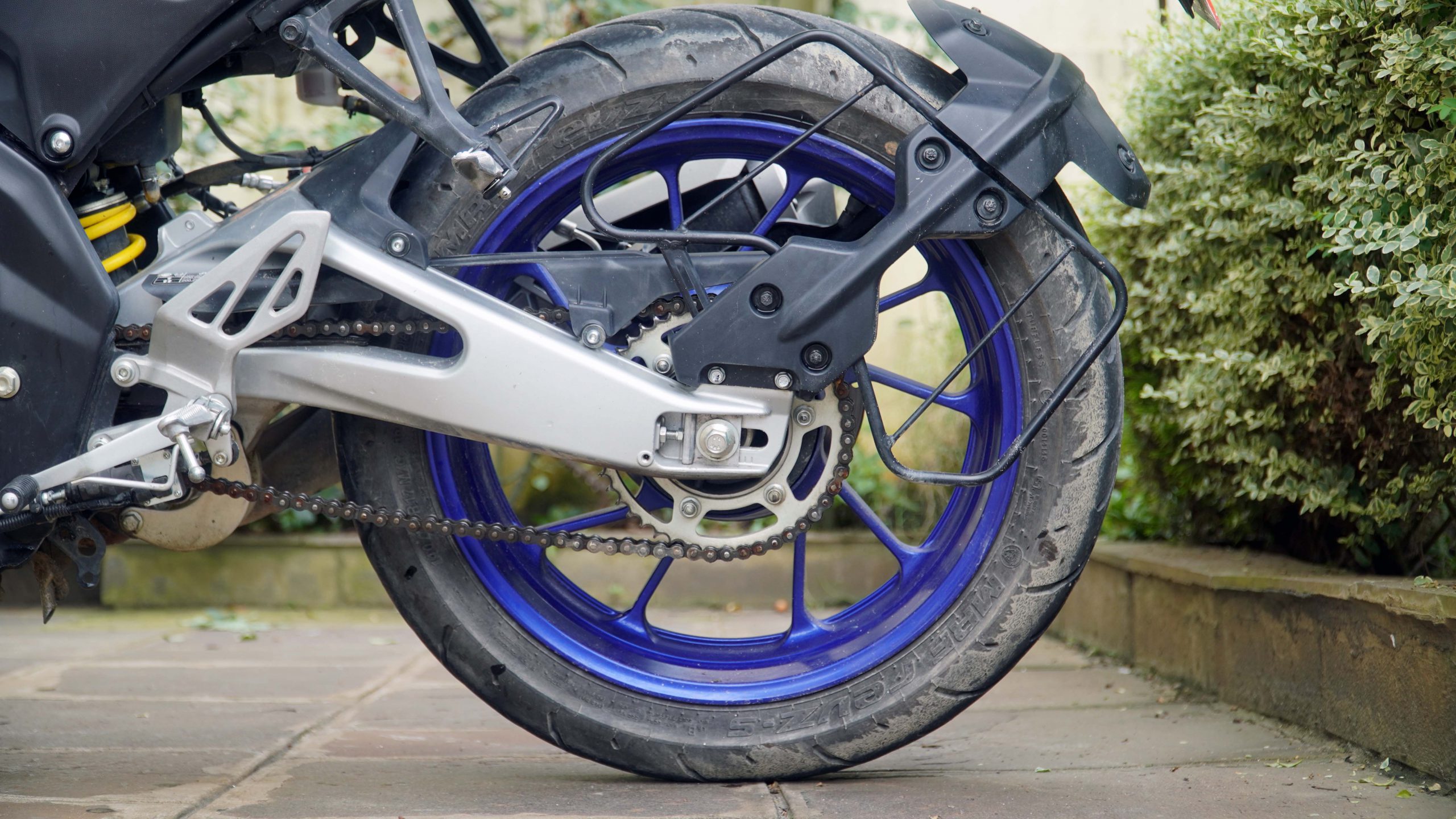 Suspension
The suspension configuration has been updated.
It sports a KYB Telescopic USD fork with a Linked-Typed Monocross. Following up as a performance machine, the suspension tuning falls on the stiffer side.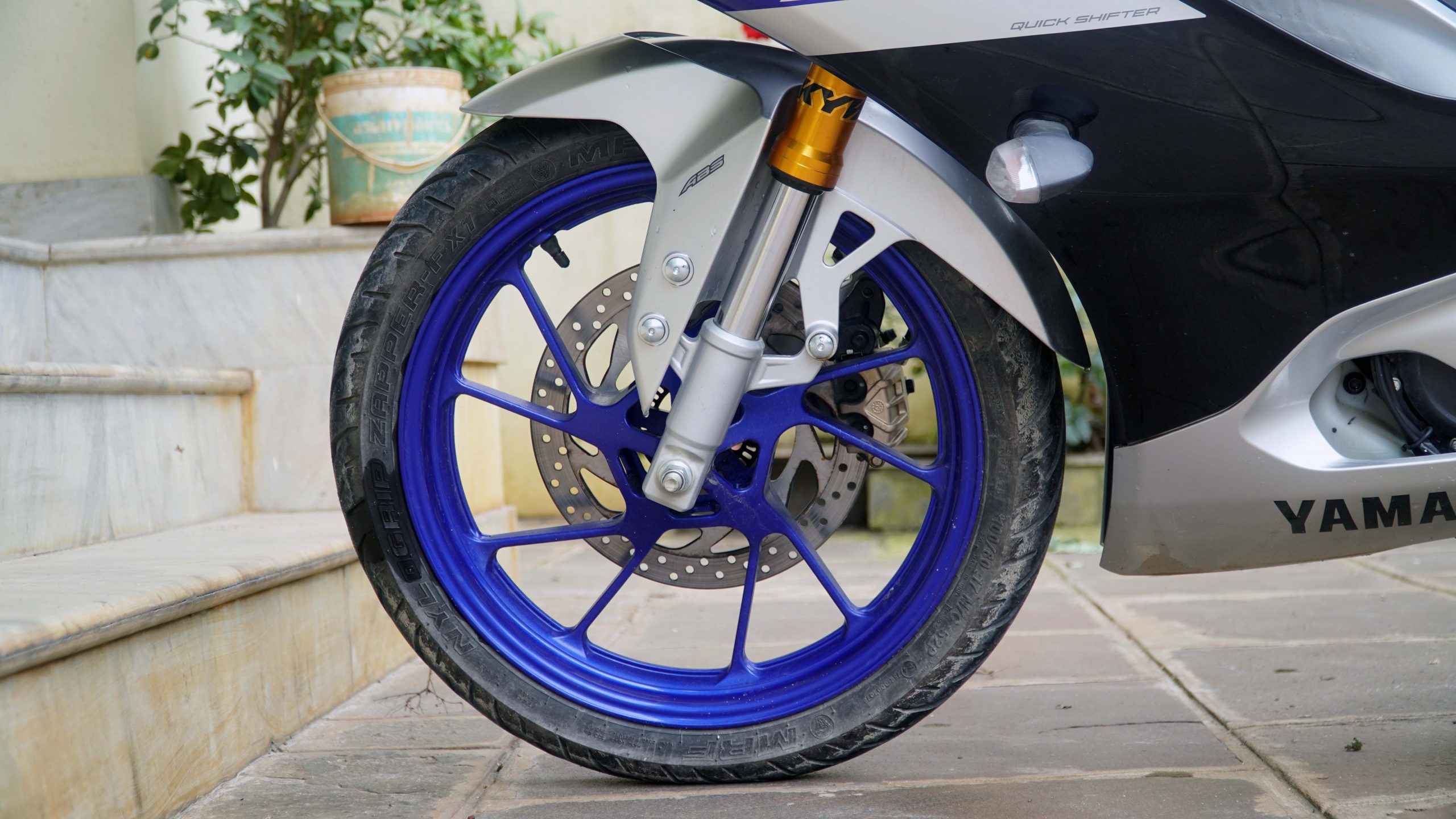 Moreover, the rear suspension lacks decent travel.
As a result, the rider will feel a bit jumpy when passing by big plot holes and speed breakers.
The rider should avoid rough terrains or off-road as much as possible.
Seat Comfort and Pillion
The seat comfort and pillion carrying capacity are questionable.
Thanks to the new clip-on handlebars, the riding position is a bit more aggressive than before.
Being an R15M, this is expected.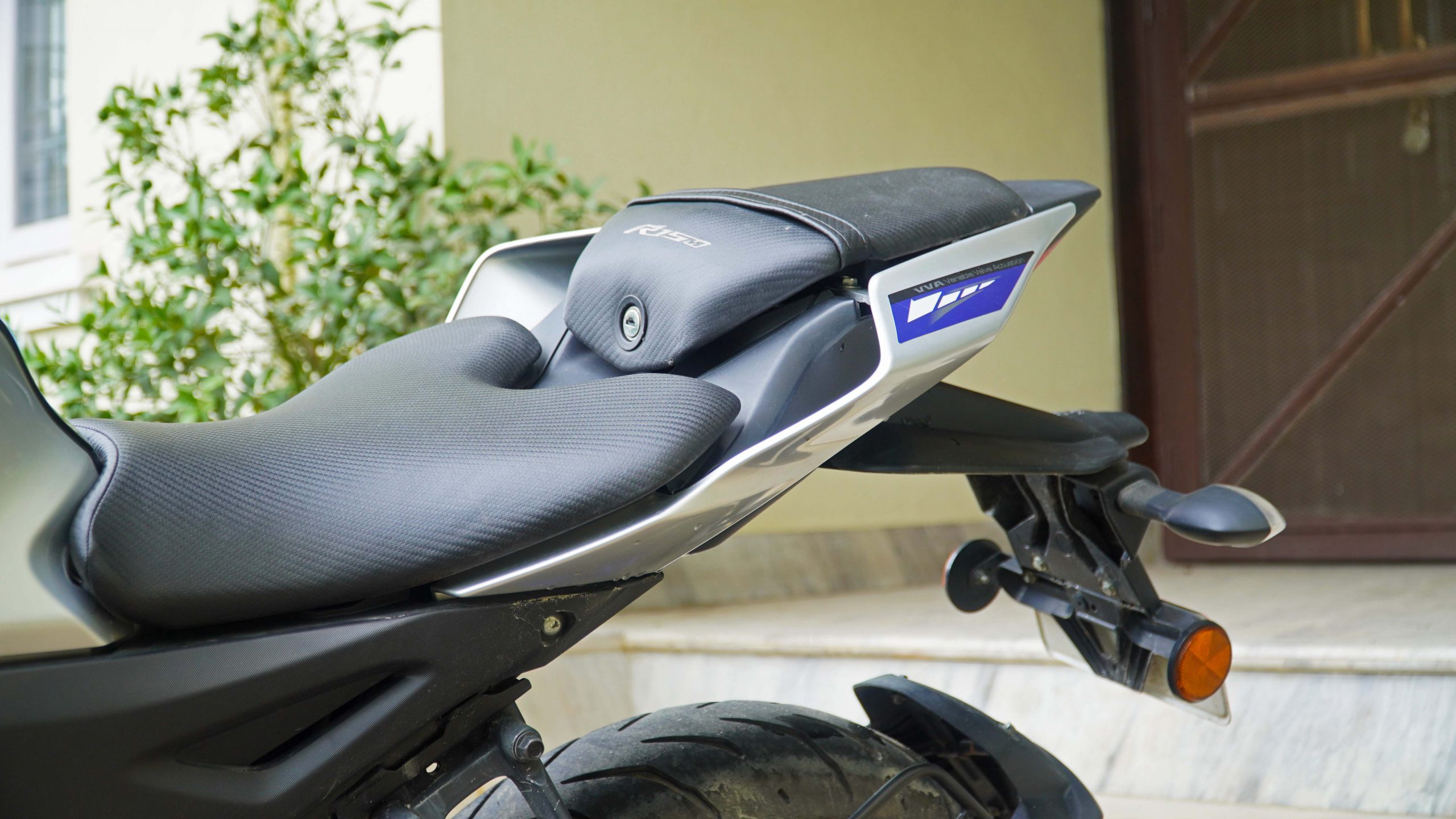 However, it is still annoying in most cases. There is a pressure build-up on the wrists and shoulders.
Moreover, the pressure is further multiplied with a pillion or going downhill. The pressure is manageable on city roads and highways, but it will test your patience during off-road conditions.
Fuel Tank Capacity and Mileage
Yamaha R15M gets an 11-liter fuel tank capacity.
The fuel tank might seem smaller at first. However, it is manageable due to its high mileage.
During our test, we were able to get 40 kmpl at the lowest and 50 kmpl at the highest. So, normal riding should yield an average mileage of 45 kmpl.
Riders can get anywhere between 440 km to 550 km on a full tank.
New Digital Instrument Meter
Yamaha R15M introduces a brand new instrument cluster.
It is an advanced all-digital meter with plenty of offer information. There is a new toggle switch to flip through different TRIP and INFO options.
Riders can keep track of important information like Average Mileage, Average Speed, Real Time Mileage, Coolant Temperature, Battery, and more.
The riders can also toggle between two riding modes: Street and Track. Unfortunately, there is no mechanical difference in those modes.
Rather, the meter gets a small visual change. The Track Mode starts at  6000 rpm and Lap Timers.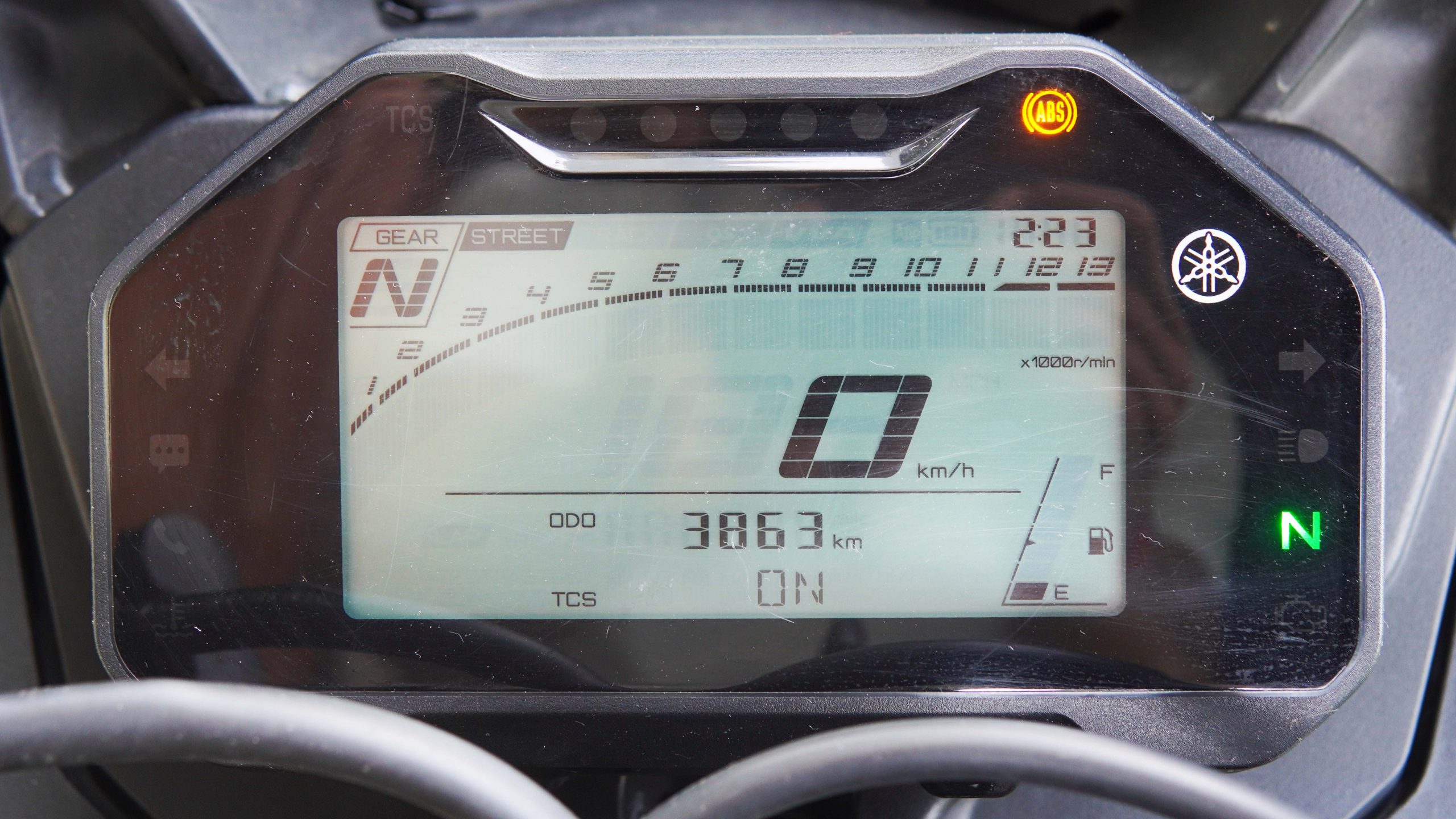 There is also an option to customize the meter itself.
It will allow riders to change Welcome Message, Shift Light Type, Meter Brightness, Metric, and More.
On top of this, it includes Yamaha Y-Connect Bluetooth Connectivity as standard.
It will open up additional information like Fuel Consumption Tracker, Parking Location, Maintenance Recommendations, Rev Dashboard, and more.
Quick Shifter and Traction Control System
Among the newest features, there are new add-ons.
R15M sports a Quick Shifter and Traction Control System as standard. Both work to make the sports bike faster and safer.
Does a 155cc motorcycle need those systems? The answer should be no.
However, it makes the overall riding experience so much better.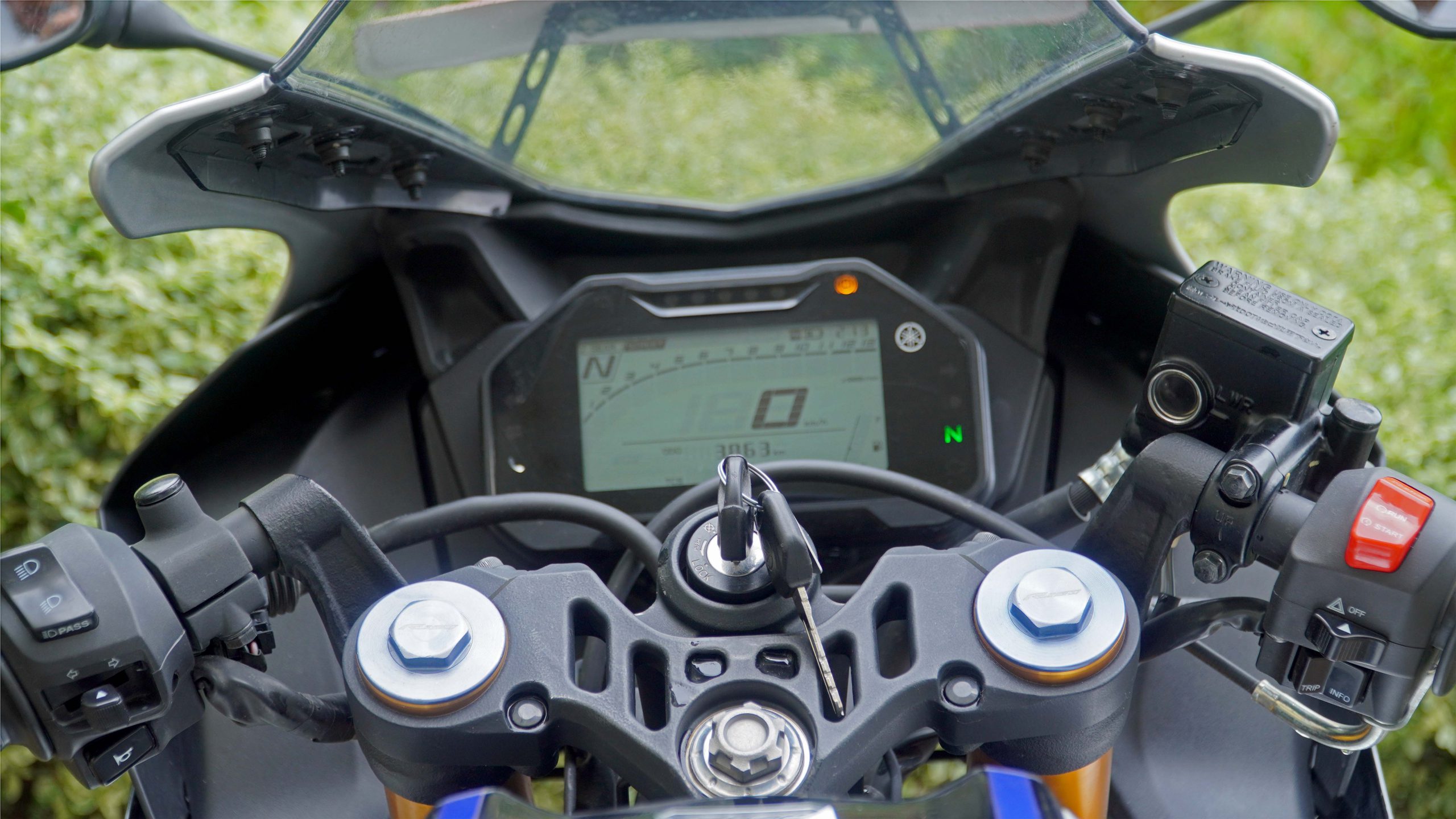 Quick shifters are fun to shift through on the highway. And, the Traction Control System provides the optimal traction to avoid any slip-up.
Interestingly enough, both the Quick Shifter and Traction Control can be turned off if needed.
Traction Control can be turned off via the Meter. However, it is a hassle for the Quick Shifter. To do it accurately, please consult the Motorcycle Manual.
Yamaha R15M v4 Features Highlight
BS6-Compliant FI Engine
R7-Inspired Faired Styling
Variable Valve Actuation (VVA)
DeltaBox Chassis
Bi-Functional LED Headlamp with LED DRLs
LED Tail Lamp
Aluminum Swing Arm
6-Speed Gearbox with Slipper Clutch
LCD Instrument Cluster
Two Riding Modes – Track and Street
Hazard Light Switch
Bluetooth Connectivity
Re-designed Pillion Seat
Dual Horn
Dual Disc Braking
Dual-Channel ABS
Upside-Down Telescopic Forks and Linked-Type Monocross Suspension
Traction Control System
Quick Shifter (Upshift Only)
My Experience with Yamaha R15M
Refined Performance
Yamaha R15M comes with the tried and tested 155cc engine. The level of refinement is entirely on a different level.
It feels so fun to ride, where the vibrations are next to none across all RPM ranges.
Moreover, the performance is linear across the powerband. And, the quick and light gearshifts add more flavor to the overall experience.
The low range does need some work. However, the midrange is just so beautiful.
It is a rev-happy engine that goes well with the Yamaha tagline.
Moreover, the 6-speed gearbox is very well-tuned. The gearing ratios are tall and don't require constant shifting between one and the other.
Furthermore, there isn't a noticeable difference between the gears. However, each additional gear does enhance the overall experience.
And, the overtakes can be done without any downshift at a higher gear.
VVA Addiction
There will come an instance where the performance loses its edge past 7000rpm.
That is exactly when the Variable Valve Actuation (VVA) kicks in. Hence, the performance feels punchier than before.
The VVA performance is just so addicting that riders will want to keep it in that range.
There were a few instances where I got literal goosebumps after experiencing the magic of the VVA. So much so that I pushed the bike across that 7450 rpm limit whenever I came across an open road.
If the VVA was a drug, then I am a bonafide addict!
Real World Practicality
Yamaha R15M shines in the city and open roads.
While the riding position is committed, it does create a mindset to endure the pain for that sweet experience.
It glides through traffic and tough spots. And, it shines the brightest on the highway.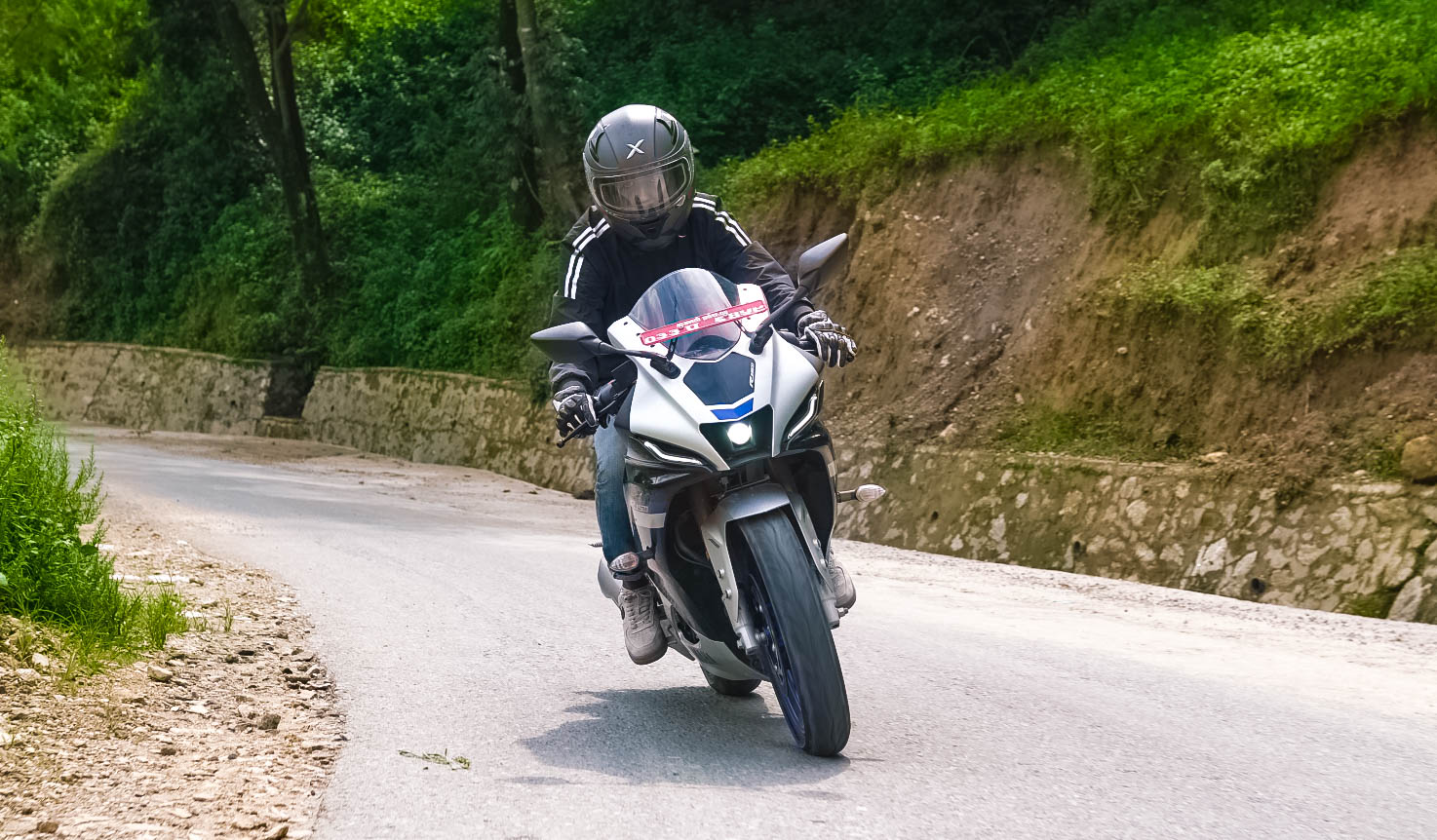 The handling and maneuvering are surprisingly fun.
It cuts through corners like a hot knife in butter. The cornering precision is very precise and insanely accurate.
However, it fails to maintain that same magic in off-road conditions. The combination of the committed seating position and stiffer suspension creates an uneasy feeling.
Surely, this bike isn't made for off-roads. But, off-roads are common occurrences in the streets of Nepal.
As for long-distance touring, it is possible.
The 155cc engine can handle almost all conditions without breaking a sweat. However, the riding position takes it back a bit.
It is advisable to take breaks and plan during these kinds of long drives. Moreover, the Yamaha R15M is more about exploring solo rather than taking a pillion.
Frankly, the pillion (lightweight or heavy) will bring the fun experience down.
It should be easy to deny the pillion seat, especially since the pillion won't stay comfortable with the awkward and high-positioned seat.
Battle with Competition
Yamaha R15M rivals the KTM RC 200.
Both are aggressively styled city-friendly sports bikes. Moreover, both bikes have successfully set a benchmark for a perfect balance between performance, features, and design.
KTM RC 200 has a bigger engine displacement, more premium hardware, and a bit city-friendly stance.
However, it cannot match the refinement of the Yamaha R15M. Plus, the Japanese machine is much more pocket friendly with its road tax and mileage.
Nevertheless, KTM comes across as a no-nonsense performance machine. Whereas, the Yamaha comes across as a compact and fun-to-ride machine.
Personally, the R15M styling is miles ahead of the RC 200.
There is another bridge between the two bikes: Suzuki Gixxer SF and Suzuki Gixxer SF 250.
Both Gixxers offer refined performance, quick agility, and cost-effective pricing. While the Gixxers lack premium features, it is just so much fun to ride.
Shortcomings
We have already talked about this.
There is only one shortcoming to consider: the seating position.
The committed riding position will feel awkward and painful at times. Riders will eventually get used to the seating position.
However, there will never be a fun off-roading experience.
If you are looking to buy the new R15M, definitely consider the seating position above everything else.
If you can live with it, then you cannot go wrong with the R15M!
Conclusion
Yamaha R15M isn't perfect. Then again, nobody is.
Despite its faults, the new R15M is an excellent motorcycle. More importantly, it is a fun machine that brings the track feel to the open roads.
Considering everything that it brings to the table, there is rarely anything else that can match the iconic R15.
With its fourth iteration, it just proved that theory further.
It is a very definition of perfectly imperfect.