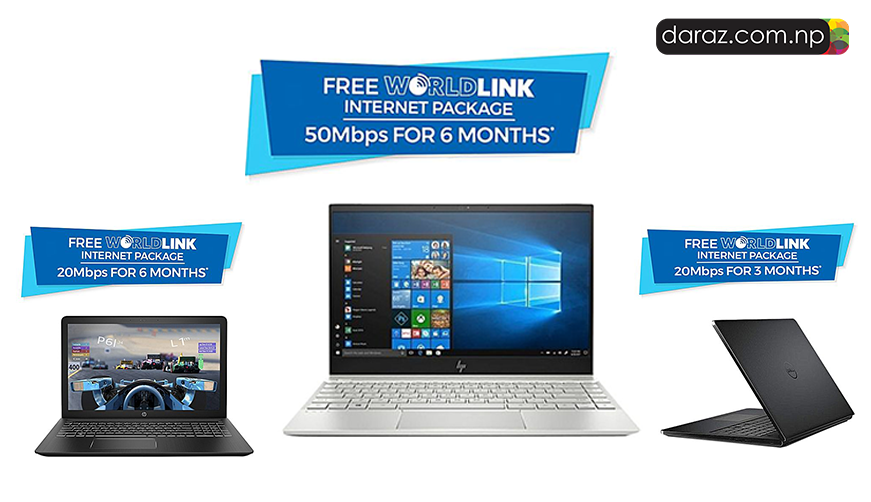 Daraz, one of the largest e-commerce site of Nepal, has teamed up with WorldLink to give its customers a deal they cannot refuse. The deals are on all laptops available on Daraz. Under this deal, on the purchase of any laptop from Daraz you get FREE WorldLink internet subscription.
There are 3 different deals for 3 different categories of Laptops. For laptops that cost less than Rs. 50,000, WorldLink has committed to provide the customers with 3 months of free 20 Mbps internet service. Yes, you heard that right – 20Mbps. Who can refuse that deal? Someone who gets an even better deal. But this better deal is available on laptops that cost more than Rs. 50,000.
For laptops that cost between 50,000 and 1,00,000, WorldLink will give the customers a free 20 Mbps connection for 6 months. This is roughly around Rs. 9000 worth of internet just given to you free of cost. And it's from WorldLink, the largest ISP of Nepal. They have made a reputation for a reliable and fast connection.
But the deals just don't end here. If you spend more than a Lakh rupees on your laptop, which we think most of you will, as a laptop is, for most people, a long-term investment, you'll be getting a … drumroll… a 6 months package of 50Mbps connection for free. Now, this is some deal. You are getting a new laptop and the chance to ditch your unreliable crappy ISP. Two birds with one stone.
People should note that to get this deal, you will have to buy your laptops from Daraz specifically and if the laptop you want isn't listed on their site then we feel you. But you aren't short in options on Daraz anyway. At least one laptop may be good enough for you among the 445 on their list!
So, go home, open the site on your old laptop, or from your smartphone (they give you a discount if you use the app), and choose a laptop you have been thinking of buying because there has never been a better time than this to buy a new laptop.