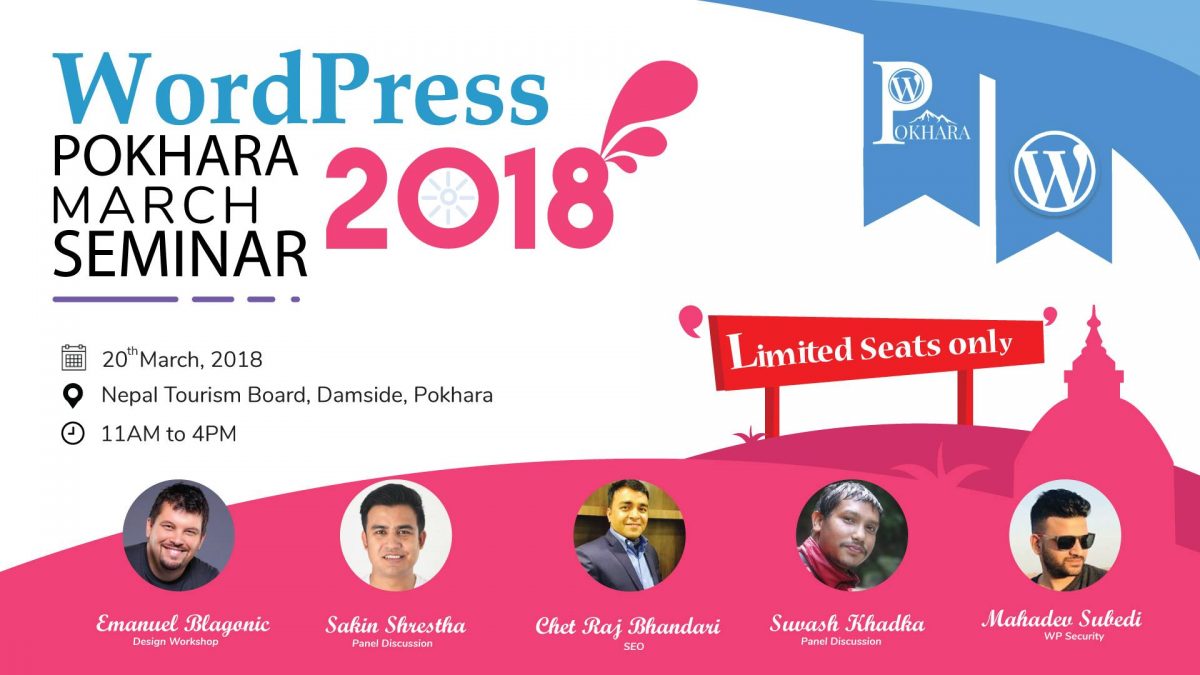 WordPress Pokhara Meetup Group is a group of technology enthusiasts living and working in Pokhara, consisting of like-minded people who regardless of their ability, skill and financial status meet and collaborate with fans and users of WordPress, to help each other with their problems and help the community grow. This meetup group meets every month and has conducted 23 meetups which include workshops at schools and colleges as well as presentations on specific topics for the benefit of the local community.
There's a lot of real talent at our city Pokhara but we seldom get the opportunity to learn, share and grow together. This is why, the meetup group has decided to conduct a significant meetup this March to extend the reach of this community and give everybody a chance to learn as well as socialize.
This mega event which is scheduled to take place on 20th March at the beautiful headquarters of Nepal Tourism Board based in Damside, Pokhara. It is envisioned to bring together WordPress fans of all stripes, from eager beginners to hardcore developers as well as entrepreneurs, coders, designers, writers and more. For this event, the meetup group have arranged 4 prominent, well known and inspiring speakers from the WordPress community of the world to speak and organize workshops on leading topics.
These topics include:
Making a Profitable Website Through Local SEO by Chetraj Bhandari
Workshop on Becoming a modern designer (tips and tricks included) by Emmanuel Blagonić
Panel Discussion on WordPress Business more by Sakin Shrestha, Suvash Khadka
WordPress Security (How to Secure WordPress site) by Mahadev Subedi.
So don't miss the chance to become a part of this growing community and the prospect of business networking as well as a chance to showcase talent, share knowledge and experience.
Learn and share your knowledge with the world's brightest professional; register for the event today!
Note: Registration is free but limited to the first 150 registrants. 
Event Details
When: March 20 (Chaitra 6)
Where: Nepal Tourism Board, Damside, Pokhara
Time: 11 AM – 4 PM
(Press Release)