Vianet, one of the major ISP and television service providers of Nepal has launched a Purple Pack Offer in collaboration with Ncell.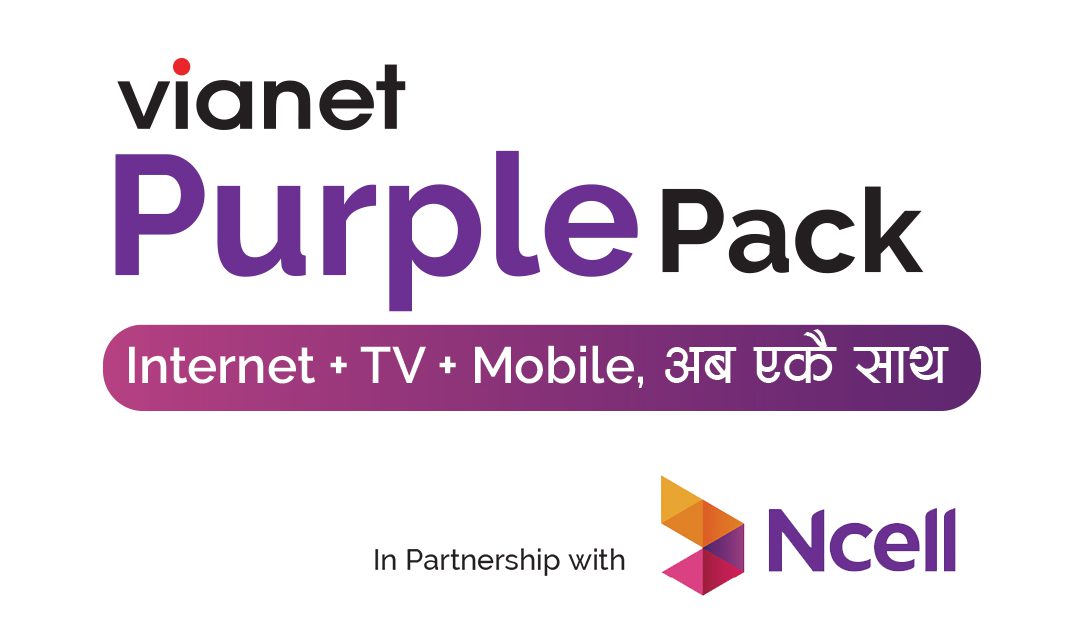 This collaborative offer packs internet service, television service, mobile data pack, and voice pack into a single bundle. So, you can enjoy the best of both Vianet and Ncell via this combo Purple Pack Offer.
Let's see what we can get with the Purple Pack Offer!
Vianet Purple Pack Offer
With the Purple Pack Offer, customers will be able to enjoy Vianet's internet service, ViaTV, and data/voice pack with the free Ncell Sim card.
To be more precise you will get the following services with this offer:
80 Mbps/100 Mbps Internet
ViaTV with more than 175 television channels
Free Ncell Sim card with free data, free talk time, and free SMS
Free 4GB mobile data for 12 months with the included Ncell Sim card
Free 50 mins talk time to other Ncell numbers and 50 free SMS per month
Free monthly talk time of 50 minutes to call Vianet call-center
Extra 1GB data per month to use Vianet mobile app
This pack is available with Vianet's 80 Mbps and 100 Mbps internet packages. The Purple Pack 80 costs Rs. 1600 per month (13% Vat exclusive) and the Purple Pack 100 costs Rs. 1800 per month (13% Vat exclusive).

Vianet also provides free installation charges for both internet and ViaTV. However, you will have to pay the deposit fee and additional charges for the 5Ghz WiFi router.

The free Ncell Sim offer will be renewed up to 12 cycles of 30 days automatically from the data of Sim activation. So, you will get 48GB of free data in total. Also, the free call to Vianet Call Centre Ncell number is applicable for the number 9801046410 only.

Get all the Services in a Single Package
The Purple Pack offer will only run for a limited period of time and is only available in Kathmandu right now. So, head on to Vianet if you want to enjoy all of the services under a single umbrella.
This package is definitely useful for consumers who are already accustomed to the Ncell network and want high-speed internet along with an IPTV.
For more information, visit vianet.
What do you think of this Purple Pack Offer? Let us know in the comments below!
READ NEXT: Bhojdeals Expands its Food Delivery Service to Butwal