Upaya City Cargo has launched a programme in which female two-wheeler riders can register for logistic works and earn minimum Rs. 600 per day. Besides, they will get training on financial literacy, digital literacy, customer service and vehicle maintenance.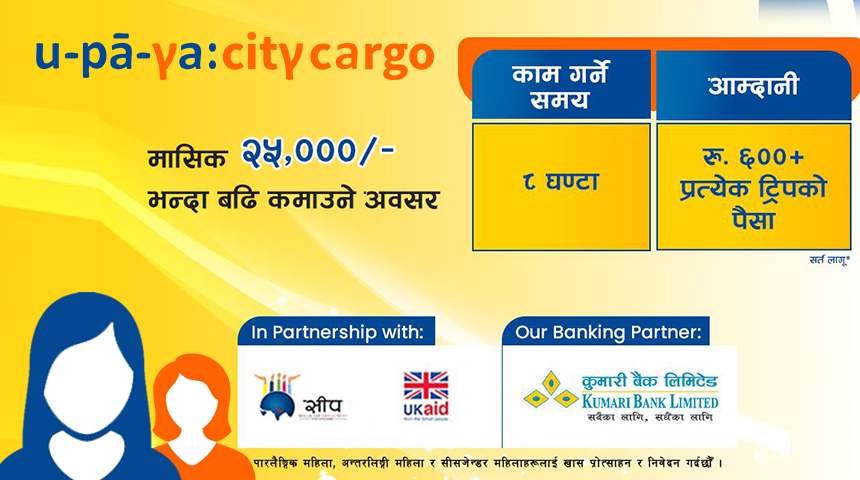 The logistic tech startup has collaborated with UKaid Skills for Employment Programme Nepal for this training programme.
"We are looking forward to onboard minimum of 2000 two-wheeler riders and truck and pickup drivers by January 2022. Among them, 200 individuals have to female," says Sandip Subedi, head of logistics at Upaya City Cargo.
He says that there is no limitation on the maximum number of females. "We would be glad to bring as much as female for the programme," he shares.
This can be the best platform for female college students and female homemakers who don't have any source income, he views. "Many females here are not financially independent. So, this may be a good option for many of them," says Subedi.
The selected participants will get training in the above-mentioned areas. Under the digital payment training, the drivers and riders will be trained on using digital payment tools and online platforms for brick and mortars.
RELATED: Upaya City Cargo, A Nepali Logistics Tech Startup, to Receive Rs. 180 Million Investment
Similarly, they will get knowledge and process of online banking and register personal PAN numbers under financial literacy. They will also be trained on vehicle maintenance and safety and the right etiquette to follow while dealing with customers.
Post-training, the female two-wheeler riders and persons with disabilities (male, female or other) will be treated as in-house staff and will be provided with a basic salary, says Subedi. They can earn up to 25,000 every month.
"They will earn Rs 600 per trip and get a minimum of Rs 600 per day even if they don't get any trip. This means they will get a basic amount as salary every month," says Subedi.
Upaya has recently started a two-wheeler-based logistic service. Currently, around 300 riders are registered in this segment. "Majority of them are male. We have very few females and persons with disabilities," he shares. The startup is gradually looking forward to hiring more females, persons with disabilities, LGBTQ and disadvantaged groups in the two-wheeler logistics in the near future.
According to him, this initiation will help bring more women into the logistics sector. "Significant portion of GDP in Nepal comes from Logistics industry. As the sector is huge, we want this to be more inclusive," says Subedi.
The riders can transport food services, online deliveries, parcels, or any essentials within the city.
According to Subedi, the participants must have the willingness to learn and there aren't any fixed criteria if they are licensed riders with two-wheelers.
Currently, 1700 truck and pickup drivers and 300 two-wheeler riders are working with this Nepali logistic tech startup. They added two-wheelers to their portfolio in March 2021.
This third-party logistics works with 5,000 plus clients ranging from corporate houses, eCommerce companies, breweries, department stores and small and medium enterprises like furniture shops. They also provide a logistic solution to individuals who are looking for home shifting and individual consignment and parcels. Currently, they are working in three cities Kathmandu, Pokhara, and Butwal.
READ NEXT: Programiz: An e-Learning Platform from Nepal has now Reached 15 Million pageviews/month in the Global Market