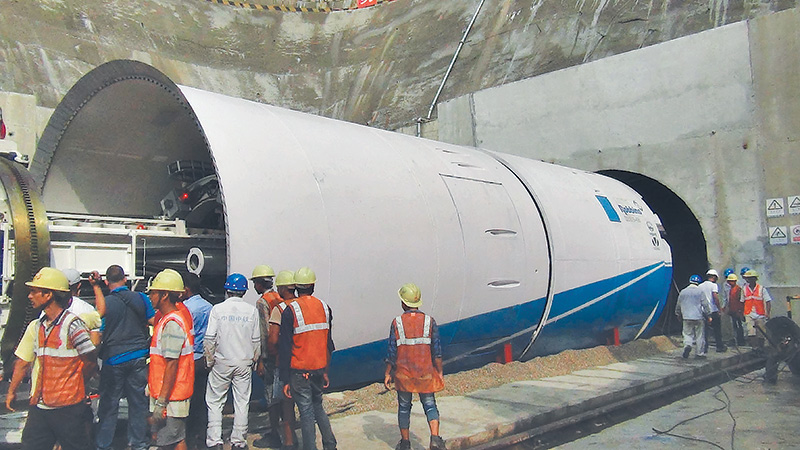 The first ever Tunnel Boring Machine (TBM) in Nepal is being used in the Bheri Babai Diversion Multipurpose Project.
On Monday, the machine dug 28 meters into the hills at the construction site surprising project officials that had expected a progress of about 15 meters daily, reports The Kathmandu Post. At this rate, the 12-km tunnel will be completed within 15 months. The project itself will be finished within 15 months, well before its March 2020 deadline.
Rukmagat Khanal, senior divisional engineer at the project office said, "The project started using the TBM to dig the tunnel on November 6, and initially it was moving forward slowly as machine operators fine-tuned the equipment. However, the boring machine is performing very efficiently currently."
Shiva Kumar Basnet, chief of the multipurpose project said that the office has revised the daily target and it is planning to complete the work in two years.
The machine which was installed this year has a 5-meter diameter and is 250 meters long. It is being used to dig the tunnel through which water from the Bheri River will be diverted to the Babai River to irrigate farmland and generate electricity.
Bheri Babai Multipurpose Diversion Project
The project intends to build a dam 15 meters high and divert 40 cubic meters of water per second from the Bheri River to the Babai River. The water from the dam will be used to irrigate 51,000 hectares of land round the year in Banke and Bardia districts. It will generate 48 MW of electricity.
The entire project is expected to cost around Rs. 16 billion. The project is expected to make an indirect financial contribution of Rs. 3.1 billion to the state, and a direct revenue contribution of Rs. 2.1 billion through energy sales.