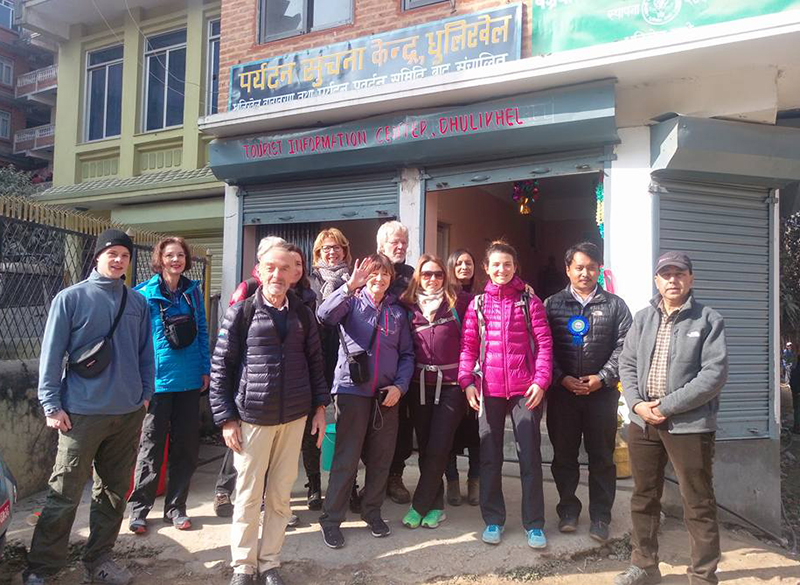 With the aim of promoting tourism in the district, a tourist information center has been established at Dhulikhel, Kavre, writes My Republica.
The information center was set up by Dhulikhel Environment and Tourism Promotion Committee. Rabindra Dholiju Shrestha, Joint Secretary, inaugurated the information center. Shrestha said that the center would meet its goal if it can provide all type of information to tourists and assistance to those willing to invest in the field of tourism in Dulikhel, which is famous for its natural and cultural attractions.
Prem Kantha Shrestha, President of the Regional Hotel Association of Nepal and Managing Director of Dhulikhel Lounge Resort informed that the information center would provide details of Dhulikhel and other nearby destinations and at the same time, tourists and entrepreneurs could receive information conveniently.
"We have collaborated with Nepal Tourism Board (NTB) to publish a guidebook for acquainting domestic and international tourists with places of cultural, historical, religious and geographical significance in and around Dhulikhel," said Sun Kumar Makaju Shrestha, Vice President of Dhulikhel Environmental and Tourism Promotion Committee.
Dipesh Shrestha, secretary of the committee and a promoter of Dhulikhel Eco Resort, informed that the municipality has created an environment conducive for investors, including non-resident Nepalis, who want to run hotels and other tourism enterprises in the area. Also, the municipality has decided to waive off local taxes for businesses and industries that employ more than 25 individuals for five years and has promised to ease access to electricity, drinking water and roads to these enterprises.
Even with abundant accommodation facilities, many tourists always return to the capital after staying a night at Dhulikhel due to lack of proper information. The center is aimed to minimise this type of inconvenience.