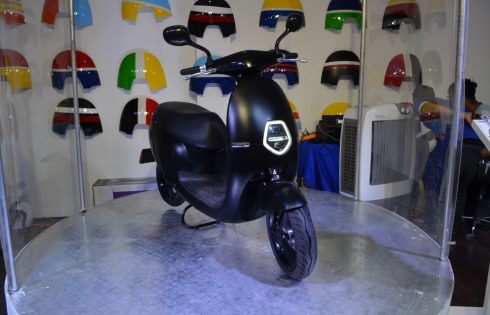 Fair Auto Pvt. Ltd., the official distributor of Terra Motors in Nepal, has officially launched the Terra Acuto electric scooter in Nepal. The Terra Acuto price in Nepal is set Rs. 2,35,000. Manufactured by a Japanese company, Terra Acuto is launched as the pollution-free vehicle in Nepal. Acuto is a slim, smooth and beautiful scooter that is ideally suited to the city areas of the country.
SEE ALSO: Terra Scooter Price in Nepal
Specs Outline
Terra Acuto is an electric scooter driven by Lead Acid 60V 29A ion Battery, which is estimated to take approximately 3.5 hours to charge the battery to full. It gives a maximum speed of 75kmph and provides a range of 80 kilometers in one full charge.
The display of this scooter is amazingly built. It has 12-inch alloy wheels with dual disc and all LED lighting system. The scooter also comes with a mobile charger with which it can be charged anywhere at anytime. The company is also providing 2 years warranty on the mobile charger.
SEE ALSO: Moto Guzzi Italian Bikes to Launch Soon in Nepal
Terra Acuto has comparatively good specifications than its previously launched electric scooter, Terra Seed 60 Alfa, as it has a city mileage of 45KM, however, Acuto claims almost the double, that is, 80KM. The Seed 60 Alfa requires 6 hours charging time while in Acuto it is reduced to 3.5 hours.
Terra Acuto Key Specifications
Power: 3000W brushless electrical motor
Battery: Lead Acid 60V 29A ion battery
Charging time: 3.5 hrs
Range: 80 km per charge
Carbon Emission: 0 gm/km
Max Speed: 75 kmph
Terra Acuto Price in Nepal: Rs. 2,35,000
Although Terra Acuto might seem attractive to many, the major drawback is the range restriction. You cannot simply take it for a long ride. Even if you do, you will need to face the hassle of charging it after every 80KM. However, if you are searching for an environment-friendly vehicle for short daily usage, this scooter might be a good choice for you.
For further details and queries about Terra Acuto, feel free to contact Terra Motors Nepal.