Pros
Suzuki Gixxer 250 Inspired Design
Excellent Power Delivery
Punchy Performance with Excellent Low and Mid Range
Loaded Features with Real-World Appeal
Relatively Softer Suspension Setup
Cons
No Engine Cowl
Mild Vibrations Past 7000 RPM
Lacking in Top End Feel
Uncomfortable Pillion Seat
Mixed Headlamp Visibility
We've said it before, Suzuki Gixxer 250 was a total package!
It had everything one could ever want from their motorcycle: from muscular looks to exhilarating performance to premium features. With offerings like that, Suzuki Gixxer 250 got all the attention.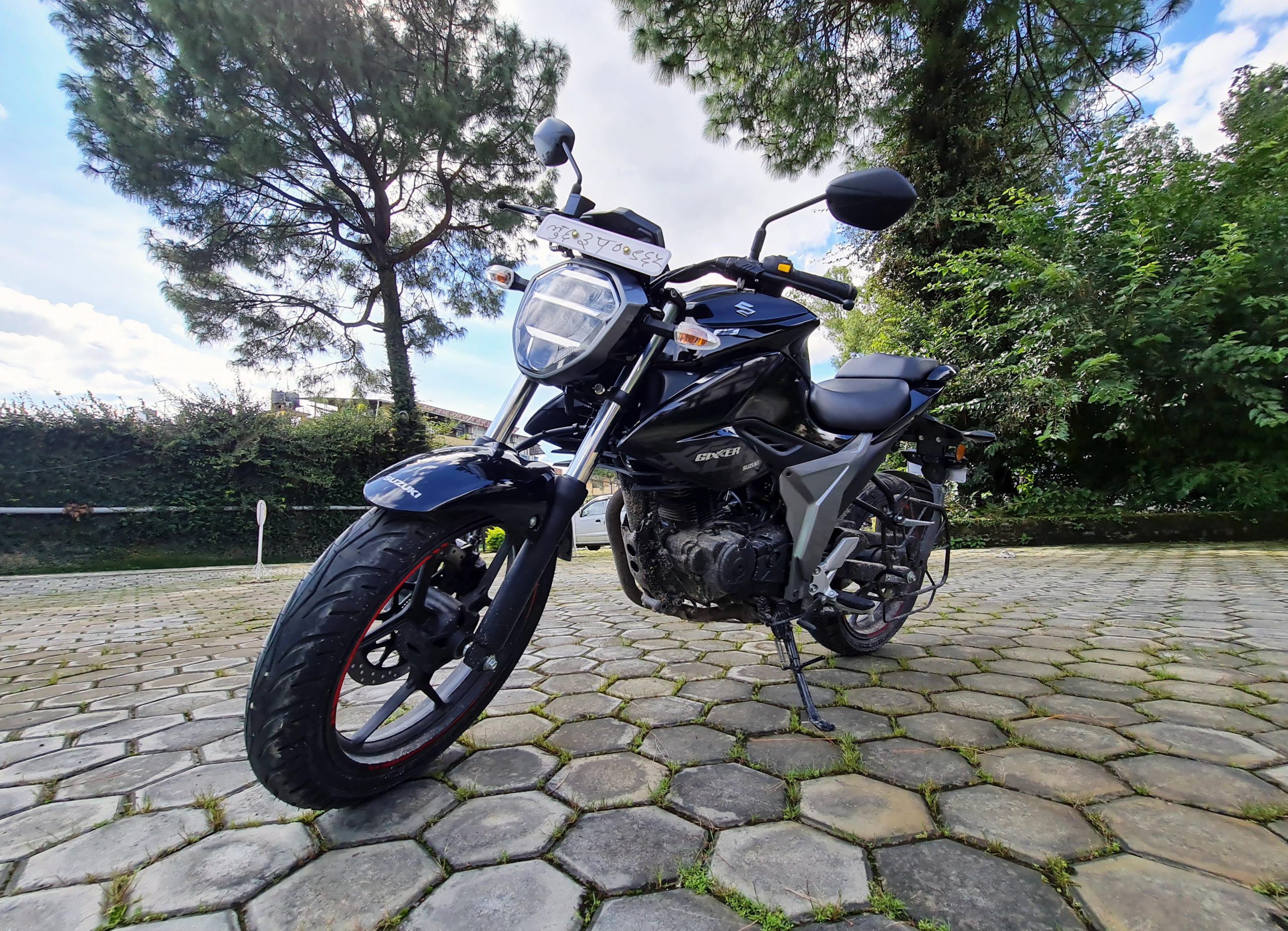 Amidst Gixxer 250's popularity, everyone seems to have forgotten about the little brother. I have to admit, even I kind of forgot about the Gixxer 155.
Suzuki Gixxer 155 offered a complete design overhaul, offering loads of new improvements and performance refinements.
Suzuki Gixxer 155 price in Nepal is Rs. 3,25,900.
After spending some time with the Gixxer 155, it left me with the same fun experience I had with the 250cc version.
It is a good motorcycle. Yet nobody talks about it.
I think they should.
Today, we are here to shine a light on this true masterpiece, trying to give this Japanese motorcycle well-deserved attention.
With that said, let's start the Suzuki Gixxer 155 Full Review.
Suzuki Gixxer 155 Specifications
Engine Type: Single Cylinder, 4-stroke, 2-valve FI engine
BS6 Compliant: No
Displacement: 155 cc
Cooling System: Air Cooled
Starting Mechanism: Self Starter Only
Max Power: 14.1 PS @ 8000 rpm
Max Torque: 14 Nm @ 600 rpm
Gearbox: 5-Speed
Top Speed: 120 Kmph
Fuel Tank Capacity: 12 liters
Mileage: 45 kmpl
Front Tyre: 100/80-17 – Disc
Rear Tyre: 140/60-17 – Disc
Tubeless Tyres: Yes
Braking System: Single-Channel ABS
Suspension Setup: Telescopic and Mono Shock Suspension
Seat Height: 795 mm
Ground Clearance: 160 mm
Kerb Weight: 141 kg
Colors: Blue, Silver, and Black
Suzuki Gixxer 155 Price in Nepal: Rs. 3,25,900
Suzuki Gixxer 155 Review
Big Brother Inspired Design
Suzuki Gixxer 250 and Suzuki Gixxer 155 share design similarities.
The overall design feels premium, without overpowering the original Gixxer DNA. Rather than bringing a completely new design like the competition, Suzuki chose to add character to the original.
You get a sporty bike that, despite being a 155cc engine, can still grab attention.
Body Design
Let's head a bit more into the detail.
On the front, it gets an all-LED headlamp, complete with a single-piece handlebar, good quality switches, and a white-light all-digital instrument cluster.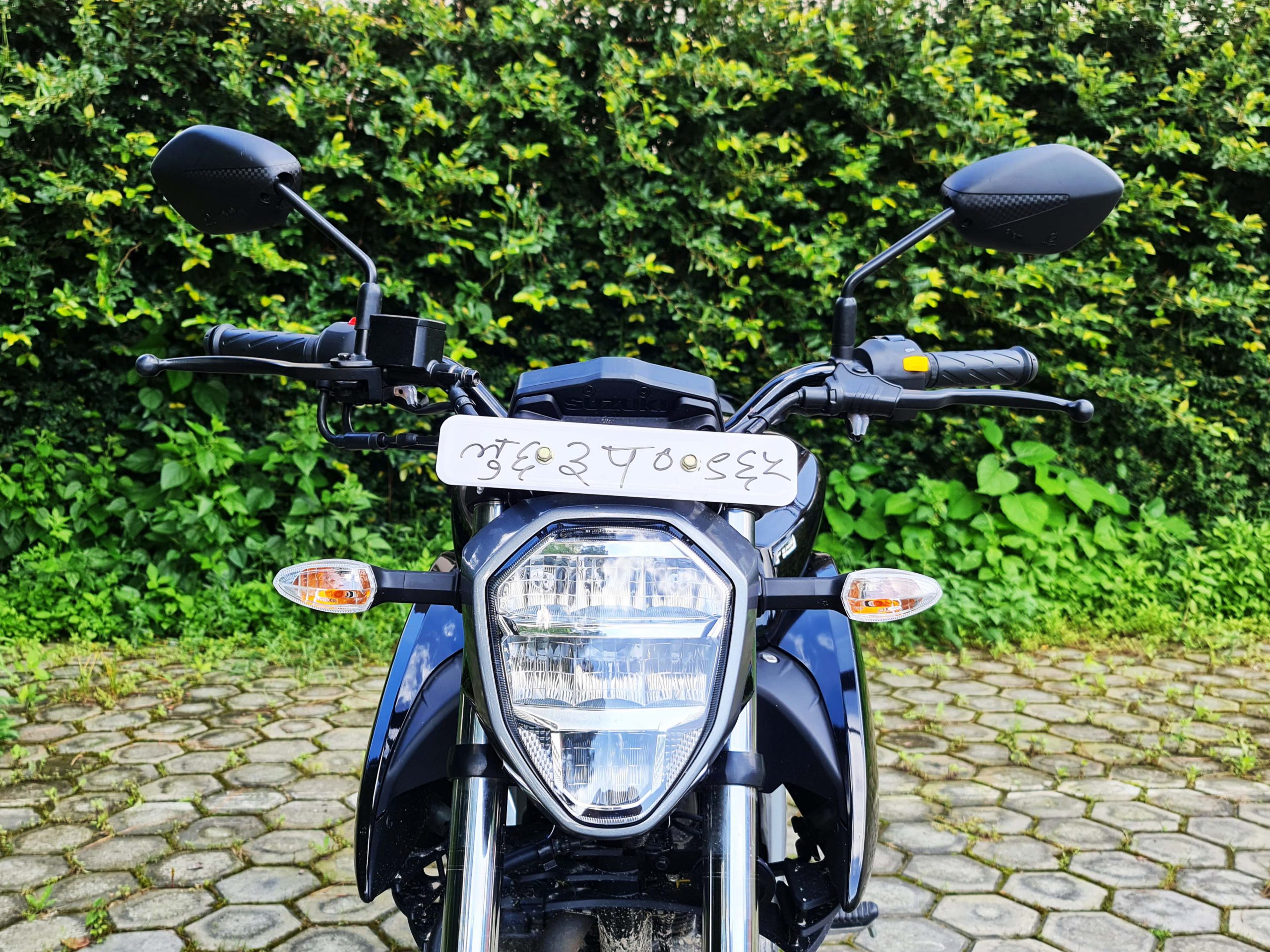 Compared to the old cluster, the new one feels much more well-spaced and clean.
The front design shares resemblance with Gixxer 250, so there were few instances where people kept on confusing with one another.
Moving to the side, it resonates with its muscular stance with the large fuel tank, sharp side tank shrouds, and sporty split-seat setup.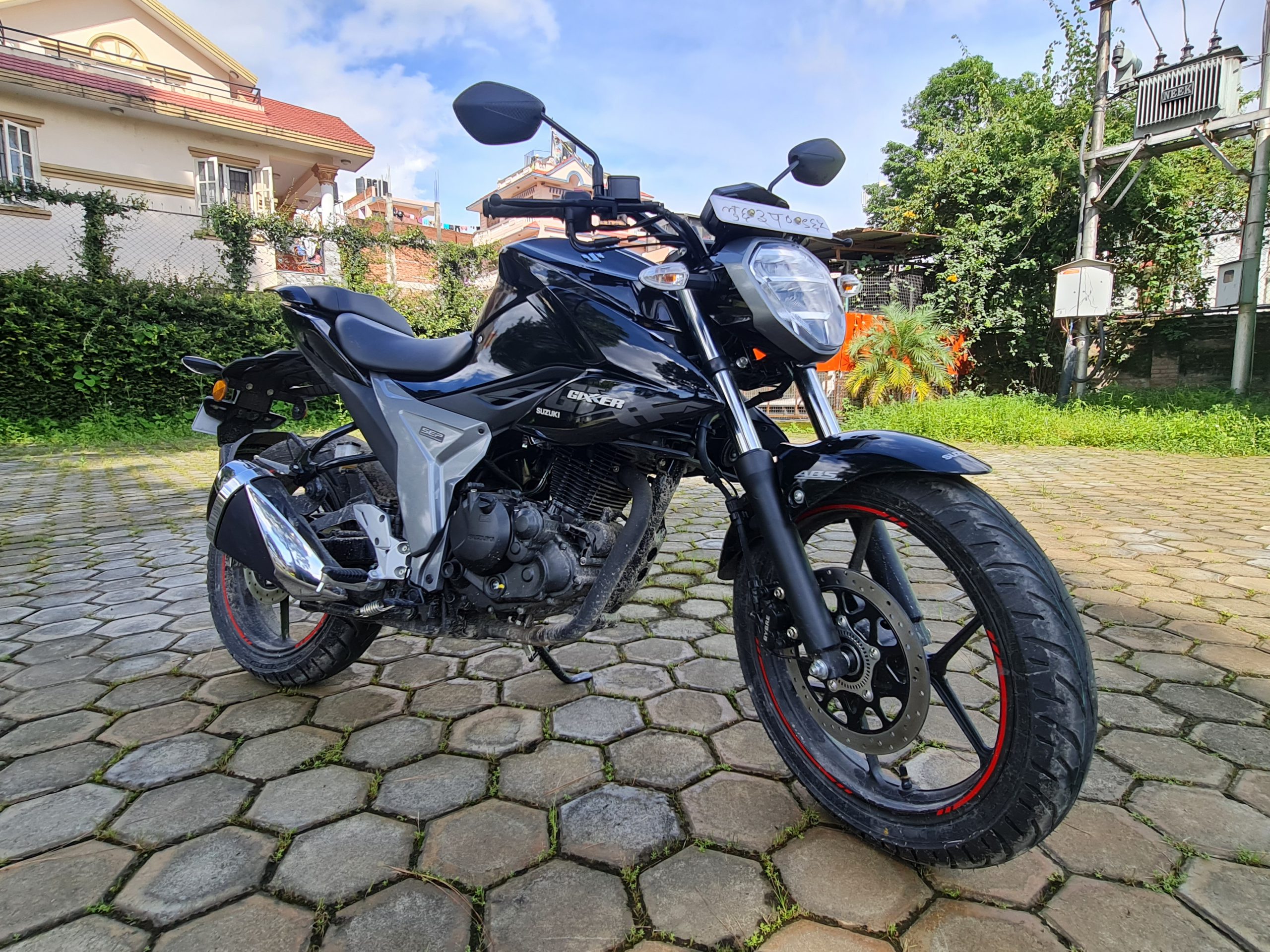 It features a plastic build, which does feel cheap. Nonetheless, the hard plastic helps Gixxer maintain its lightweight body.
Staying on the side profile, the side mirrors are slightly redesigned but don't offer wider visibility. The entire design is brought together by the signature dual-port muffler with a chrome finish.
Going to the rear section, it gets a newly designed LED taillamp, halogen bulbed side indicators, split grab bar, and neat tyre hugger.
Comparing the overall design with other 150-160cc bikes, Suzuki Gixxer 155 design feels more well-engineered. It features a sporty and reserved styling aspect, without going overboard.
On a side note, Suzuki Gixxer 155 does not get an engine cover nor handlebar ends, which is reserved for Gixxer 250.
However, it does get a central stand which was absent in the Gixxer 250.
Additionally, Suzuki Gixxer 155 is available in three different colors: Black, Silver, and Blue.
Almost a year after its original launch, it is surprising to see that the Suzuki Gixxer 155 still gets attention!
ALSO READ: Bajaj Avenger 160 ABS Street First Ride: Mixed Experiences!
Suzuki Gixxer 155 Design Highlights
Suzuki Gixxer 250 Inspired Styling
Muscular Fuel Tank
Sharp Side Tank Shrouds
All LED Headlamps
Bright LED Taillamp
Sporty Split-Seat Setup
Spilt Grab Rail
Dual-Port Exhaust
Punchy Performance
Suzuki Gixxer 155 is powered by a Single Cylinder, 4-stroke, 2-valve, air-cooled FI engine.
Additionally, it is a 155cc engine with Suzuki Eco Performance, which can generate a max power of 14.1PS at 8000rpm and 14Nm of max torque at 6000rpm. Moreover, it is mated to a normal 5-speed gearbox transmission.
Contrary to popular belief, Suzuki Gixxer 155 comes with a BS4-compliant engine, not BS6.
That's right! Suzuki Gixxer 155 comes with a BS4-compliant FI engine.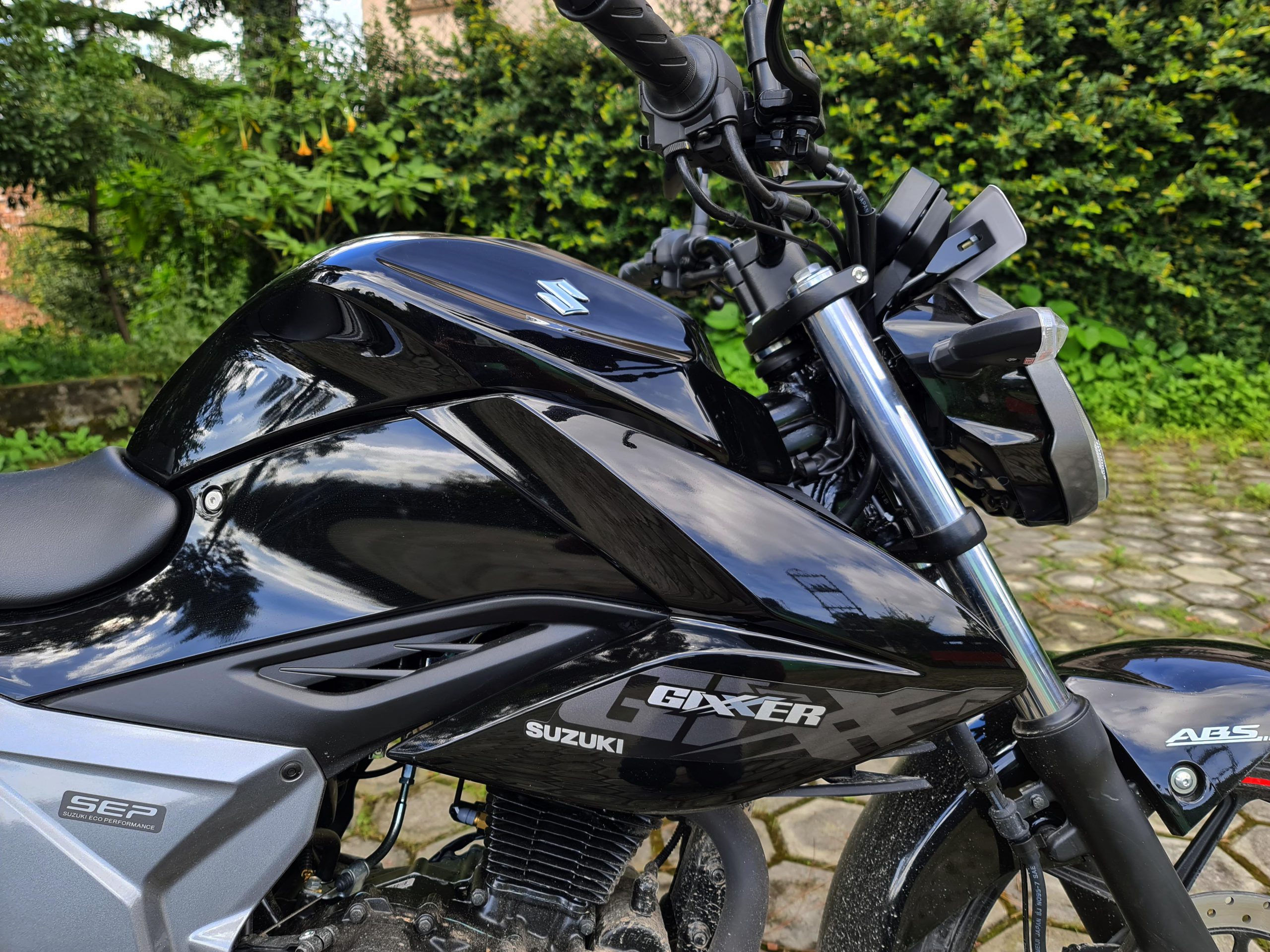 If you were expecting BS6, this might come across as a slight disappointment. However, you don't need to worry.
You aren't missing on much.
If you compare the BS6 specs with the BS4, you get 0.5PS more power and 0.2Nm more torque in the BS4 engine.
Plus, the minor power and torque differences would be negligible in real-world use.
Suzuki Gixxer 155 Engine Highlights
155cc Fuel Injection Engine with Air-Cooling
Suzuki Eco Performance (SEP)
Super Refined Engine
Best Low-End and Mid-End Performance
Performance Experience Similarities with Gixxer 250
Interesting Features
Now that we've talked about the engine specification, let's move on to the features.
Suzuki Gixxer 155 comes with many interesting lists of features. Among which some were even considered to be first in its segment.
While it might not seem as much of an interesting feature today, it was during its initial launch.
So, let's take a quick look at how those features stand out among the tough competition.
Braking Performance
Starting with the braking performance, Suzuki Gixxer 155 gets a 266mm Front Disc and 240mm Rear Disc, which completes the Dual-Disc setup.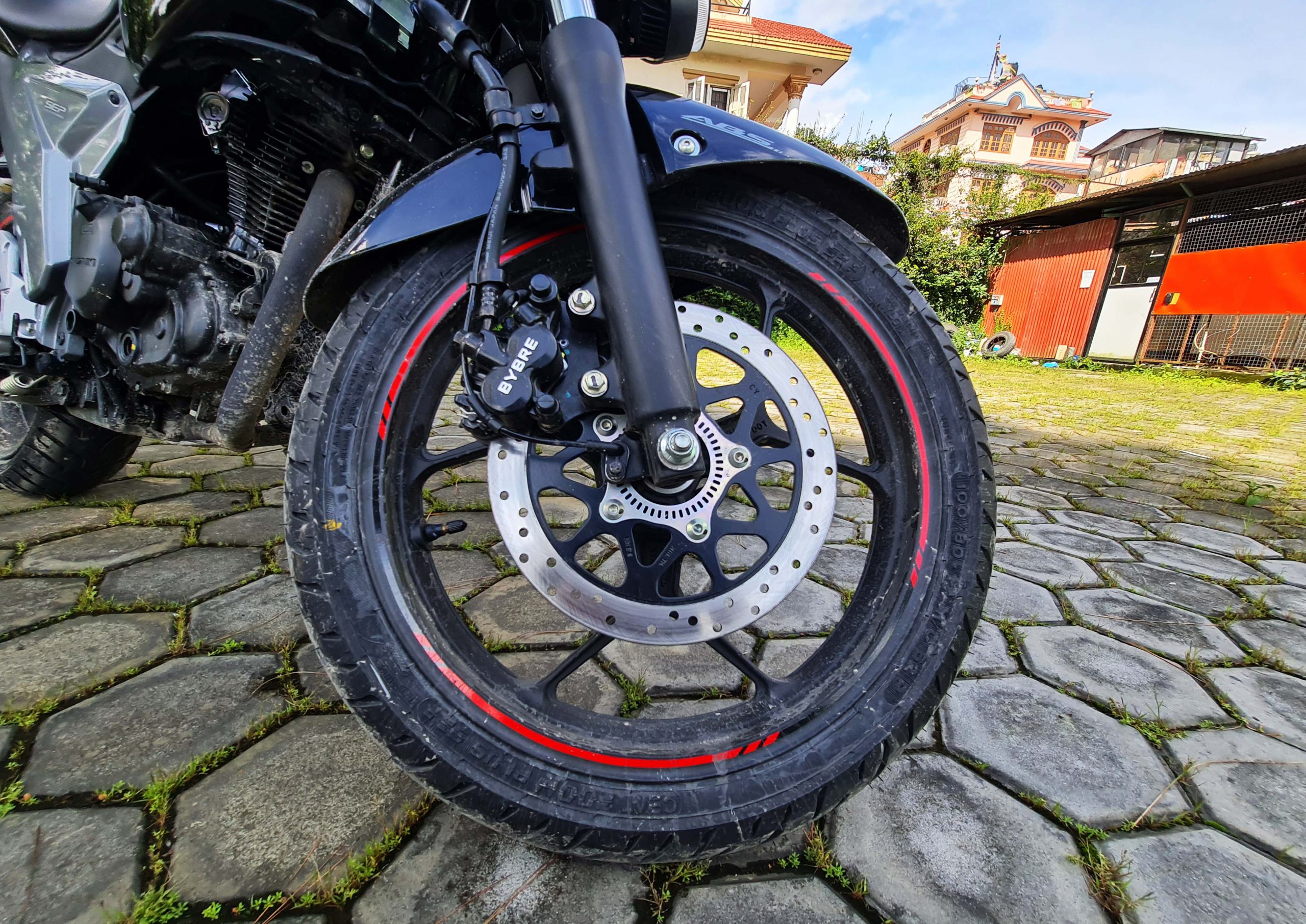 I fell in love with braking performance in the Gixxer 250. And, I am happy to report that Gixxer 155 continues on the excellent experience.
Both brakes are so precise, providing an outstanding bite with confidence-inspiring control. These brakes represent excellent quality and complexity behind Japanese engineering.
I haven't even talked about the Single-Channel ABS. It adds a layer of safety to an otherwise perfect braking configuration.
Among the many 150-160cc bikes we have reviewed, Suzuki Gixxer comes across with the best of the best brakes!
Radial Tyres
The braking performance is just a part of the whole story. There are many aspects in play that help Gixxer stand out from the crowd.
Among those many elements, the wheels play an important part too.
Suzuki Gixxer 155 gets a 100/80 sized front tyre and 140/60 sized rear tyre. Both tyres are 17-inch tubeless radial tyres.
Similar to the braking experience, the tyres do their job well.
It provides a superb grip for high-speed riding and occasional off-roading. Thanks to the radial tyres, cutting corners is super easy without compromising the rider's confidence.
Plus, these tyres help improve an extra layer to the overall handling.
ALSO READ: Bajaj Pulsar NS 160 ABS First Ride: Surprising Experience
Suspension
Suzuki Gixxer 155 gets a standard suspension setup: Front Telescopic and Rear Swing Arm.
It's a standard configuration we have already seen before.
So, there's not much to talk about here. However, it should be pointed out that the front suspension is chunky, at least for a 150-160cc bike.
In comparison with the Gixxer 250, the suspension is relatively smoother.
The bike can absorb much more easily and feels more comfortable to ride in all sort of conditions.
Fuel Tank Capacity and Mileage
It has been an open secret that the old Suzuki Gixxer compromised in fuel efficiency as the day went on.
However, the fuel economy is finally looking bright!
The onboard 12-liter fuel capacity is good for the segment. Moreover, the new Fuel Injection engine comes across as a drastic improvement for the fuel mileage.
Suzuki Gixxer 155 claims a mileage of 50Kmpl.
During the testing, we saw it first hand too. We got anywhere from 45-50Kmpl on average.
As a plus point, the Fuel Injection engine will ensure that the mileage will not compromise with time.
Seat Position and Comfort
Suzuki Gixxer 155 gets a single-piece handlebar. So, the riding position is upright, making it comfortable in almost any condition.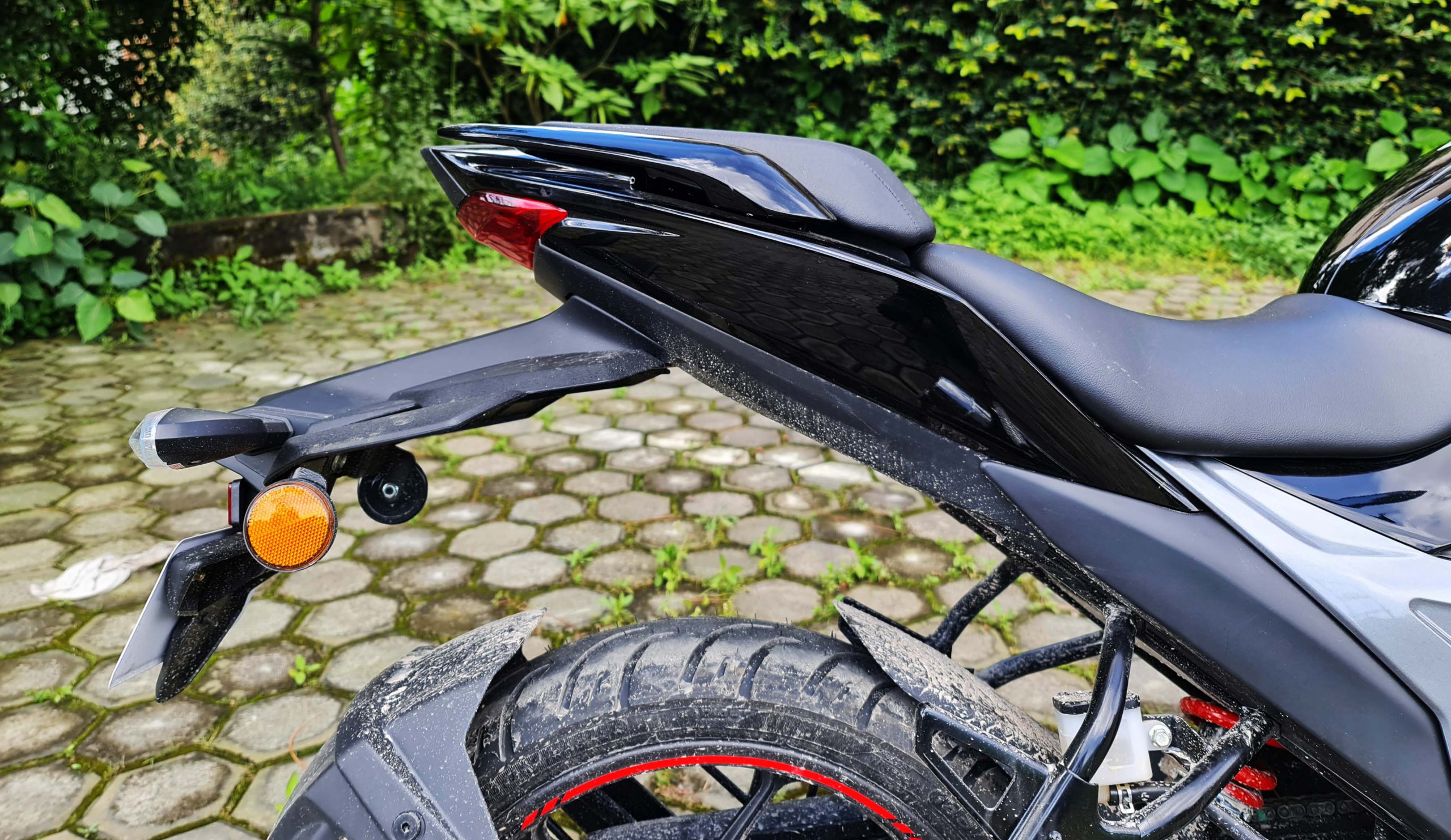 Similarly, the seat cushioning is adequate.
Whether it's a long-distance ride or short distance commute, the rider will feel comfortable all day long!
If you notice, I said "the rider will feel comfortable" and not "the pillion".
We'll talk about this in just a bit.
Digital Instrument Cluster
Suzuki Gixxer 155 features an all-new Full Digital Instrument Console.
Unfortunately, it does not come with Smart features like in the new TVS Apache. Still, it comes with just enough features to justify the redesign.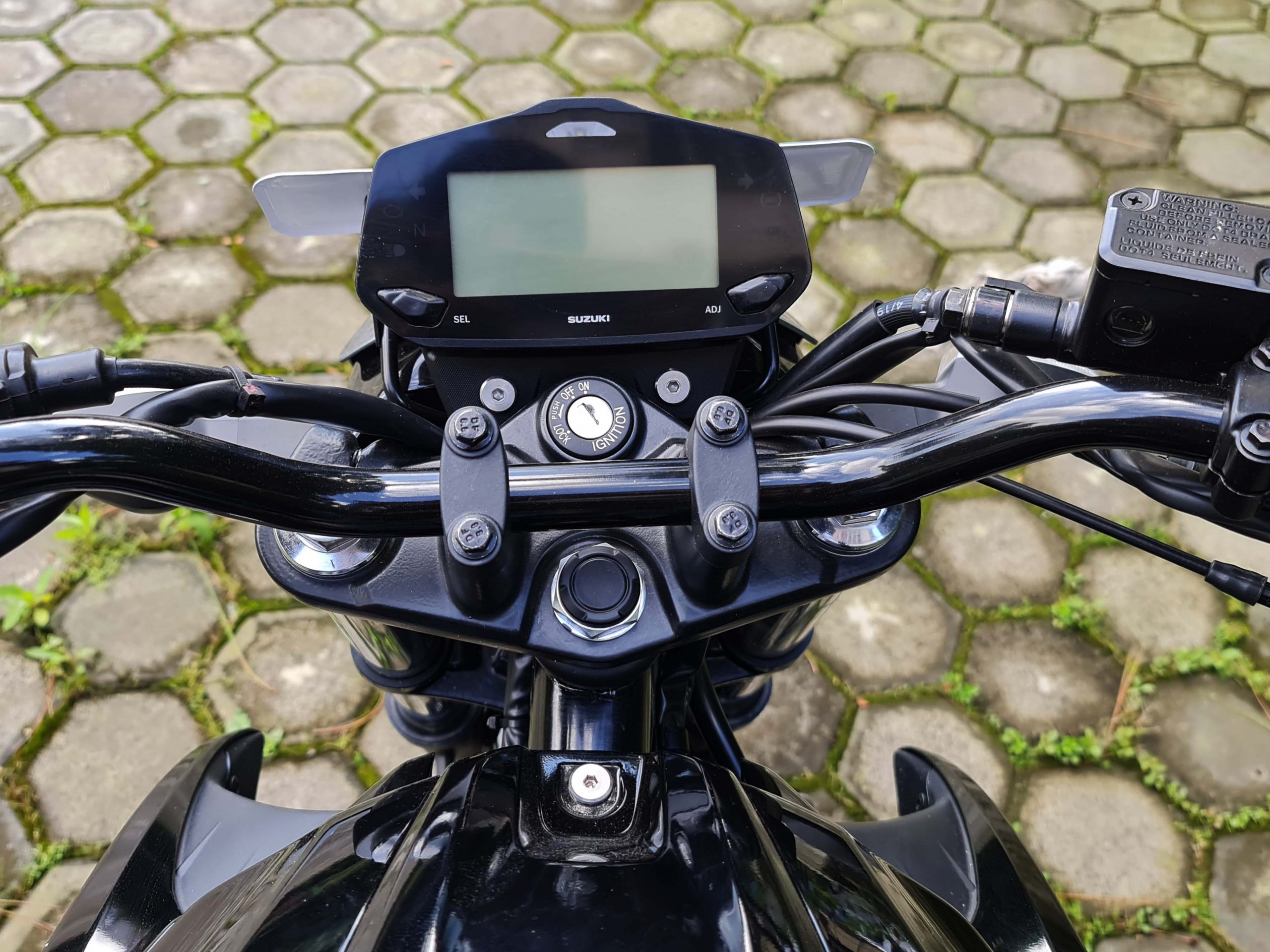 You get access to standard information like Trip Meter, Odometer, Speedometer, Clock, Shift Light, etc.
Compared to the old cluster, the new one feels well-spaced and just right.
While the Gixxer 250 gets a Negative Console, the Gixxer 155 gets a White-light. Despite that, it still looks and feels more premium in this segment.
In any case, the switches are the classic Gixxer ones with nice quality.
Other Features
Thus far, we've covered pretty much every key feature in the Suzuki Gixxer 155.
However, the other list of features includes Lightweight Body, Decent Ground Clearance, and Practical Seat Height.
The kerb weight is 141Kg, which seems a lot. However, the hard plastic body assists in a relatively lighter weight experience, while assisting in easier handling.
Moving on, the ground clearance comes in at a standard 160mm. This is good enough to pass through any speedbumps and potholes with practical ease.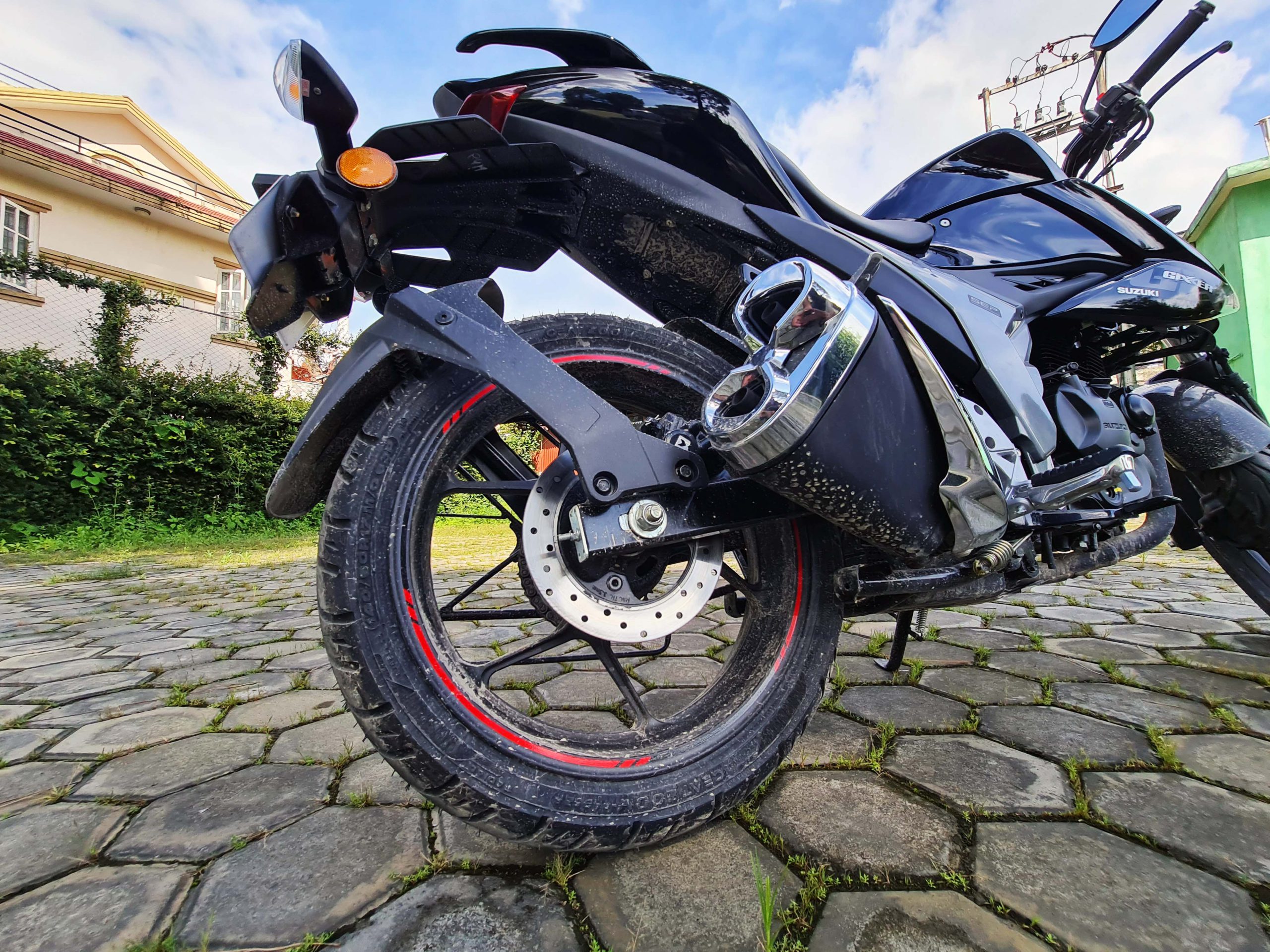 Finally, the 795mm seat height is perfect! While the bike might seem larger than life, the overall seat height ensures easy leg reach for shorter and average riders.
For reference, I am 5ft 6in. Add that with the easy leg reach, I felt in control.
That being said, I also noticed that the Suzuki Gixxer 155 does not come with features typically expected in a FI engine.
As an example, when you put the side-stand, the FI engine should cut off the engine as a safety measure.
Well, this feature was absent in Suzuki Gixxer 155.
Suzuki Gixxer 155 Feature Highlights
Confidence Inspiring Dual-Disc Brakes
Single-Channel ABS
Telescopic Front Suspension and Rear Mono Shock Swing Arm
White-Light Digital Instrument Cluster
Excellent Riding Comfort
Lightweight Body
Easy Leg Reach
Excellent Road Presence
Confidence Inspiring Cornering and Handling
My Experience with Suzuki Gixxer 155
Punchy Pickup
Let's start with the pickup.
As expected, the Suzuki Gixxer shines bright with excellent pickup experience. The pickup does not require the engine ko cross 4000rpm (as seen in Bajaj Pulsar NS 160).
You are greeted with the excellent low-end grunt the minute you pull on the throttle.
This kind of reminded me of the old Gixxer 250 days.
It is pretty amazing to see that despite being just a 155cc engine, the quality pickup capabilities is next to none.
Engine Performance
Coming to the engine, it's Japanese engineering at its best.
Do I need to say more?
Suzuki Gixxer features a butter-smooth engine, with truly next-level refinements. From the engine grunt in the lower end to mid-range, the engine smoothness is never compromised.
The exhaust grunt isn't as exciting as Gixxer 250 or Pulsar NS 160 or Apache RTR 160 4V, but it is good enough.
You feel the level of refinement every time you take it for a spin. The engine does carry the capacity to push past 10000rpm. However, it feels more refined under 7000rpm.
If you move past the 7000rpm, you start to feel slight vibrations around the footpeg, handlebar, and fuel tank. Furthermore, the vibrations start to increase as the rpm meter climbs up.
Additionally, the gear shift is smooth as butter, topped with a light clutch feel. While it does not come with a Slipper Clutch, the gear shifts are accurate with no sign of false neutral.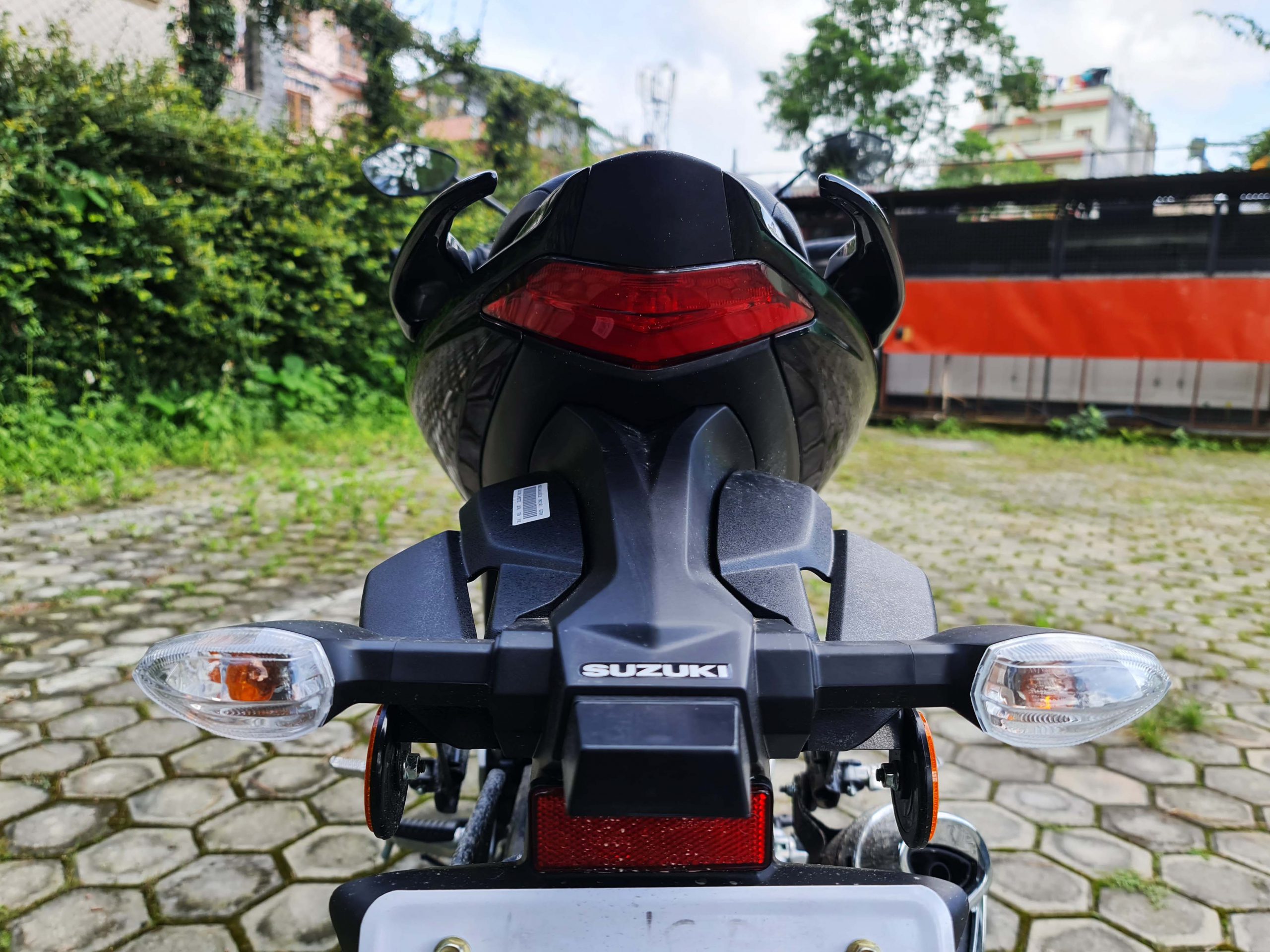 Talking about the gear config, the Gear-1 has a short gear-travel. However, the first gear does come with a "Glide Through Traffic" feature where riders can shift in Gear-1.
You can simply put the Gixxer in Gear-1 and slightly let go of the clutch. Without any throttle, the bike can easily glide through! Additionally, the rest of the transmission feels good as well.
Among the 5-Speed Transmission, Gear-2 is more torque heavy and Gear-4&5 is more power heavy. Gear-3 brings the best of both worlds with perfectly balanced power and torque ratios.
The shift interval is low, so riders don't have to meticulously shift back and forth between the gears.
Nonetheless, I do have to point out that I did encounter a few rare instances where the gear wasn't shifting properly.
This was a rare case, but it has happened.
Practicality
Suzuki Gixxer 155 is built for the Nepali roads. It's flexible with easy handling in any road conditions, even in tight spots.
You feel confident with the bike, which is a pretty rare thing to say for a bike of this caliber.
I tried throwing everything at it, yet it took like a champ.
It remains stable, both in height and at low speeds. Moreover, the Suzuki linear built ensures perfect maneuvering, even at high speeds.
With the amount of time I've spent on this Suzuki bike, I have to say that it resonates with the same practical fun that we've already seen its bigger brother.
Riding with Pillion
If you have seen our Suzuki Gixxer 250 Full Review, you already know where I am going with this.
The rider seat is perfect, in terms of comfort and riding position. However, the pillion seat is exactly the opposite.
The pillion will feel awkward thanks to the high seating position. Moreover, the long ride comfort is non-existent.
On top of this, if you put on brakes with a pillion on the back.
I kept encountering numerous times when the pillion slid towards me by accident. Similarly, the sudden acceleration seems to jolt pillion out of their seat. All in all, Suzuki Gixxer 155 is not pillion friendly!
Battle with the Competition
Suzuki Gixxer 155 is powered by an FI engine. So, it would be only fair if one would compare it with the bike with the same Fuel Injection technology.
For this review, we have decided to put Suzuki Gixxer 155 against the likes of Yamaha FZS-FI Version 3.
Suzuki Gixxer 155 vs Yamaha FZS-FI v3.0
Both bikes share the Japanese heritage, with both having a significant presence in Nepali territory.
If you compare the pricing, both Japanese bikes are priced almost the same: Suzuki Gixxer 155 (priced at 3.25 Lakhs) and Yamaha FZS-FI v3.0 (priced at Rs. 3.23 Lakhs).
Moreover, these bikes also share similar BS4-compliant FI technology, boasting unwavering performance with high mileage.
Suzuki Gixxer 155 features a relatively more powerful engine, which generates 0.9PS more power and 1.2Nm more torque than the competition. Additionally, the styling in Gixxer is far better than the FZS-FI.
However, Yamaha FZS-FI does feature a Negative Instrument Console and Under Engine Cowl.
Except for those minor differences, the rest is pretty much the same.
So, if you were to choose between the two, it would solely be in terms of design and performance.
On a personal note, I am pretty surprised by the fact that Yamaha FZS-FI is winning in popularity, despite Suzuki Gixxer 155 offering far better value.
If you were up to me, I'd personally choose Suzuki Gixxer 155.
Suzuki Gixxer 155 vs Others
Surely, there are other popular offerings in the crowded 150-160cc segment.
Bajaj Pulsar NS 160 ABS, TVS Apache RTR 160 4V ABS, and Honda Hornet are all competing to be on top.
Unfortunately, it wouldn't be a fair comparison to compare the Carburetor engine with a FI engine.
If you compare the spec sheet, the carb engine does generate more power and torque. However, the carb engine isn't future proof on a direct comparison with the FI.
Single Dissatisfaction
Seriously, I didn't find any faults in the Suzuki Gixxer 155. Trust me, I tried for hours trying to come up with something.
It's almost a perfect sports/commuter motorcycle.
Almost.
There's only one thing I had mixed reactions for; the headlamp. While it is a multi-LED white light setup, I kept getting a mixed level of visibility.
In narrow or small roads, the headlamp is perfect, even brighter than expected. Moreover, it is true for both high-beam and low-beam.
However, visibility fails as soon as you come to a highway or wide roads.
The headlamp simply doesn't provide enough visibility, which is pretty weird. Rather than shining the light on the road, Gixxer 155 shines above it.
Thanks to this weird setup, the lights work well on narrow or small roads but fail on highways or wide roads.
Surprisingly, we didn't encounter the same problem with the Suzuki Gixxer 250, despite sharing the same headlamp setup.
Conclusion
At the end of the day, Suzuki Gixxer 155 felt more like a Suzuki Gixxer 250, but with a slightly less powerful engine.
Other than that, it is still fun, practical, and reliable. There's literally nothing wrong with this bike.
It feels weird when you consider that the Gixxer 155 doesn't really come up in conversation like other bikes usually do.
Despite offering a punchy engine, premium features, and sporty styling, people don't seem to take this bike seriously. I think people are missing out on so much!
Surely, the price is steeper in comparison. However, Suzuki goes well-out of the way to justify the price.
Does it? Well, it does do that, and then some more.
There may be few things you might need to overlook like the pillion seat, under the engine cover, etc. And if you do overlook those, which you should, you end up with an underrated masterpiece!
If you are actually looking to buy a new bike, you MUST experience the magic of Gixxer.
It's really difficult to explain.
But when you test-ride it, I'm sure you will agree with me.
---
Also, watch our full review video of Suzuki Gixxer 250 in Nepali.