Suzuki Gixxer 250 was a total package!
Suzuki's naked flagship had everything one could ever want from their motorcycle. It offered muscular looks, exhilarating performance, and premium features.
With offerings like that, Suzuki Gixxer 250 got all the attention, and rightfully so.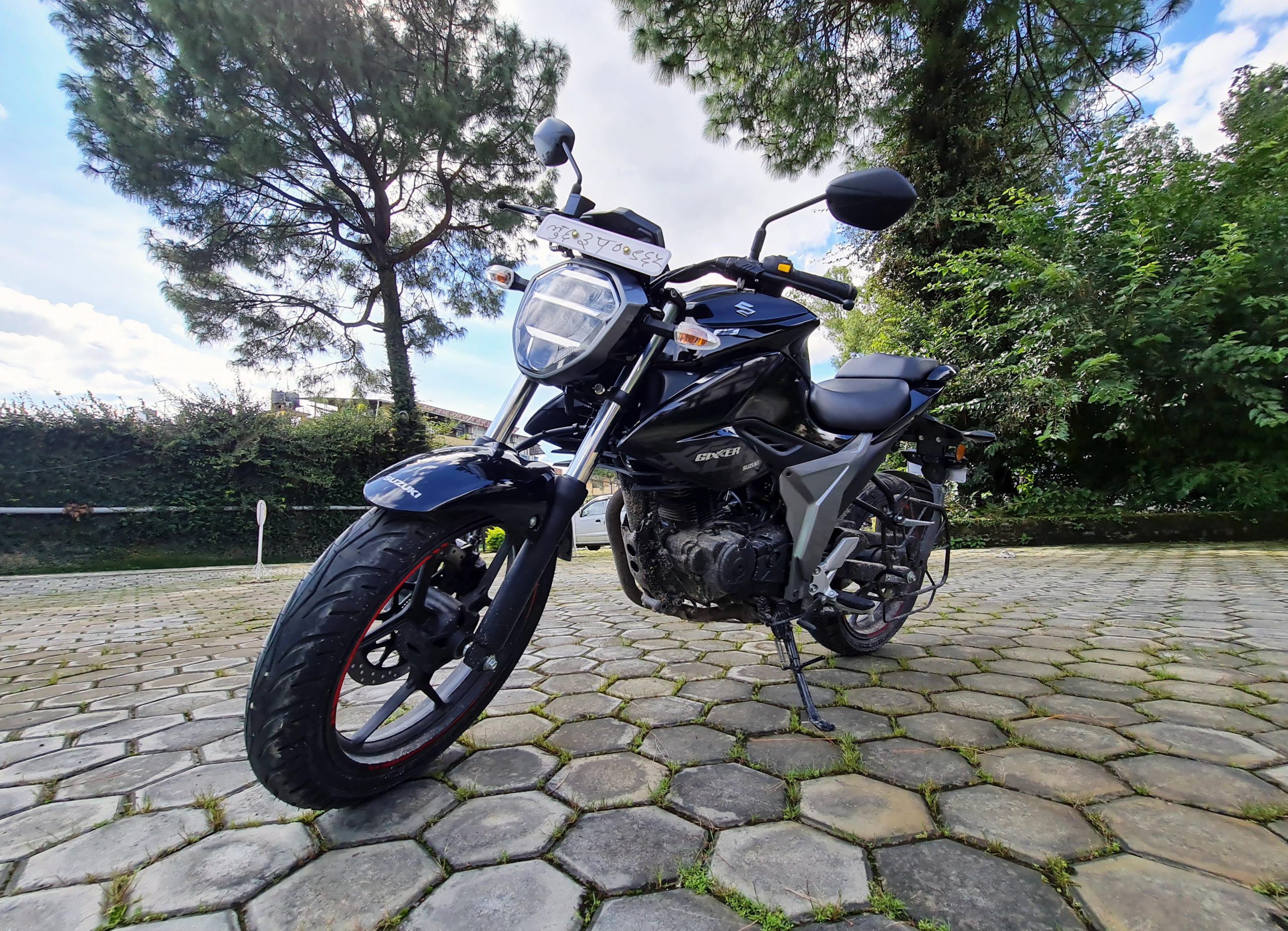 Amidst the big brother's popularity, everyone seems to have forgotten about the little brother: Suzuki Gixxer 155. Suzuki Gixxer 155 offered a complete design overhaul with loads of improvements, yet nobody really talks about it.
I have to be honest here. When we got a chance to review Suzuki Gixxer 155, I wasn't excited.
I reviewed the Gixxer 250 before, and it had already left long-lasting impressions on me. And deep down, I felt that Gixxer 155 couldn't really live up to its big brother.
But boy, was I wrong!
Just a few hours riding the Japanese motorcycle, it left me with the same fun experience I had with the 250cc version.
Suzuki Gixxer 155 price in Nepal is Rs. 3,25,900.
The bike is still under testing for the Full Review. Before that happens, here's my Suzuki Gixxer 155 First Ride experience.
Suzuki Gixxer 155 Specifications
Engine Type: Single Cylinder, 4-stroke, 2-valve FI engine
BS6 Compliant: No
Displacement: 155 cc
Cooling System: Air Cooled
Starting Mechanism: Self Starter Only
Max Power: 14.1 PS @ 8000 rpm
Max Torque: 14 Nm @ 600 rpm
Gearbox: 5-Speed
Top Speed: 120 Kmph
Fuel Tank Capacity: 12 liters
Mileage: 45 kmpl
Front Tyre: 100/80-17 – Disc
Rear Tyre: 140/60-17 – Disc
Tubeless Tyres: Yes
Braking System: Single-Channel ABS
Suspension Setup: Telescopic and Mono Shock Suspension
Seat Height: 795 mm
Ground Clearance: 160 mm
Kerb Weight: 141 kg
Colors: Blue, Silver, and Black
Suzuki Gixxer 155 Price in Nepal: Rs. 3,25,900
Suzuki Gixxer 155 First Ride
Muscular Design
Starting with the design, we get to see familiarity here where it shares much of the overall design with the Gixxer 250.
If you were someone who wasn't into bikes, you could confuse one with another.
I do think that it actually works in favor of the Suzuki Gixxer 155.
Going into detail, it gets an all-LED headlamp on the front, complete with a single-piece handlebar, good quality switches, and a white-light all-digital instrument cluster.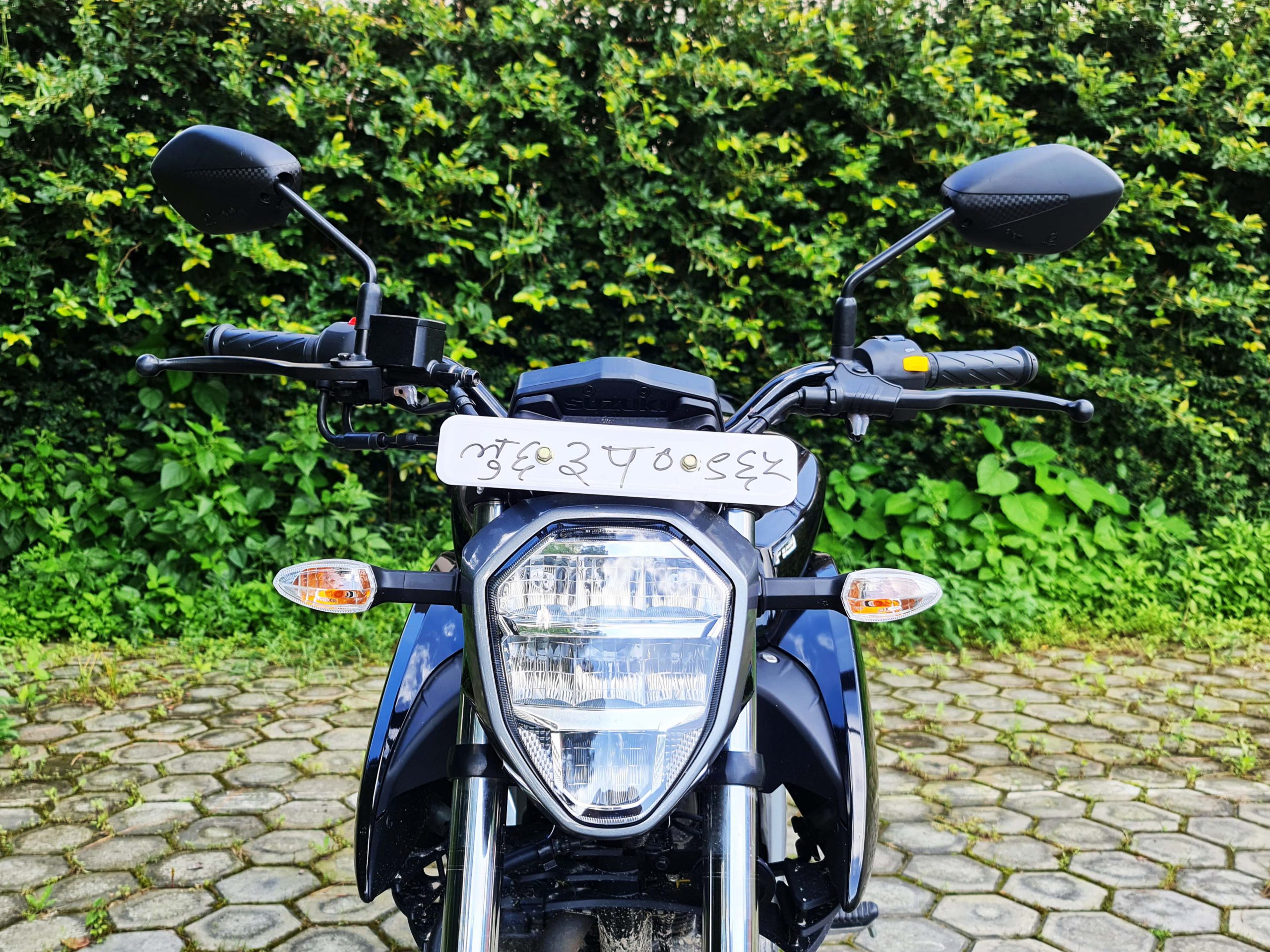 The new digital console is much better than the old one. Previously, it left cramped with details, but this time around it feels well-spaced and clean.
You get access to information like the clock, twin trip meters, odometer, shift light, and check engine light.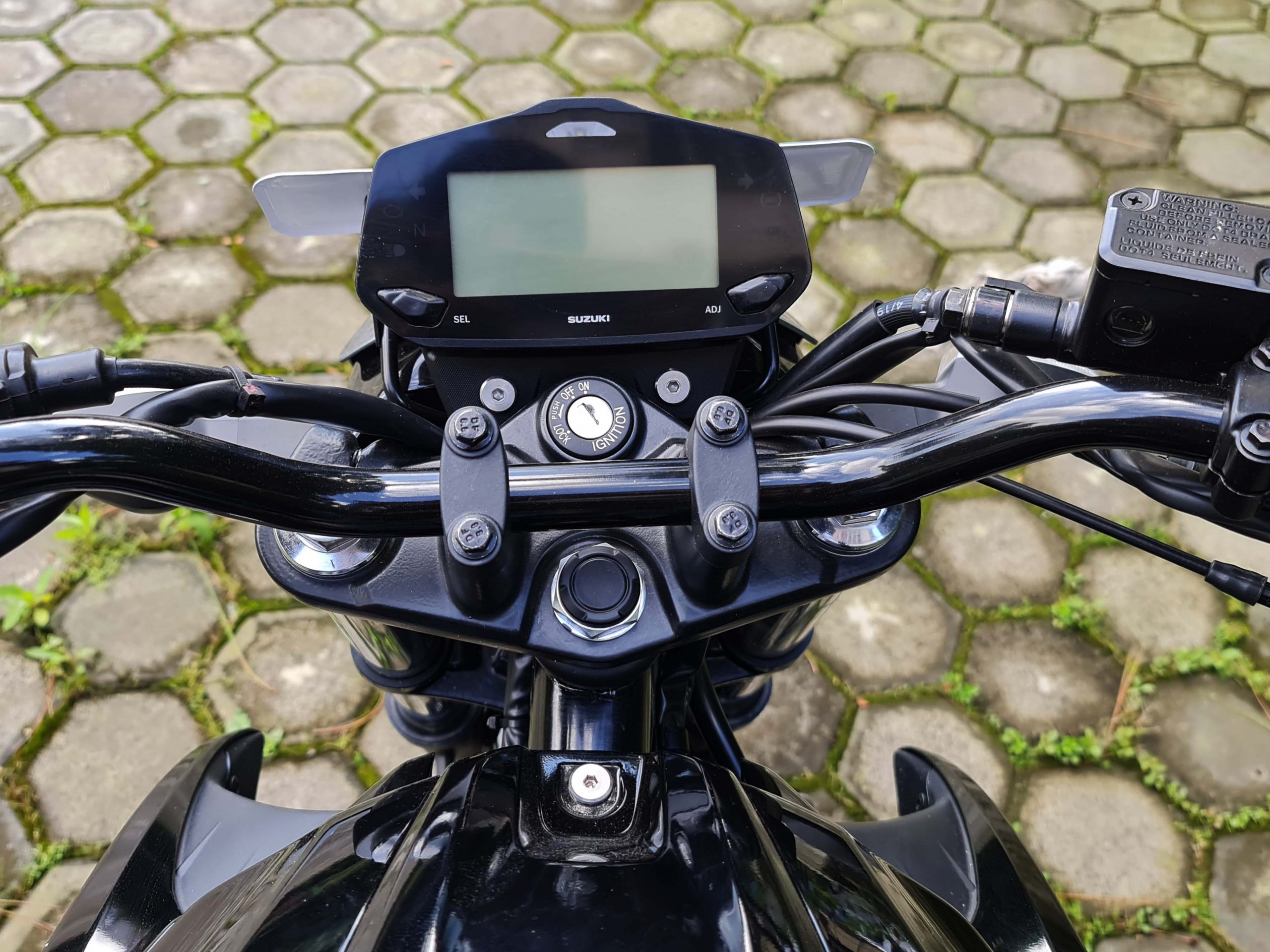 Moving to the side, the muscular stance becomes more transparent with the large fuel tank, sharp side tank shrouds, and sporty split-seat setup.
The side profile also reveals a dual-port muffler with a chrome finish and red-colored stripes on the wheels.
Suzuki Gixxer 155 does not get an engine cover, which is reserved for Gixxer 250. However, it does get a central stand which was absent in the Gixxer 250.
Finally, the rear section gets a newly designed LED taillamp, halogen bulbed side indicators, split grab bar, and neat tyre hugger.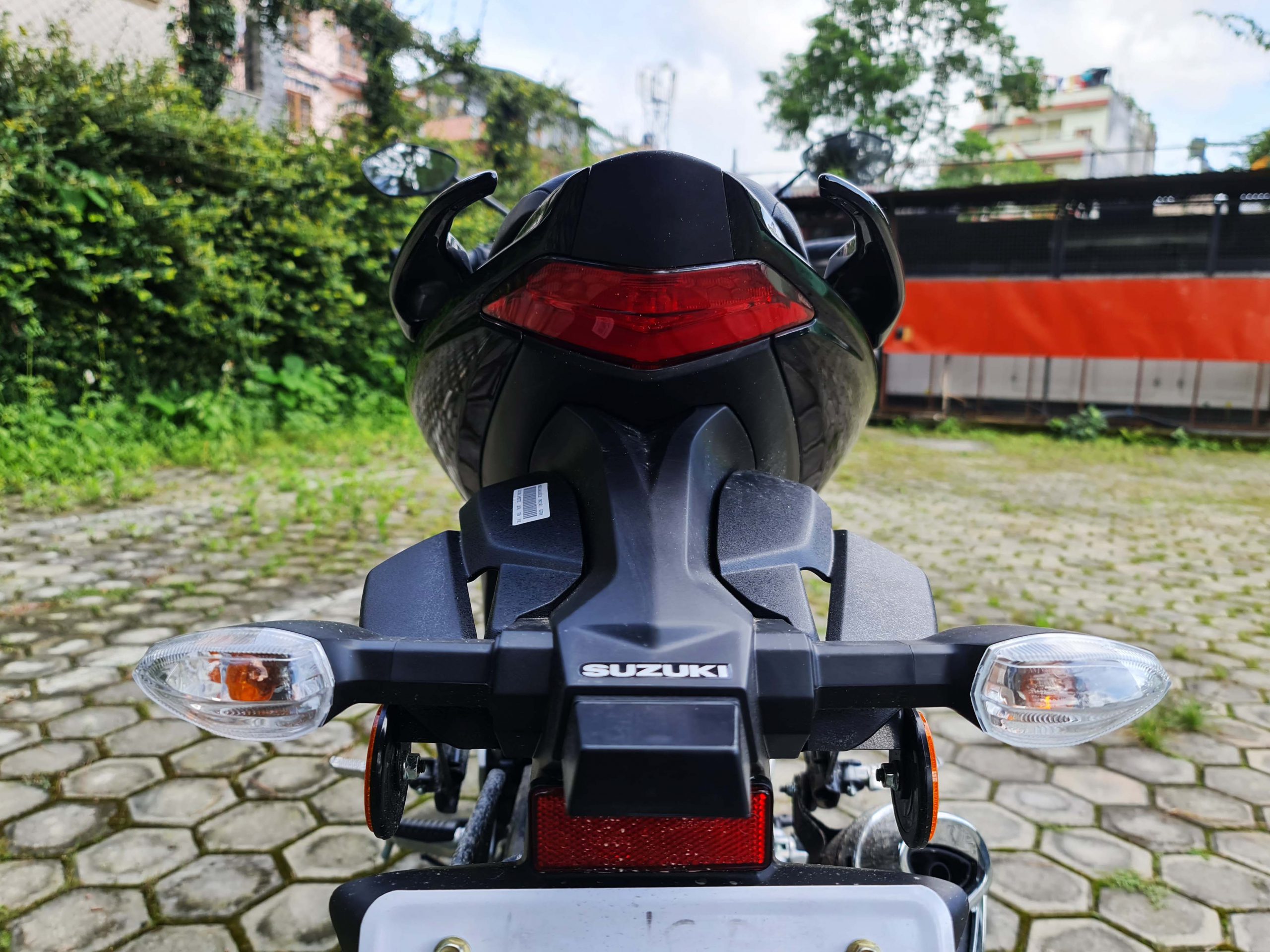 On a side note, the side mirrors are slightly redesigned but don't offer wider visibility.
Additionally, Suzuki Gixxer 155 is available in three different colors: Black, Silver, and Blue.
ALSO READ: Bajaj Pulsar NS 160 ABS First Ride: Surprising Experience
Perky Performance
Suzuki Gixxer 155 is powered by a Single Cylinder, 4-stroke, 2-valve, air-cooled FI engine.
Additionally, it is a 155cc engine with Suzuki Eco Performance, which can generate a max power of 14.1PS at 8000rpm and 14Nm of max torque at 6000rpm.
Moreover, it is mated to a normal 5-speed gearbox transmission.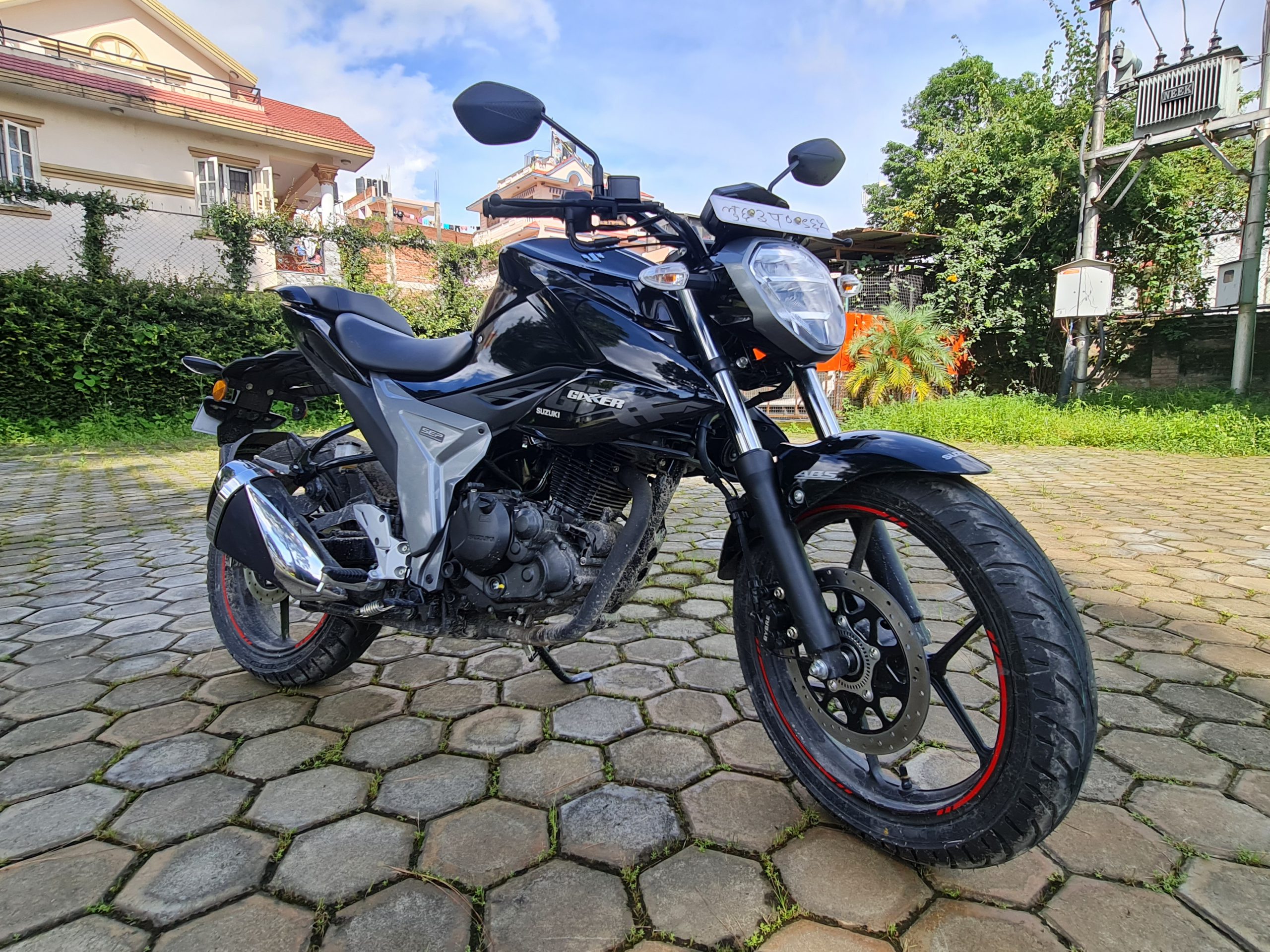 Contrary to popular belief, Suzuki Gixxer 155 comes with a BS4-compliant engine, not BS6.
If you compare the BS6 specs with the BS4, you get 0.5PS more power and 0.2Nm more torque in the BS4 engine.
That being said, I also noticed that the Suzuki Gixxer 155 does not come with features typically expected in a FI engine.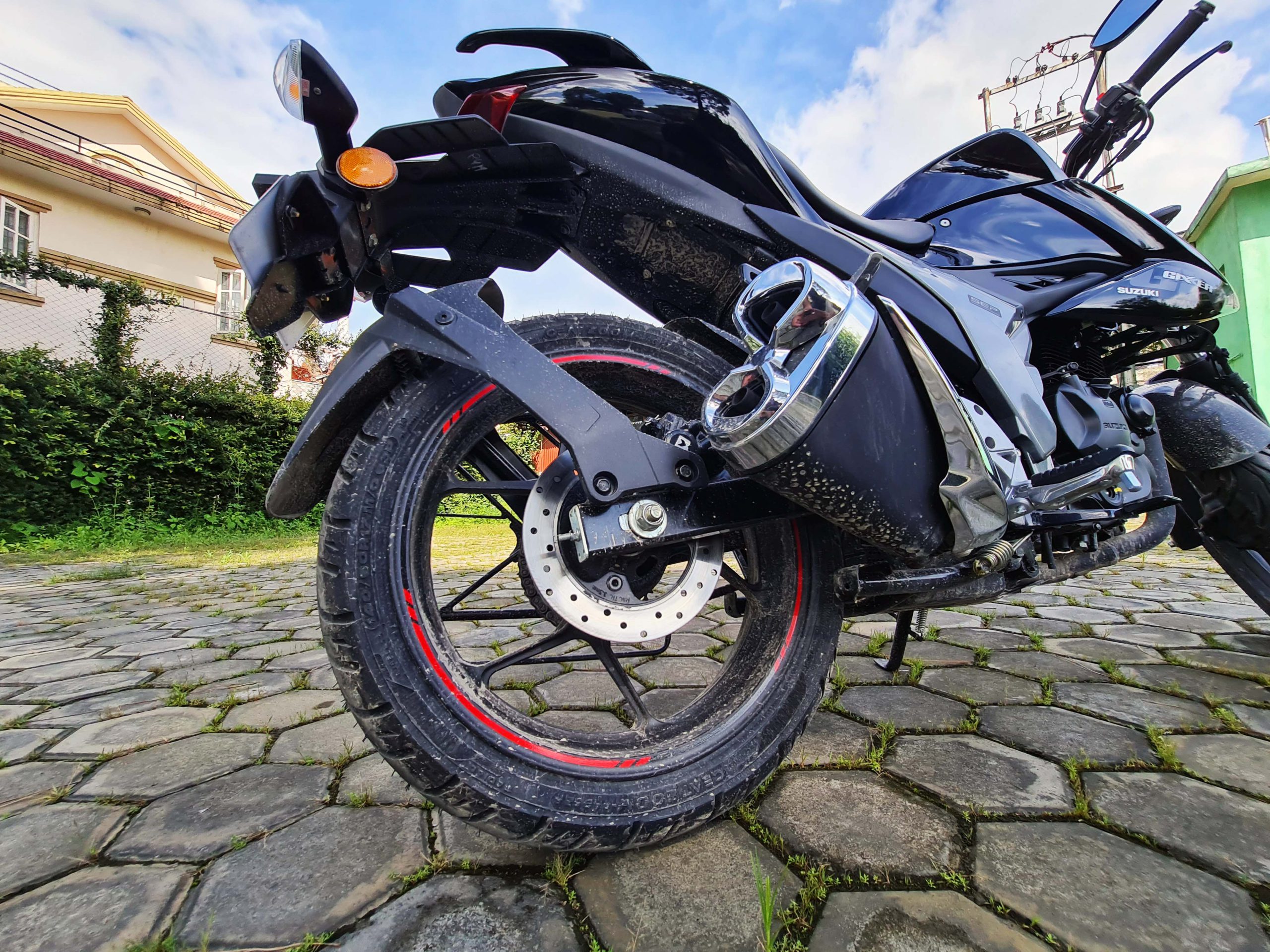 As an example, when you put the side-stand, the FI engine should cut off the engine as a safety measure.
Well, this feature was absent in Suzuki Gixxer 155.
Premium Features
Suzuki Gixxer 155 is well-equipped in features, going as far as adding to the premium appeal.
We will go into detail about each feature in the full review, but here's a quick highlight of the list of features in the new Suzuki Gixxer 155.
Suzuki Gixxer 155 Feature Highlights
Refined 155cc Fuel-Injection Engine
Muscular Design
All LED Headlamp and LED Taillamp
Dual Port Muffler
All Digital Instrument Cluster
Lightweight Body
Sporty Split Seat Setup
Single-Channel ABS
Dual-Disc Brakes
First Ride Experience
We are still between tests, but it is good enough to give you guys a brief First Ride Experience.
Like I've said earlier, I didn't have any high hopes for the Gixxer 155. However, Suzuki Gixxer 155 pulls through, proving its worth against the tough competition in its segment.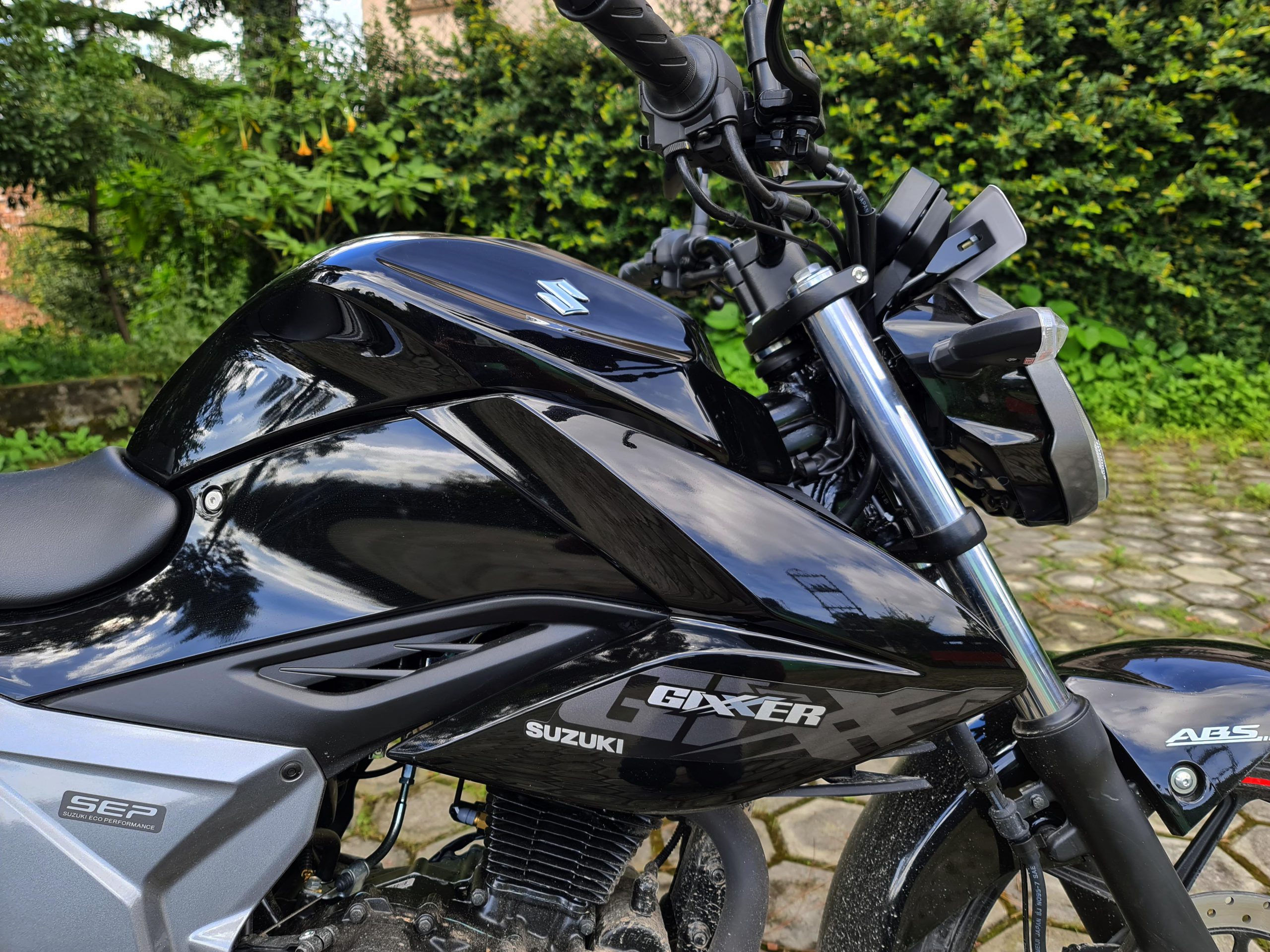 The 155cc FI engine feels super-refined, perhaps even smoother than butter.
Thanks to Japanese engineering, Gixxer 155 comes across as a fun motorcycle, where the rider is in total control.
The instant pickup feels excellent. There is no delay in the initial pickup, unlike one we saw in Bajaj Pulsar NS 160 ABS. The gear shifts happen in an instance, with a slight touch.
Cornering feels like a beautiful masterpiece, perfect and accurate, down to the smallest curve.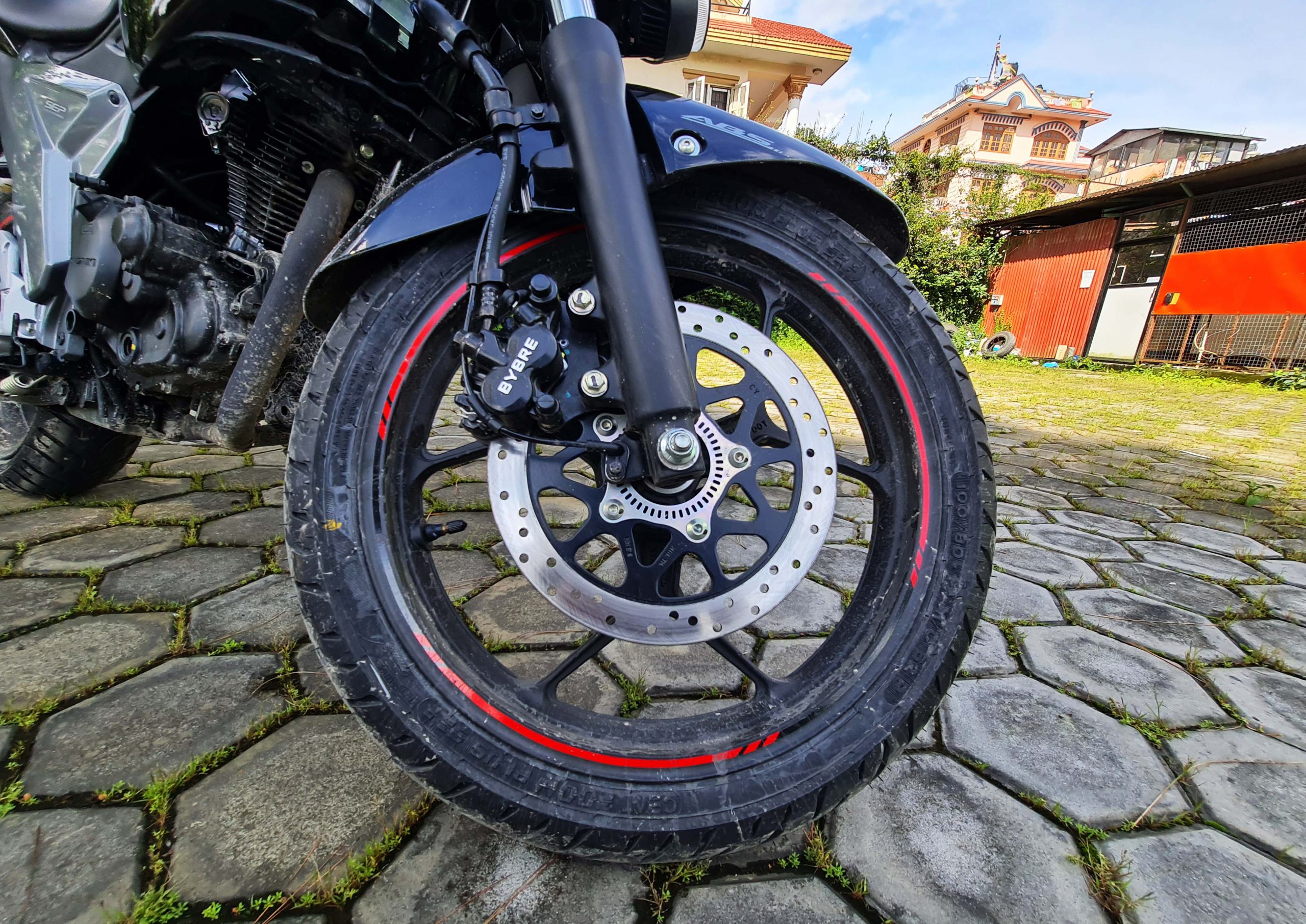 The dual-disc brakes perform in harmony, with 110% accuracy and precision. Moreover, the included front single-channel ABS is the cherry on top!
Mind you, this is just an hour into riding the smallest Gixxer.
Just with a few hours of riding experience, I am impressed. Although I do have my doubts about the performance, especially at higher rpm and higher speeds.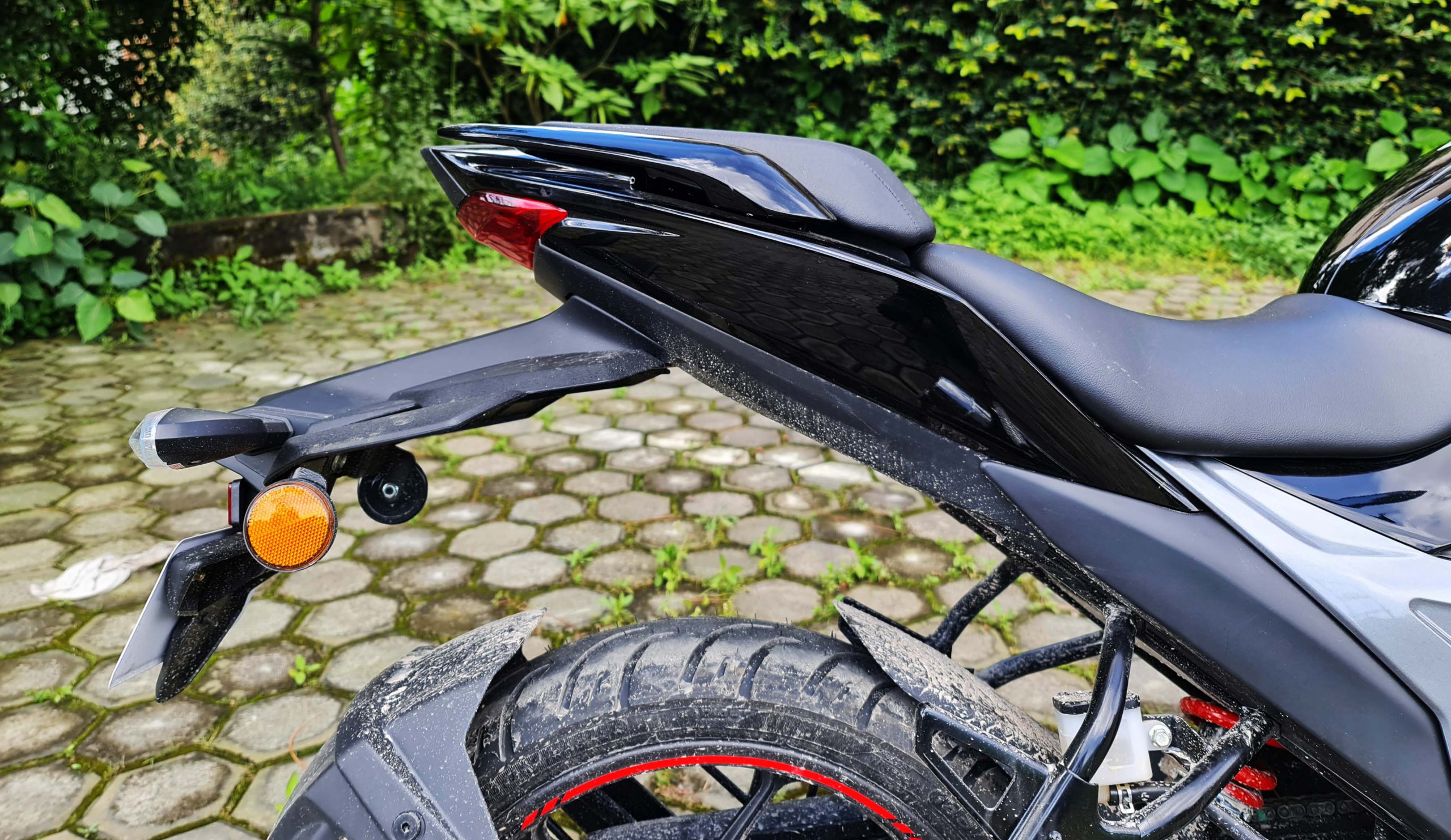 Additionally, I do have to point out that Suzuki Gixxer 155 feels premium, despite the plastic body.
It's weird because the initial impression felt more like a Suzuki Gixxer 250 body, but with a slightly lesser powerful engine.
The first impression seems too good to be true. That might very well be the case, although let us not jump into any outright conclusion for time being.
However, I am fairly certain that I will not grow a liking for the rear pillion seat. It is still too high set and too uncomfortable, at least from a practical standpoint.
We still have to dive further, testing out the LED headlights, suspension setup, braking, fuel efficiency, and many more. Despite my pessimistic nature, I do hope that the Suzuki Gixxer 155 will rise above the occasion.
My concern… and that's my only concern, is if Suzuki Gixxer 155 can really keep up its great first impression.
---
Also, watch our full review video of Suzuki Gixxer 250 in Nepali.