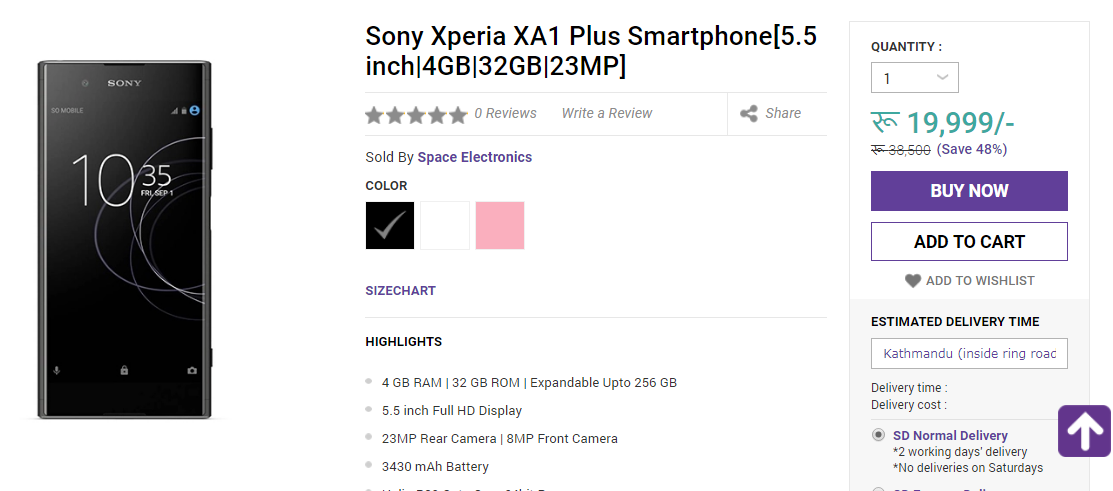 SastoDeal has the craziest, most lucrative Dashain offer going on right now. Where do you expect to see the price of a phone halved? Yeah, halved!!! And not just on any phone. SastoDeal is offering 48% discount on the Sony Xperia XA1 Plus. The phone now cost Rs. 19,999 down from the Rs. 38,500. Though it is nearly a year old, the Xperia XA1 Plus is still a very capable phone.
Sony Xperia XA1 Plus is bulky. It has a traditional 6 inch 16:9 aspect ratio Full HD LCD screen. It isn't thin either. The back is curved a little for a comfier grip but the size makes this phone unwieldy to use. However, it means that the phone will give you a good media consumption experience.
This slideshow requires JavaScript.
On the inside, the phone has a Qualcomm Snapdragon 636 processor which is paired with 4GB RAM. Normal apps like Facebook and Youtube will work great with this combination. You may also be able to game a little but don't expect the highest frame rates on the latest games. Sony's UI over Android is also one of the best. They don't fill their phones with bloatware or over-complicated skin. So, their phones are generally smooth to use.
And did we talk about their cameras? Their shutter speeds feel a little slow sometimes but they will give you some of the best shots under 20K. So, people, I normally don't suggest you buy an old phone and that still holds but this is a rare deal that is really good. And if you don't mind the size of this phone, I definitely recommend you to buy this phone.
The Xperia XA1 Plus comes in 3 different colors- Black, White, and Pink. Every color is available until now but we don't know when they might go out of stock. Also, don't forget that this deal will last up to Oct 14. So, only 2 days remaining. Hurry up! Shop Now!