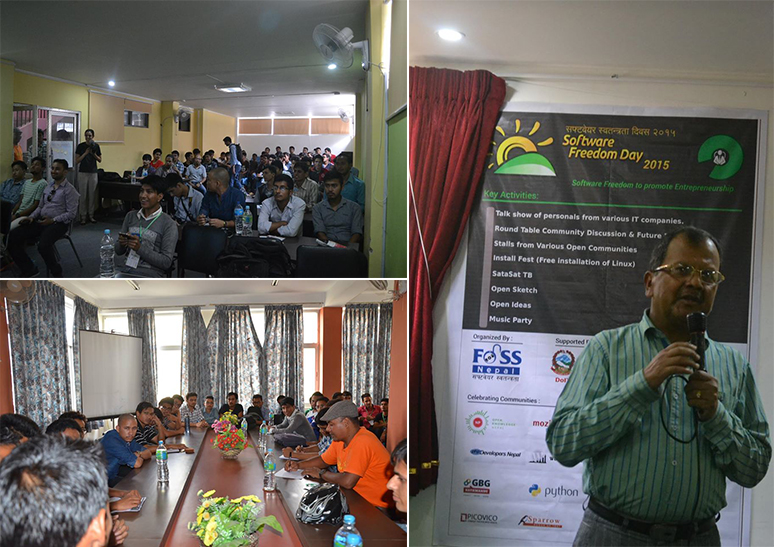 On 19th September, 2015 the 11th Annual event "Software Freedom Day" was celebrated by the groups of software communities. The program was started at around 11:00 A.M. The program get kicked off by the presentation of Mr. Dhurba, President of Nepal Engineering Association (NEA). He talked  about the importance of IT and mainly focused on entrepreneurship and self-employment. He said that NEA is always ready to help the young fellows with great idea that could help make our country grow and develop faster in one way or the other. Mr. Dhurba said that in order to become an entrepreneur determination, hard work, sincerity and consistency counts a lot.
There was a lot of question from the audience which he tackled very nicely and lastly ended his motivational presentation by saying "money is always on the air, all you need is to find a way to catch it".
The next presentation was about the Google which was presented by Mr. Saroj Dhakal. Mr. Dhakal is a Google Consultant of Nepal. He talked about the Google Open Source, Google mission and showed various products that Google has launched for the betterment of our country. His overall presentation can be summed up as following:
Google Mission
Organizing world's information and make it universally accessible and useful.
Google Open Source
Android
Go
V8 JavaScript Engine
Google Products
Nepali Handwriting
Nepali OCR
Nepali YouTube
Gmail in Nepali
The next presentation was from Mr. Basanta Shrestha, program manager at Open Learning Education(OLE). He focused on the activities that are conducted by his organization. It includes:
Technology Deployment
Content Development
Training
The organization has developed two main products E-path and E-pustakalaya.
E-path is National Curriculum Based learning and E-pustakalaya is a Digital Library.
For more details you can visit  http://www.olenepal.org/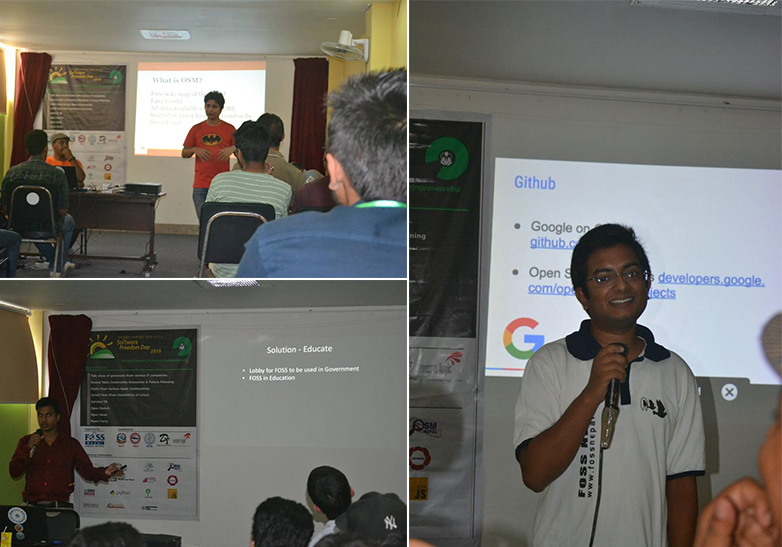 The next presentation was from Mr. Nirab Pudasaini, a mobile app developer from KTM Living Labs. He started his presentation simply by asking the audience about the Open street Map and went on talking about his experience about it. He said that his team  See update below) around 8000 volunteers from worldwide mapped the details about the earthquakes in map at the time earthquake hit Nepal. He and his team was able to map almost all the places that was hit by the massive earthquake within almost 48 hours. He mentioned about his work and experience and ended the presentation showing all the details about the work they are doing.
For more details you can visit   http://kathmandulivinglabs.org/
Punit Jajodia, Co-founder of Adhuro.com also presented about the advantage of using open source software and talked more on how the cost is being saved by the help of  Free Open Source Software(FOSS). He talked about the difference between secrecy and security.
Finally, the Presentation Session was ended with the presentation of Mr. Manish Modi , Director at Janaki Technology. He also talked about FOSS. He said that FOSS is not an alternative. Today, FOSS has affected everyone directly or indirectly. Sharing his experience and the journey of his life till now, he ended his presentation.
After presentation session was over, a round table meeting and discussion session for future planning of FOSS in Nepal was held. Side by side, several local software communities showcased about their activities too.
Update: It was not only Nirab Pudasaini and his team who mapped the earthquake hit in Nepal, rather along with him there were 8000 volunteers worldwide who accomplished the task.