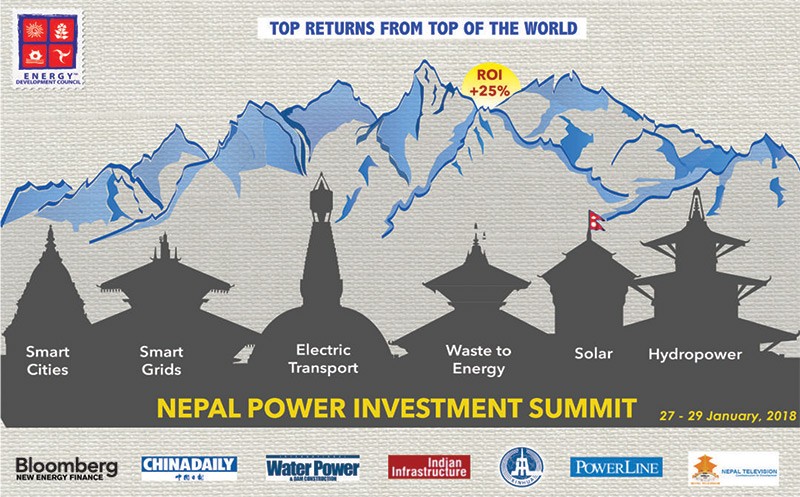 Energy Development Council (EDC), is organizing a three-day event for the second edition of Nepal Power Investment Summit. The summit scheduled from 27th to 29th January will feature conferences, International training programmes by Fortune 500 companies along with an energy mart.
This summit aims to create a platform for one-step business by helping industry players to share knowledge and expand business in the energy sector. This event will provide a platform for various investors, contractors, and financiers from around the world to make decisions related to the energy sector.
High-level delegates from SAARC, BIMSTEC, Asean, ministers, government officials, ambassadors to Nepal, bankers, financiers and developers of energy projects will participate in this event. The summit is billed as an event that is crucial in informing and updating various stakeholders about the current policies and scenario of Nepal's energy sector.
According to the organizers, the participants of the summit will meet investors willing to provide debt financing ranging from $5 million to $20 billion for various power projects that include hydro, solar and wind energy. Similarly, companies with a total capacity of $3 billion equity financing are also participating in the event.
The EDC is also organizing training on topics such as engineering, procurement, construction and financing (EPCF) model of developing power project, hydro equipment, and renewable energy. These training programmes will be conducted by world-renowned energy associations and Fortune 500 companies.
Likewise, books such as 'How to Develop a Power Project in Nepal – A Step by Step Guide', 'Inventory of Rivers in Nepal' and 'Investment Guide to Investing in Nepal' will be launched in the event.