A few weeks back, I and a friend of mine were searching for a place to have lunch together and we failed to think of any new places. Kathmandu certainly does not lack numbers of restaurants but our list did! That is when we realized despite having so many choices, our options were limited in number.
Rahul and his friends went through a similar situation when they returned from Banglore after their studies. They missed the thrill of discovering a new hangout place each time and were bored with giving repeated visits to the same old places. Hence, they thought of a solution, for them and for everyone else in a similar circumstance – a platform where you can find countless restaurants and aggregate them as per your preference.
The idea itself was not that unique, as there were companies that had tried, tested and failed to do this. But, their plan was to include local restaurants to their list.
While naming their product, they became a bit nostalgic, thus named it Scootout – in memory of their days at Banglore when they used to search for reasons to escape from their apartment to explore new places each time.

To have a closer view regarding Scootout, we had a short interview session with team members of Scootout, Rahul, Sreesh and Saugat. Here is what they shared with us!
What is Scootout? How does it stand out from other restaurant recommendation/ listing system?
In simple words, Scootout is a restaurant aggregator system. We have confined all the restaurant's data and put it together, not only their names and address but their detail information like their exact GPS location, menu, prices, specialty. All the data has been verified to ensure the users are provided with accurate and required information. We have visited each and every restaurant and verified their menu and the pricing. We then classified the food into different cuisines so that the users can search the restaurant and food easily.
How did the idea of building Scootout come up?
In Banglore when we were studying BBM, we hated to stay at our apartment. Thus, we always used to go to new pubs and restaurants and whenever we used to be at our apartment we used to say "Let's scoot out!" We used a particular application, "Zomato" to search new restaurants and pub each time.
When we were back, we found ourselves hanging out in same places we used to go to our high school, and the foodie in us urged us to come up with the application. When we thought of making the application, we came up with many names, but none of those worked out. Finally, when we came up with Scootout, we knew it was the perfect name.
Whenever someone thinks about an aggregator or a recommendation system the primary concern is about data. How did you collect data and represented it on your site? What were the challenges you faced while collecting data?
At first, we created a questionnaire to get the detail information of the restaurants. We then made a roadmap to cover each and every area of Kathmandu valley.
The main challenge was to get restaurants listed on the website. We did not have an actual website or a product to show, we just had a business idea and to convince people to trust you with their data based on your idea is difficult.
In addition to that, it was difficult to make restaurant owners understand how this website can help them foster their business. It took significant effort to get local restaurants on board, but we could not miss them since the objective of our product is to give the user the best options.
After getting data from the restaurants, we struggled in many phases like the data like getting the exact GPS location of restaurants, dividing the food into cuisine etc.
Thus, after almost one and half years of data collection, we now have more than 1300 restaurants listed on our site and the number is continuously growing.
How many team members are currently associated with Scootout?
Currently, we are a team of 17 people, including four founding members, Sreesh Karmacharya, Sanam Chitrakar, Rahul Chokhani, and Rishav Shrestha. Around 50 people have been associated with us since the establishment. Each team member has worked hard for the company and the state we are in today is due to their continuous effort.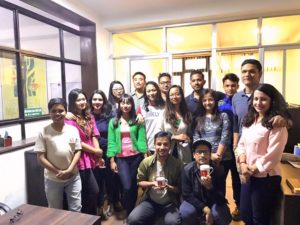 At what phase are you in launching your application?
We are still in the Beta phase with the web application. The site is live but yet to be officially launched. Concurrently, we are also working to build a mobile application. We have almost finalized the design and the back-end of the application is being developed.
No business idea runs without proper marketing strategies, what are your plan for promoting your product?
Till date, we have not done any paid marketing and have been receiving good organic traffic. We are planning for marketing strategies that make sense to the user. For example, we are planning to launch an advertisement in Tinder targeting the people who just found a match and are probably looking for a place to go on a date.
We are focusing on launching the unique marketing campaigns, also cost-effective, and reaches the correct type of mass.
Other than that we are also searching for corporate tie-ups with food chains, food brands, liquor brands etc.
How do restaurant owners and consumer interact with your application?
There are two types of users in the application, the restaurant, and the normal user. The restaurant can upload and update their content including menu, offers etc. and the normal user can enter and select fields to get the restaurants and their details.
What type of feedbacks have you received from users and restaurant owners?
Till date, we have got positive feedback from both restaurant owners and users. Restaurant owners are happy that this type of application has been built, moreover, it is a free service. We do not charge any amount of money to the restaurant owners for listing their restaurant or uploading content to the site.
Users are also excited and enthusiastic about the Scootout especially about listing of restaurants. But, since we are in our initial phase and people have not realized the need for the application, it will take some time for them to get used to it.
We all know it is hard to start a company or a business, but it is even harder to sustain it. What are your future plans to sustain the business?
Our primary focus will be to get advertisements from restaurants for sure. Other than that we are also focusing the companies that supply goods and services to the restaurants including food companies, cutlery companies, liquor companies etc. Suppose, there is a cutlery company that import dining set for the Korean or Japanese restaurant, so we can advertise their products through Scootout.
At last, how was your experience about starting the business?
The journey of almost two and half years have been interesting. We had to go through many challenges, especially during data collection phase. But the feedback from the user has encouraged us. So, it's good so far and still, there is a long way to go.
What do you feel about the startup culture of Nepal?
The best thing about startup culture in Nepal is that it is in naive phase, thus the market we are in is pure. People understand and respect the need of startups. For a tangible idea, the market is good. Yes, there is a whole set of challenge that we have to face, but at the end of the day, what counts is the realization that we have added value to something. In that perspective, startup culture in Nepal is good till date.
My say
How often do people manage to completely surprise you? The meeting with founders was one of such experience for me.
They have a clear vision regarding their product, and sleek strategies, which is rare to find these days. Although the idea is not a unique one, the effort they have put into it, especially for data collection is commendable. I was actually surprised to find some local yet popular places on the site.  Having said that, the hurdles for the company are never ending, they will have to make some improvements in their user interface and update their data regularly. If taken care of the challenges, Scootout has a good chance to become one of the most successful food startups of Nepal.
Edited by – Awale Sushil