On this episode of Techie Tuesday, we have Saroj Dhakal, a name well known in the open source communities of Nepal.
Saroj was born and raised in Nagarkot. He first got acquainted with computer when he was in grade 8 and he instantly fell in love with it. Later on, he went on to do B.Tech in Computer Science and Engineering from Acharya Nagarjuna University, India. With a big grin in his face, he claimed to us that he is the first engineer of his village – a proud feat for him and his family for sure. He was always an average student. During his engineering days, he said, he would always be seen with a computer but he was more into the things that were not in his course rather than the day to day course activities. He'd rather spend time fixing computers of his friends and seniors while in college. He attended the classes just to get by his course program i.e. to satisfy the minimum requirements regarding attendance and such.
After completing Engineering, he worked for 3 months with Mahabir Pun, the Magsaysay award winning Nepali social entrepreneur (who introduced wireless Internet technology in remote areas of Nepal) in his Nepal Wireless Networking Project. He mentions that he attended the first tele-medicine workshop conducted in Nepal where there were remote participants from several countries around the world. Then, he worked for CA Technologies as a Quality Assurance Engineer for 15 months. He switched company and worked as a QA Engineer in Crossroad systems. On both of these companies, he got to learn several things about storage domain because they both dealt with the same field.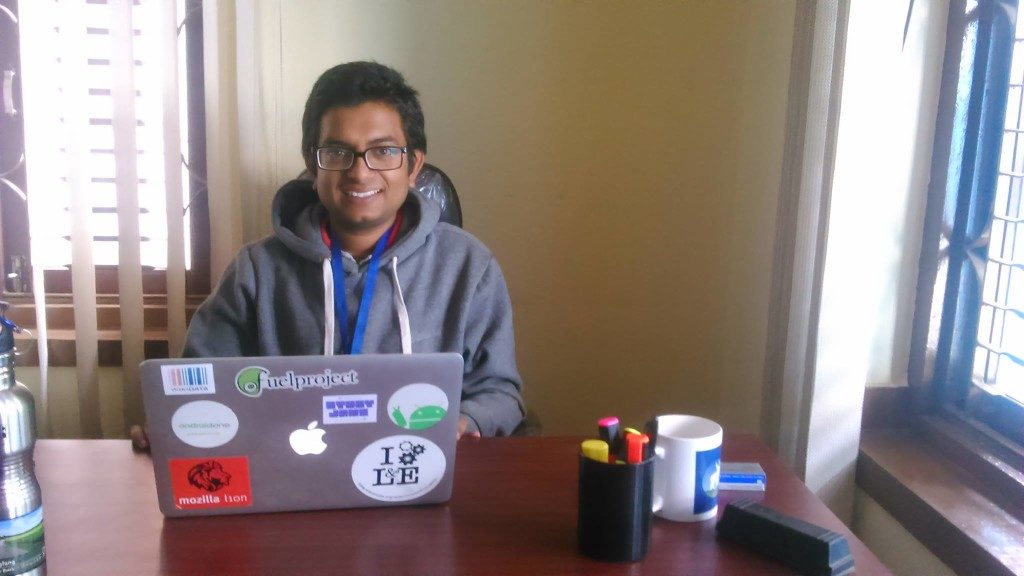 It was about time he missed his country, so he returned to Nepal. After his return, he worked as a Quality Assurance Manager in Deerwalk Services Pvt. Ltd, Kathmandu, which is a part of Deerwalk Inc., Lexington, USA. Some time later, he got an opportunity to work in Google as a Country Engineering Consultant. His job in Google was to co-ordinate with different teams and help them to fix and launch new products for Nepal. Some of the products that were released during his tenure include Google Translate for Nepali language, Android OS, YouTube, Gmail in Nepali interface.
He has also volunteered in several arenas. He has been contributing to Wikipedia since 2008 and is also an administrator of Nepali Wikipedia. Localization (adapting international products for Nepali usage by translating the English texts to Nepali) is his main area of interest and so, he has worked in localizing several softwares such as VLC, Pidgin, Mozilla Firefox, and is also managing the team for Ubuntu Localization. He is also involved in FOSS Nepal, a community involved in the promotion and advocacy of Free and Open Source Softwares.
Saroj is currently working as a Research and Development director in Deerwalk Institute of Technology (DWIT). He enjoys interacting with the students and helping them turn their ideas into reality. As an R and D director, he has already initiated projects such as Nepali spell checker, digitization of old Nepali books and is currently looking into research projects for undergrads. Similarly, the DWIT team as a whole, is also involved in producing contents for flipped classes and making the educational content available via audio and video. The most interesting idea that he shared with us is that, the team is planning to make an innovation center where people could come and work and also, do their research.
When asked if he has any words he lives by or success mantras as such, as a simple guy he is, he mentioned that he does not have any such thing. But, what he did say, which according to him is very important is that – You have to do what you love and that thing you do should matter to others as well. Meaning, if you do the thing you love, that you're passionate about, then you don't feel like you're working. You'd have fun doing it. Along the same lines, you should not do the work for nothing. The thing you do should matter, in the sense that it should be useful, or helpful to others.
Saroj has come a long way, from falling in love with computers during his 8th grade to completing his dream of being a computer engineer to having worked at Google Inc, which is a dream a lot of would-be computer engineers have. He is now helping students like him to realize their dreams and inspire them to go a little further and think about how they can help the society that they live in. He believes that if there's not enough opportunity in Nepal for computer graduates (or any other field for that matter) students should develop entrepreneurial thinking for themselves, and take a challenge to build something of their own. He strongly believes that this can be done, and we should not always live in the hopes of the government. There are difficulties but that does not mean we should give up; we should definitely try.