Pros
7.6-inch large, excellent, foldable display
Pocket-friendly when folded
Great for multitasking
Phenomenal performance
Optimized software for the large screen
Impressive set of cameras
Luxurious Build
Good battery life
Cons
Heavy
Bulky when folded
Gap between display panels when folded
Crease is visible
Narrow cover display
High price tag
No super telephoto lens
The Samsung Galaxy Z Fold 4 is the company's fourth iteration in its Fold series, building upon the successes and lessons learned from its predecessors.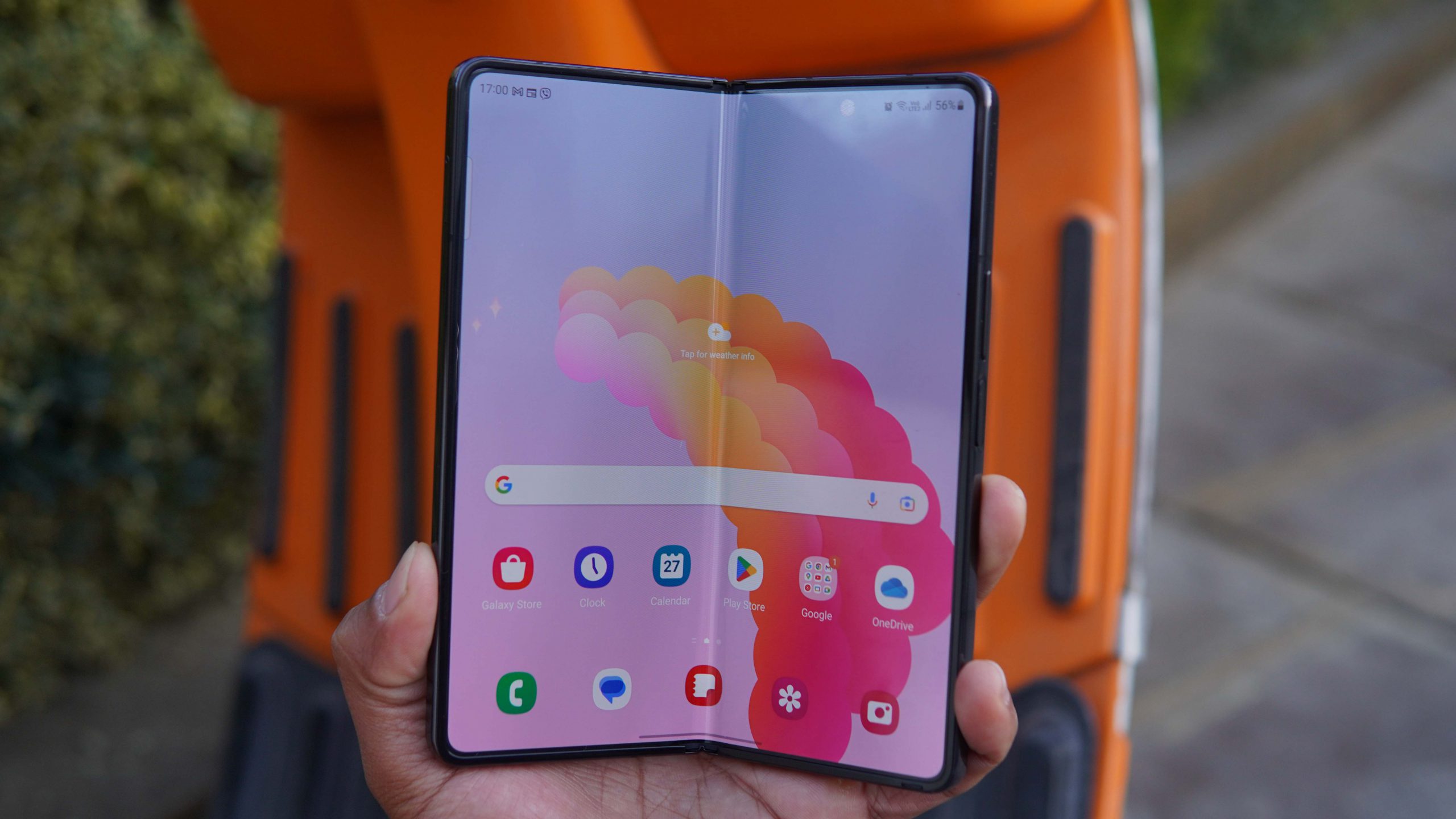 While the first foldable phone Samsung released in 2019 faced some initial challenges, the company has made significant strides since then to improve its foldable technology.
Until a few years ago, the idea of a folding phone being used as a reliable device for everyday use seemed far-fetched. Fast forward to today, and Samsung has made remarkable advancements — now making it a realistic option for many people as their primary device.
As the successor to the Samsung Galaxy Z Fold 3, Samsung unveiled the Galaxy Z Fold 4 in August 2022, along with the Galaxy Z Flip 4. However, due to the import ban imposed by the Nepal government, the launch of the device was postponed in Nepal until January 2023, just a month before the launch of the Samsung Galaxy S23 series.
The Samsung Galaxy Z Fold 4 is available for Rs. 2,44,999 in Nepal for the 12/256GB variant.
I used the Fold 4 for a little over a month. And here is my Samsung Galaxy Z Fold 4 review.
Samsung Galaxy Z Fold 4 Specifications
Body: 263 g, Glass front (Gorilla Glass Victus+) (folded), plastic front (unfolded), glass back (Gorilla Glass Victus+), aluminum frame

Unfolded: 155.1 x 130.1 x 6.3 mm
Folded: 155.1 x 67.1 x 14.2-15.8 mm

Main Display: 7.6 inches Foldable Dynamic AMOLED 2X, 1812 x 2176 pixels (~373 ppi density), 120Hz refresh rate, HDR10+, 1200 nits (peak)
Cover Display: 6.2 inches Dynamic AMOLED 2X, 904 x 2316 pixels (23.1:9), 120Hz
Chipset: Qualcomm SM8475 Snapdragon 8+ Gen 1 (4 nm)
CPU: Octa-core (1×3.19 GHz Cortex-X2 & 3×2.75 GHz Cortex-A710 & 4×1.80 GHz Cortex-A510)
GPU: Adreno 670
Memory: 256GB 12GB RAM, No Card Slot
OS: Android 12L, One UI 4.1.1
Rear Camera: 50 MP, f/1.8, 24mm (wide), 1.0µm, Dual Pixel PDAF, OIS

10 MP, f/2.4, 67mm (telephoto), 1.0µm, PDAF, OIS, 3x optical zoom
12 MP, f/2.2, 123˚, 12mm (ultrawide), 1.12µm
Video: [email protected], [email protected]/240fps (gyro-EIS), [email protected] (gyro-EIS), HDR10+

Front Camera: 4 MP, f/1.8, 26mm (wide), 2.0µm, under display
Battery: Li-Po 4400 mAh, non-removable, Fast charging 25W, Fast wireless charging 15W, Reverse wireless charging 4.5W
USB: Type-C 3.2, USB On-The-Go
Misc: Fingerprint (side-mounted), accelerometer, gyro, proximity, compass, barometer
Colors: Gray-green, Phantom Black, Beige, Burgundy
Samsung Galaxy Z Fold 4 Price in Nepal: Rs. 2,44,999 (12/256GB)
Samsung Galaxy Z Fold 4 Review
What Separates It from the Rest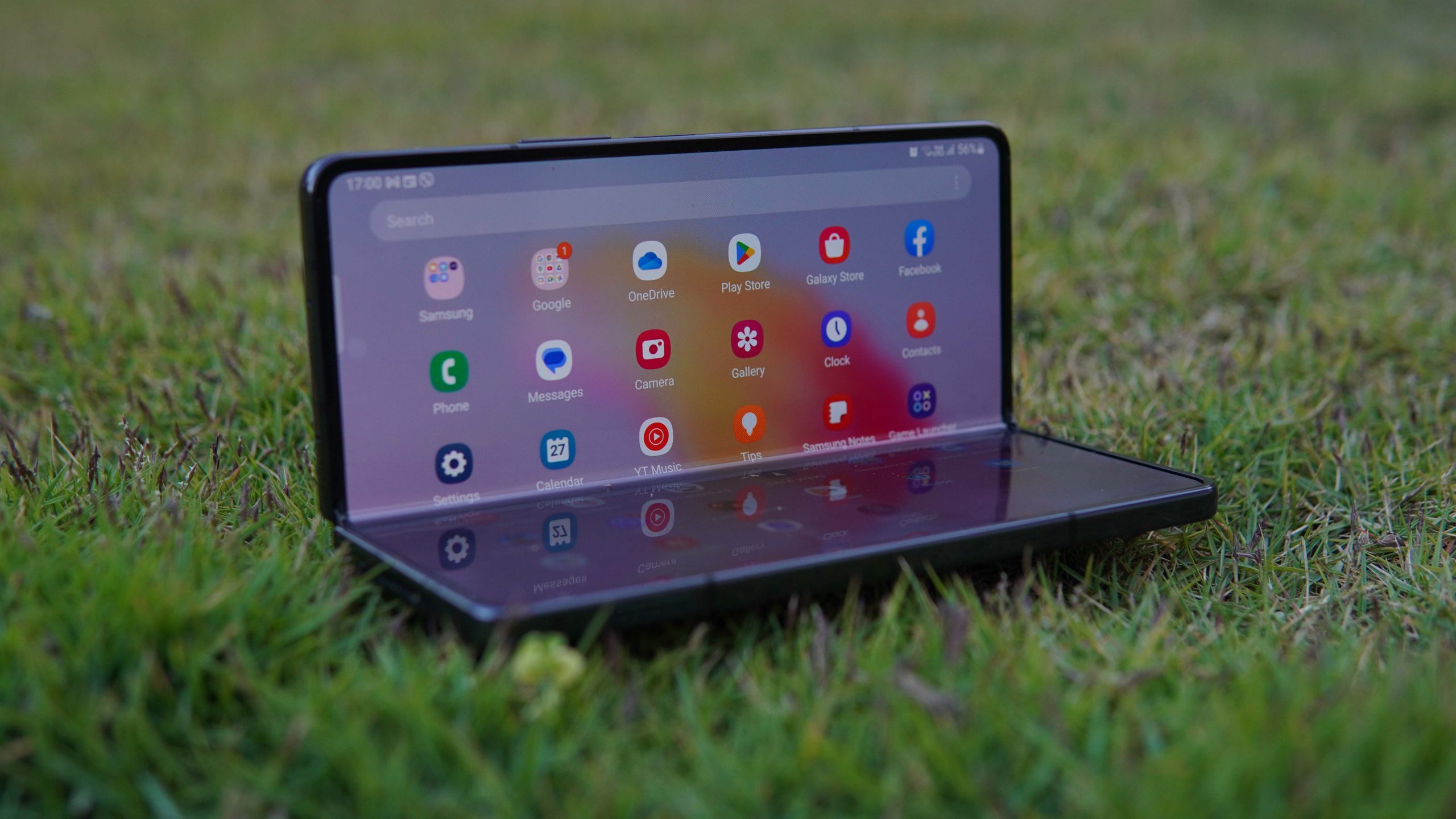 While in its folded state, the Galaxy Fold 4 can be used as a regular phone, albeit with a slightly taller form factor. Users can perform all the functions and tasks that are typically available on a non-foldable smartphone.
However, once the device is unfolded, it immediately sets itself apart from standard smartphones by offering additional capabilities that ordinary phones are not able to provide.
Using any app or watching movies on this screen is an absolute joy. Additionally, its large display is perfect for reading e-books and PDFs online, making it ideal for avid readers.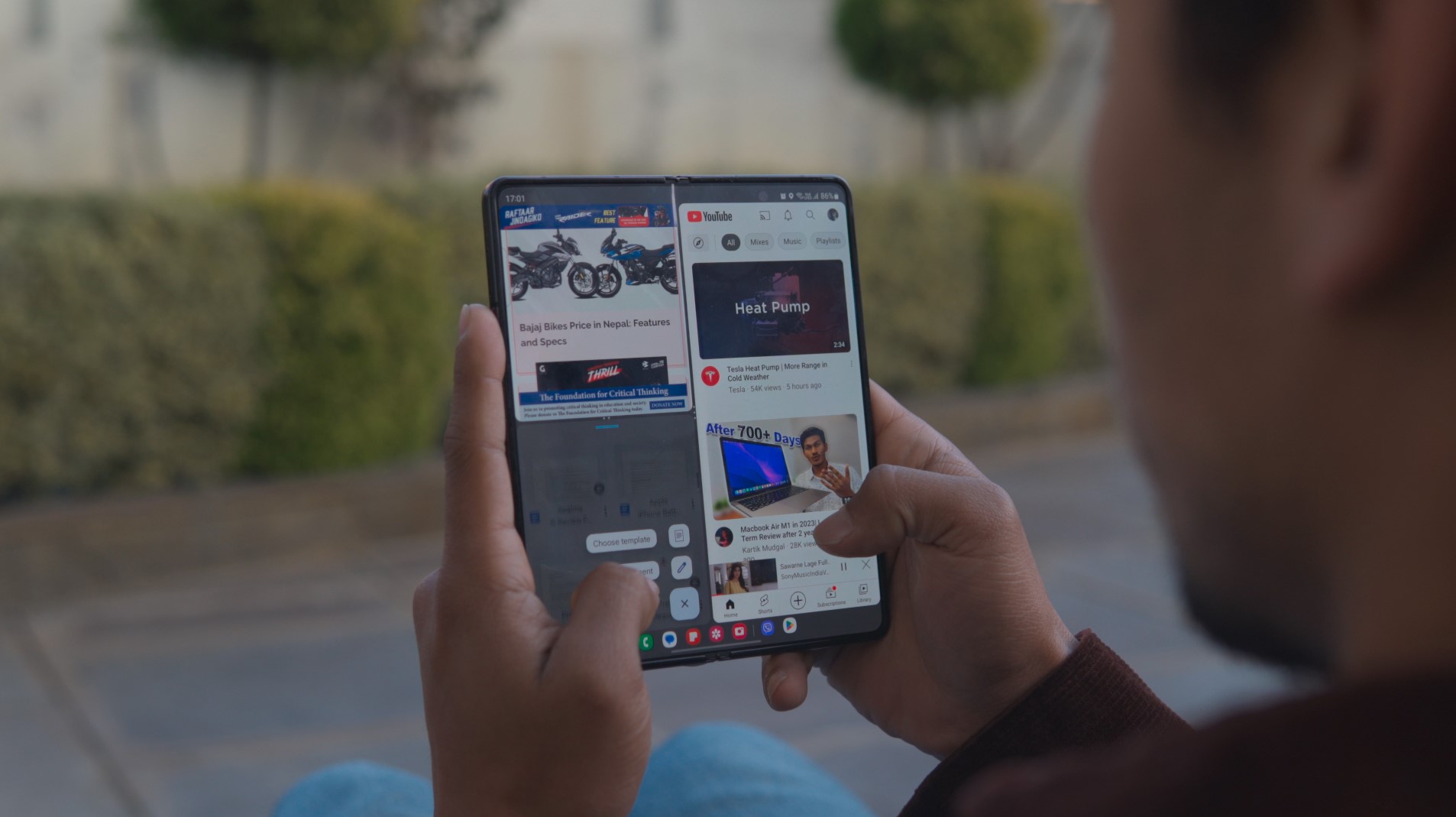 Not only does the big screen provide a wonderful viewing experience, but it also greatly enhances usability.
Multi-tasking on the Galaxy Fold 4 is effortless, and while other phones do offer split-screen mode, the experience is incomparable to the Galaxy Fold 4's large screen.
I can also easily use two apps simultaneously in full-screen mode without cropping — one on the left and one on the right — as if I have two smartphones. For instance, if I need to browse the internet and watch a video on YouTube at the same time, I can easily open a browser and search for what I need without having to exit YouTube.
Optimized Software for Large Screen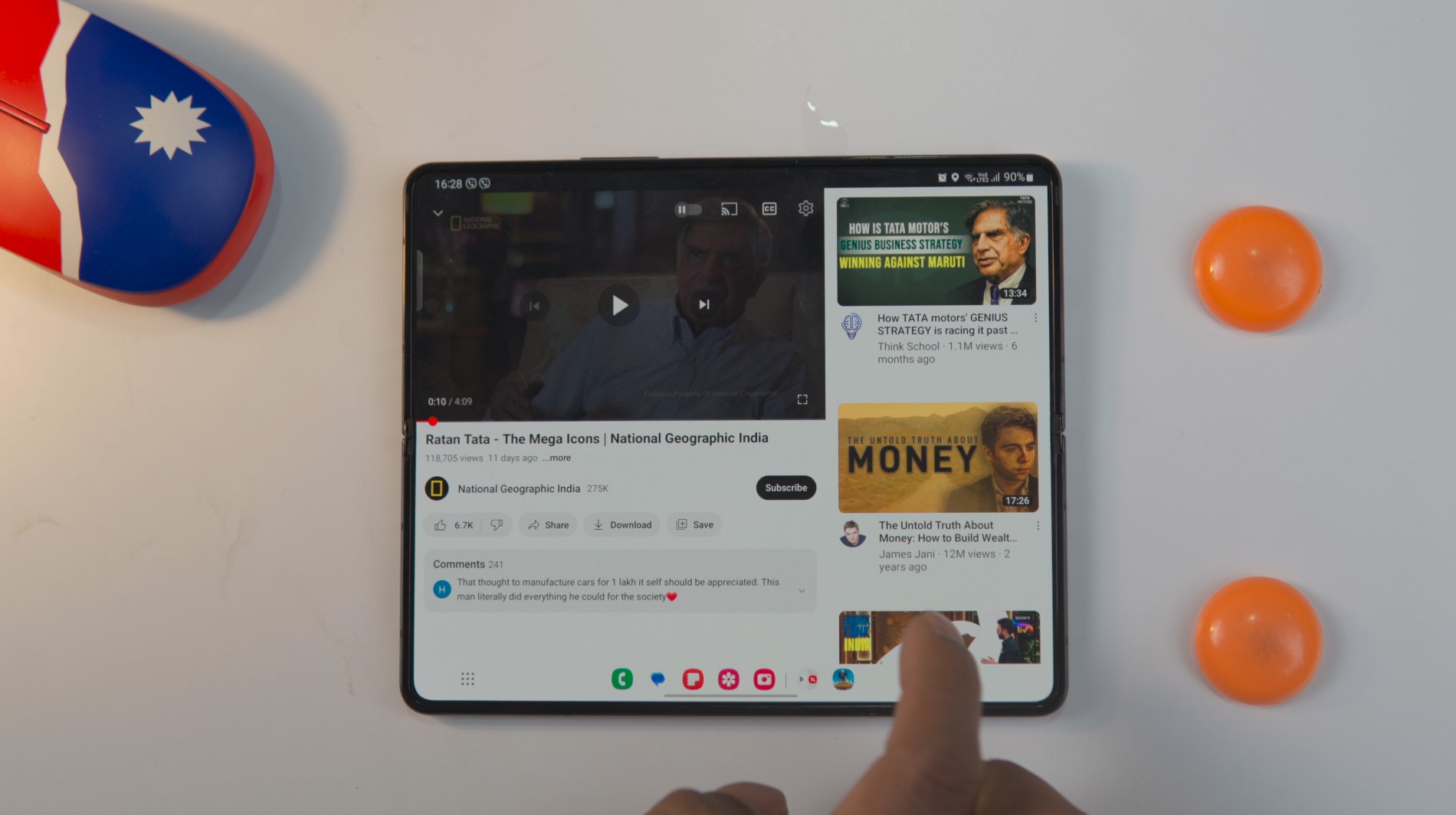 When I initially received the device, it was running on One UI 4.1.1 based on Android 12L, an updated version of Android 12 that is optimized for large screens on foldable smartphones and tablets like the Samsung Galaxy Z Fold 4. Shortly after, I received an update to Android 13 and One UI 5.0, which I eagerly installed.
Although Android 13 does not have the suffix "L," it has the same, if not better, optimization for large screens. It has taskbars similar to laptops and computers and also has menus in the bottom left corner.
The taskbar and menu options on this device enable easy switching between apps. Alternatively, you can use the drag-and-drop feature to activate the multi-window mode for using multiple apps simultaneously. And you can also adjust the size of the multi-window to your preference.
Moreover, this device allows users to use up to three apps in split-screen mode as well as a floating window that can be conveniently hidden in the edge when not needed.
A great feature for multi-tasking is the ability to enable split-screen mode simply by swiping two fingers from the edge. However, this feature is still experimental and needs to be enabled by turning on the "Swipe for split screen" option in Settings > Lab.
Since this has screens on both sides, the Fold 4 can also be used to take selfies from the main camera. In addition to the superior picture quality, this feature also enables you to utilize the ultrawide camera for selfies.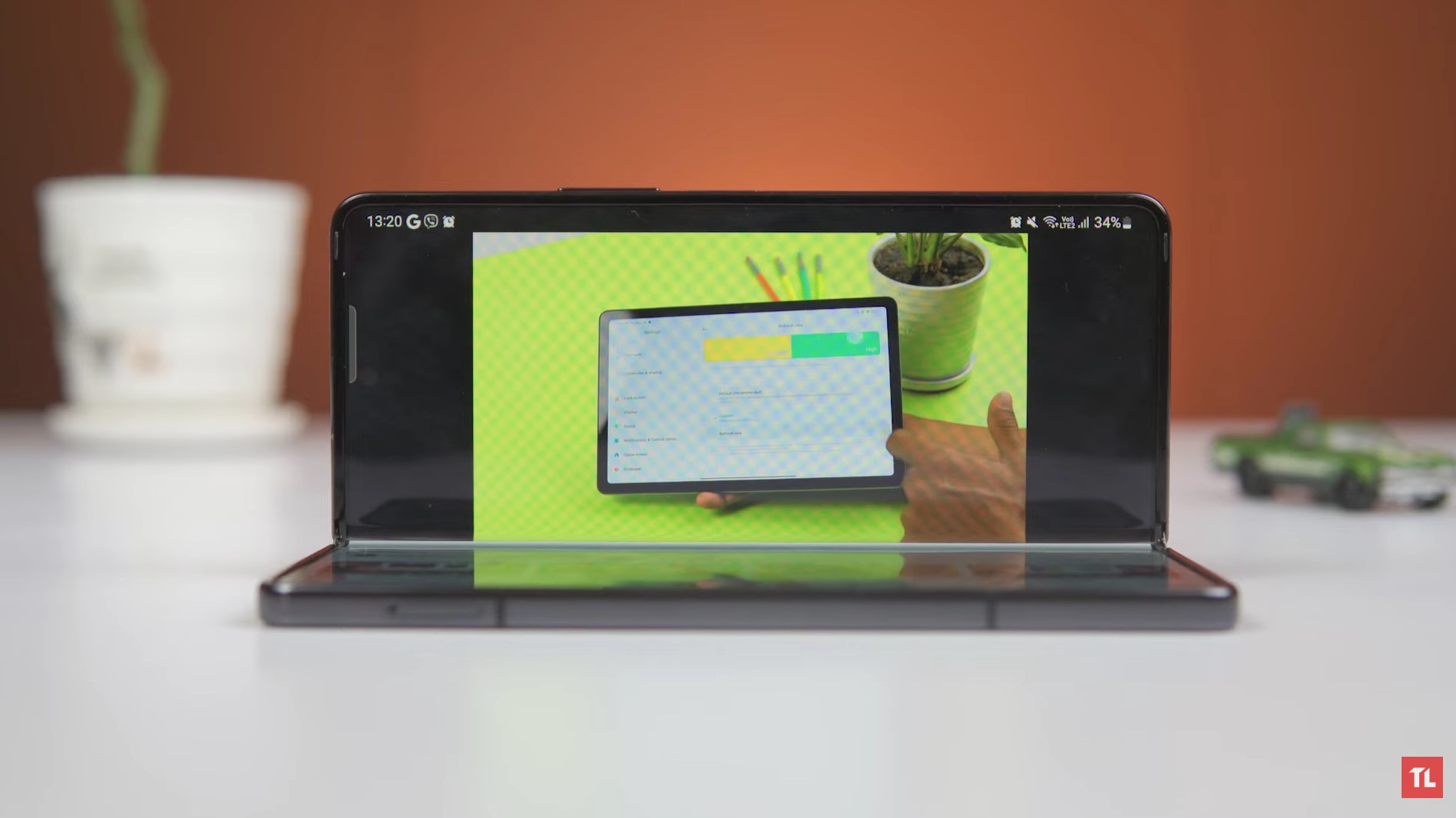 Likewise, when you are watching videos, you can half fold this and make the phone stand on its own, allowing you to watch videos hands-free. This is particularly helpful when you are eating or lying down. You can even utilize this feature when taking photos or videos.
The Galaxy Fold 4 has stylus support as well. Samsung has a special S Pen Fold Edition for the Fold 4 that you can use to take notes on it. You need to separately purchase the S Pen, though.
Maturing Design
Unfolded: 155.1 x 130.1 x 6.3 mm
Folded: 155.1 x 67.1 x 14.2-15.8 mm
263 g
Aluminum frame, glass back, glass front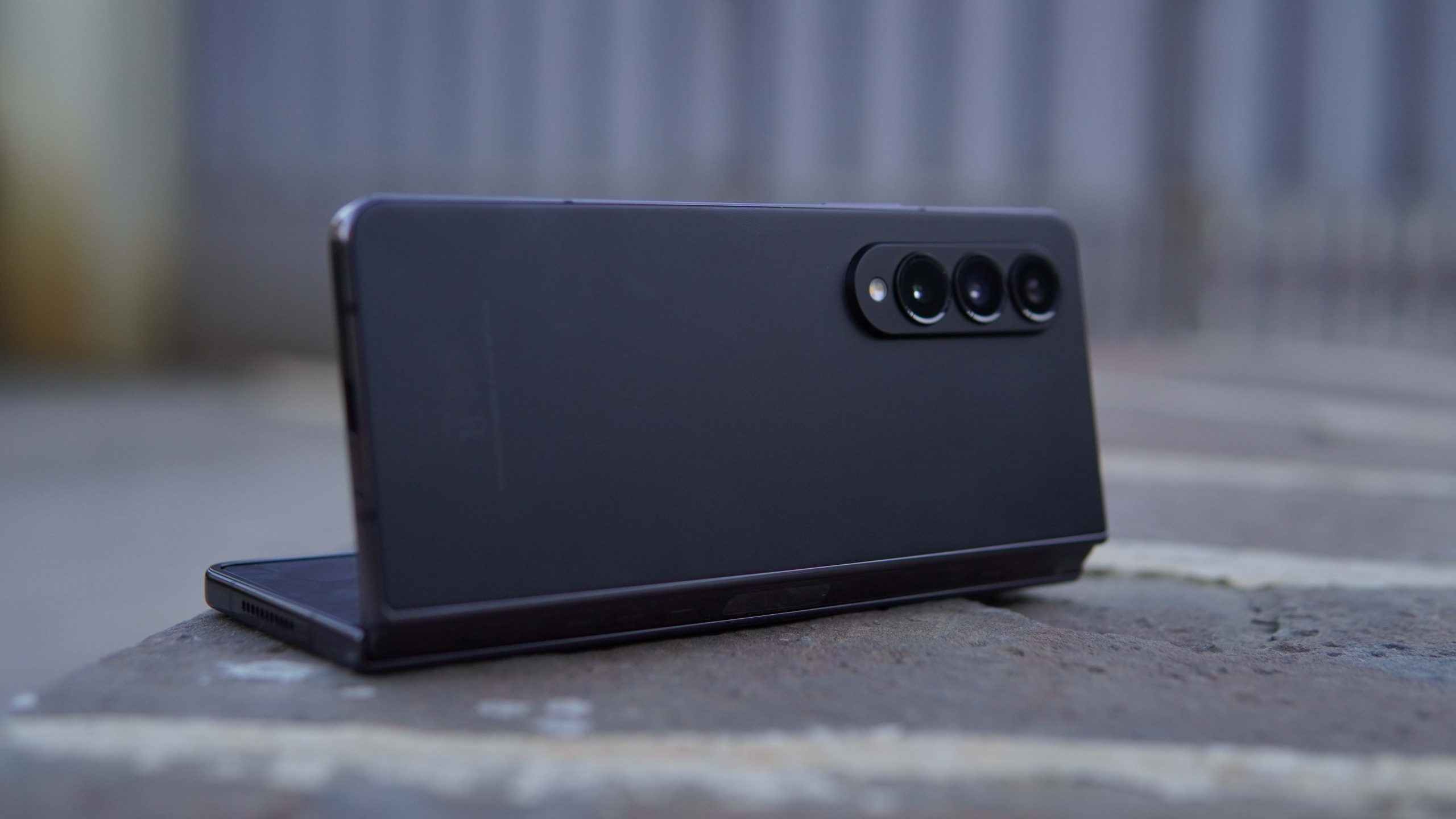 At first glance, you may not see any difference between the Galaxy Z Fold 4 and its predecessor, the Galaxy Z Fold 3. But if you look a little closer, you can find small but welcome changes.
The first noticeable change is the aspect ratio of the screen on both the cover screen on the outside and the main screen inside.
Fold users complained that the cover display of the Fold 3 was very tall and narrow. Samsung took note of this feedback and made changes by reducing the height and increasing the width of the device.
This made both the cover display and the foldable inner display slightly wider than before. This makes it easier than before to use the phone from the cover screen without having to unfold it. Not perfect, but better.
The Galaxy Z Fold 4 is also 8 grams lighter than the Fold 3, but this reduction is hardly noticeable considering that it still weighs 263 grams, which is significantly heavier than most typical smartphones.
Although the device feels slim when unfolded, it becomes bulky when folded. Nonetheless, due to its relatively short height and narrow width, I find it surprisingly easy to carry the phone in my pocket.
ALSO READ: Xiaomi Redmi A1 Review: Best Entry-Level Phone?
Luxury Build
In terms of its build quality, the phone feels solid, with a premium and luxurious design that is immediately apparent from the moment you pick it up.
When the device is folded, every surface that comes into contact with your hands is made of either glass or metal.
Samsung says the frame and hinge of the Galaxy Fold 4 are built of armor aluminum, whereas the front and back glass are made of Corning Gorilla Glass Victus+.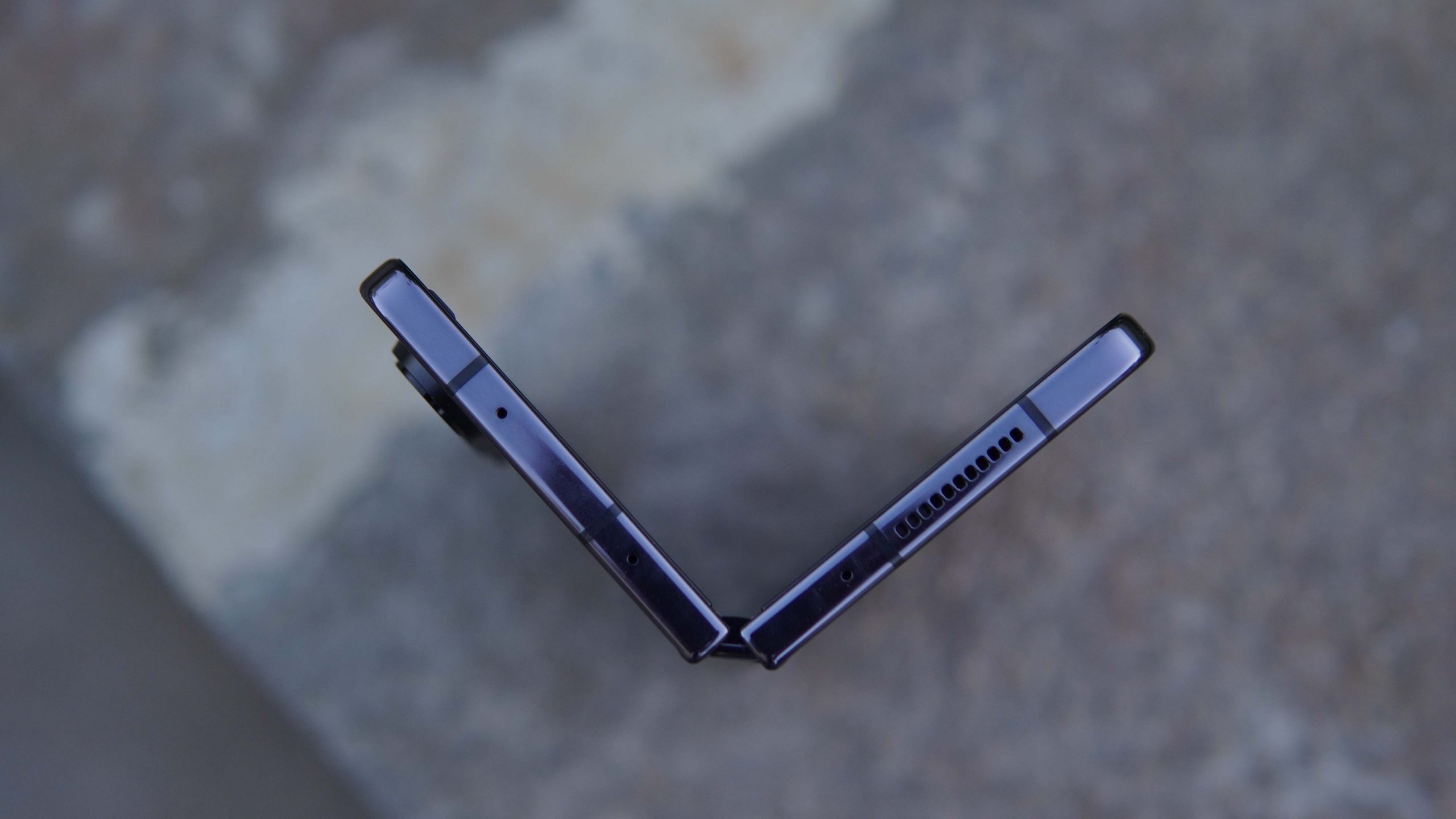 The phone is available in different color options, including Graygreen, Phantom Black, and Beige. The one I got for the review was a Phantom Black one, which was also present in previous Samsung phones. It has a nice, satin finish.
Similar to the Fold 3, the Fold 4 has a bumpy camera array design at the back, which can cause the phone to wobble when placed on a flat surface. Nevertheless, the build is solid. It does not feel cheap in any way.
Moving on, the phone has powerful magnets that create a satisfying click when folding it. This also means a bit more force is required to open the phone. Once opened, though, it stays in any position you set it.
The Gap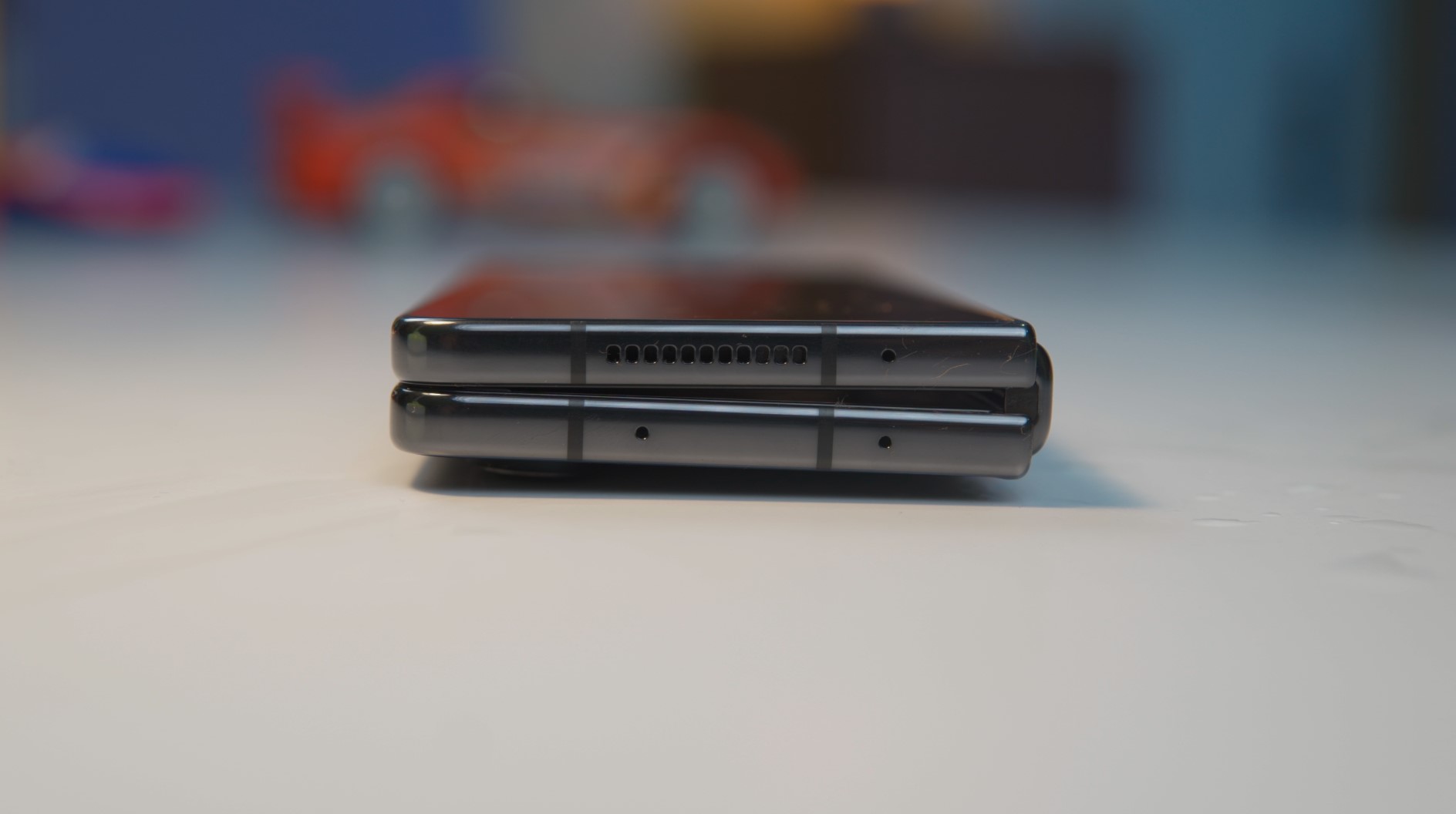 When folded, the screen does not lay flat, and there is a gap between the panels that can allow dust and lint to enter. Although this is not usually a major issue, it caused a minor problem for me personally. As someone who keeps an ID card in my pocket, I found that it once got trapped inside the phone through that gap.
Considering the inner screen's delicacy and Samsung's advice to make sure that there are no items such as keys or cards inside when folding the phone, I quickly realized that keeping my card and phone in the same pocket was unwise since it could lead to scratches on the display.
When unfolding the device at angles past 120 degrees, I sometimes hear small cracking sounds. This only gets noticed in a quiet environment and has not caused any problems so far, which is good to know. I'm not sure if this is normal or unique to my unit, but I thought it would be important to mention this.
To protect the foldable display inside made of Samsung's Ultra Thin Glass, it's covered by a plastic protection film that should not be peeled off, as it's crucial for the display's safety.
Although some online videos show the latest Galaxy Fold devices with the protector removed, I strongly recommend that you DON'T do it since it's not supposed to be removed and may cause damage to the display.
Also, the phone is rated IPX8 for water resistance up to 1.5 meters of freshwater, but it's not dust-resistant. However, plastic caps located at the top and bottom folding points should help prevent some dust from entering the phone.
The Crease is Still There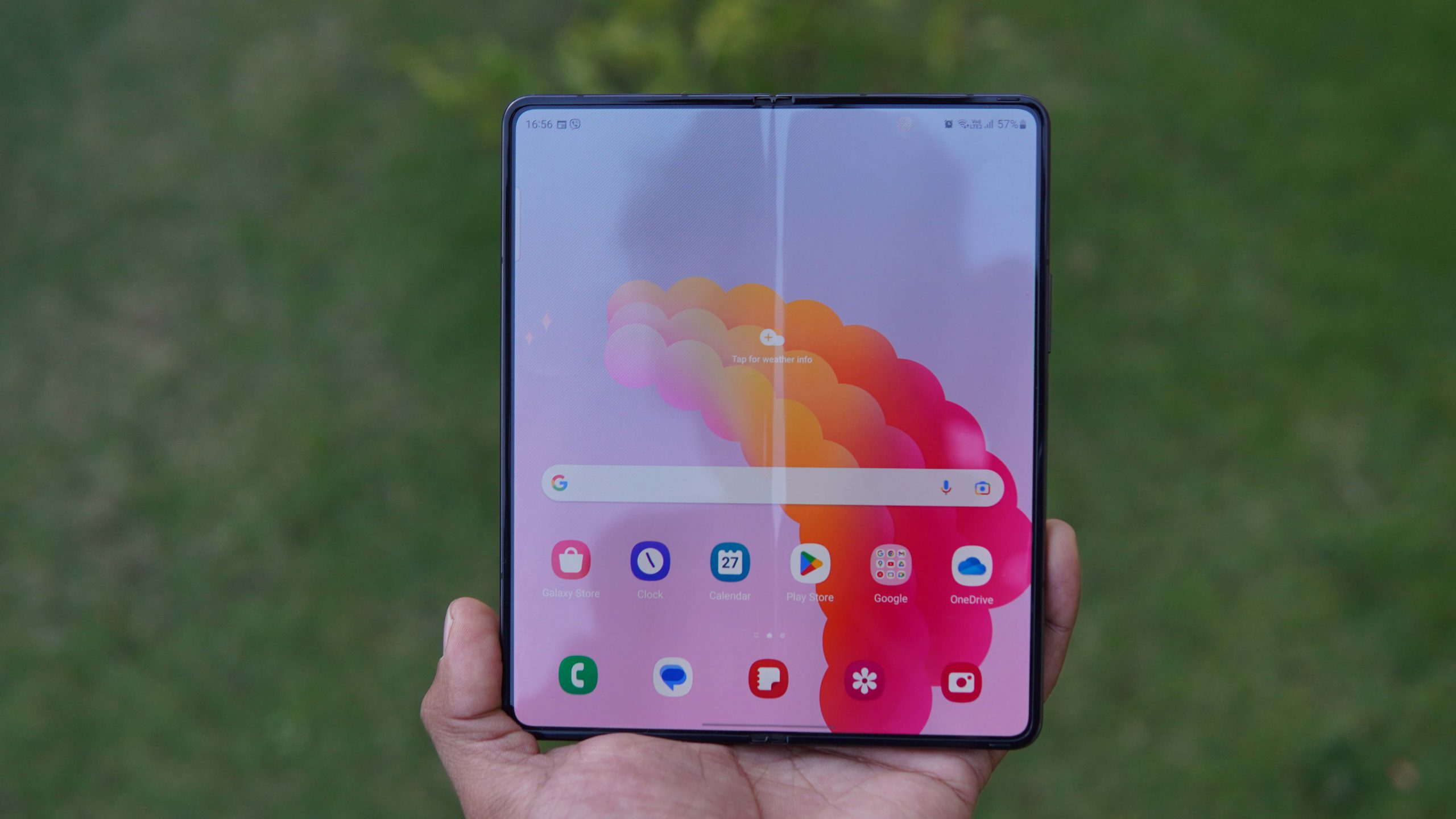 While the Galaxy Fold has undergone several iterations, the crease on the folding axes of the display is still visible and palpable.
It's immediately noticeable to anyone seeing the phone for the first time, but when using the phone, it's not much of a bother, especially when in a vertical orientation where swiping in that area is not necessary. However, when using it horizontally, the crease can be felt.
Although the crease is not a dealbreaker, it would be preferable if it could be reduced. Therefore, in the next edition, Samsung needs to find a way to improve the folding technology to reduce the crease.
Additionally, the power and volume buttons are located on the right side of the phone, and the power button doubles as a fingerprint sensor that's both fast and reliable.
However, due to the phone's nearly square shape when unfolded, one nitpicky thing I experienced is that it can be challenging to determine its orientation, making it difficult to locate the buttons by touch.
ALSO READ: Purple PEB 005 Earbuds Review: A Good Earbuds on Budget
Excellent Displays
7.6-inch foldable Dynamic AMOLED 2X
HDR10+, 1200 nits (peak)
6.2-inch cover screen, Dynamic AMOLED 2X
120Hz refresh rate (main and cover screen)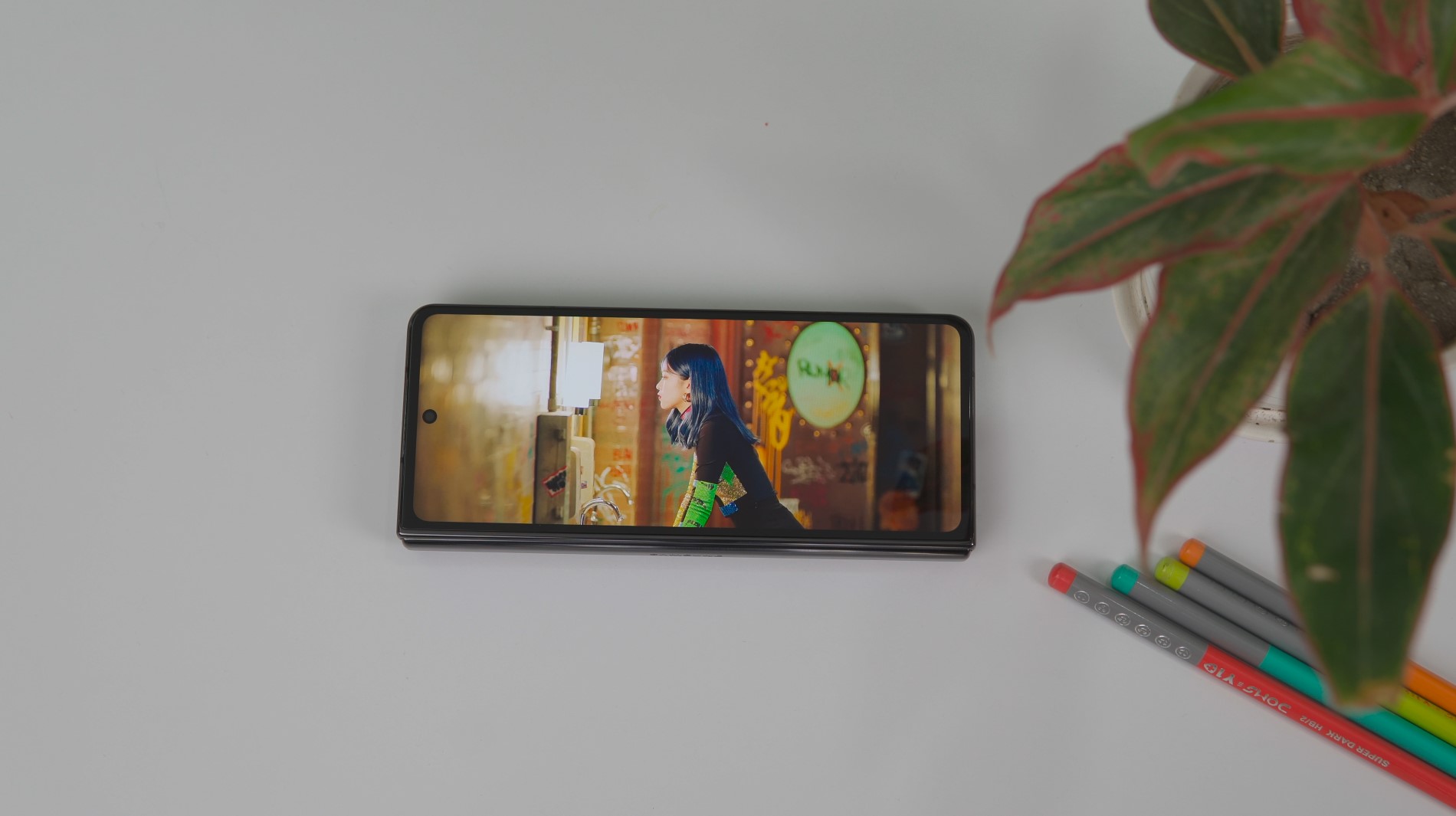 The outer cover display of the phone has a diagonal measurement of 6.2 inches, which is the same as the Fold 3. However, as previously noted, the aspect ratio has been modified.
The new aspect ratio is 23.1:9, which is still relatively tall compared to other smartphones but wider than the Fold 3's 25:9 display. This change makes using the cover display more practical than before.
The AMOLED cover display looks sharp, the colors are excellent, and the brightness is also enough for outdoor usage. The adaptive refresh rate of up to 120Hz also feels incredibly smooth.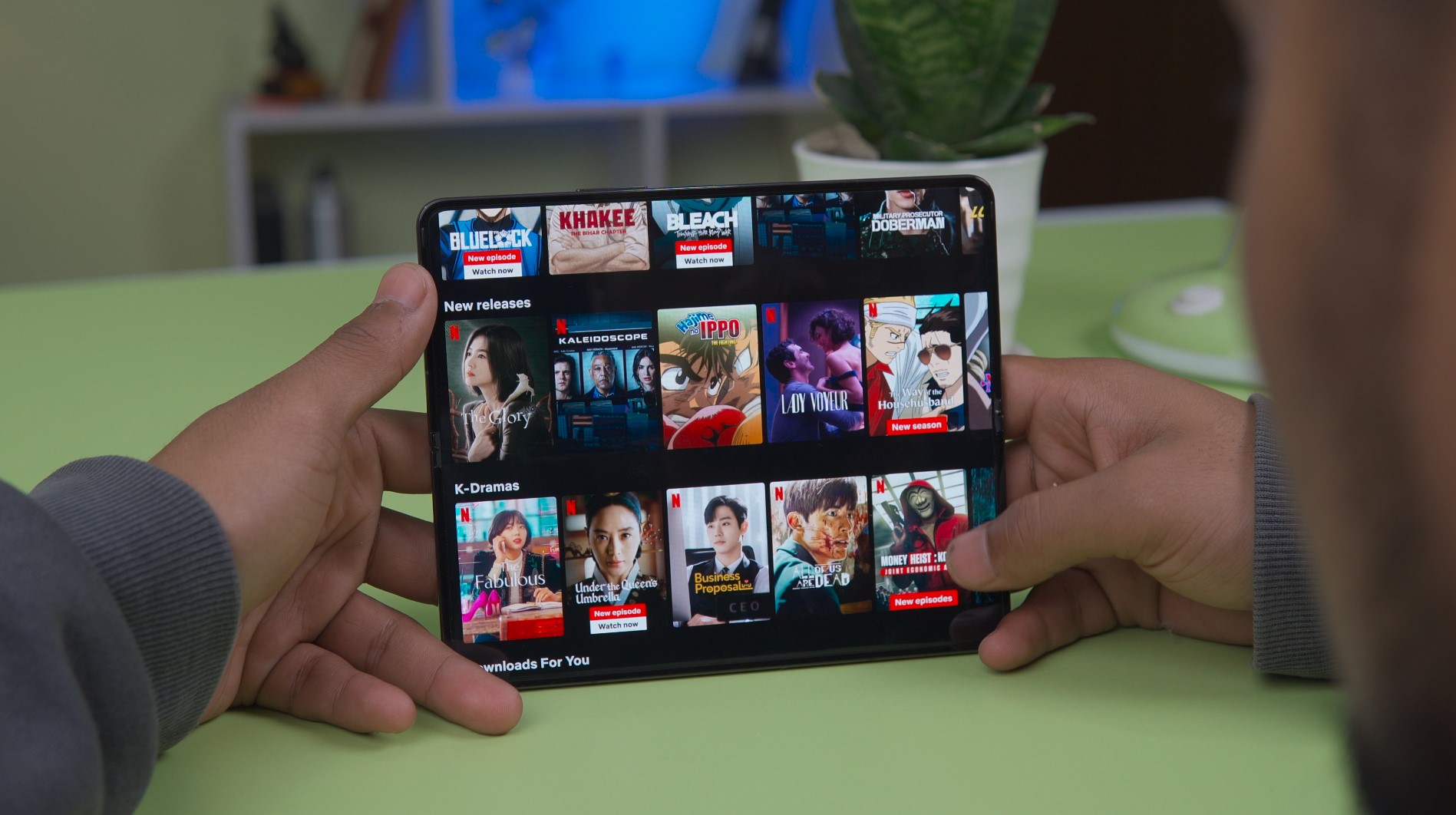 Upon unfolding the Fold 4, users are greeted by a spacious 7.6-inch foldable AMOLED display. It is also made wider with an almost square 5:6 aspect ratio.
Its excellent color reproduction, high brightness, and smooth 120Hz refresh rate make the display interaction a delightful experience. The ability to conveniently carry such a large and high-quality display in one's pocket is a significant advantage and the primary selling point of the Fold.
Like last year, the main display has an under-display selfie camera located at the top right. That area is pixelated, but it's only noticeable when you're looking for it; otherwise, it goes unnoticed.
Top Notch Performance
Qualcomm Snapdragon 8+ Gen 1 (4nm)
Octa-core (1×3.19 GHz Cortex-X2 & 3×2.75 GHz Cortex-A710 & 4×1.80 GHz Cortex-A510)
Adreno 670
12GB RAM 256GB storage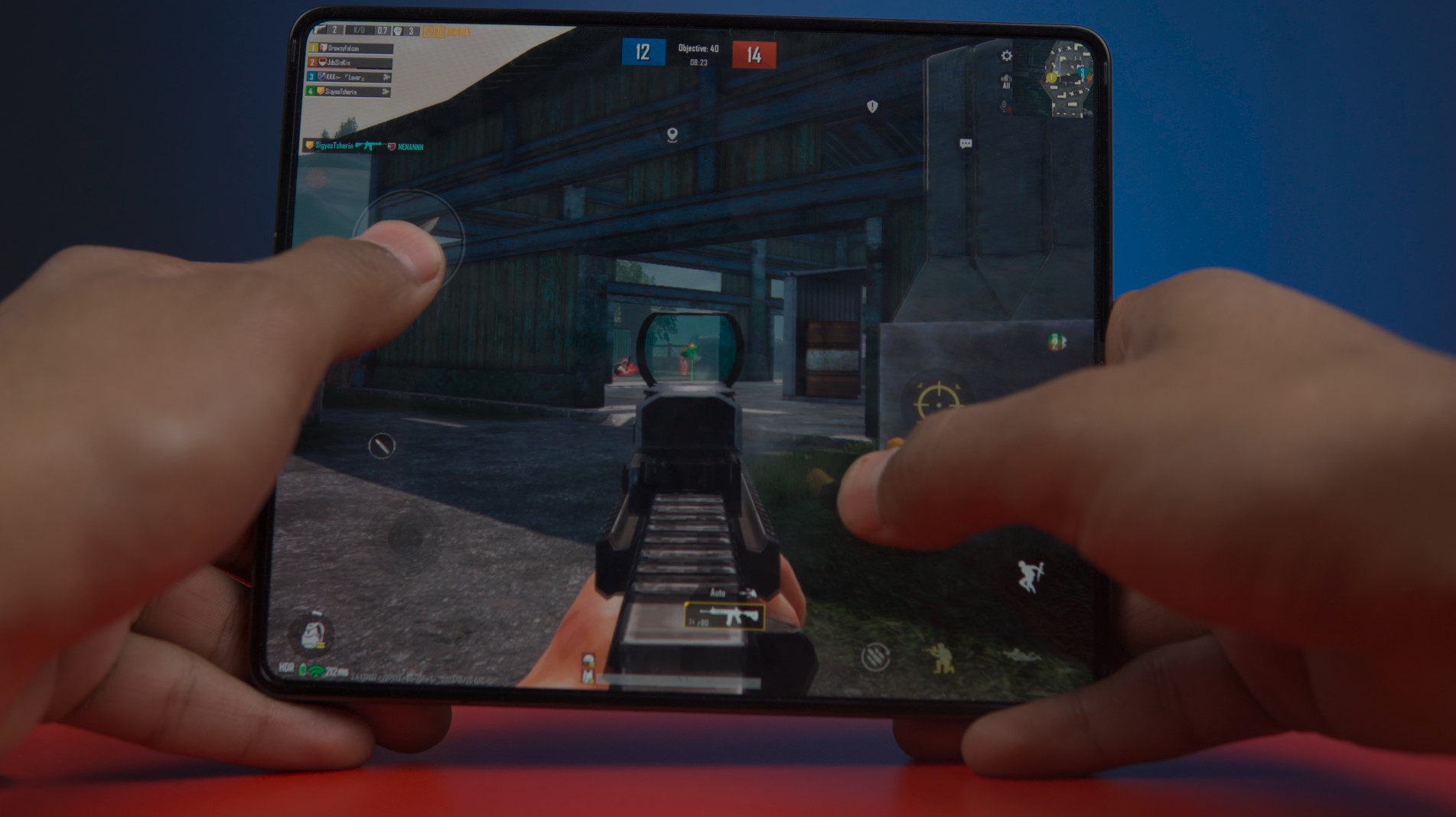 Samsung Galaxy Z Fold 4 is equipped with Snapdragon 8+ Gen 1 chipset, which is available only in one memory configuration — 12GB RAM with 256GB storage — in Nepal.
As expected, the Galaxy Z Fold 4 delivers phenomenal performance thanks to its flagship processor from Qualcomm. The maximum clock speeds of the CPU cores are clocked higher in the Snapdragon 8 Plus Gen 1 compared to Snapdragon 8 Gen 1 that drives the Galaxy S22 series.
Furthermore, the power efficiency of the 8 Plus Gen 1 has been significantly improved. In comparison to the power-hungry 8 Gen 1, this improvement in the chipset leads to higher sustained performance and longer battery life.
Moreover, because it consumes less power, it does not heat up the phone as much as phones with Snapdragon 8 Gen 1 processors, such as the Realme GT 2 Pro and Samsung Galaxy S22 Plus.
Real-Life Usage
In day-to-day use, the Galaxy Z Fold 4 performs exceptionally well. It is extremely fast and responsive, no matter what task you throw at it.
When it comes to gaming, the phone's capabilities are equally impressive. You can easily play any high-demanding popular game on the highest settings and enjoy smooth, lag-free gameplay. In short, performance is not a concern with this phone.
Besides, the large screen size offers the added advantage of a wider field of view for optimized games, such as PUBG Mobile. This is extremely beneficial for the players.
Benchmark
To get an overview of how much improvement the 8+ Gen 1 has brought, we conducted some benchmark tests.
First, in Geekbench 5, which tests the CPU performance of the device, the Fold 4 saw an increase of over 7% in single-core performance and a whopping 26% increase in multi-core performance when compared to the Samsung Galaxy S22 Ultra — powered by the Snapdragon 8 Gen 1.
Similarly, to get an idea of its GPU performance, we ran the Wild Life Extreme test. It scored over 2700, which is over 8% better than the 8 Gen 1 powered-Realme GT 2 Pro.
The Fold 4 achieved an astounding score of over one million in the holistic benchmark Antutu 9, which measures the device's overall performance.
This slideshow requires JavaScript.
The best of all is that the phone does not overheat. This helps with better sustained performance. The Galaxy Fold 4 CPU throttled to just 86%, while it managed to get 80% stability in Wild Life Extreme Stress test.
This is a positive improvement. Smartphones equipped with SD 8 Gen 1 used to have huge performance drops due to thermal issues. This is not the case with Galaxy Z Fold 4.
For comparison, the GT 2 Pro throttled to 60%, S22 Plus to 57%, and S22 Ultra to 58% in our CPU Throttling Test.
ALSO READ: Realme 10 Pro Plus 5G Review: The Best Midrange Smartphone?
Great Set of Cameras
Rear Camera: 50 MP, f/1.8 (main)
Front Camera: 10MP, f/2.2

4MP, f/1.8 (under display)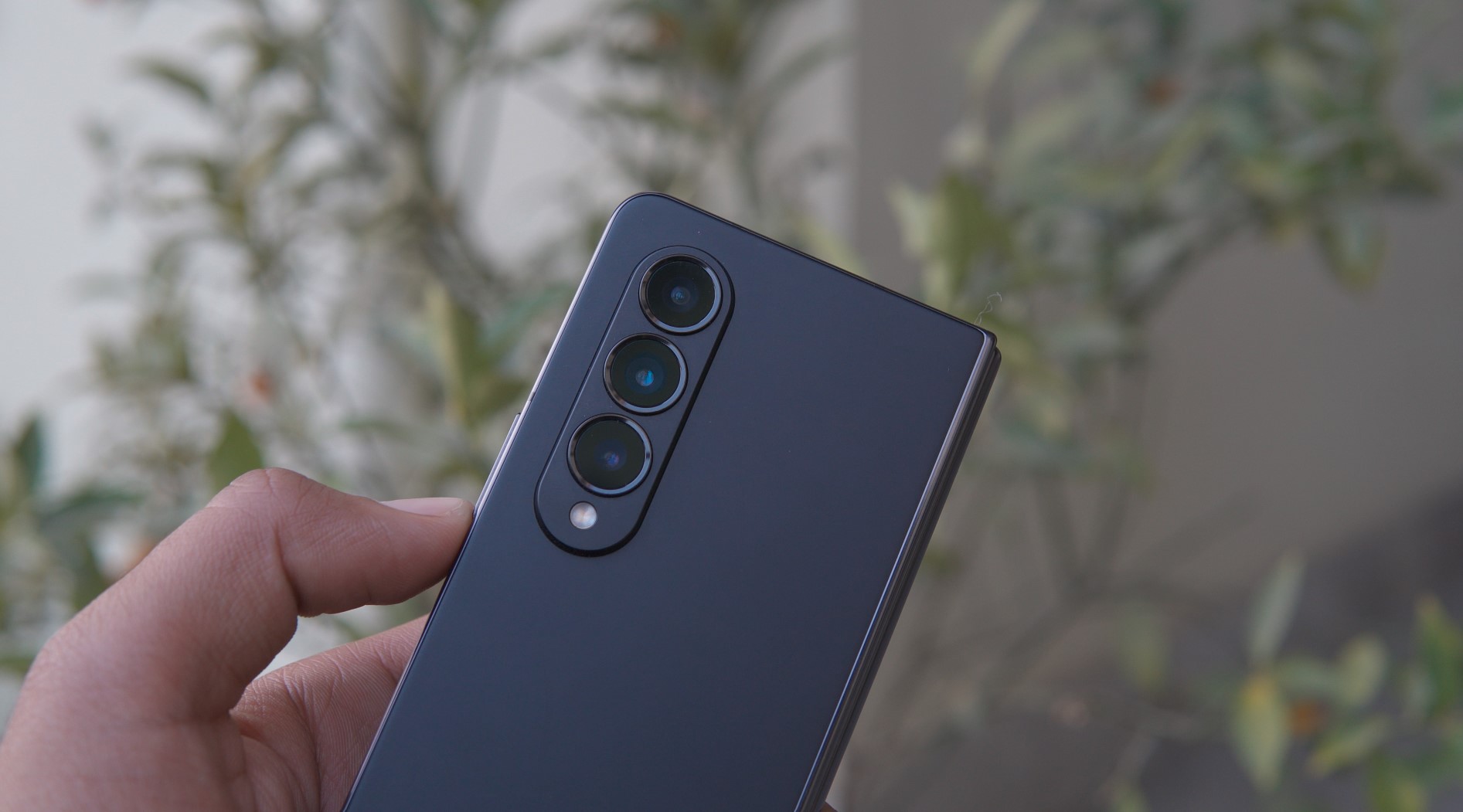 The Samsung Galaxy Z Fold 4 features a total of five cameras: three located on the rear, one 4MP positioned under the display, and one 10MP located on the outside on the cover display.
The rear camera system includes a 50MP primary camera, a 12MP ultra-wide camera, and a 10MP telephoto camera. While the camera setup on the rear is similar to the one found on the Galaxy S22 and S22+, the Galaxy Z Fold 4 technically uses different primary and ultrawide camera sensors. However, both devices produce similar camera performance.
The Fold 4 features the Samsung GN3 sensor for the primary camera, whereas the S22 and S22 Plus use the GN5 sensor. The technical differences between these sensors are negligible, with the only variation being the autofocusing technology used (Dual Pixel Pro vs. Dual Pixel).
The telephoto camera on the Galaxy Z Fold 4 is the same Samsung S5K3K1 (ISOCELL 3K1) sensor found on the S22 and S22+. However, the ultrawide camera on the Fold 4 is a Sony IMX258 sensor, which was borrowed from its predecessor, the Galaxy Z Fold 3.
Rear Cameras

Both the main camera and ultrawide camera take visually appealing images. They have punchy colors, a wide dynamic range, and a good amount of detail and sharpness.
The 3x optical telescope lens on the phone also produces great pictures. This is by far my favorite lens to use on this phone. Photo quality from its optical zoom is exceptional.
However, in certain situations, the phone may use digital zoom from the primary camera instead of the optical lens, leading to less impressive zoomed photos.
Regrettably, the phone doesn't possess the superior 10x periscope zoom lens or 100x digital zoom that is available on the Galaxy S23 Ultra and S22 Ultra. However, it can achieve a 30x digital zoom, which is surprisingly stable.
When it comes to picture quality, it is more comparable to that of the Galaxy S22 and S22 Plus than the Galaxy S22 Ultra.
Additionally, the video footage from all three cameras is incredibly steady. They all have good video quality with good colors, even in low-light conditions.
This slideshow requires JavaScript.
Portrait Mode
You can take portrait shots with the rear cameras at 1x and 3x zoom levels. It does a great job of blurring the background and separating the subject from it. In rare cases, it fails to accurately detect the subject edge, but most of the time it's reliable.
The background blur looks very natural. The technology intelligently identifies the background and applies a gradual blur based on the object's distance. I really like this feature of Samsung's portrait mode.
I have found that the red color appears to be slightly boosted in the portrait photos. It makes the skin tone appear redder than it actually is. Otherwise, the overall quality of the portrait photos is incredible.
This slideshow requires JavaScript.
Front Camera
The Galaxy Fold 4 is equipped with two selfie cameras, one located on the cover screen and the other being a 4MP under-display camera that comes into play when the device is unfolded. The under-display camera is generally not noticeable and remains hidden until you open the front camera while the device is unfolded.
The under-display camera technology is still in its early stages, resulting in softer photos compared to those taken with the cover screen camera. Despite this, the under-display camera is still useful for video calls and provides an alternative option for taking selfies in certain situations.
The 10MP camera on the cover screen produces great selfies. The pictures look sharp with good detail and skin tone that is pleasing to the eye. Even though the front camera is already capable of taking great selfies, users can opt for even better picture quality or a wider field of view by utilizing the cover display to take selfies with the rear cameras.
This slideshow requires JavaScript.
Long Battery Life
4400mAh battery
25W fast charging support (wired)
15W fast wireless charging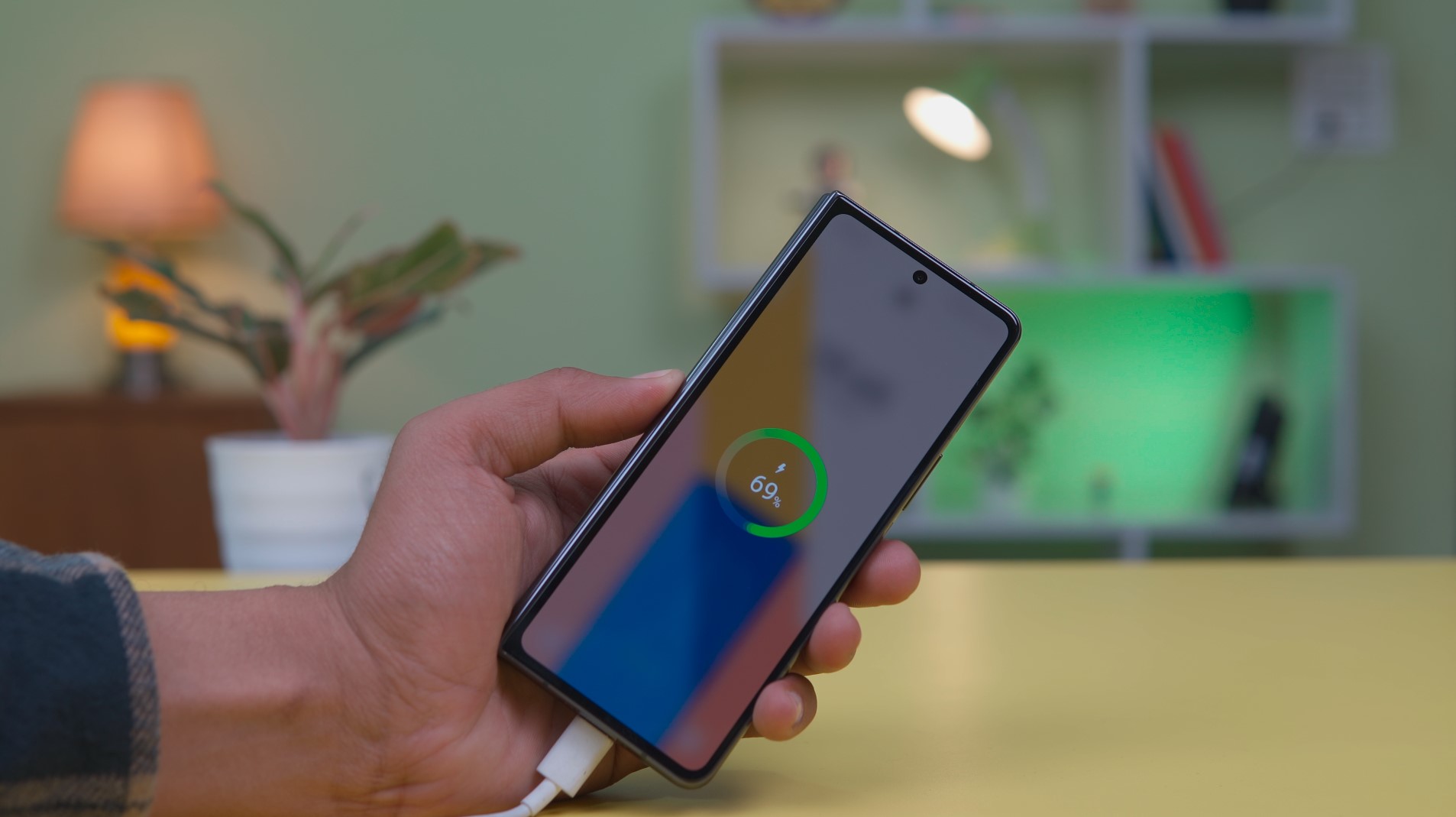 The Samsung Galaxy Z Fold 4 is powered by a 4400mAh battery that is cleverly split into two parts and placed inside the device. To my surprise, the battery life of the Fold 4 is exceptional.
On my average working days, with light usage — which included scrolling through Reddit and Twitter, watching videos on YouTube, browsing the web, and taking a few photos — the device gave me over 6 hours of screen-on-time which is not bad, given that it has a 7.6-inch display.
But what truly stands out is the battery life when using just the outer screen without opening the larger foldable display. It provided 9 hours of screen-on-time, which is remarkable. Admittedly, I did not use the phone heavily and relied on the cover screen, but a battery life of 9 hours is undoubtedly impressive.
The Samsung Galaxy Z Fold 4 supports 25W fast charging, but the adapter for it is not included in the box. Additionally, it also supports wireless charging of up to 15W and reverse wireless charging of up to 4.5W, allowing you to wirelessly charge other devices like phones or watches.
With a compatible charger, you can charge the phone from 0% to 50% in 30 minutes and fully charge it in approximately 1 hour and 20 minutes.
Crisp Audio
There are two speakers on the Galaxy Z Fold 4, which are located on the top and bottom sides of the device — when in a folded state.
Although the speakers are loud, they were not as loud as I had anticipated them to be. Given the Fold's sizable screen, I had anticipated the speakers to be larger as well.
Despite my high expectations, the quality of the speaker is excellent, providing a great audio experience for activities such as music listening, gaming, and movie watching.
While I had expected them to be louder, it didn't take away from my overall experience of the device. The loudness is still amazing and perfectly suitable for enjoying movies and songs. Nevertheless, I was expecting a little more from them.
Should Have Given a Quad Speaker Setup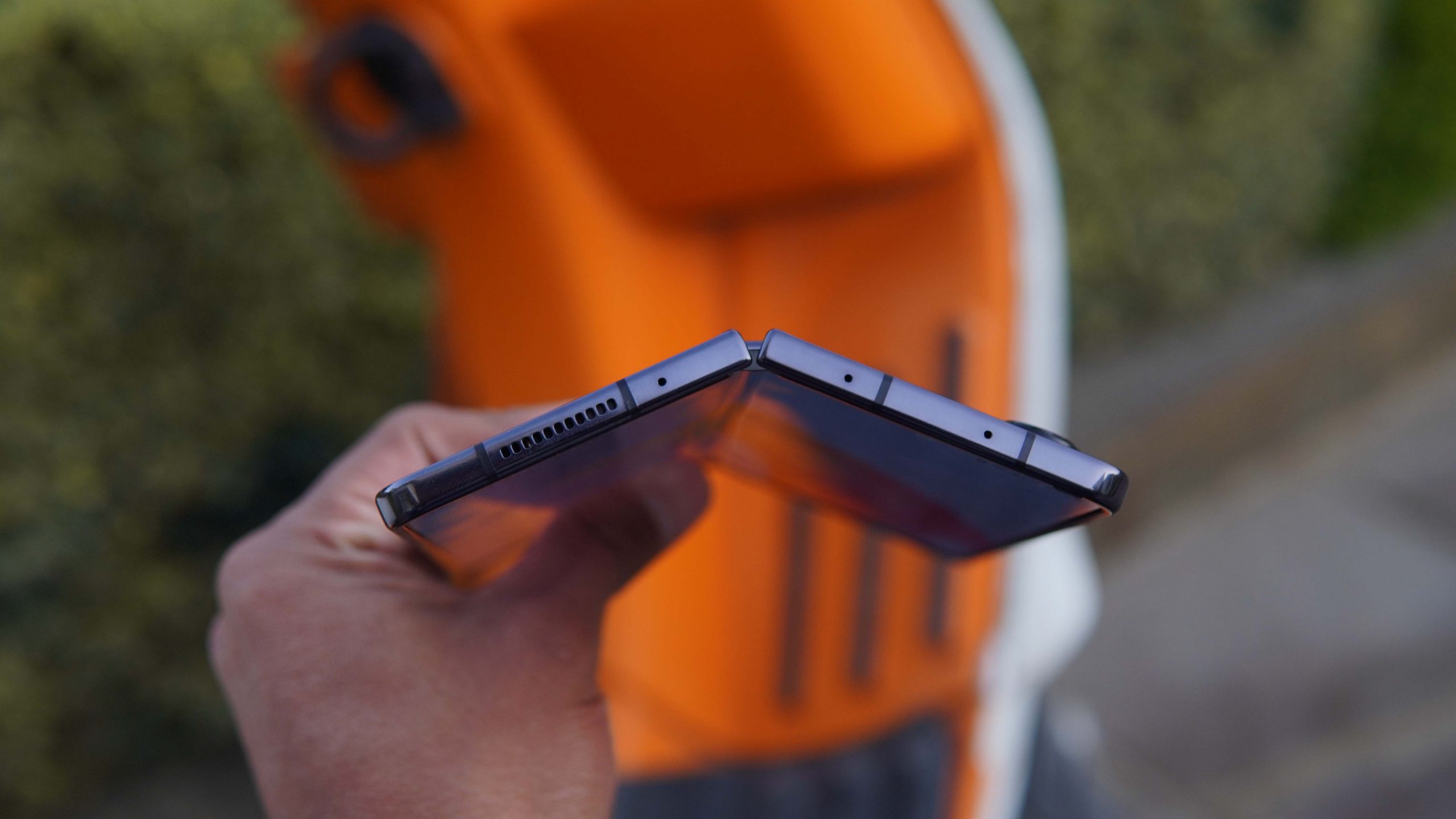 A change I would like to see from Samsung is to have the speakers on the left and right of both the top and bottom of the device when it is in an unfolded state. Presently, when I unfold the Fold 4, both the speakers on the top and bottom are located on the left side, resulting in an unbalanced sound that is mainly left-heavy, resulting in a loss of the true stereo sound experience.
While the simplest solution would be to use the tablet horizontally, which is the right way to use the Fold 4, I prefer to use it counter-clockwise because I can reach the volume buttons with my index finger. Unfortunately, this orientation blocks both speakers with my hand.
If I rotate the device, it solves the blocking issue but makes it difficult to reach the buttons. These issues are subjective and you may not even notice them, but they detract from my experience.
In my opinion, a quad-speaker setup on the Galaxy Z Fold 4 would be the ideal solution. This setup would not only complement the big device and its large display but also would solve all the problems I mentioned.
Who is the Samsung Galaxy Z Fold 4 for?
The Samsung Galaxy Z Fold 4 stands out from the crowd with its unparalleled versatility. Having this large screen with well-optimized software and being able to easily fold and carry it in a pocket is unreal. The Samsung Galaxy Z Fold 4 is not your run-of-the-mill smartphone.
If you're someone who primarily uses your laptop for basic tasks like web browsing, communication, and media consumption, the Galaxy Z Fold 4 can even replace your laptop. It delivers uncompromised performance, boasts excellent displays, has a good battery life, and features an impressive set of cameras.
However, this premium device may not be suitable for everyone due to its high price point. If you're willing to pay the premium for cutting-edge technology, the Galaxy Z Fold 4 is a multitasking powerhouse that won't disappoint.
On the other hand, if you're interested in foldable technology but don't want to break the bank, the Samsung Galaxy Z Flip 4, or even Z Flip 3, is a more affordable option priced at Rs. 1,44,999, and it's a smart choice for most people.
ALSO READ: Samsung Mobiles Price in Nepal: Features and Specs
That brings an end to my Samsung Galaxy Z Fold 4 review. What are your thoughts on the phone? Please share them in the comments section!
---
Also, watch our review video of the Samsung Galaxy Z Fold 4 in Nepali.