Samsung, Nepal's leading consumer electronics brand is giving up to 35% discount on their products on the occasion of the Dashain and Tihar.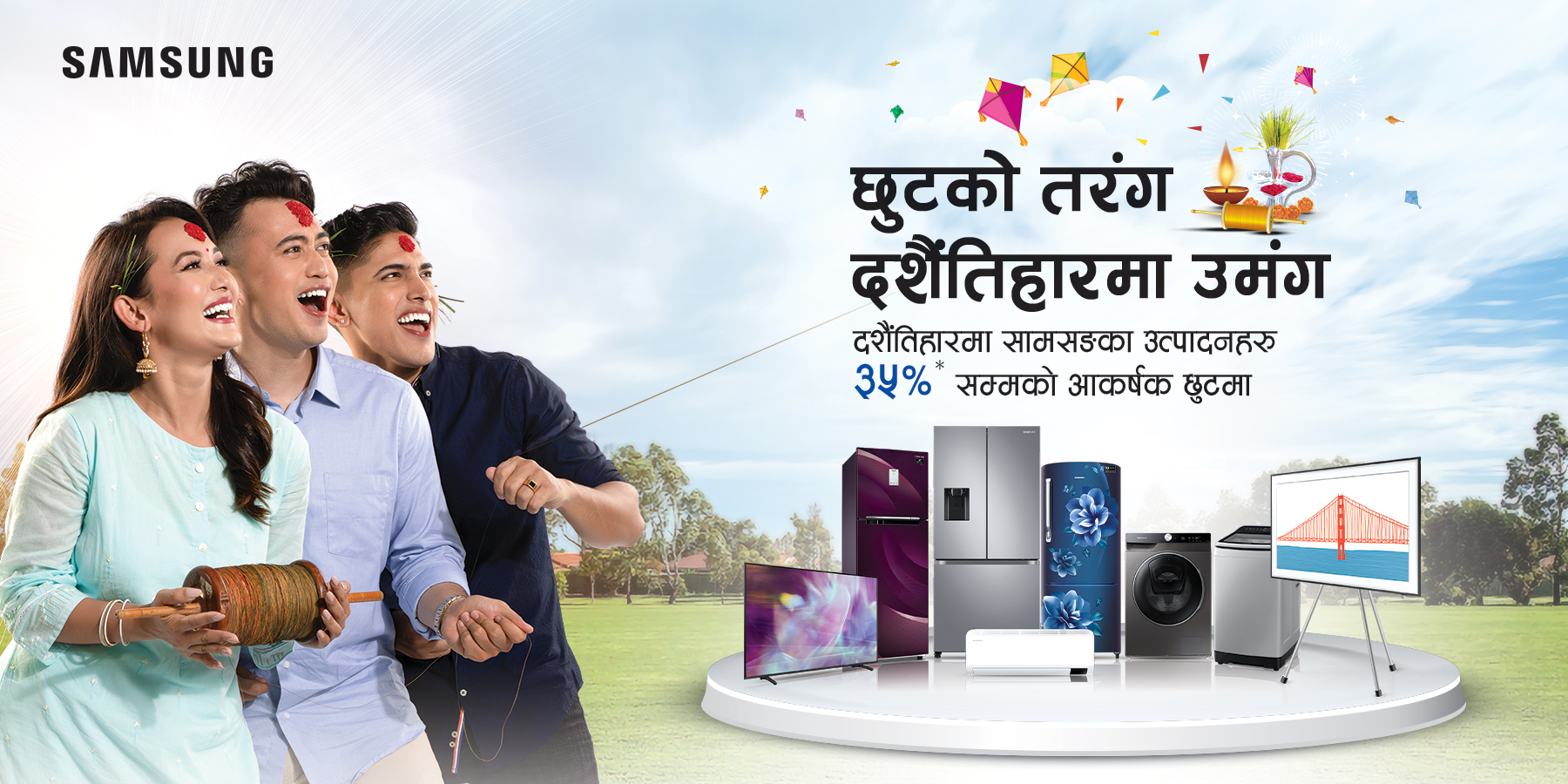 The festive campaign "Chhut ko Taranga, Dashain Tihar ma Umanga" started on 17th September and will last till 15th November 2021.
Targeting the Dashain Tihar shoppers, Samsung brings this campaign to fulfill customers' desire of getting something new for the festive season.
Samsung Dashain Tihar Offer
Within this "Chhut ko Taranga, Dashain Tihar ma Umanga" offer, customers will be able to get a discount of up to 35% on the purchase of Samsung TVs, refrigerators, and washing machines.
On selected TVs and appliances, customers will also get free home installation.
Samsung TVs, Refrigerators, and Washing Machines
Samsung Nepal is offering various TVs categorized into three groups. The groups are QLED TV, 4K UHD TV, and Full HD/HD Smart TV.
Similarly, four types of Samsung refrigerators and three types of washing machines are available in the market.
LATEST: Samsung Galaxy A52s 5G Launched in Nepal, Now Available for Pre-Order
The refrigerators include French Door, Side-By-Side Door, Double Door, and Single Door. Likewise, washing machines include Front Load, Top Load, and Semi-Automatic.
Warranty
Upon buying a Samsung product, Samsung provides a limited warranty period on its products.
Samsung is providing 2 years warranty on all its TVs which includes a 1-year full product warranty and an additional 1-year warranty on the panels.
The company is also providing 10 years warranty on DIT Compressor of its various Refrigerators and ACs as well as 10 years of warranty on DIT Motor of its Washing Machines.
Where to buy Samsung Products?
Samsung products can be bought from authorized distributors of Samsung Consumer Electronics for Nepal, HIM Electronics, and Triveni Byapar through various dealer networks all over Nepal.
Customers can also order online through the official website of Samsung Plaza. Samsung appliances can also be brought on an installment plan from Samsung Plaza and other various outlets.
Samsung Dashain Tihar Offer Validity
Samsung's Dashain Tihar Offer 2078 started from the 17th of September, 2021, and will last till the 15th of November, 2021.
So, hurry up and grab the offer while it lasts.
For more information, contact Samsung's Official Facebook page.
READ NEXT: Samsung Galaxy M52 5G with 120Hz Display and SD 778G Chipset Launching Before Dashain