Pros
Hot and Cold AC
Inverter compressor
5 Cooling Modes
Detachable/washable filter
Two-way swing
Free installation
Decently quiet
Big display
Slim and modern design
R32 refrigerant
Cons
No Wi-Fi or mobile app support
No four-way swing through remote
Samsung is currently selling the 2021 model of 5-in-1 Hot & Cold AC in Nepal. The AC can be useful in both the winter and summer seasons as it can make the room cooler or hotter as per requirement.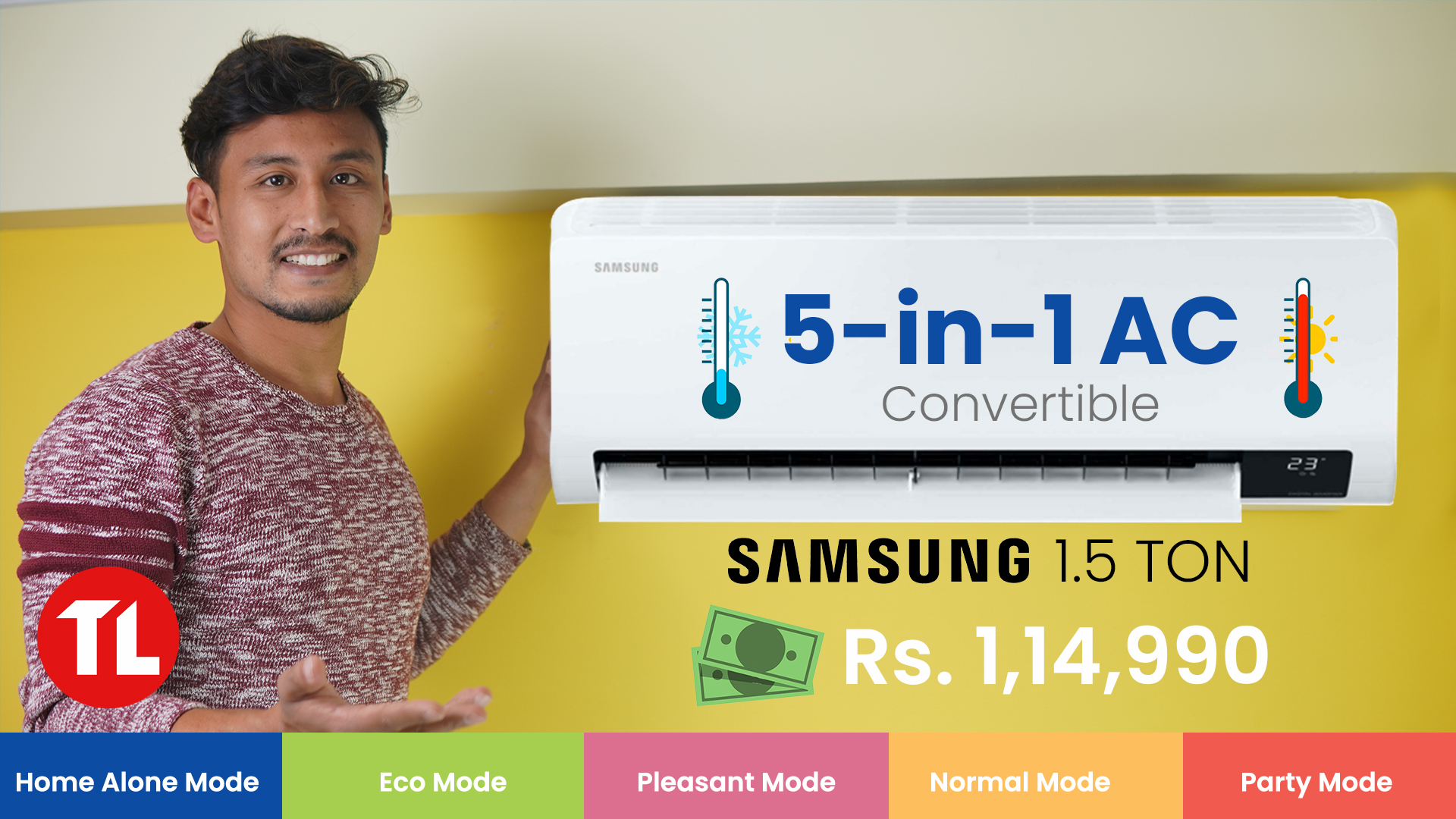 The Samsung 2021 Convertible 5-in-1 Hot & Cold Inverter AC price in Nepal is Rs. 89,990 for 1 ton capacity and Rs. 1,14,990 for 1.5 ton capacity.
We installed the 1.5-ton AC in our office a few days ago. And, here is our review of the Samsung 2021 5-in-1 Convertible Hot & Cold Inverter AC.
Samsung 2021 5-in-1 Convertible Hot & Cold AC Specifications
Body:

Indoor Unit: 889 x 299 x 215 mm, 10.0 kg
Outdoor Unit: 790 x 548 x 285 mm, 36.0 kg

Capacity:

Cooling: 5000 W (17060 BTU/hr)
Heating: 5400 W (18425 BTU/hr)

Power Input:

Cooling: 1490 W (Max)
Heating: 1630 W (Max)

Efficiency:

EER: 3.36 W/W
COP: 3.31 W/W

Installation Limitation:

Max. Length (Outdoor to indoor): 20 m
Max. Height (Between ID/OD): 12 m

Refrigerant: R32
Air Flow Rate:

Indoor Unit: 12 cu. m/min, 233 l/s
Outdoor Unit: 40 cu. m/min, 667 l/s

Sound Pressure Level:

Indoor Unit (H / silent) : 45 dB(A) / 26 dB(A)
Outdoor Unit : 53 dB(A)

Compressor Output: 4.17 kW
Outdoor Unit Operating Temp. Range:

Heating: 15°C ~ 52°C
Cooling: -5°C ~ 24°C

Misc: Easy Filter Plus (Removable / Washable), 2-way swing
Samsung 2021 5-in-1 Convertible Hot & Cold AC Price in Nepal: Rs. 1,14,990 (1.5 ton)
Samsung 2021 5-in-1 Convertible Hot & Cold AC Review
Installation
Before I get into the AC itself, let me tell you about the installation process. Samsung will send their own installation team, who will do the job in a matter of hours. The installation fee and copper pipes will not be charged separately.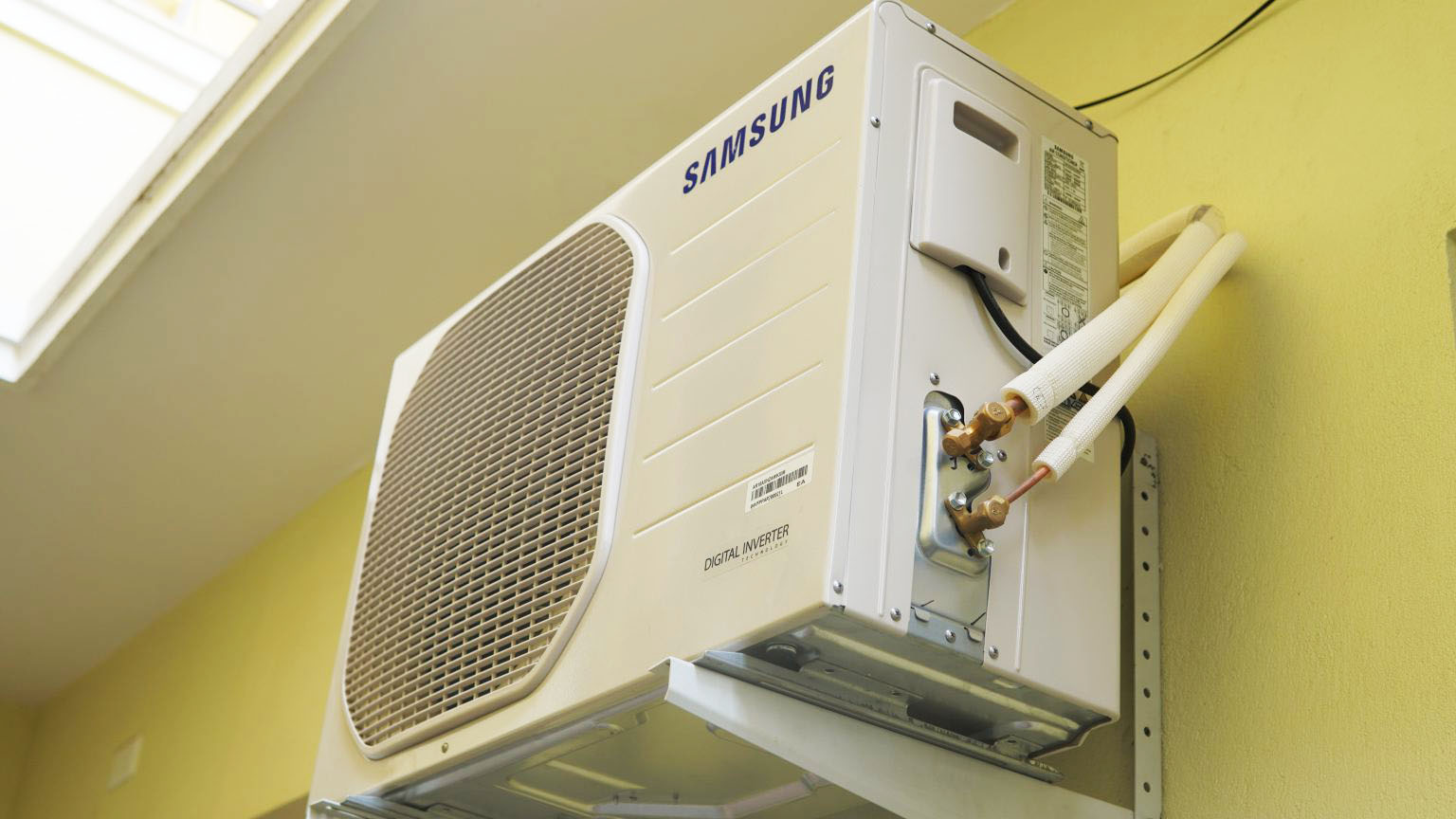 However, you'll have to pay extra for the outdoor unit's wall mount and the condensate drain pipe, which is used to drain excess moisture outside the house. You're looking at an additional cost of less than Rs. 2,000 in total.
ALSO READ NEXT: First Day of Use: Samsung 2021 5-in-1 Convertible Hot & Cold AC – Impressions
Design
This comes in a clean white finish and has a modern look that complements the wall. It also has a slim design with a width of only 215 mm. On the right side of the blade, there is a display. It shows set temperature in its two seven-segment displays and other additional information.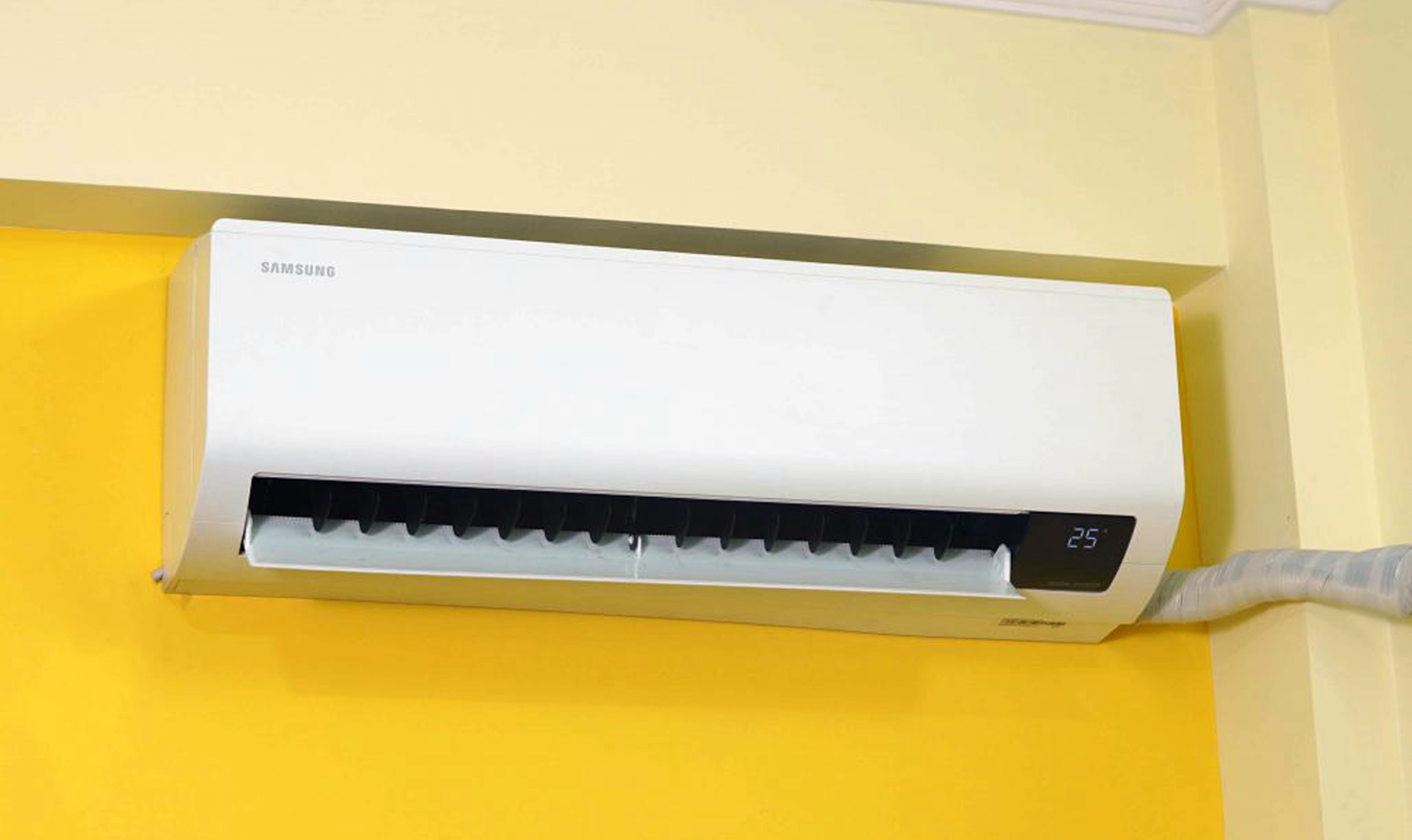 A removable filter is located on the top of the air conditioner. If the filter gets dirty over time, consumers can easily remove and wash the filter without the need for the assistance of an expert.
Furthermore, the outdoor unit, also known as the condenser unit, has a dimension of 720(W) x 548(H) x 285(D) and a weight of 36 kg. Compared to this, the 1-ton unit weighs less, and also the depth is smaller. It's installed just outside the room with the wall mount.
Heating Mode
We first put our air conditioner to the test to see how well it could heat. It's still early in the winter season, so it's not unbearably cold, but it was chilly. Because the room was around 19°C, we set the temperature on the air conditioner to 22°C in auto mode.
After we set the temperature, the first thing we noticed was the noise, which was audible but not unbearable. However, the noise level reduces once it reaches the desired temperature. The room reached the desired temperature in 10–15 minutes.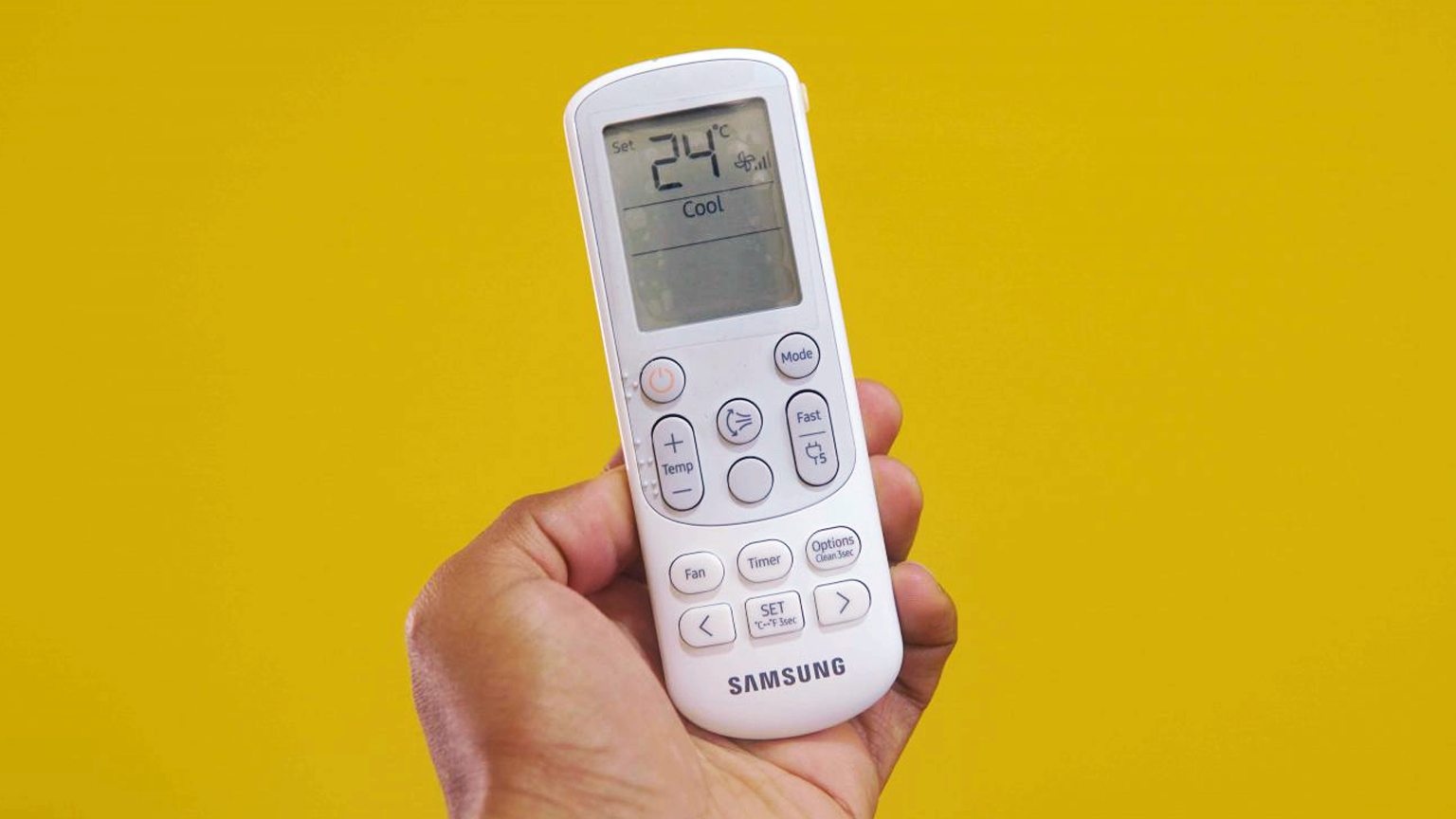 The given fast mode does the job even faster, whereas the eco or quiet mode may take a little longer. You may also change the airflow direction up or down using the remote if you want the wind to hit you directly.
To give you an idea of the size of the space where we tested this air conditioner, it's about 2,253 cubic feet. It's also worth noting that this AC's specified heating range is between -5°C to 24°C outside temperature.
Cooling Mode
Now, getting to its interesting feature: it has 5 different cooling modes, as the name of this AC indicates. The different modes have different names, but the primary function of these modes is to allow us to manually adjust the AC to run between 40% and 120% capacity, consuming power accordingly.
The five modes are Home Alone mode, Eco mode, Pleasant mode, Normal mode, and Party mode, with input power of 40%, 60%, 80%, 100%, and 120%, respectively.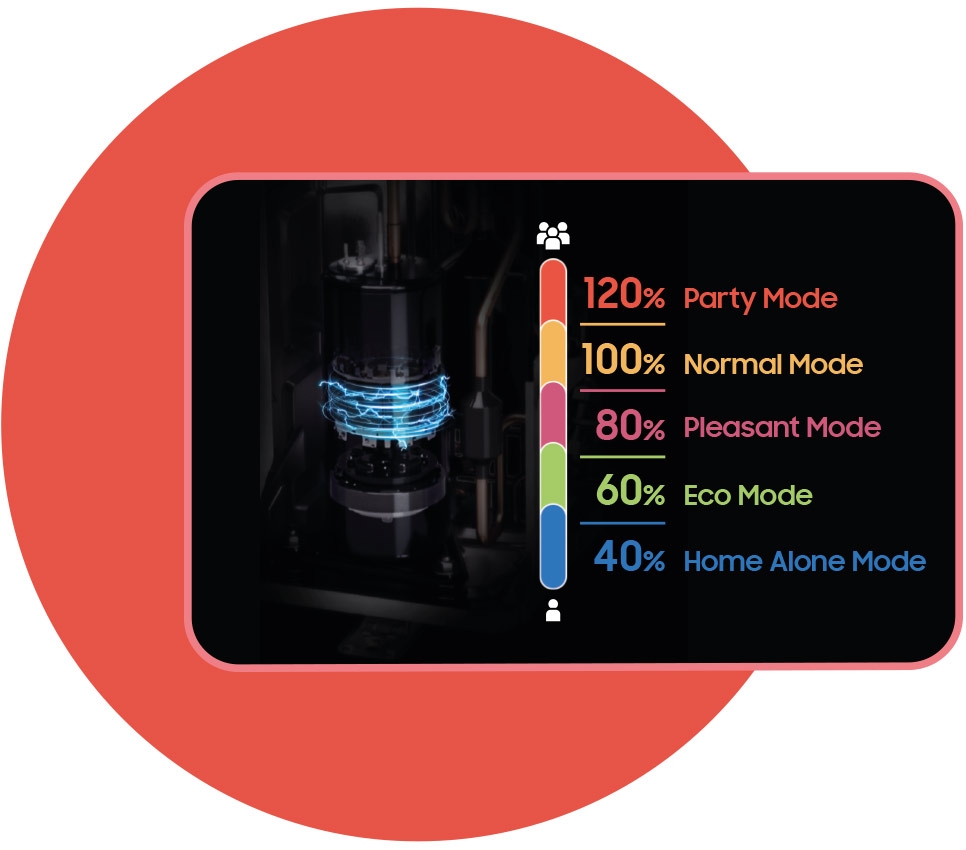 Samsung claims the AC can shoot air at a distance of up to 15 m, which we did not test. However, in the room, we did feel the strong air at a distance of roughly 4–5 meters.
Despite the fact that the weather did not demand it, we used the cooling feature of this AC for science. We set the temperature at 16°C, which, by the way, is the minimum we can go. The room got really cold and the noise level was also audible but not that distracting.
Overall, it will be much more effective in the summer as it cools down the room in a short period of time with uniform cooling across the room.
Power Consumption
We'll now move on to the topic that most people are interested in, i.e., how much power this AC consumes. Well, it's not easy to give you a single number that will apply to everyone in every situation. But, we will try to give you an idea.
The rated power input for the AC is 1490 W when used for cooling and 1630 W when used for heating. It would have been simple for us to compute its monthly power usage if it required a fixed power input all of the time, which also would have been costly.
But, in practice, it does not necessarily require the rated power; rather, the power input it requires is determined by a variety of factors. Therefore, we used a power meter to monitor its power input and estimate how much power it actually consumes. Keep in mind that this is subject to change depending on the circumstances.
The room temperature was around 19°C and we set it to heat mode with fast mode enabled, which sets it to blow out strong hot air at 30°C. We measured 1757 W of peak power demand with the power meter.
However, after 5 hours of continuous use in auto mode with the temperature set to 22°C (ambient temperature of 19°C), the meter read 1.1 kWh (unit) of energy. We also left the air conditioner running in auto mode all night just to be sure. During that 17-hour period, it used about 3 kWh (units) of energy.
Increasing the temperature just by 2°C, on the other hand, gave completely different results in our testing. The next day, we set the temperature to 24°C in auto mode and let it run for 17 hours straight. During that period, it consumed a total of 9.27 kWh (units) of power.
Taking the rough average power consumption in our usage when the temperature was set to 24°C into account, it consumes roughly 530 W (0.53 Units) per hour. However, the power consumption should be less when the temperature is set lower or used in cooling mode in the summer.
Electricity Consumption in Different Conditions
| Mode | Set temperature | Ambient temperature | Run time | Power consumption |
| --- | --- | --- | --- | --- |
| Auto | 22°C | 19°C | 60 minutes (1 hr) | 0.24 kWh (units) |
| Auto | 22°C | 19°C | 297 minutes | 1.1 kWh (units) |
| Auto | 22°C | 9°C–19°C | 1016 minutes | 3 kWh (units) |
| Auto | 24°C | 19°C | 60 minutes | 0.77 kWh (units) |
| Auto | 24°C | 19°C | 100 minutes | 1.12 kWh (units) |
| Auto | 24°C | 8°C–18°C | 1051 minutes (17.5 hrs) | 9.27 kWh (units) |
To be clear, the calculations above are only theoretical. The outcome varies based on the set temperature, duration of use, the size of the space, the outside temperature, the number of people in the room, and other factors. As a result, the energy usage may not be correct for everyone in every situation.
Conclusion
So, the Samsung 2021 Convertible Hot & Cold Inverter AC is a really good option for someone looking for an AC for both the winter and summer. During our usage, it quickly and uniformly cooled and heated our 2,253-cubic-foot room. The noise level of the AC is also somewhat low for our office; however, you may notice it at night.
Given this is an inverter AC, the power consumption is also not that high compared to the non-inverter ACs. However, this particular model of Samsung AC does not support a 4-way swing and also has no Wi-Fi support, which would have enabled the AC to be controlled remotely using a smartphone.
READ NEXT: Samsung AC Price in Nepal: Features and Specs
What are your thoughts on the Samsung 2021 Convertible Inverter AC? Let us know in the comments below!
---
Also, watch our video review of the Samsung 2021 5-in-1 AC.