The new 2021 models of Samsung 5-in-1 Hot & Cold Inverter AC are available in Nepal. And as the name suggests, it can be used to both heat and cool the room.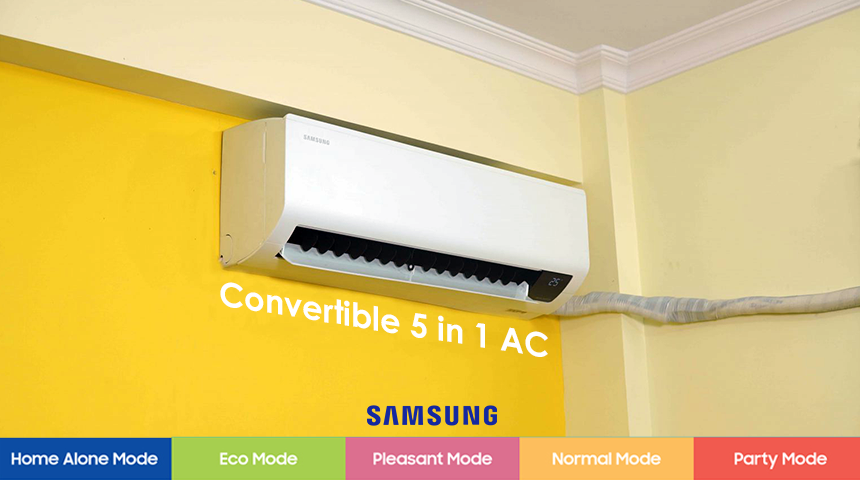 The Samsung 2021 Convertible 5-in-1 Hot & Cold Inverter AC price in Nepal is Rs. 1,14,990 for a 1.5-ton capacity.
To test how this AC performs, we installed the 1.5-ton Samsung AC in our office. And this is my first impression after using the Samsung 2021 5-in-1 AC for a day.
Samsung 2021 5-in-1 Convertible Hot & Cold AC Specifications
Body:

Indoor Unit: 889 x 299 x 215 mm, 10.0 kg
Outdoor Unit: 790 x 548 x 285 mm, 36.0 kg

Capacity:

Cooling: 5000 W (17060 BTU/hr)
Heating: 5400 W (18425 BTU/hr)

Power Input:

Cooling: 1490 W
Heating: 1630 W

Efficiency:

EER: 3.36 W/W
COP: 3.31 W/W

Installation Limitation:

Max. Length (Outdoor to indoor): 20 m
Max. Height (Between ID/OD): 12 m

Refrigerant: R32
Air Flow Rate:

Indoor Unit: 12 cu. m/min, 233 l/s
Outdoor Unit: 40 cu. m/min, 667 l/s

Sound Pressure Level:

Indoor Unit (H / silent) : 45 dB(A) / 26 dB(A)
Outdoor Unit : 53 dB(A)

Compressor Output: 4.17 kW
Outdoor Unit Operating Temp. Range:

Heating: 15°C ~ 52°C
Cooling: -5°C ~ 24°C

Misc: Easy Filter Plus (Removable / Washable), 2-way swing
Samsung 1.5 ton AC Price in Nepal: Rs. 1,14,990
Samsung 2021 Hot & Cold Inverter AC Impressions
Installation
Before I get into the AC itself, let me tell you about the installation process. Samsung will send their own installation team, who will do the job in a matter of hours. The installation fee and copper pipes will not be charged separately.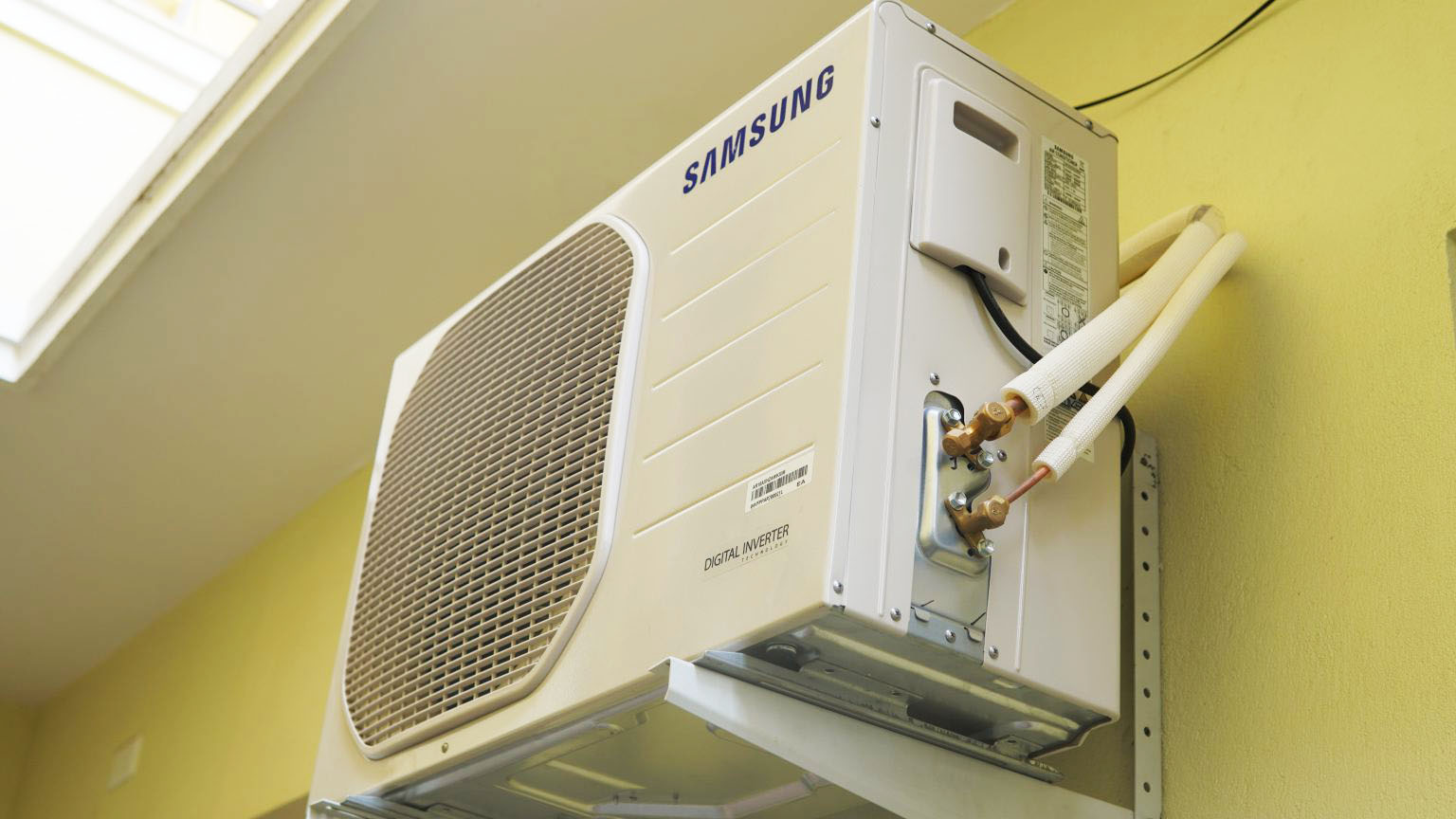 However, you'll have to pay extra for the outdoor unit's wall mount and the condensate drain pipe, which is used to drain excess moisture outside the house. You're looking at an additional cost of less than Rs. 2,000 in total.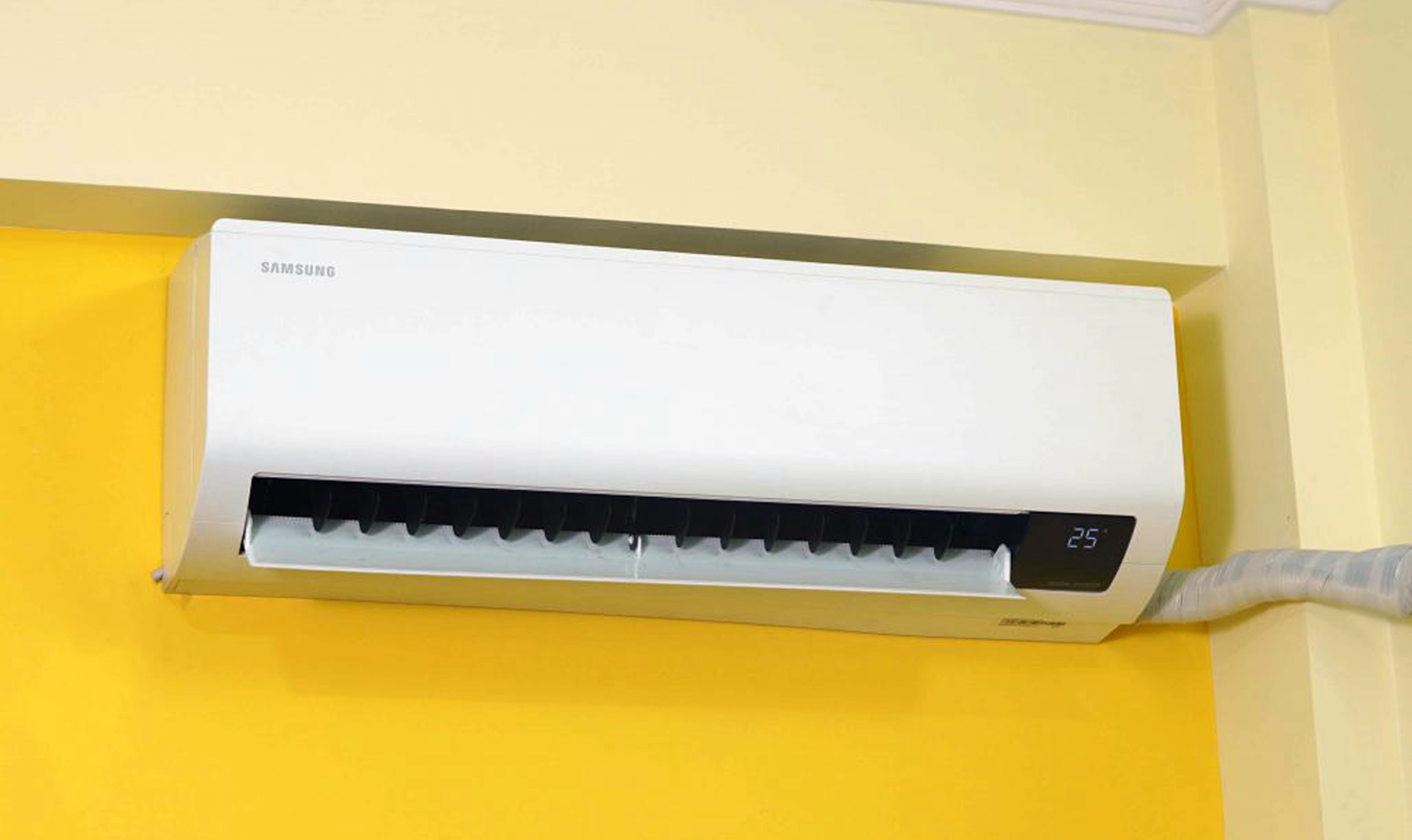 READ NEXT: Realme GT Neo 2 Review: The Best Premium Mid-Range Phone?
Heating and Cooling Modes
It is a hot-and-cold AC, so it can both heat and cool the room. And, it is also an inverter AC, which means that, unlike non-inverter AC, its compressor adjusts its speed as needed, minimizing electricity expenses.
But, because it has only been a day since we installed it in our office, we need some time to thoroughly test how it performs, including its power consumption. Then, in our full review, we will share the results and our full experience.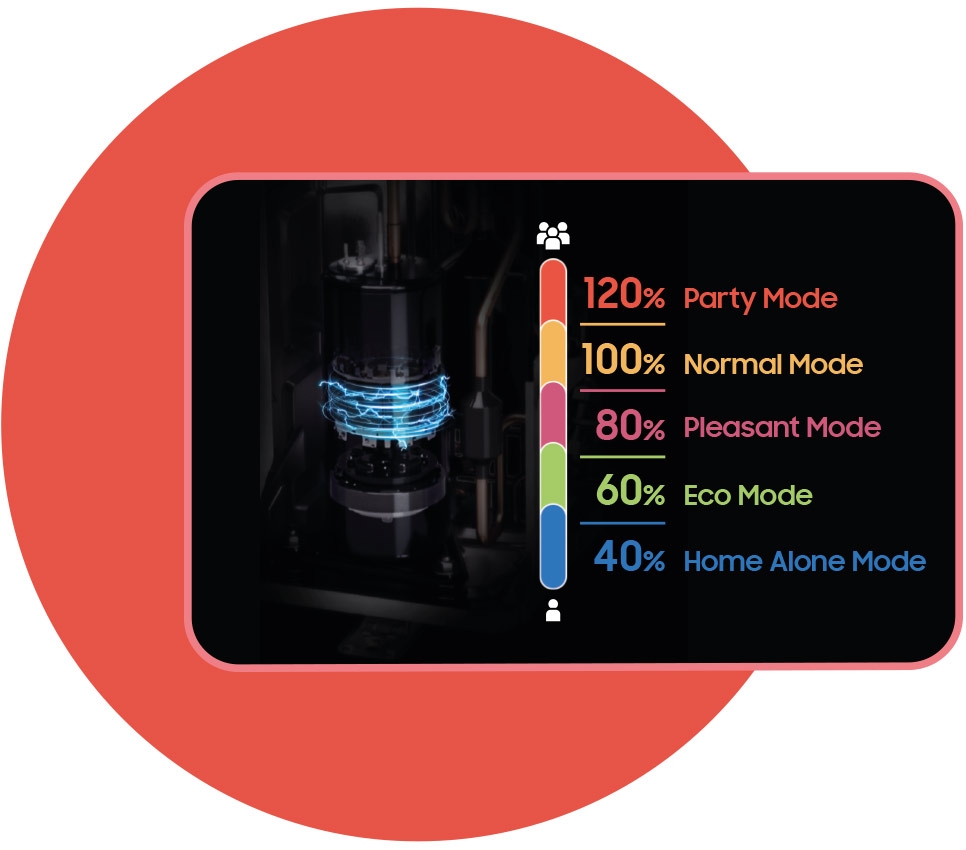 Until then, I'll quickly go over the features it has to offer. Let's start with its highlighting feature, its 5 different cooling modes. You can manually adjust its operation from 40% to 120% based on your needs. The electricity consumption will also depend on the various modes.
The 5 step modes include Party Mode (120%), Normal Mode (100%), Pleasant Mode (80%), Eco Mode (60%), and Home Alone Mode (40%).
Other Features
Furthermore, it also has a removable filter on the top of the AC, which Samsung refers to as Easy Filter Plus. With this, consumers can easily remove and clean the filter without the need for tools or professional assistance.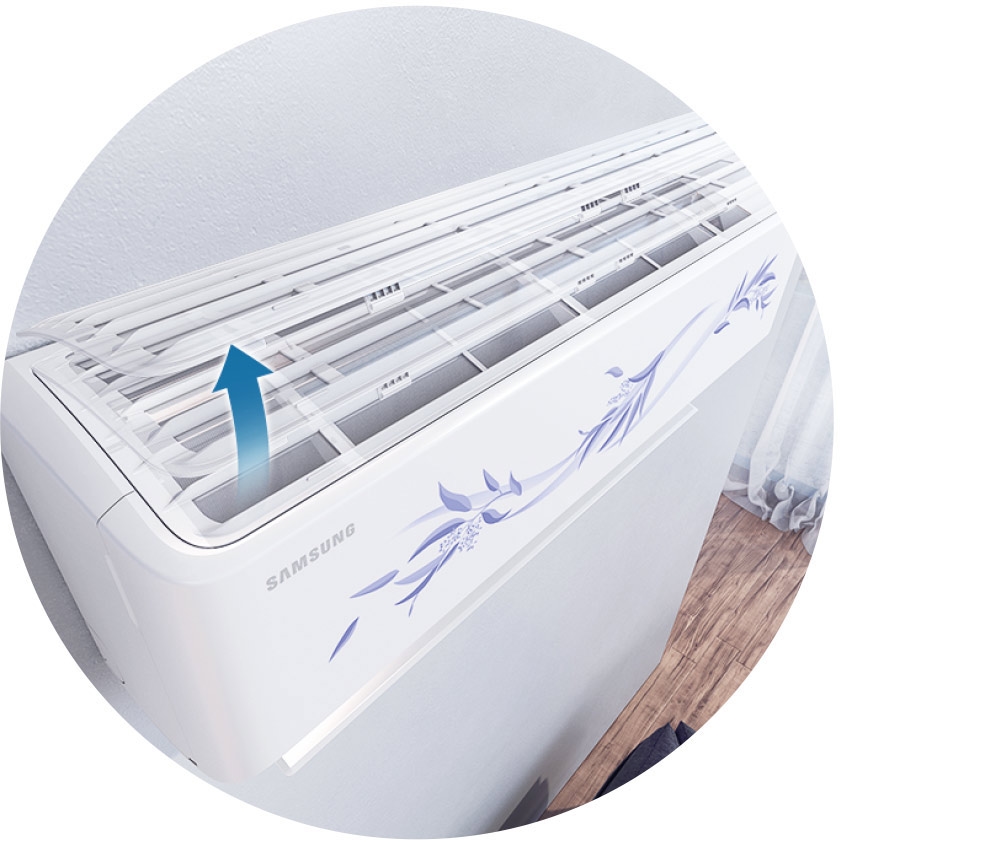 When it comes to the remote, it has an LCD display where the set temperature and other information are shown, which, by the way, is also displayed on the AC's display. You can swing the air direction up or down using the remote, and it also has other dedicated buttons for power, modes, and other functions.
The refrigerant it is using is the R32. It's harmless to the ozone layer, and also has a lower Global Warming Potential (GWP) than R22 and R410A refrigerants.
Our Experience
As winter is just starting, we tried warming up the room. It was around 19°C ambient temperature and we set it to 22°C. Within 10 minutes or so, the room got to the set temperature. The noise was audible at first, but it was not really annoying because it only lasted a few minutes.
As the room was getting cozy, we tried its different features using the remote. The vertical swing of the AC works as expected; it can be used to direct the air to our desired area, but only vertically as it only has a 2-way swing (up and down). The set temperature can be seen on both the remote and the AC's display. Also, if you want to turn off the AC's display, you can do so by using the remote.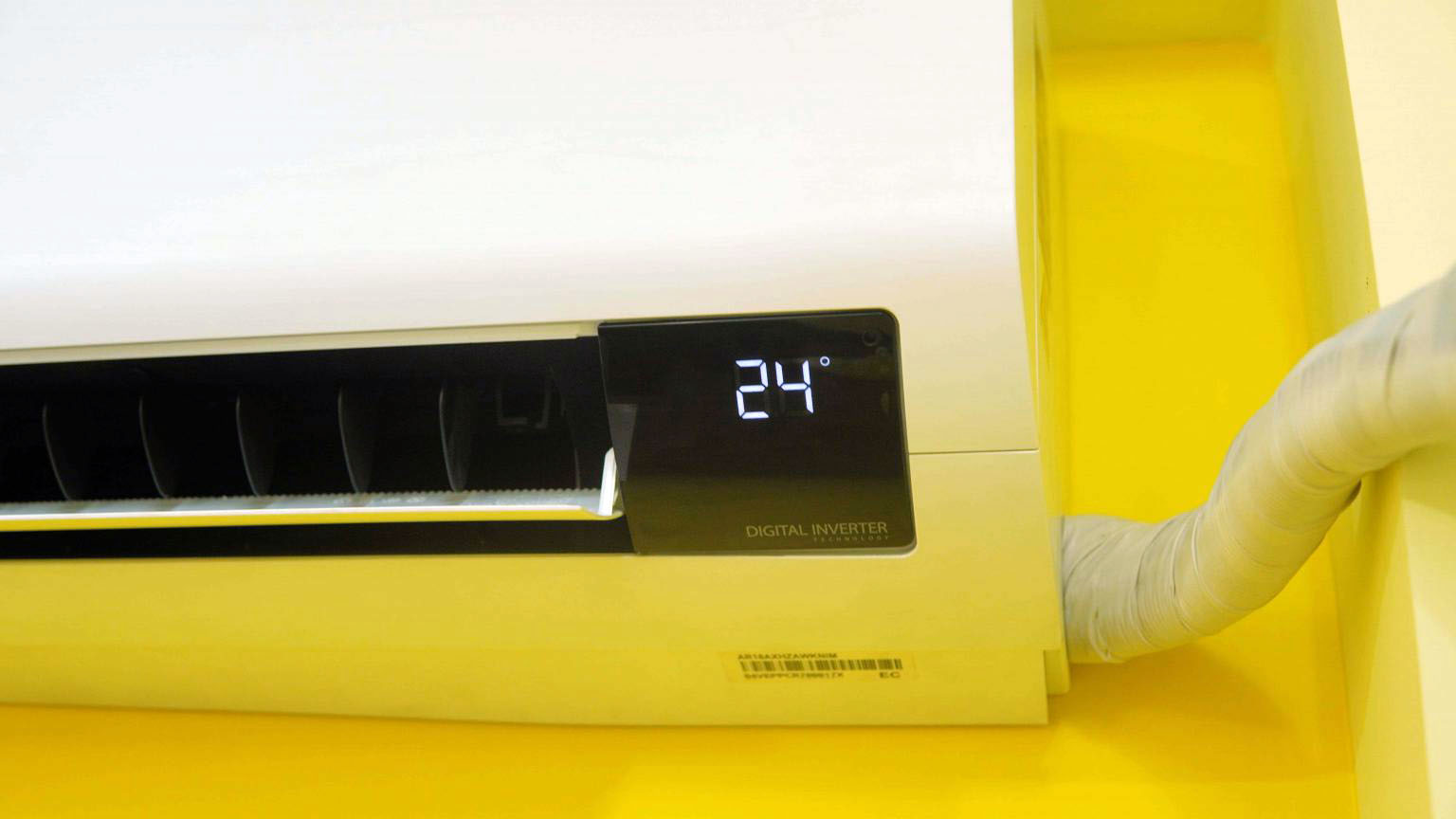 Temperature, swing, timer, AC modes, and cooling modes are all controlled by dedicated buttons on the remote. As a result, using the remote is rather simple. There are further navigation buttons, including the options button, for any more options such as cleaning or turning the AC display on or off.
To test it, we also tried to cool the room by setting the temperature below the ambient temperature. The strong hot air coming out of the AC changed to strong cold air, and it quickly chilled the room.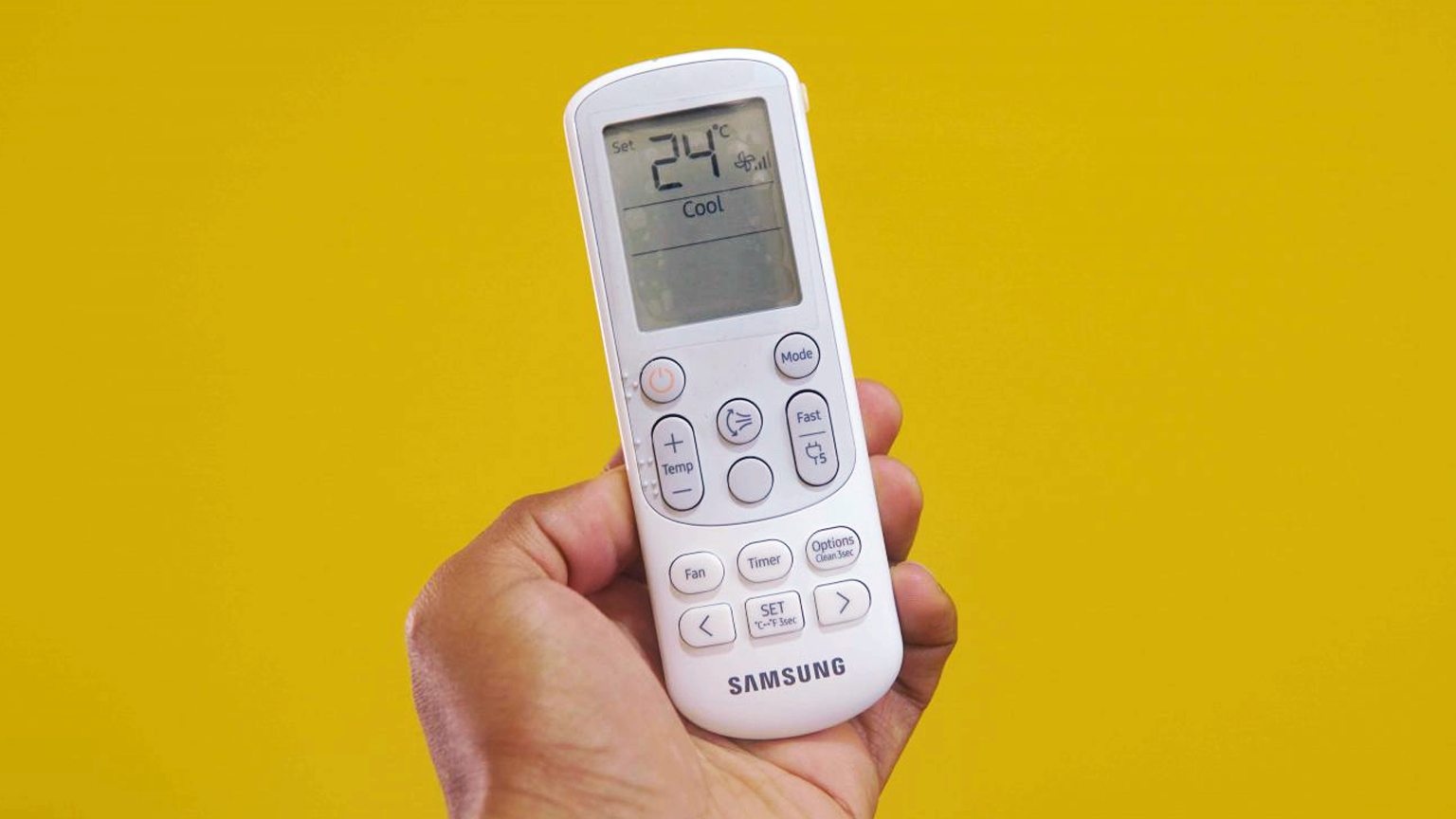 Conclusion
So, this was our brief use of the AC. The heating and cooling modes performed as expected throughout our brief use, providing a consistent temperature in all areas of the room. For someone seeking a modern air conditioner, the Samsung 2021 5-in-1 Convertible Hot & Cold Inverter AC appears to be a solid choice.
As of now, we have no complaints about its design or function. However, we won't be able to give our final opinion until we complete our comprehensive review, in which we will test every feature of this AC as well as its power consumption.
READ NEXT: Samsung AC Price in Nepal: Features and Specs
What are your thoughts on the Samsung 2021 Convertible Inverter AC? If you have any questions or aspects of the device you'd like me to test for the final review, please let me know in the comments!
---
Also, watch our impressions of the Samsung Galaxy A52s 5G in Nepali.