HIGHLIGHTS
Promate, a mobile accessory brand, enters Nepal.
The brand introduces a range of products, including smartwatches, audio products, cables, and more.
The brand is exclusively launched on Daraz.
Promate Technology, a Taiwanese lifestyle accessory brand, has entered the Nepali market, introducing a range of smartwatches, audio products, and USB peripherals.

To mark the official announcement of Promate's debut in Nepal, Cellucity International Pvt. Ltd., the official distributor of Promate in the country, organized a launch event at Soaltee Hotel in Kathmandu on Thursday (June 7, 2023).
Promate Technology (Promate) is a Taiwanese consumer electronics brand with its headquarters in Shenzhen, China, and a branch office in London, United Kingdom.
Promate offers an extensive range of lifestyle technology accessories and peripherals, including smartwatches, speakers, power banks, chargers, earphones, headphones, universal power adaptors, cables, phone cases, USB hubs, and much more.
The company was initially established in Taipei, Taiwan, in 2004 and later relocated its headquarters to Shenzhen, China. In 2006, Promate expanded its operations to Dubai, UAE. Throughout the years, Promate further extended its presence to Manila, Philippines, and London, United Kingdom, while also earning the distinction of becoming an Apple MFi Certified brand.
ALSO READ: OnePlus Pad Price in Nepal (September 2023 Updated)
Currently, the brand has a global presence in over 100 countries. In 2023, Promate introduced its products to Nepal through its authorized distributor and importer, Cellucity Internation Pvt. Ltd.
Established in 2017, Cellucity International is also a national distributor of Vivo, Anker, Soundcore, and Noise.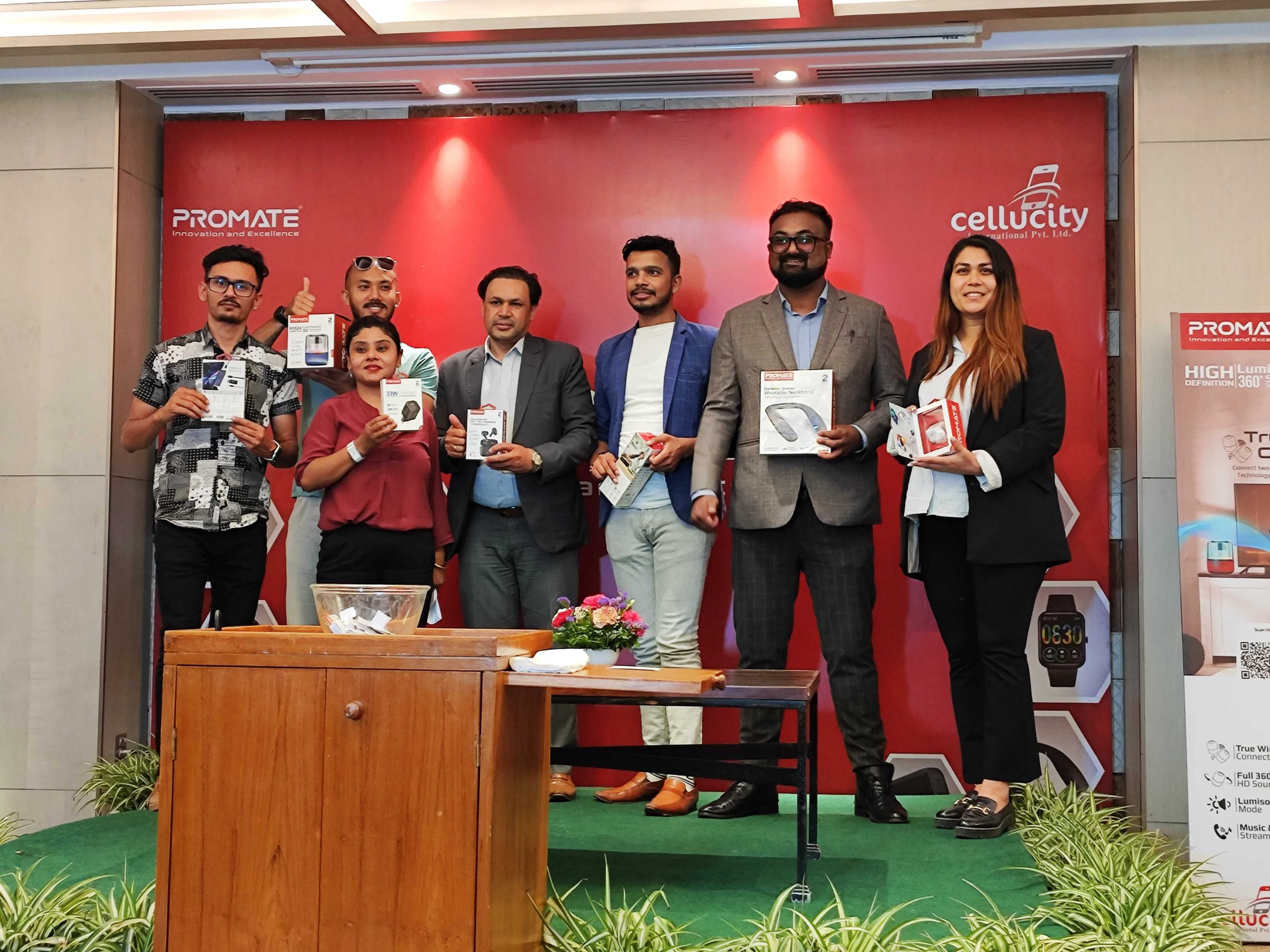 The company has brought a few of its product categories: smartwatches, speakers, earbuds, headphones, chargers and cables, and USB hubs.
In this article, we have listed all the products from Promate that are currently available in Nepal. Presently, Promate is selling 4 smartwatches, 2 earbuds, 3 speakers, 1 headphone, 2 USB hubs, 2 charging cables, and 5 chargers in Nepal.
The Promate brand was exclusively launched on Daraz in Nepal on June 7, 2023. The specific date for the availability of Promate products in the offline Nepali market has not been disclosed yet, but the company has assured that it will be announced soon.
Additionally, Promate promises to provide a 24-month replacement warranty on all its products.
Promate Accessories Price in Nepal
| Promate smartwatch | Price in Nepal |
| --- | --- |
| Promate  ProWatch M18 | Rs. 11999 |
| Promate ProWatch B18 | Rs. 9499 |
| Promate XWatch B19 | Rs. 8499 |
| Promate XWatch B18 | Rs. 7499 |
| Promate earbuds | Price in Nepal |
| --- | --- |
| Promate Lush | Rs. 3499 |
| Promate Propods | Rs. 6799 |
| Promate speakers | Price in Nepal |
| --- | --- |
| Promate Glitz-L | Rs. 7499 |
| Promate Hook | Rs. 6499 |
| Promate Capsule-2 | Rs. 3999 |
| Promate headphone | Price in Nepal |
| --- | --- |
| Promate Concord | Rs. 7999 |
| Promate USB-hubs | Price in Nepal |
| --- | --- |
| Promate PadHub-Pro | Rs. 4999 |
| Promate PrimeHub Mini | Rs. 8299 |
| Promate chargers and cables | Price in Nepal |
| --- | --- |
| Promate XCord-CC (USB-C to USB-C) | Rs. 999 |
| Promate PowerLink-120 (USB-C to Lightning) | Rs. 1399 |