Sony has announced that the Playstation 5 will launch on November 12th for $499 and $399. The standard version with the optical drive is priced as same as the Xbox Series X at $499 meanwhile the digital-only version goes for $399.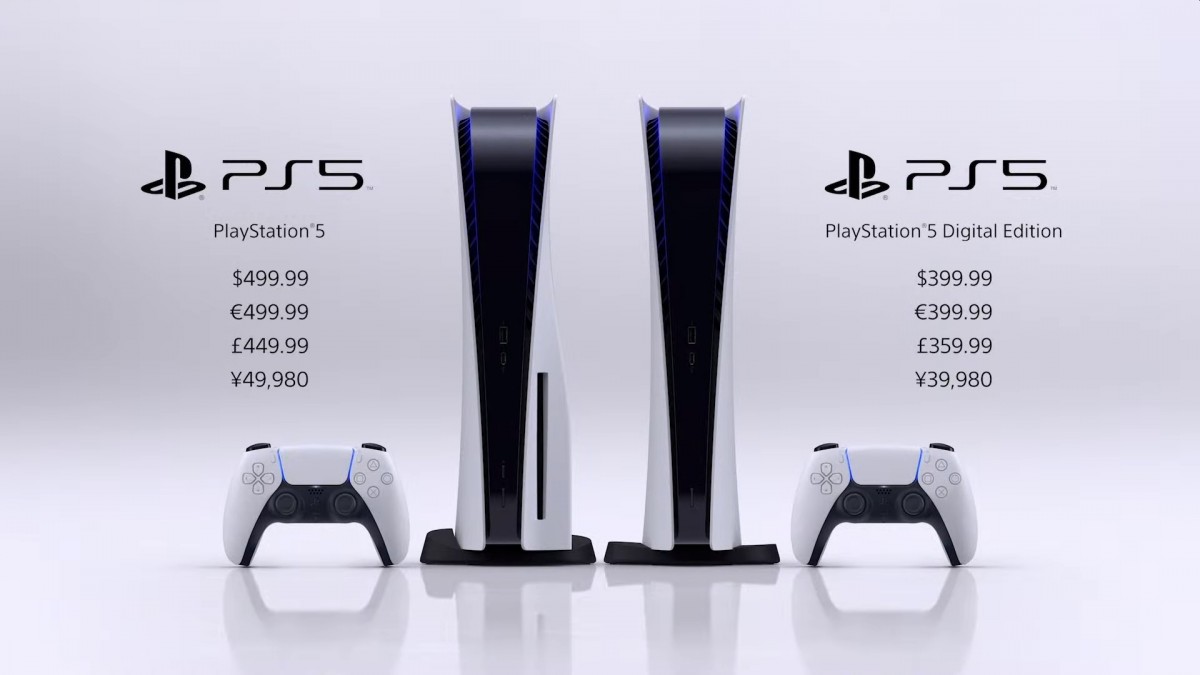 The pricing is really aggressive from Sony and it really puts the Xbox Series X under pressure. The PS5 will launch on November 12th in countries like the US, Japan, Mexico, Australia, New Zealand, and South Korea. Whereas, the rest of the world will be getting the new console on November 19th.
The PS 5 standard version and the Xbox Series X have the same price but the digital-only version of the PS 5 is priced 100$ higher than the more affordable Xbox Seris S.
However, Xbox Series S is less powerful than the Series X and also PS 5 digital-only version is only missing the optical drive.
Sony also announced a special new offering on PS5 for the PlayStation Plus members – the Playsation Plus Collection.
PS5 owners with PS Plus will be able to download and play a curated library of PS4 games that defined the generation, like Batman Arkham Knight, Bloodborne, Fallout 4, God of War, Monster Hunter: World, Persona 5, and many more.
The PS Plus Collection will be an added benefit to the existing PS4 benefits that PS Plus members receive for a single subscription price.
ALSO READ: Xbox Series X And Series S Arriving November 10th – Check the Specs & Price!
Alongside the launch of PS5, Sony also showcased some next-gen games including Spider-Man Miles Morales, Call of Duty Black Ops Cold War, Deathloop, Demon's Souls, Final Fantasy XVI, Hogwarts Legacy, Devil May Cry 5 Special Edition, and Five Nights at Freddy's Security Breach. And the most interesting of the lot was a teaser of the God of War Ragnarok.
PlayStation 5 Specifications
CPU
x86-64-AMD Ryzen™ "Zen 2"
8 Cores / 16 Threads
Variable frequency, up to 3.5 GHz
GPU
AMD Radeon™ RDNA 2-based graphics engine
Ray Tracing Acceleration
Variable frequency, up to 2.23 GHz (10.3 TFLOPS)
System Memory
GDDR6 16GB
448GB/s Bandwidth
SSD
825GB
5.5GB/s Read Bandwidth (Raw)
Optical Drive
Ultra HD Blu-ray (66G/100G) ~10xCAVBD-ROM (25G/50G) ~8xCAVBD-R/RE (25G/50G) ~8xCAVDVD ~3.2xCLV
PS5 Game Disc
Ultra HD Blu-ray, up to 100GB/disc
Video Out
HDMI™ OUT port
Support of 4K 120Hz TVs, 8K TVs, VRR (specified by HDMI ver.2.1)
Audio
"Tempest" 3D AudioTech
Dimensions
PS5: Approx. 390mm x 104mm x 260mm (width x height x depth)(excludes largest projection, excludes Base)PS5 Digital Edition: Approx. 390mm x 92mm x 260mm (width x height x depth)(excludes largest projection, excludes Base)
Weight
PS5: 4.5kgPS5 Digital Edition: 3.9kg
Power
PS5: 350WPS5 Digital Edition: 340W
Input/Output
USB Type-A port (Hi-Speed USB)USB Type-A port (Super-Speed USB 10Gbps) x2
USB Type-C® port (Super-Speed USB 10Gbps)
Networking
Ethernet (10BASE-T, 100BASE-TX, 1000BASE-T)IEEE 802.11 a/b/g/n/ac/axBluetooth® 5.1
With an impressive collection of exclusive games and a competitive price, PS5 has thrown a 1-2 punch at the next-gen consoles from Microsoft.
So, which version of Playstation 5 will you be getting?
---
Also, watch our Accurate AT-01 TWS review in Nepali.