Pathao and Tootle are platform-based companies that link bike riders to customers through a mobile app. They have become popular in Nepal because of the available-on-demand nature of the service and the significant difference in price between these rides and taxi rides. I myself have used both Pathao and Tootle several times. These services have saved me a ton of time and money. I guess most people who use these services will agree with me.
These services have not only helped customers, but they have also become a viable source of income for riders. Last week Pathao even welcomed differently abled people to join their service as a rider and earn their living.
The Problem
But, last Saturday, Traffic Police at DurbarMarg arrested 3 Pathao riders. We have heard no news of an arrest of a Tootle Rider at the time of writing this article. The Police have now released the riders but have kept their bikes on hold. We talked to an official from Pathao about this incident.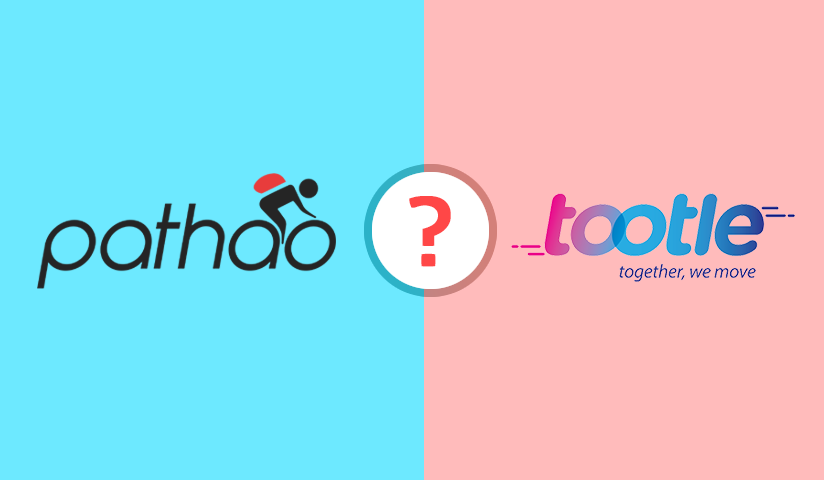 According to him/her, Pathao requested the Traffic Police Office to release the bikes but the office denied the request asking for a direct order from the Prime Minister's Office. I guess that is a polite way to say "Fuck off".
Huh. Why?
So, you may be wondering why did the traffic police arrest those riders? Were they intoxicated? Were they involved in a hit and run? No. The reason the Traffic Police's office arrested those riders is that both Pathao and Tootle are illegal in Nepal because Nepal's Motor Vehicles and Transport Management Act, 2049 (1993) doesn't allow privately owned vehicles to be used in transportation service. These companies are actually breaking the law.
So, the next question you may be having is: Did the government not know about these services before? Of course, they did. Tootle has been in operation for 2 years already now. Pathao is 3 months old already too. Why is the Traffic department suddenly arresting these riders now?
What Pathao has to say
Pathao officials had some thought about this sudden interest. They are saying that this whole fiasco was started by Taxi Driver's Association of Nepal. According to them, the Taxi Driver's Association has filed an official legal complaint against ride-sharing services.
Is that the truth?
We don't know if that is the truth but it is apparent that the Taxi Driver's Association has a real motive behind this. Who would wait for or use a taxi when they can easily call a rider from their phone, hop on a motorcycle, and reach their destination at a much cheaper rate? Besides, two-wheelers aren't as affected by the horrendous Traffic congestions in the valley. Pathao and Tootle are the reasons for the drying income of Taxi Drivers.
But whoever did this, or in whatever way this whole 'arrests' were made is irrelevant if Tootle and Pathao are really at the wrong side of the law. So, are they? Yeah. Definitely.
According to the official from Pathao, Pathao is registered as an IT company that provides people who sign up for their service with freelancing opportunities. There is no mention of the intention of providing people with transportation service in Pathao's registration. This is what is written in Pathao's Terms and Services page:
"THE COMPANY IS A TECHNOLOGY COMPANY THAT DOES NOT PROVIDE OR ENGAGE IN TRANSPORTATION SERVICES AND THE COMPANY IS NOT A TRANSPORTATION PROVIDER. THE SOFTWARE AND THE APPLICATION ARE INTENDED TO BE USED FOR FACILITATING YOU (AS A TRANSPORTATION PROVIDER) TO OFFER YOUR TRANSPORTATION SERVICES TO YOUR PASSENGER OR CUSTOMER."
Note: Here 'YOU' means the rider.
Had Pathao tried to register themselves as a transportation service company, it would have had to request the government to formulate new policies to let them operate in the country. Same is the story with Tootle. Here is what we found in Tootle's Terms of Use page:
"For the avoidance of doubt, we are a technology company, not a transportation company and we do not provide transportation services. We do not employ the drivers and we are not responsible for any acts and/or omissions of the requests made through the application. The Application is simply a means to ease the search of the Services. It is up to the Tootle drivers to offer the Services to you and it is up to you whether to accept their offers of Services."
What does this mean for customers?
But how does this affect people like us? How does Tootle and Pathao being considered illegal affect its customers? They are extremely efficient at providing their service. The customer satisfaction rate for these services is probably off the charts. So, is the government doing us a favor by arresting these riders and possibly shutting down these services in the future? My answer is No. I don't think the government has any replacement for these services as of yet.
But the government has given one reason for taking these services down that makes a little bit of sense – these services won't be responsible for your life or belongings if there an accident were to occur.
Pathao and Tootle both have stated in their terms and services that they aren't responsible for any damage to a human or their goods during these rides. This is what we found in Pathao's terms and services:
"THE COMPANY IS NOT RESPONSIBLE OR LIABLE FOR THE ACTS AND/OR OMISSIONS WITH REGARD TO ANY SERVICES YOU PROVIDED TO YOUR PASSENGERS, AND FOR ANY ILLEGAL ACTION COMMITTED BY YOU. YOU SHALL, AT ALL TIME, NOT CLAIM OR CAUSE ANY PERSON TO MISUNDERSTAND THAT YOU ARE THE AGENT, EMPLOYEE OR STAFF OF THE COMPANY, AND THE SERVICES PROVIDED BY YOU IS NOT, IN ANYWAY, BE DEEMED AS SERVICES OF THE COMPANY." Here, 'YOU' means the rider. And yes, all this was written in capital letters.
This is what we found in Tootle's terms of use page: "We are not liable for any kind of accident or mishaps if occurs in the rides made through the application also we do not guarantee on the insurance of such drivers/clients or vehicles."
So, the government has a point. But who takes the blame if we, unfortunately, were to be in an accident in a taxi? Does the Taxi Driver's Association compensate us? I have not had to deal with such a misfortune as of today so I don't have much knowledge about it.
Let's go a bit deeper
But let's go a bit deeper. We wanted to know what the government defines as Private Vehicle. So we looked at the Motor Vehicles and Transport Management Act, 2049 (1993). There, Private Motor Vehicle is defined as follows in Chapter 2:
(1) A motor vehicle having obtained the certificate of registration for private use shall be called as a private motor vehicle.
(2) No private motor vehicle shall be used for the transport service.
And what is 'transport service'? They have defined that in Chapter 1.
"Transport service" means transportation by a public motor vehicle of passengers or goods from one place to another in consideration of fares.
This raises further questions. Do these definitions mean that services like Daraz, which deliver its good via motorbikes and take extra charge for it, are illegal too? What about Foodmandu or Foodmario? Also, don't FedEx and DHL use motorbikes to deliver parcels to people? There are many questions that need answering.
Making sense of the situation
So, what is the solution to this whole mess? What is the scenario that is likely to play out in the future? The government will probably continue its crackdown. This may affect the availability of the rides in both Tootle and Pathao for a while. In the worst case scenario, these services would be shut down. But, in the best case scenario, the government may sit down with both Pathao and Tootle to make policies to enable these services to operate in the country. This happened with eSewa. eSewa's payment services were being provided without any license until last year. But Nepal Rastra Bank formulated a new policy that finally made eSewa legal and ushered a new era of cashless payment into the country.
We hope that the story of Tootle and Pathao will be similar to eSewa. This new attention from the government might pave the road to formulating new policies and laws that accept the principles of a sharing economy and even encourage it in Nepal.
World's largest tech companies like UBER and AirB&B are based on the principles of sharing economy. If Nepal does not want to remain in the technological dark ages, it should do whatever it can to make a favorable environment for the tech industry to foster in the country.
Besides, it is about damn time to update the laws that were written down in 2049 BS (1993 AD), an era when half the country's villages didn't have electricity. Nobody foresaw this stage in the future. Nobody foresaw the age of the internet and the boom in technology. Either we, as a country, adapt and flourish or resist and die. The choice is ours. We must make the right one.