Tootle is sweating from its teeth right now (maybe). Maybe they are perfectly calm. But they sure are thinking of a way to tackle this incoming threat. An international ride-sharing company coming to Nepal is not a good news for an in-house startup. But, that's what's happening.
Pathao, a successful transportation technology of Bangladesh, announced on 12th September that they will be launching bike-sharing service in Kathmandu in a few weeks. They kept their promise. Now, Tootle is not the only bike-sharing service operating in the valley.
Pathao is one of the fastest growing startups of Bangladesh. Established in 2015, Pathao operates in 3 main cities of Bangladesh: Dhaka, Chittagong, and Sylhet. They acted as a delivery service for several E-Commerce Services of Bangladesh, including Daraz when they first launched. Later in 2016, Pathao started bike sharing services on mid-2016 and had successfully signed up more than 100,000 drivers and around 1 million users by March 2018 across Bangladesh. Pathao now has a fleet of 50,000 bikes and the company is valued at over $100 million as of April 2018.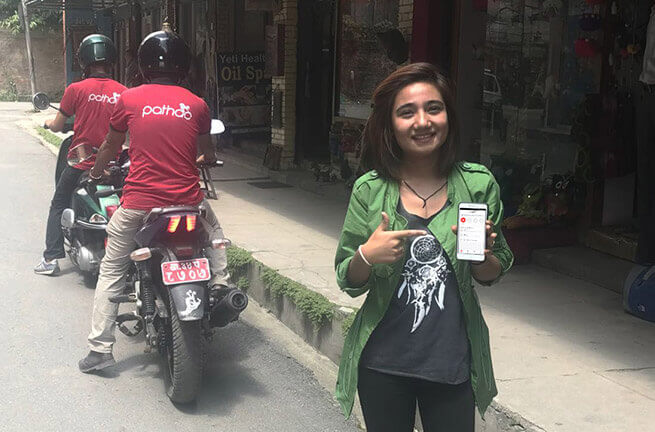 They have already started providing service in Nepal. Currently, only bike-sharing service is available; taxi, food delivery, and parcel delivery services are yet to go live. But those other features are coming to Kathmandu soon.
Booking a ride from Pathao is pretty straightforward. Pathao app for customers and Pathao Drive for the ride-sharers are already available in the play store. For customers, you download the Pathao app from the app store and sign up. Then you will be greeted with a pretty minimal UI like this.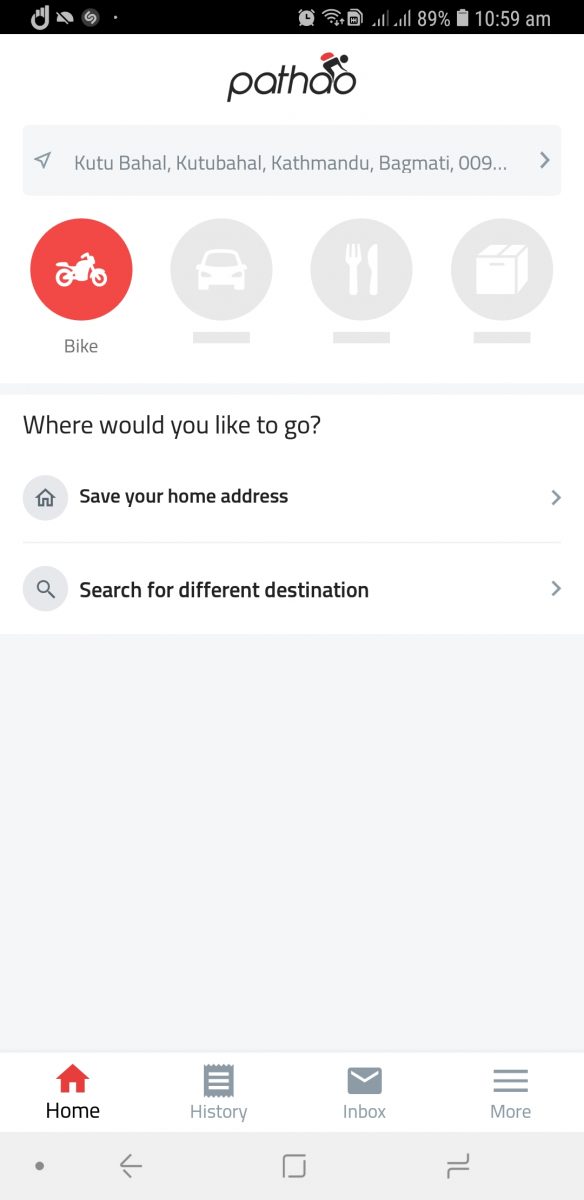 Here, the app will automatically detect where you are and you can choose where you want to go by clicking the search for different destination option.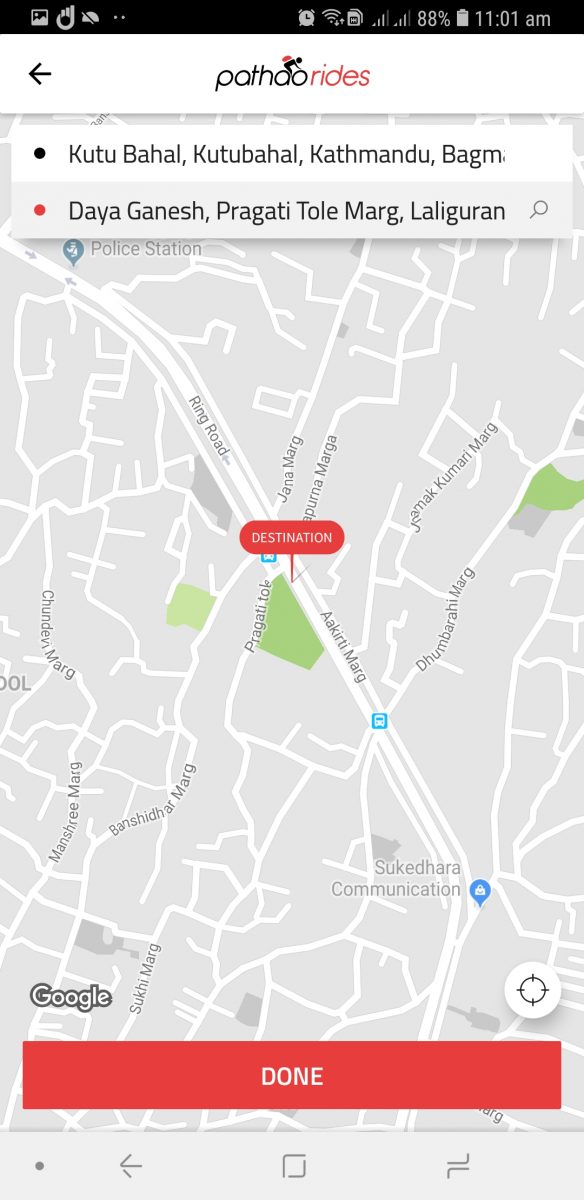 Once you click done, you are given the amount you'll have to pay and the app asks you for confirmation.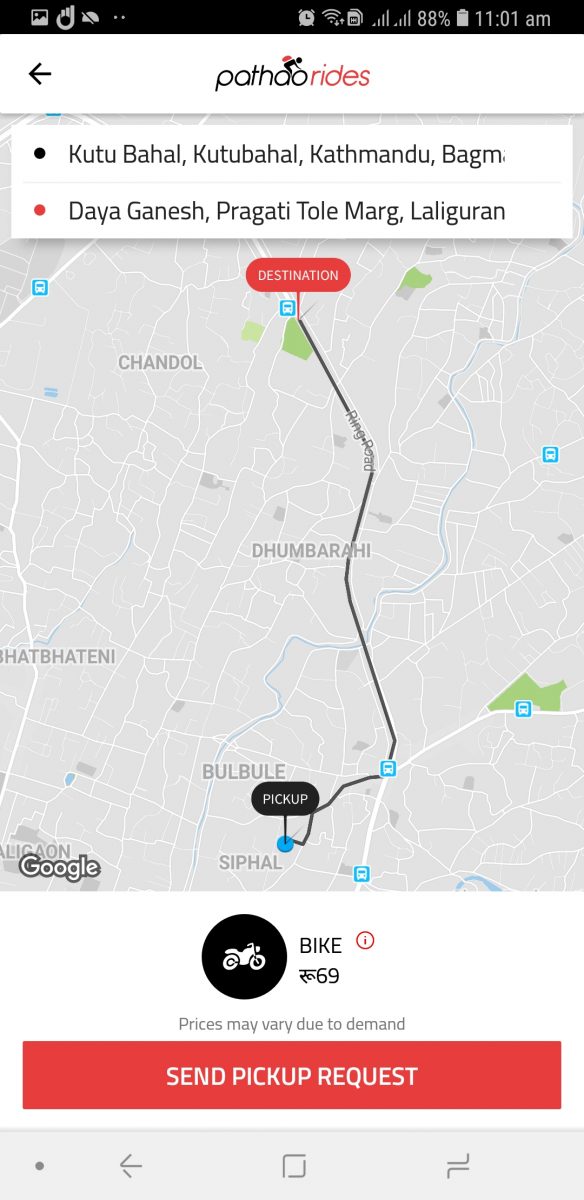 The process is similar to Tootle. But what's not similar to Tootle is the coverage. Pathao shows that service is still not available in some parts outside the ring road.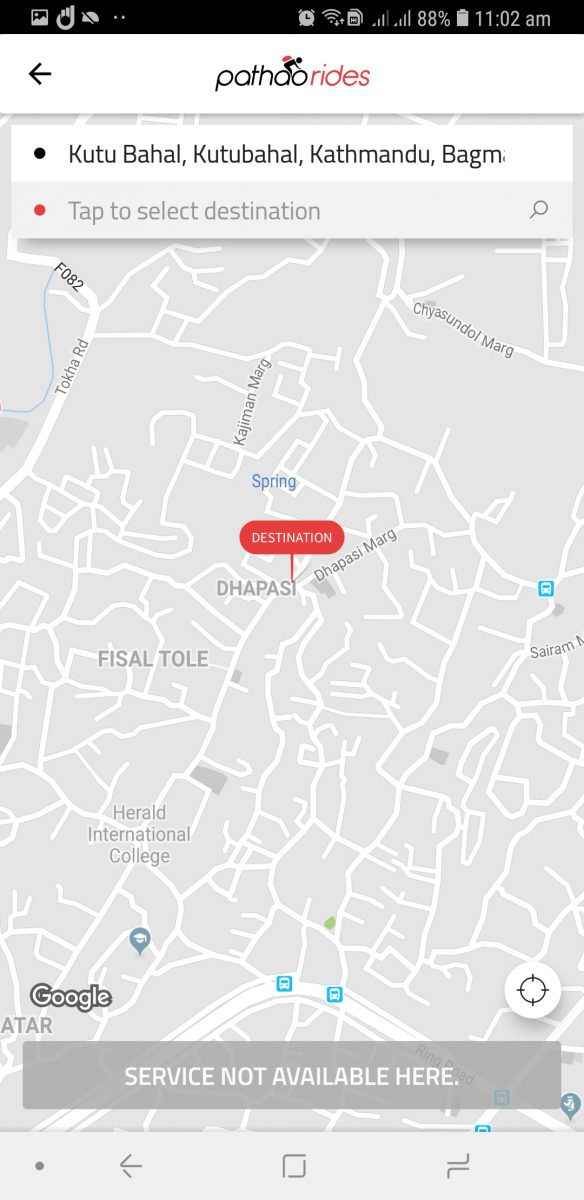 So, their service is still in its infancy. It is understandable as it has been just a few days since they came to Nepal (they are still searching for employees on MeroJob). When we spoke to an official from Pathao, s/he said: "Pathao is currently in the testing phase." Once they are fully settled and working with full staff, we might see larger area coverage. Until then, unless you never have to go someplace outside ringroad, Tootle is the service you'll have to use.