The trend of going abroad for higher education, although not new, has taken off like wildfire in the past five years. The rate at which Nepali students are applying to foreign universities for undergraduate degrees has grown exponentially. In stark contrast, the education sector of Nepal has not grown comparatively, making abroad study a necessity and not an option to millions of students.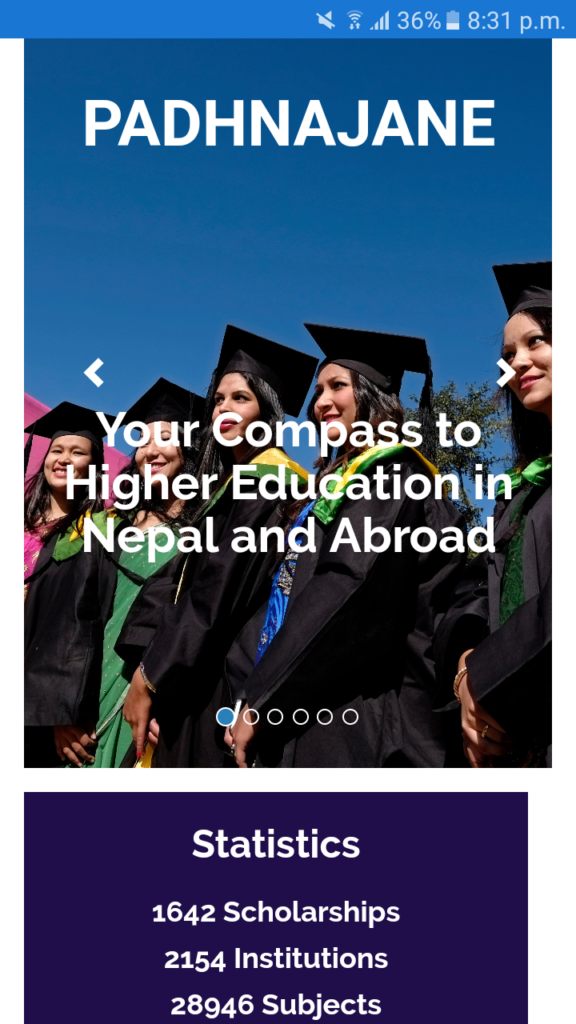 The Padhnajane application, developed by Bikas Udhyami (a social innovation hub), is a platform focused on providing information about higher education studies in Nepal and abroad. It is available in Google Play store or you can even visit the website: www.padhnajane.com.
Padhnajane is an online application which provides information about higher education in Nepal, America, Japan, and Australia; primarily in technical and economic fields. This application even helps you to search the possibilities of getting scholarships in the universities and colleges. It even informs about the application processes, migration procedures, requirements for abroad visit, and things to be taken care of while you are abroad.
The procedure of applying to the foreign universities are lengthy and complicated. It might not be fully disclosed on the university website. With the help of this platform, even a person with no prior information can get a good overview of the procedures required.
The app is categorized according to different features. There is a category column on the right side of the devices' screen.
The major categories are:
Categories
Institutions
It facilitates to choose a country. After choosing a country you can know how many institutions are there in that country and the app also provides all the details of the listed institutions. One can narrow down the search by filtering according to subject, degree, IELTS score, and even name of the institution or university one wishes to join. The information of institutions is provided along with its ranking in the world.
Scholarship
It facilitates to choose a country, scholarship type, institutions, subject area, degree type, amount range of scholarship and eligibility. One can sort the scholarships by amount or deadline.
Application
In this section, one can get information regarding how to get started, the application process and preparation.
Student Life
It informs about the finances and well-being. It also provides with information on how to manage money.
Get Matched
This field requires the login credentials. One can sign up for it easily. Then this application matches the students with the most eligible universities or institutions.
Also Read: Foodmandu's New & Upgraded Mobile App Is Just That – New & Upgraded!
Discussion
There is a discussion forum where one can post queries or start new discussions on abroad studies.
Opportunities
It consists of a news section containing news about various institutions or universities, events, career development, online learning, and personal stories of students themselves.
Personal Thoughts
In my opinion, the need for an application like this in the local market is pretty big. I love how informative it is and the vast number of topics it covers. However, I found the screen compatibility of some of the tabs to be poor as I had to scroll left and right in order to read everything in the page. The reason behind this is the application is using Android web view to load the existing website within its app. They need to make a mobile application (instead of relying on the web view) for a better user experience. The colors used in the application are overwhelming which is a minus point for the aesthetics. The navigation of the application is poor as well. 
To conclude, this is an incredibly useful app for every student living in Nepal. I would highly recommend everyone reading this review to go download it and give it a try.