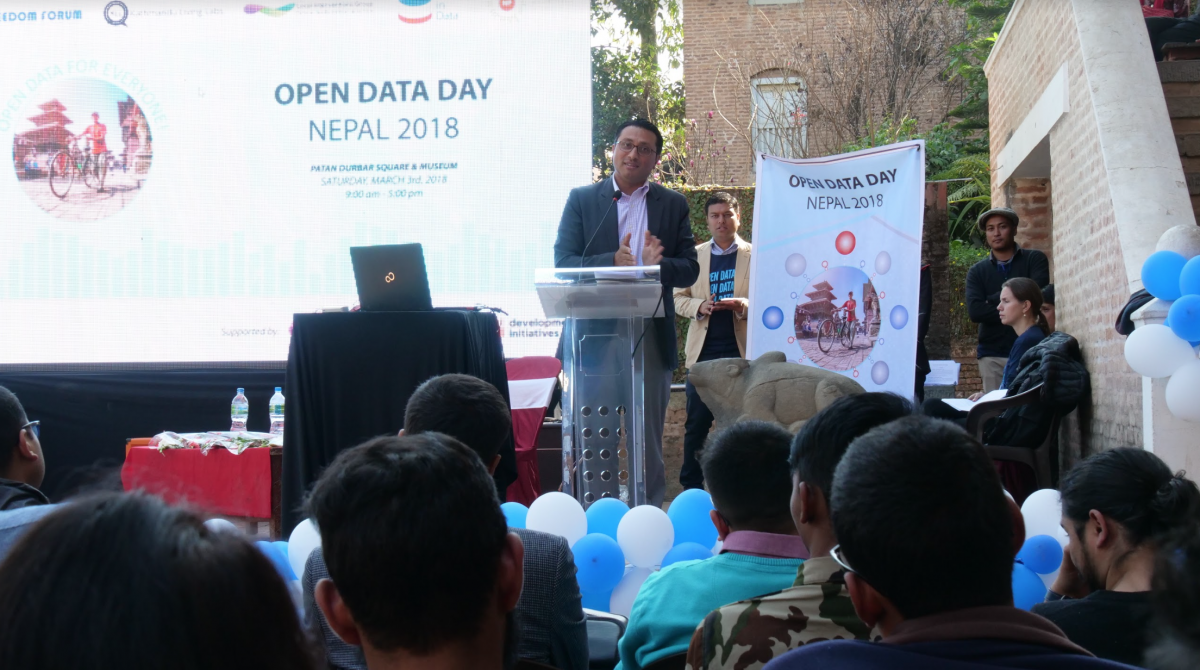 On March 3, Open Data Day was celebrated all around the world to showcase the benefits of open data and encourage data innovations, supportive data policy and grow public demand for open data. Open Data is data that can be freely used, re-used and redistributed by anyone – subject only, at most, to the requirement to attribute and sharealike. Data on issues such as the environment, economy, and people's lives are critical to grow the economy, reduce poverty and address inequality. Data collected by government, civil society, International actors and the private sector has a huge potential to help in the development of countries…. if it is made openly available for free in a format that allows anyone to access, use and share it.
In Nepal, Open Data Day was celebrated at Patan Durbar Square and Museum with various events. In the run up to the day, several pre-events were organized including a data poster competition to encourage and teach young people how to visualize data by Bikas Udhyami's Nepal in Data and a Data-a-Thon for journalists by the Center for Data Journalism and Open Knowledge Nepal. A two-day exhibition of data-infographics was on display at Patan Durbar Square explaining what open data is, why it is important and presenting the various data visualizations of different organizations.
The exhibition featured infographics by the Center for Data Journalism on current topics; explainers and maps by Kathmandu Living Labs on integrated participatory & collaborative digital mapping to enhance disaster resilience; information about Local Interventions Group Relief Gap Atlas; infographics by Nepal in Data on issues such as federalism and socio-economic development; and visualizations by Open Knowledge Nepal on open data. In the morning, an interactive map-a-thon event was organized by Kathmandu Living Labs using open street maps and a data treasure hunt for children was organized by Nepal in Data with games and exercises to teach children in fun ways about data.
This slideshow requires JavaScript.
In the afternoon, a panel discussion and lightening talks were held on why open data is important for Nepal. Open Knowledge Nepal gave a presentation about open data, which was followed by a panel discussion featuring panelists from the Central Bureau of Statistics, the Finance Comptroller General Office, the National Reconstruction Authority, the Gender & Adolescence: Global Evidence Program and Teach for Nepal. After the panel discussion, Dr. Rurik Marsden, Head of the UK Department for International Development (DFID) Nepal spoke about the importance of data for good decision-making and the work that DFID is supporting to open data in Nepal.
Dr Marsden shared that "Data is the currency of good decision-making". The Chief Guest, Honorable Former Vice Chair of the National Planning Commission (NPC), Dr. Swarnim Wagle, spoke about the government's efforts to make data open. According to Dr Wagle "Re-orientation of our society should be towards an open society based on facts". Subsequently, Bikas Udhyami presented about their Nepal in Data portal and geo-profile and Kathmandu Living Labs showcased the National Housing & Reconstruction portal developed with the NPC.
Local Interventions Group presented about their follow the money project work and Freedom Forum spoke about the open budget survey results. The Center for Data Journalism spoke about their work on data driven journalism and Clean Up Nepal gave a dynamic presentation about their Nepal Waste website and app that aim to improve solid waste management in Kathmandu. The day was closed off by a concert of Nattu and the Team that got everyone up on their feet dancing inside Patan museum.
Open Data Day Nepal 2018 was jointly organized by Accountability Lab, Bikas Udyami, Center for Data Journalism, Freedom Forum, Kathmandu Living Labs, Local Interventions Group, Open Knowledge Nepal and the Data for Development (D4D) Program implemented by The Asia Foundation in partnership with Development Initiatives and funded by the UK Government's Department for International Development.
For more information visit: www.opennepal.net
(Press Release)