For Baibhav Pandey, entrepreneurship isn't a new experience. He has been into the game since 2016 when he along with his friend started Women in STEM (WiSTEM), an NGO which educates and encourages girls to find a career in the field of Science, Technology, Engineering, and Mathematics (STEM).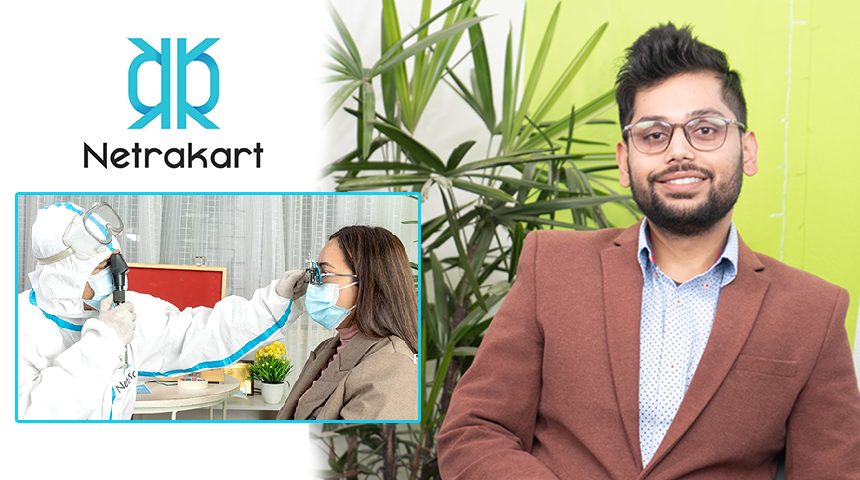 While the NGO was doing really well, in 2018, Pandey started another venture. It was an eCommerce company named Parijat. This company was sustaining for the time being but the profits were not as per his expectation.
"As we were into the non-profit sector, we needed a proper guideline to make a profit based company sustainable," he recalls his experience. So, he dropped the eCommerce venture and went on with the journey of WiSTEM.
Ideation 
Apart from his engagement in the NGO, he was taking freelancing projects of a few companies for website designing. Vision Concern optical and Eye clinic was one of his clients.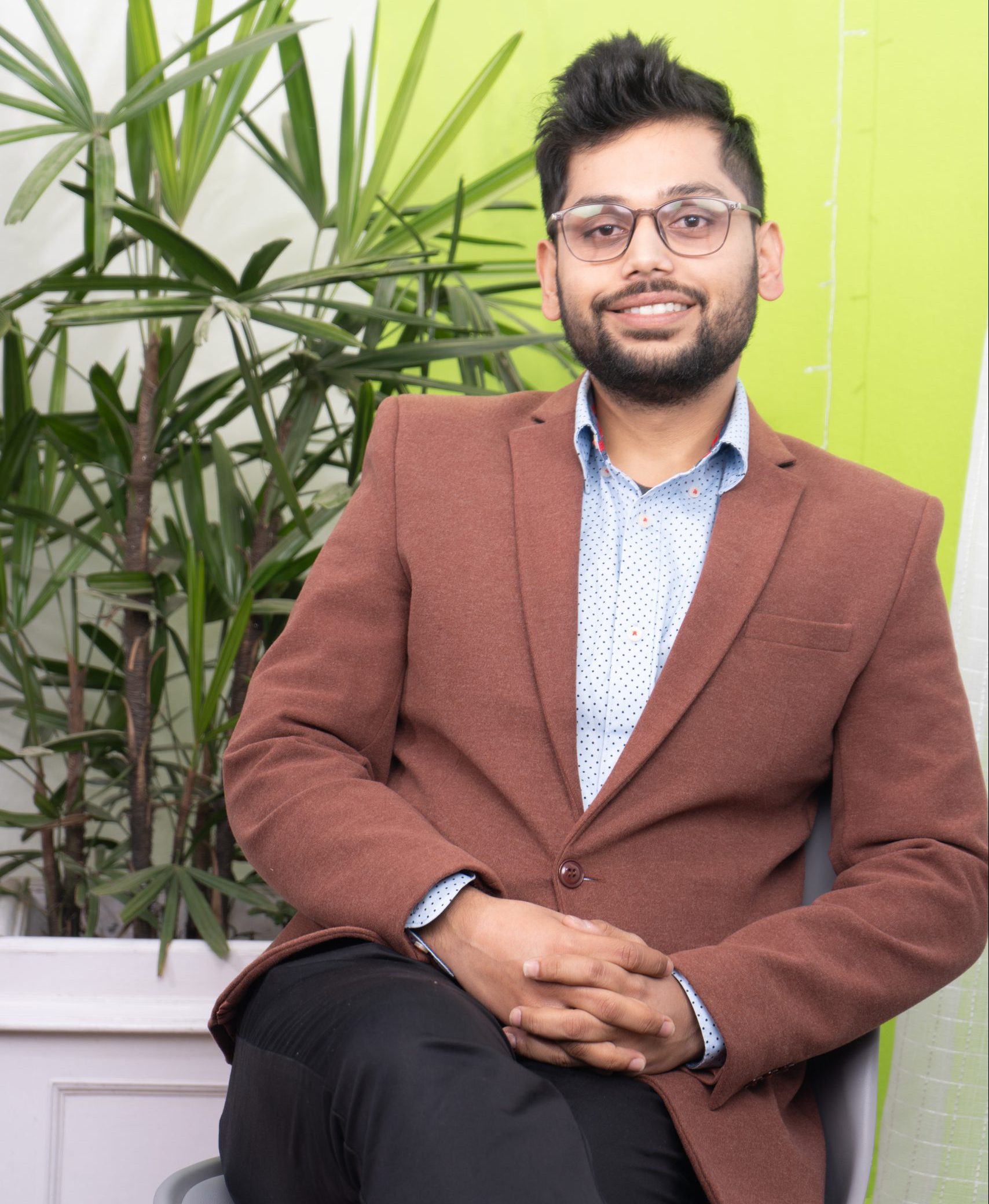 The idea of 'Netrakart' spurred when one of his clients in Vision Concern narrated his experience with a young client. A 16-year-old boy had come to the clinic after his vision blurred and he could not continue daily activities.
After the check-up, the optometrist recommended him lens of -6 power. The boy was overwhelmed and started crying as this was his very first visit to an eye clinic. The optometrist and the team had to console him. The moment was shocking for everyone.
Listening to the incident, Pandey recalled his childhood friend. "When I was 16 years, I had a classmate who could not see properly. But he never went for an eye checkup because he was uncomfortable wearing an eyeglass," Pandey shares. "In our society, there is a stigma against children and youth wearing eyeglasses," he adds.
There are both challenges and opportunities in the eyeglass market. Teens and youth are afraid of the negative associations of wearing eyeglasses and reluctant to report their vision problems.
In addition to it, most people don't understand that an eye checkup goes well beyond checking the power when someone's vision gets blurry. There are problems including Myopia, Glaucoma, Cataract, and other eye diseases which can be identified only with a comprehensive eye exam by an optometrist or ophthalmologist.
Pandey started consulting and studying these issues. He found out that 80 percent of the population in Kathmandu don't go for a regular eye checkup. This is it where we can fulfill the gap, Pandey says. "So, we came up with an idea of home-based eye checkup".
This way, Pandey along with his partner (requested not to disclose the name) embarked on the journey of Netrakart.
Validating the idea
Unlike his earlier venture, this time Pandey is moving with a proper vision and investing good time in idea validation, revenue model, and a long term plan.
"This time, we also have Vision Concern as our knowledge and resource partner," he shares. Vision Concern is Nepal's first ISO 9001 certified Eye Clinic with more than a decade of experience in the market.
Initially, Pandey began his research by searching a number of eyeglass stores, optometrists, and the whole situation of the market.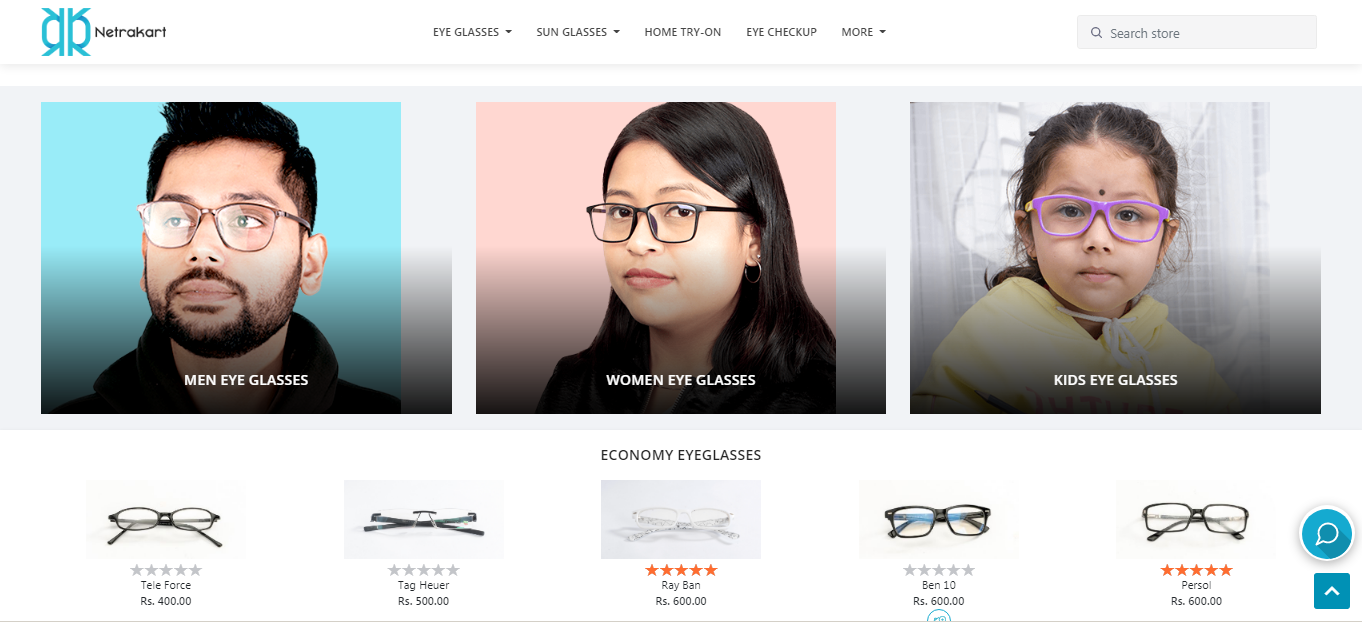 He found a paper written by an optometrist in 2012. "There were a total of 500 optical shops in Nepal, among which 250 were based in Kathmandu," Pandey informs. "The annual optical business that year was 3 million dollars."
Through his partner company Vision Concern, he found out that there are currently around 1200 optical shops in Kathmandu and the annual business is 36 million dollars. "However, this is just an estimated data as we don't have formal data," he says.
He researched case studies of similar international companies including Lenskart. Lenskart is an Indian optical prescription eyewear retail chain, which also does home-eye checkup in different places of India.
He identified the budget and made strategies for brand promotion, logistics, web designing, and other infrastructure. "I urged myself to think like an MBA graduate to make a proper business model. It took us nine months for proper research and idea validation," he says.
The beginning
The startup began its operation in January 2021 with an initial investment of Rs 1.3 million. Netrakart made 70 percent of their investment in the system (website and app) and 30 percent on checkup tools including Ophthalmoscope, Retinoscope, trial lens set, iPad, and other infrastructures.
The service catered to more than 50 clients in the first month. "The journey has been exciting as clients have been showing a good response," says Pandey.
The team is in the process of collaborating with various hospitals and clinics for resources. They have already collaborated with Matrika Eye Center for doctors and surgeries and Metlife Insurance for customer offers. The customers will get a discount on Netrakart service and products by using a Metlife Life card.
Similarly, the startup supplies eyeglasses from Vision Concern as per the demand of the customers.
Team
Netrakart has more than 13 full-time employees in total.
They haven't hired any full-time optometrists. "We pay per-checkup to the optometrists," informs Pandey.
The optometrist needs to have Masters in Optometry, have a license from an authorized entity, and have a minimum experience of four or five years in the same field. Also, he or she must be outspoken and have a jolly nature, he adds.
ALSO READ: ePharmacy: The Story Behind Nepal's Next Pioneers in Digital Healthcare Solution
X-factor
The need for eye-glass and lens is growing in recent years due to the increasing screening time. The market for eye-glass is gradually rising and eye-checkup clinics are opening in every area of the valley.
There are enough brick and mortar competition for Netrakart. The fee in the physical stores may be equal to or more than Netrakart, but there are factors that make the venture stand out in the crowd.
"By choosing Netrakart, you will get to examine the eyes of your whole family in your space," Pandey views. "Also, your experience with the optometrists will be really worth it as they put on 100 percent effort to make the patient understand their problem."
"This is coming ahead as our strength and we are working to enhance the customer experience," the founder adds.
How Netrakart home–based checkup works?
This service is one of a kind in Nepal.
We can download the app 'Netrakart' from Playstore, create an account, and login. There is an option 'Home Eye Checkup' in the app. We also get an appointment from the Netrakart website with the option 'Eye Checkup'. One can set an appointment time and their own location. The Netrakart team calls you to confirm the time and location.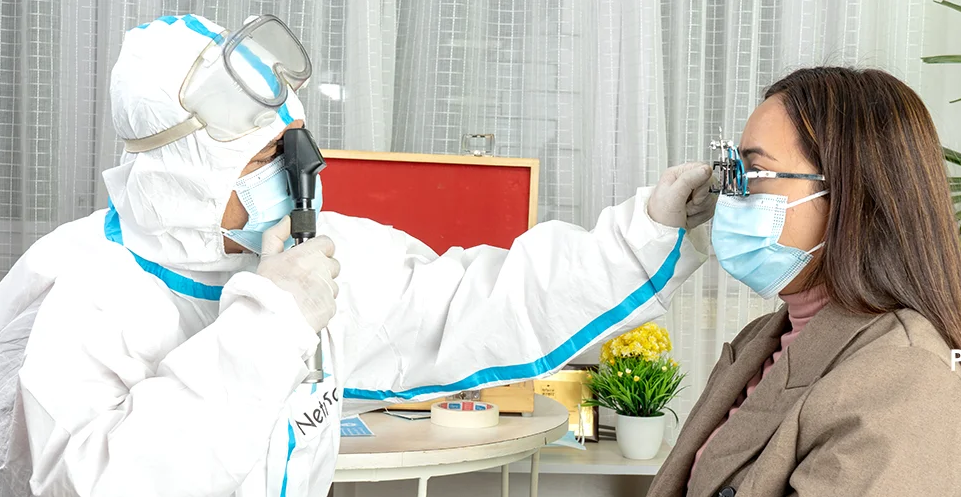 The doctors sanitize and put on their PPE kits before starting the checkup. They bring all the eye-checkup equipment.
They use a wall, window, or door to hang the Snellen chart (an eye chart that is used to measure visual acuity) and maintain a distance of almost three meters between the patient and the chart. The optometrists use the iPad to check near vision.
Followed by this procedure, the optometrist explains the science behind the eye issues of the patient and spends almost 5-10 minutes answering queries.
The price for a home eye-checkup per person inside ring road is Rs 400 and the additional person is Rs 300. Likewise, the fee per person outside ring road is Rs 600 and the charge for an additional person is Rs 400.
One can also book or surgery through Netrakart. The startup recommends the patients to the hospitals and fixes their appointment for surgery.
Other features and services
Another service that stands out in the Nepali market is 'Home-Try on'. One can borrow up to five eyeglass frames from Netrakart and keep them for a week. They need to pay Rs. 5 for each frame as a deposit, which one can pay through eSewa, Khalti, Fonepay, Paypal, or Point of Sale (PoS) terminal. The customer can also do cash on delivery.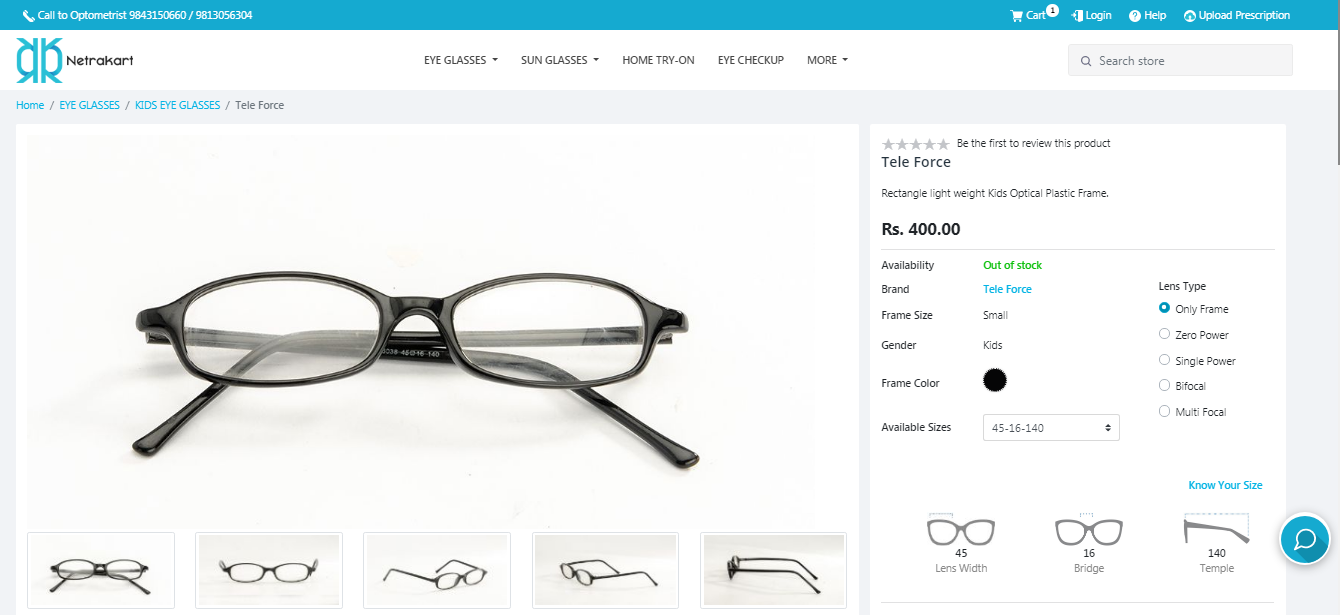 The customer will get their deposit refunded if they don't choose any frames among those. Similarly, the deposit will be deducted from the price, if the customer selects and buys one of the frames. If we click Home-try on option, there are photos of a variety of frames (both branded and non-branded).
"We also change the eyeglass frame if the customer faces a problem in the lens," shares Pandey. There is no delivery charge for all these services in the Kathmandu valley.
Similarly, one can also upload their prescription to buy eyeglasses from them. It will take a minimum of one day to 10 days to deliver an eyeglass. "The number of days depends on the lens power. Also, if someone is looking for a branded and customized lens, it may take more than seven days," he informs.
Areas of improvement
The concept of a startup begins with the idea of starting small, scaling up, and growing rapidly in the future. For almost all startups, unveiling the product or service comes first and improvement comes later.
The services are quite new in the Nepali market and the team is working to ensure a good customer experience. However, there are few areas of improvement especially in terms of their website and application.
According to my experience, it takes more than five seconds to open their website. A study by Google says that 53 percent of internet users will abandon a website if it takes more than three seconds to load.
Also, the app does not have an automated location tracking system which makes it difficult for customers to find their nearest landmark on the map. This delays the appointment as both parties need to call each other several times before reaching the right location.
Pandey says that they are facing challenges in terms of their system. "Most internet users are intolerant to slow loading websites and this is fair," he views. He admits that Netrakart lacks this part and has been working seriously to solve this problem as soon as possible. "We are facing problems due to the high-resolution images and there are some problems from the developers' end," he adds.
He also says that though they had the feature of automated location tracking in the application, it has not been functioning for some reason. "We are identifying the reason and will come up with an improved version quickly."
Revenue model
The company's revenue sources, for now, is customer's eye checkup fee and eyeglass frames. "Almost 50 percent of the customers who do the eye checkup buy a frame from us," he says.
Apart from this, they have also collaborated with hospitals for surgery booking including Matrika eye center as part of their revenue model.
Vision and Investment plans
The company envisions making home eye checkup accessible to people all over Nepal. For this, they are working on more collaboration with health care institutions. Apart from that, they are also looking for investments to expand and improve their resources and services.
Netrakart has been recently selected on the top 100 list of enterprises in Innopreneurs, an international level startup annual contest organized by Lemon Ideas India. The competition which was developed into a national-level platform in India till last year is now searching for ideas from entrepreneurs all around South Asia.
Plans ahead 
Very soon, they are coming up with Augmented Reality (AR) technology in their application where the customers can try virtual glasses. This feature will improve the try-on speed of virtual glasses and gives users a sense of reality.
Netrakart has plans to work in an omnichannel model. This is a multi-channel sales approach where the customers can get service from websites, applications, and also retail stores.
"We need a dedicated team to go out of the Kathmandu valley. So, we are planning to make our presence in most cities through franchise retail stores," he says.
They will give the franchise to the eye and optical clinic entrepreneurs and optometrists as well. Netrakart has plans to open 20 retail stores all over the country within five years.
READ NEXT: Neemacademy: This Edutech Startup is Working to Build e-Learning Culture in Nepal