Nepali Samaj is going to organize a programming contest, motivated from ACM-ICPC. ACM International Collegiate Programming Contest (ACM-ICPC) is an annual multi-tiered competitive programming competition among the universities of the world. The ACM ICPC is considered as the "Olympics of Programming Competitions". It is quite simply, the oldest, largest, and most prestigious programming contest in the world.
Organized by Nepali Samaj with support from Federation of Computer Association Nepal, Rupandehi, Butwal, the Programming Contest,  is scheduled for July 1st (17th Ashar) at Kalika Secondary school, Kalikanagar- 13, Butwal. The winners of the contest will be rewarded with a cash prize of Rs. 21,000.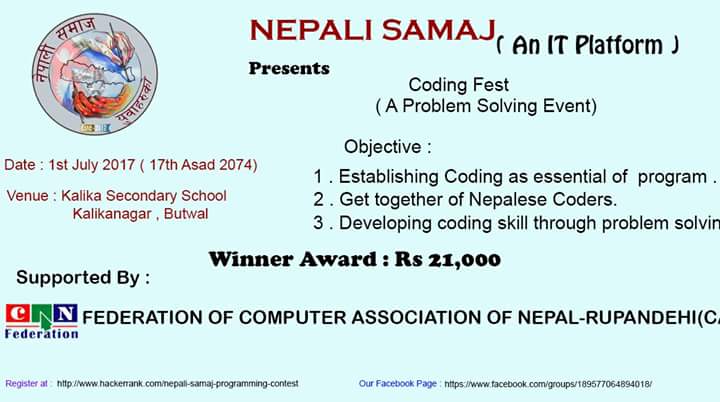 The competition will be focused on problem-solving skills along with coding skills. It aims to create awareness about the importance of programming in the development of IT economy of the country.
Event Description
The participants will have to form a team of three members. Each team is required to solve seven questions in a span of five hours. The question patterns will be similar to ACM-ICPC. The teams can use any of the following programming languages: C, C#, C++, Java, PHP, JavaScript, and Python.
An additional two days Bootcamp is also offered by the organizers and is scheduled for 29th June and 30th June. The Bootcamp will be held at Expert Consultancy Hall, Rajmarg Chauraha.
Nepali Samaj Admin Panel said, "We want to spread the craze of Problem-solving in Nepal too. And, want to see Nepali students to score ranks at ACM-ICPC."
For the regular updates, join the Nepali Samaj Facebook group.
Rules for the Competition
Each team will consist of three teammates
Must be enrolled in Bachelor level Education
Cheating in the contest will not be tolerated
Each team can use Google, Stack Overflow and three books of their choice for reference
All the participants are required to attend the venue decided by the Nepali Samaj
Each team is requested to bring one laptop. The members will have to share a single laptop
10% marks of total obtained, will be added extra for teams with at least one female participant as their team member
Event Details
Registration Charge: FREE
Location: Kalika Higher Secondary School
Date: 1st July 2017
Time: 11AM – 4PM