Imagine if 90s kids had got to learn concepts like Sets, Value Added Tax (VAT), HCF, and LCM in real life through animation, videos, and quizzes, many of them would have been much smarter adults today.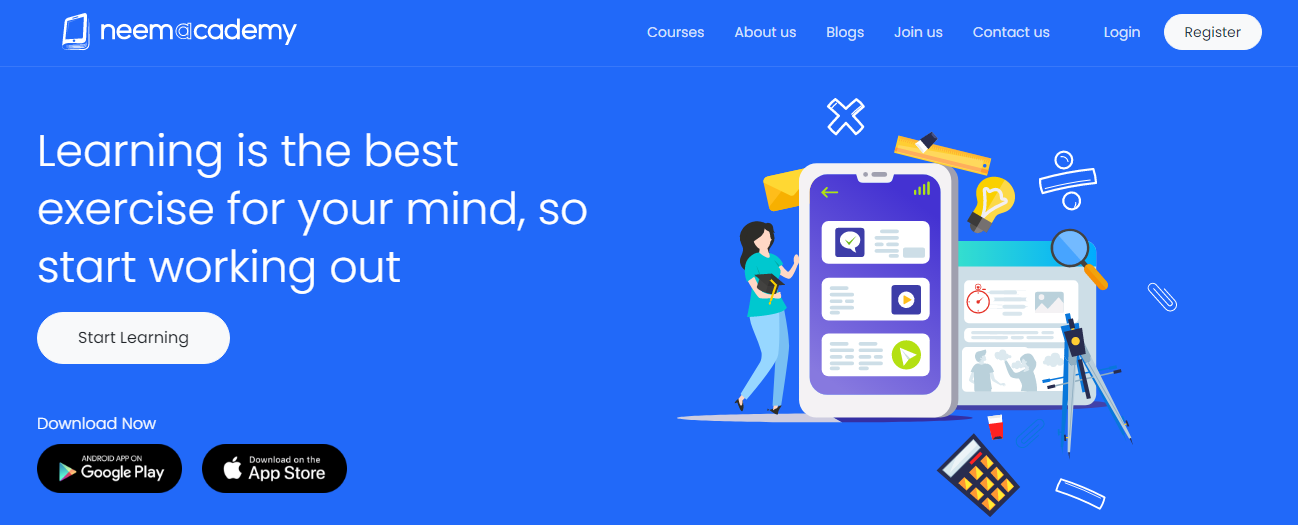 Well, today's kids have ample advantage. Digital learning tools are gradually replacing traditional education methods. It has been empowering students to learn and also encouraging them to implement in real life.
Neemacademy, a product of Neema Education Foundation, is working towards the same goal.
A platform for digital learning tools
Neema Education Foundation is an institution started with an aim of digitizing the education system in Nepal. Their major product, for now, is an eLearning platform named "Neemacademy".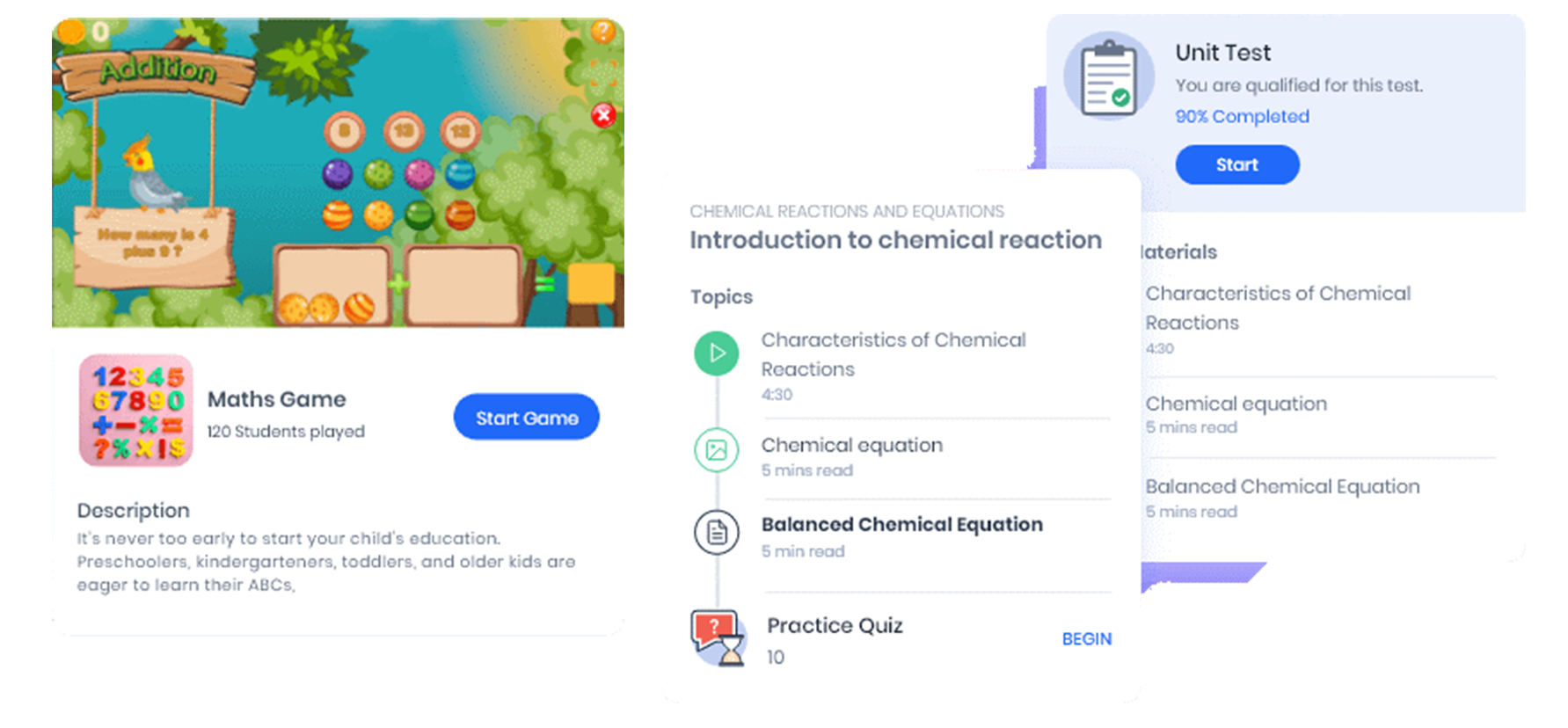 Neemacademy is a web and mobile based platform where different educational course concepts are represented in images, animated videos, quizzes, 3D simulations, articles, inbuilt games, and other activities to make the learning experience more fun and entertaining for students.
Idea behind Neemacademy
Nischal Pradhan, who initiated the idea of Neemacademy is also the founder of Braindigit, a reputed software company in Nepal. Similarly, his father Hari Man Pradhan, founder and chairman of Neema Pustak Prakashan is one of the pioneers in the education sector.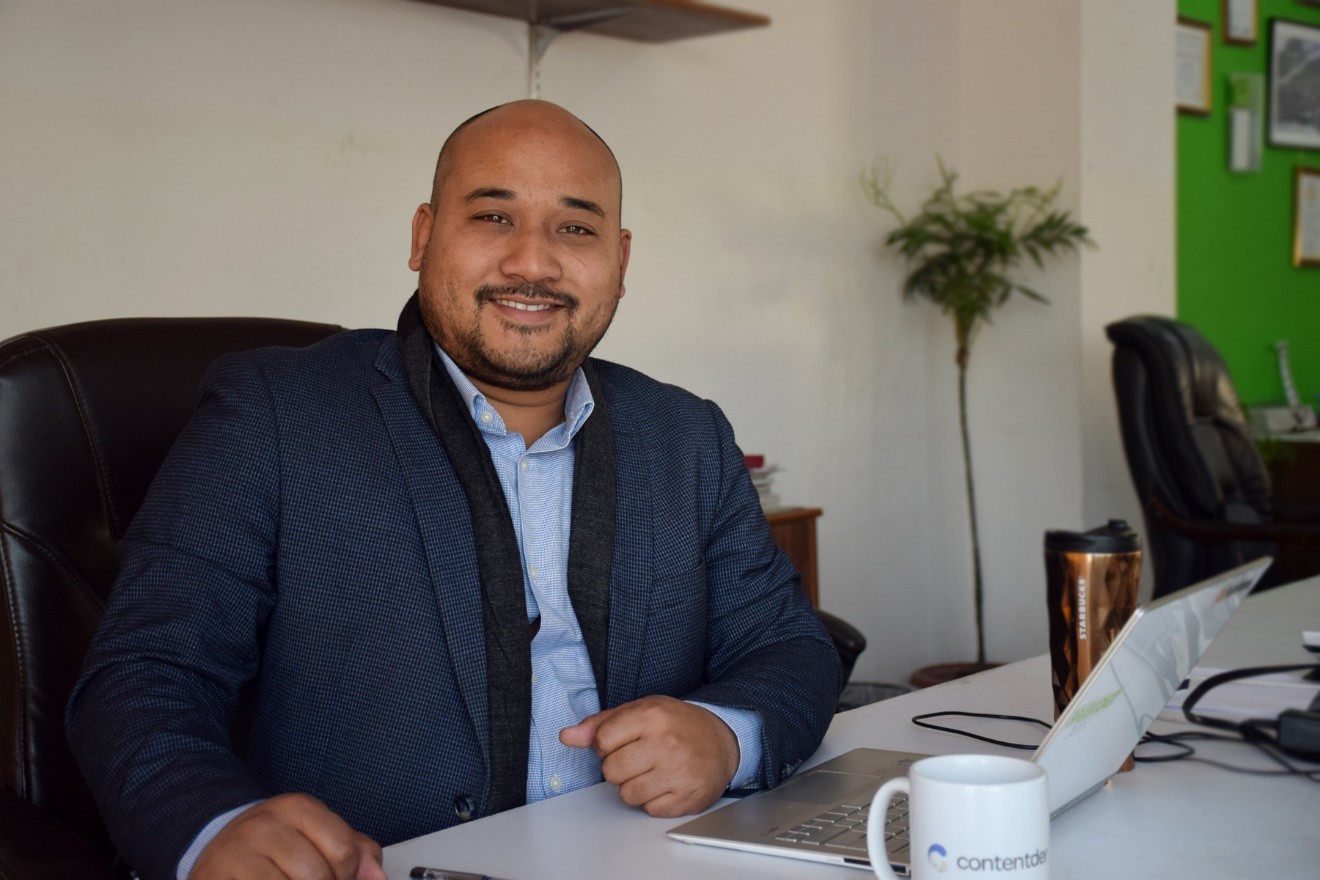 While both were busy in their ventures for years, in 2018 son Nischal Pradhan felt an urge to start something which combines education with technology.
It was in July 2018 when he decided to start the Neema Education Foundation. Though his father was initially reluctant to go into the edutech sector, it did not take him more than a week to become flexible and open to his son's idea.
"Digital world has offered amazing benefits to us. It helps us learn new skills and it gives us enough space for innovation," says Pradhan.
"In developed countries, we don't need physical books for all the subjects. There, students reap the benefits of digital educational tools through the internet and end up exploring more."
Pradhan believes that the foundation of today's kids needs to be stronger. "For that, their thought process and learning mechanism should be flexible." So, I felt a strong need to start something from my side, he shares.
With support from his father who is a veteran educational entrepreneur and himself with strong knowledge and expertise of more than a decade in the IT sector, Pradhan took a leap and began a new journey in August 2018. Currently, father Hari Man Pradhan holds the position of Chairman at Neema Education Foundation.
Meanwhile, Pradhan was also discussing the idea with Neiha Joshi, who did an MBA from Ace College of Management, was into fintech and development technology for more than seven years. She decided to utilize her expertise in the education sector.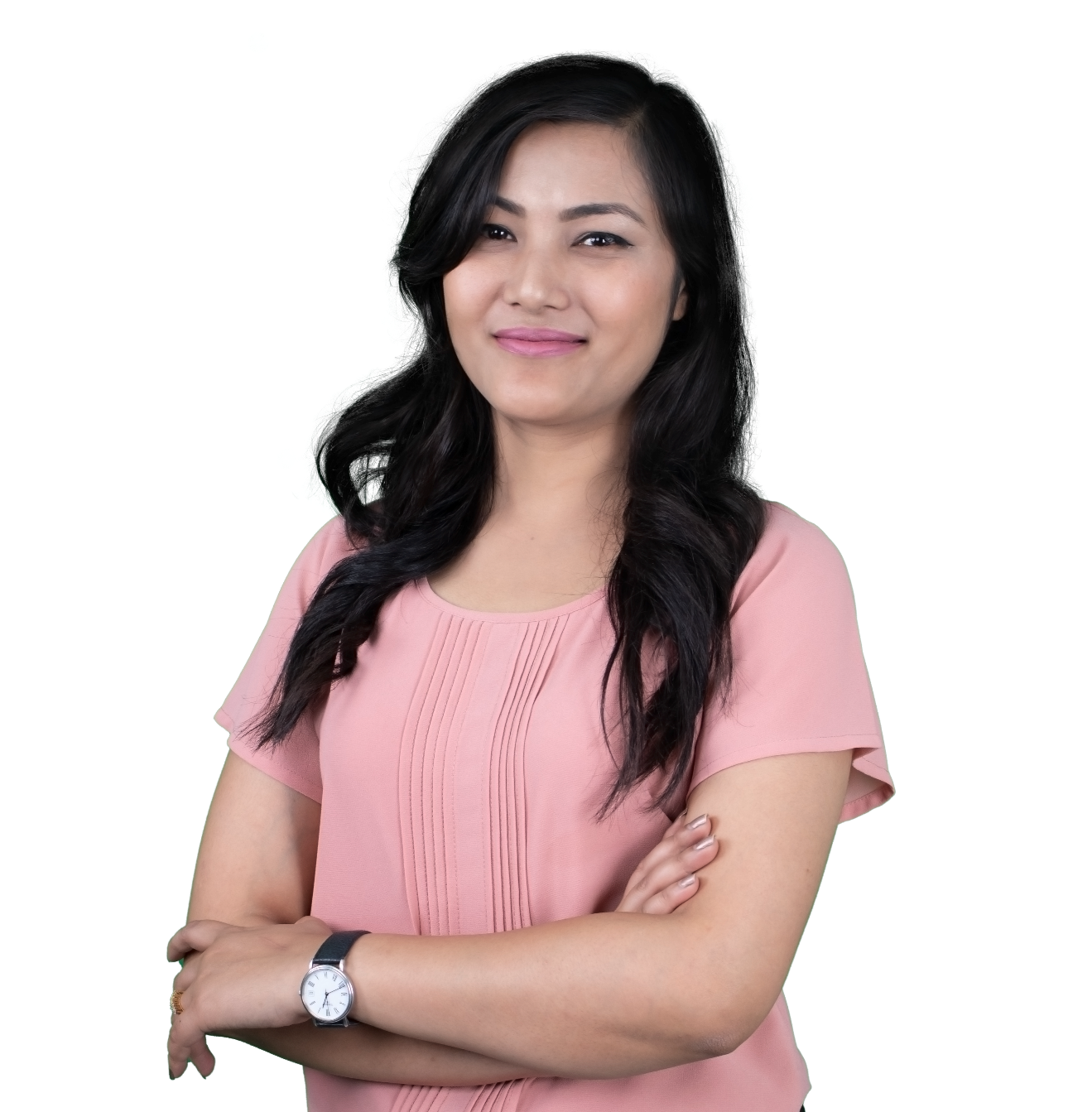 "In the developed countries, people are familiar with enrolling into digital classes and paying online. But in Nepal, we don't see that trend," says Joshi. She adds "Also, there were very few edutech platforms when we started."
The idea of Neema Education Foundation to bring innovation in the education sector made me feel connected to the vision, she shares. With this strong motivation, she joined the company as co-founder and currently holding the position of Chief Operating Officer (COO) from November 2018.
The beginning 
As it is rightly said, effective ideas come from consistency, the concept of Neemacademy was not an abrupt idea. In the beginning, the founders had thought about incorporating the concept of smart class.
"We had planned that we would collaborate with Internet Service Providers (ISPs), projector/smart TV suppliers, and others to develop a smart class. However, most of the schools were not yet ready to transform their classroom into a smart class as it was too expensive for them," says Pradhan.
So, Neemacademy optimized their idea with time and they have come up with a concept of monthly or yearly subscription.
The duo began with focusing on the Secondary Education Examination (SEE). Gradually, the team began school visits to understand the thought process of students of each level. "Then we started designing the courses of each class," says Joshi.
The founders believe that digital learning is more than offering students mobile and laptop. CEO Pradhan says that digital learning is a blend of technology, engaging content, fun activities, and many other features through which students can understand the concepts.
Features
As with any other app, one can download the Neemacademy app from Play Store and App Store. Then, we create an account with our mobile number or email and password. Followed by One Time Password (OTP), we enter into the platform.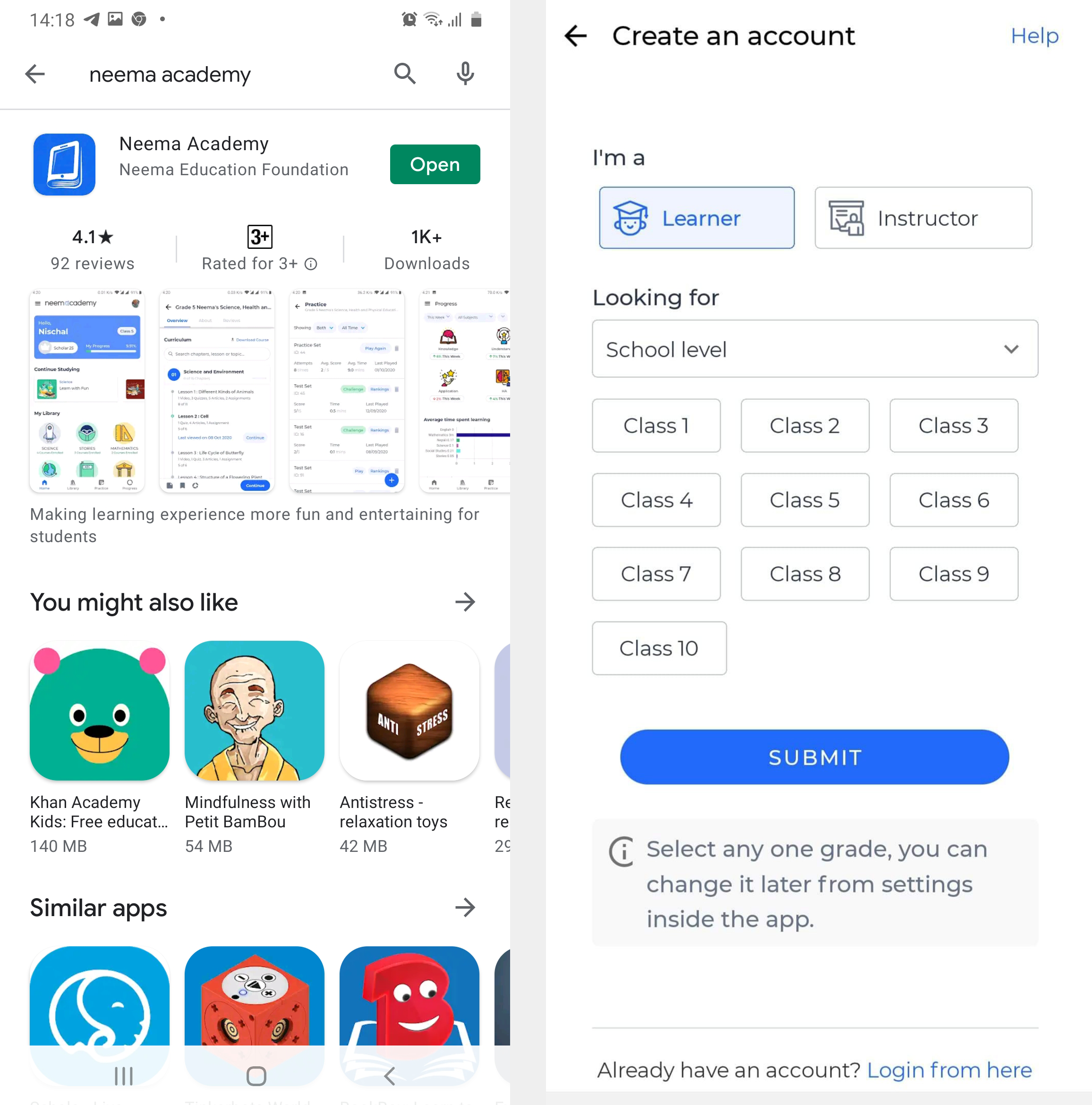 There are options from classes from Grade 1 to 10. One can choose their grade and enroll themselves for free. There are various contents for each unit and chapter. The content includes videos, quizzes, articles, and assignments.
Neemacademy has added few other features including live classes for their partner schools.
"We have integrated the live classes with Zoom. Due to this, each student, teacher, and parents get notified and get a link of the class through zoom," says Pradhan.
The team is currently working on integrating features including My notes, Bookmarks, Study Plan, Ask, Invite and Earn, Neema coins, and others.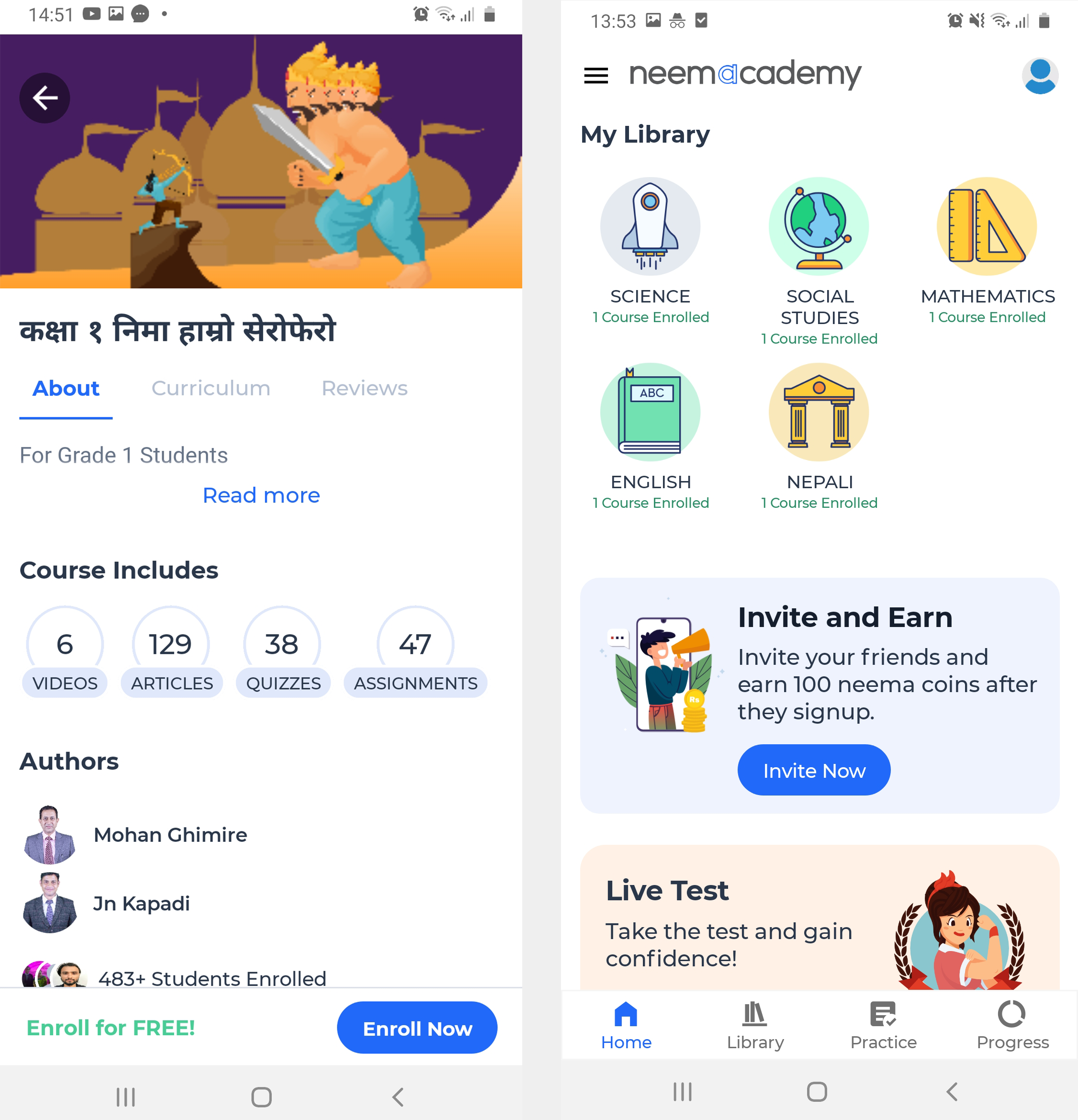 Through the Neema coin option, the students get coins based on their progress and they can use Neema coin to renew or buy the subscription of any new course. Similarly, using Ask features allows the students to share their queries with the author who developed the content.
"For now, the content of most grades are available. We will be ready and will integrate all the other features from the next session," informs Pradhan.
Content      
The students will get access to five subjects from Grade 1 to 5 and Class 10. Currently, the team is developing content for Grade 6 to 9. The subjects are Maths, Science, Social Studies, Nepali and English.
All the contents are verified from the Curriculum Development Centre (CDC), which is an academic center under the Ministry of Education. CDC develops a curriculum for school education in Nepal.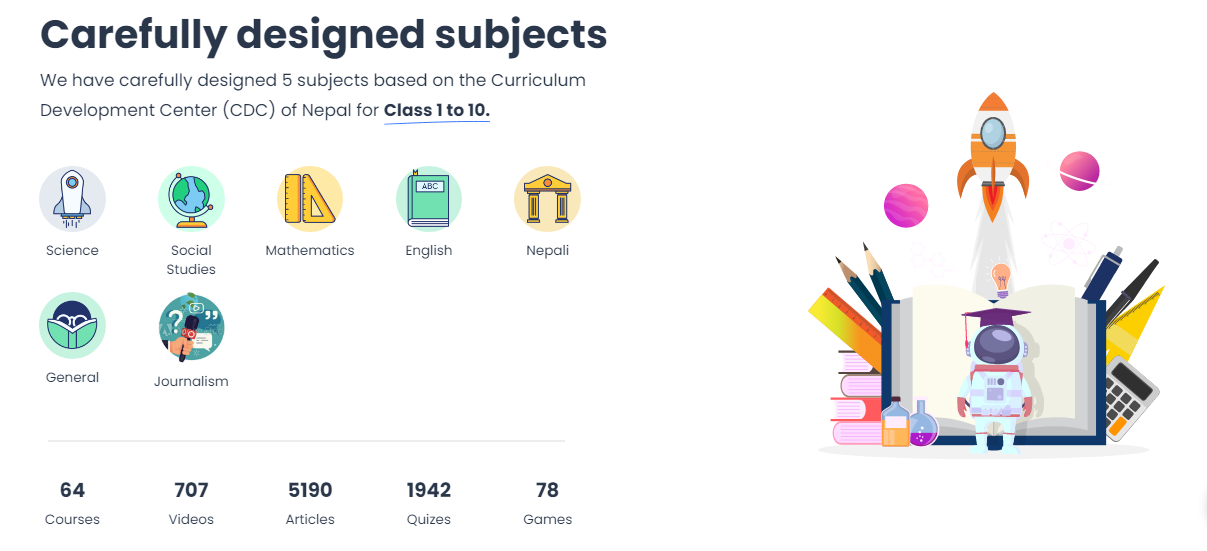 With a vision to become a learners' favorite place, the team has also been planning various content and courses for years to come. The co-founders are planning to collaborate with instructors from various fields.
The team is currently working to develop the curriculum of Grade 11 and 12 and come up with that from the new session of 2021.
According to Joshi, the company will be also open to instructors in areas including yoga, fitness, journalism, painting, excel training, and many others in 2021.  Gradually, we will create a platform where people can enroll for language classes, Loksewa, and many other vocational courses, shares Joshi.
According to her, the instructors should be able to design their course and they can sell it through our platform. The company is currently working on criteria for instructors.
In the long run, the team is also planning to bring international resource persons and work with international universities. "This involves a lot of costs. So, this is something we are planning for the long term," shares Pradhan.
"The content research is ongoing since establishment. On the one hand, content development is a dynamic activity as it has to be regularly updated. And on the other hand, the students must be able to understand and get effective results from the content they follow," shares Pradhan. He says that the Neemacademy team keeps working vigorously to bring out engaging and updated content.
The founders believe that through the content, the children must be able to see a bigger picture of what they learn.
"Our idea is to provide such content to the children which they can learn and implement even after 20 years," says Joshi.
Team
Neemacademy has an in-house team of teachers, professors, subject matter experts, content experts, technical experts, digital production, and creative team.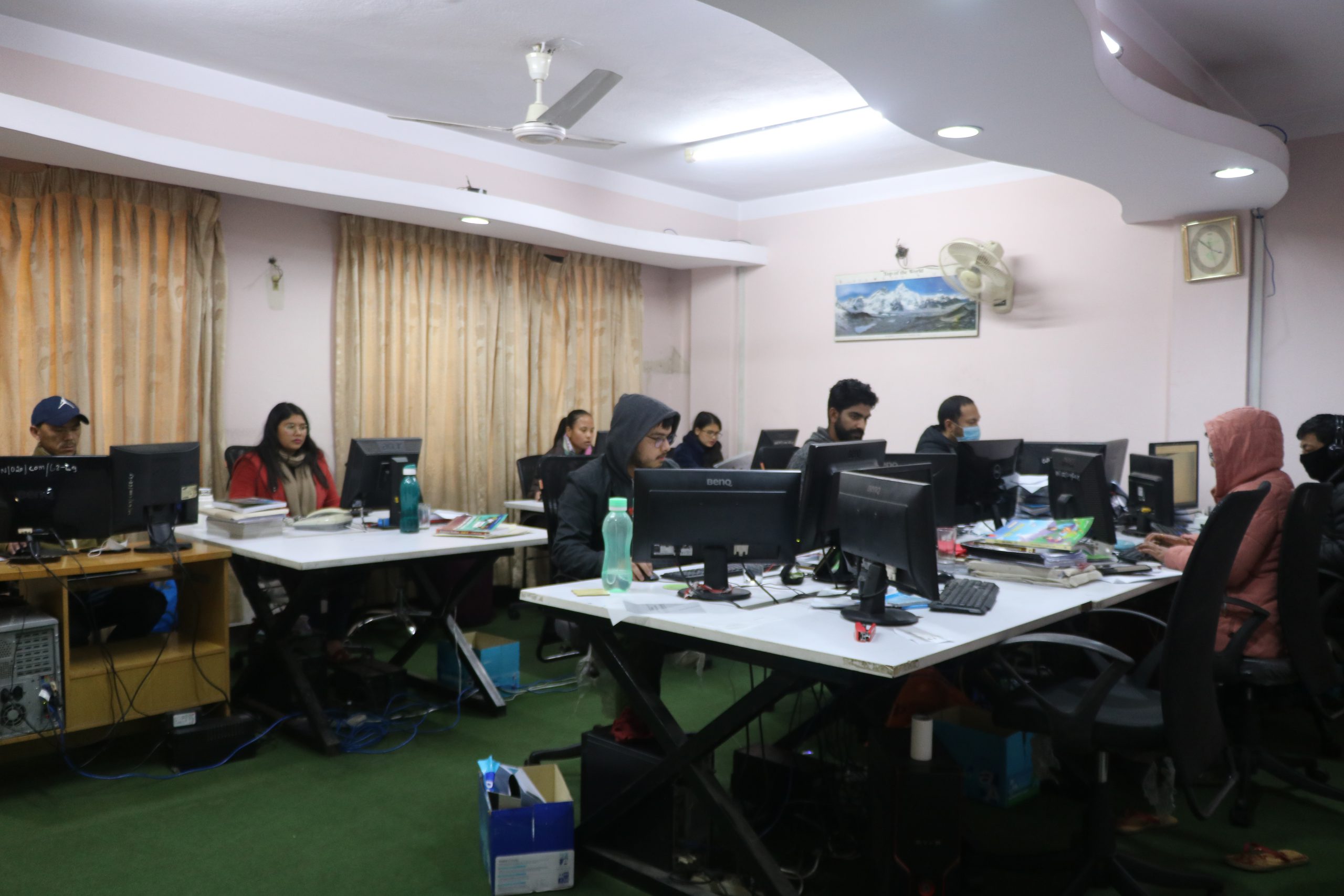 Currently, they have 40 full-time employees. However, they will be expanding their team to around 100 members this year. The team will need more than 20 members for each department to develop effective content, share both co-founders.
Corona impacts and coping up
Though the company had partnered with 18 schools for a paid subscription in the year 2018-19, they discontinued this package with the advent of the pandemic. "Due to the Coronavirus, the schools were not ready to invest in anything extra," says Joshi.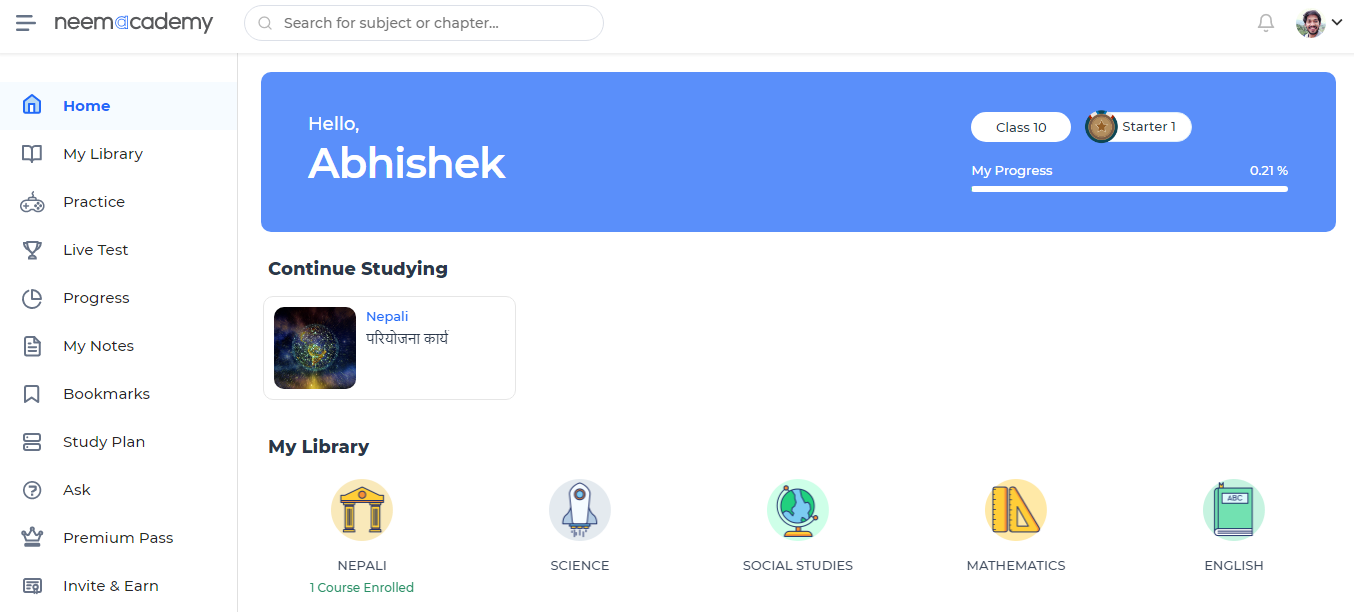 On the other hand, the lockdown had accelerated the pace of adoption of digital learning. The term e-learning and online class became quite popular among every household. This was when the duo decided to provide the content for free for some time. Meanwhile, they invested in research and development.
At the present, Neemacademy is working with 80-85 schools and are providing them with free access to courses and also live classes.
The company had made very little throughout the year and even now. "2020 was all about learning for us. Most importantly, we got to understand the education trend of different regions in Nepal in the initial two years," says Joshi.
Revenue model 
Neemacademy normally works on a subscription-based revenue model. The schools and students have an option to pay monthly, quarterly, six month or yearly basis.
"We are yet to decide the exact subscription fee. But we will keep it to a minimum which every kind of student can afford," says Joshi. The customers can pay through digital wallets. "We are also planning to keep agents who can collect cash for the fee," says Pradhan.
Similarly, Neemacademy will also charge a service fee to their external instructor for using the app as a platform for sharing knowledge and earning.
Working on education accessibility
Limited financial resources, lack of good teachers, and a challenging landscape have been the main reasons which are holding back the students in terms of quality education. Neemacademy aims to reach kids in rural areas through their digital tools.
"First two years were all about learning and researching about the education trend over Nepal," adds Joshi
"We went to around 300-400 schools in different districts of east and west. Also, we gave online and field training to around 1000 teachers." During the training, we found out that even the teachers, most of them very young, were not well-learned about the concept, says Joshi.
According to Joshi, the app is also very helpful to teachers as they can learn various concepts in the app and teach the children accordingly.
Neemacademy team has been making strategies to collaborate with NGOs, INGOs, and the government for reaching the schools of all levels in both urban and remote areas. In the present, they have tied up with Guthi Nepal and Nepal Rising, an NGO based in the US to provide content to few schools.
Pradhan shares that they are on the mission to reach all kinds of schools including government schools, community schools, mid-level boarding schools, and high-end schools all over the country. "We are working to standardize education. And for that education accessibility is crucial," says Pradhan.
Investment and growth   
CEO Nischal shares that this is an investment hungry project. "We need to invest enough now and then so that we can keep working on effective content and platform," he says.
Currently, their two well-established partner companies have been investing in research and development. "It will take 4-5 years for the Neema Education Foundation to reach breakeven," says Pradhan.
We don't have any plans to raise investments from other companies or raise funds, for now, the CEO shares.
As of now, the app has around 40,000 downloads in Play Store. "We already had reached 30,000 downloads in early 2020. But we updated the app in between and the Play Store doesn't show the earlier data," says Pradhan.
Challenges
No doubt, content development is a challenge in today's world. Be it the education sector or any other area, people have enough content options and less time. Pradhan shares that this is the biggest challenge for them as well.
"We need to make different kinds of videos for every chapter and this is time-consuming. It takes at least a week to complete each video," shares Pradhan.
Joshi adds to it that making engaging videos is another challenge. "We found in our field research that children don't get engaged in videos more than three minutes. So, we are trying to create short videos including all the information about the concept," she adds "This is extremely tough."
If used right, digital learning allows students to expand their knowledge horizon and encourage them to be a self-learner throughout life.
CEO Pradhan views that spreading awareness about digital learning is another challenge for them. "The public should understand the significance of digital tools in education, otherwise even developing top platforms for effective learning won't have any use."
The road ahead
"We need at least five years to show an effective visibility in the market," says Pradhan. He views that as the market is in its nascent stage, it will take years to adapt digital educational tools.
The co-founders view that 50 percent of the education system will be digitized in the next 10 years. "The preference of learning would be videos and other digital tools rather than books," says Pradhan.
The co-founders can see that Neemacademy will be playing a significant role in the Edutech sector in the next few years. "We won't say we will be the top player as there will be a lot of similar platforms. However, we believe that Neema Education Foundation will be such a platform through which every student in any part of Nepal can gain education through a digital medium."
"We are working to broaden the limitation of bookish knowledge and fill the gaps which traditional teaching can't fulfill," says Joshi.
Through the Neemacademy, the foundation envisions becoming a digital hub for learners.