Update: NADA Auto Show 2019: Everything You Should Know About the Biggest Auto Show in Nepal!
---
If you didn't know, NADA Auto Show is basically like the CAN Info-Tech of the automobile industry. For the past two decades, it continues to become the Biggest Automobile Exhibition in Nepal. The 14th edition of the annual event will bring forth the latest and greatest the auto industry has to offer. Like its predecessor, the event will feature new launches, a new offer, and so much more.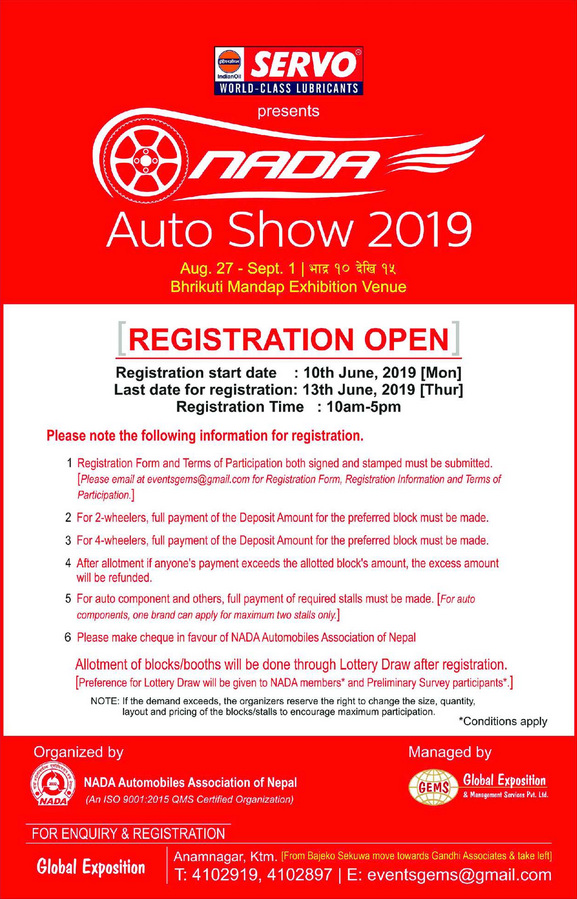 The expo is a joint venture by NADA and Global Exposition Management Services which will host almost all the popular brands in the auto industry.
NADA Auto Show 2019: When?
Anyways, on to the topic at hand, NADA Auto Show 2019 is set to kick off on August 27, 2019. The event will be held for an exclusive 6-days, until September 1, 2019. Furthermore, the registration process has already ended. Hence, the wheels are all underway!
Interestingly, the entire event is going to take place a month early. Last year, the event officially kicked off in mid-September.
NADA Auto Show 2019: Where?
As of this writing, the official event venue has been revealed. Although this should come as no surprise, the NADA Auto Show 2019 will be held at Bhrikutimandap Exhibition Hall, Kathmandu.
This shouldn't come as a big reveal as every large event held in Kathmandu, takes place there.
NADA Auto Show 2019: Tickets?
Again, ticket prices haven't yet been revealed. However, going by the previous events, it will more likely be Rs. 200 for Normal Tickets and Rs. 150 for Student Tickets.
Will TechLekh Organize NADA Auto Show 2019 Tickets Giveaway?
Well, I don't know. We might do it, or we might not. I'll tell you this though, we'll find out soon enough.
Last year, the event was immensely successful, grossing almost NRs. 5 Billion! With new brands coming in, this year the event is going to be much more extravagant and more likely to top the previous year.
That being said, TechLekh is going to extensively cover anything and everything from the NADA Auto Show 2019. So, stay tuned for that!