Kathmandu University Computer Club (KUCC) and Department of Computer Science and Engineering are set to organize "IT MEET 2016". The event is two days event that will kick start from this Friday, 29th April, 2016 at IT Park, Banepa.
KUCC has been organizing this event every year from 2006 with an aim to encourage interaction between students from various institutions of Nepal and youths from various walks of life.

The event is a platform that gives momentum to the ICT Campaign. KUCC envision to empower youths to promote their technical talent that will ultimately produce a technically reinforced society. KUCC advocates that the existing problems be solved using an innovative approach by bringing IT students and professionals together in a podium and share the solution to the general public.
Talking to Suman Shrestha, organizing member of KU IT MEET 2016 and member of KUCC said, "The main objective of the event is to educate people about current technologies and inspire them to innovate. This is a good platform where people can showcase their skills and work. It can be a place where youths can extend their knowledge about ongoing and new technologies. Moreover, this event is a push to accommodate growth of ICT in Nepal."
Here is a short and interesting video about the event, have a watch:
IT MEET 2016 will cover various program from a gaming competition to a hackathon. Here you go about these programs: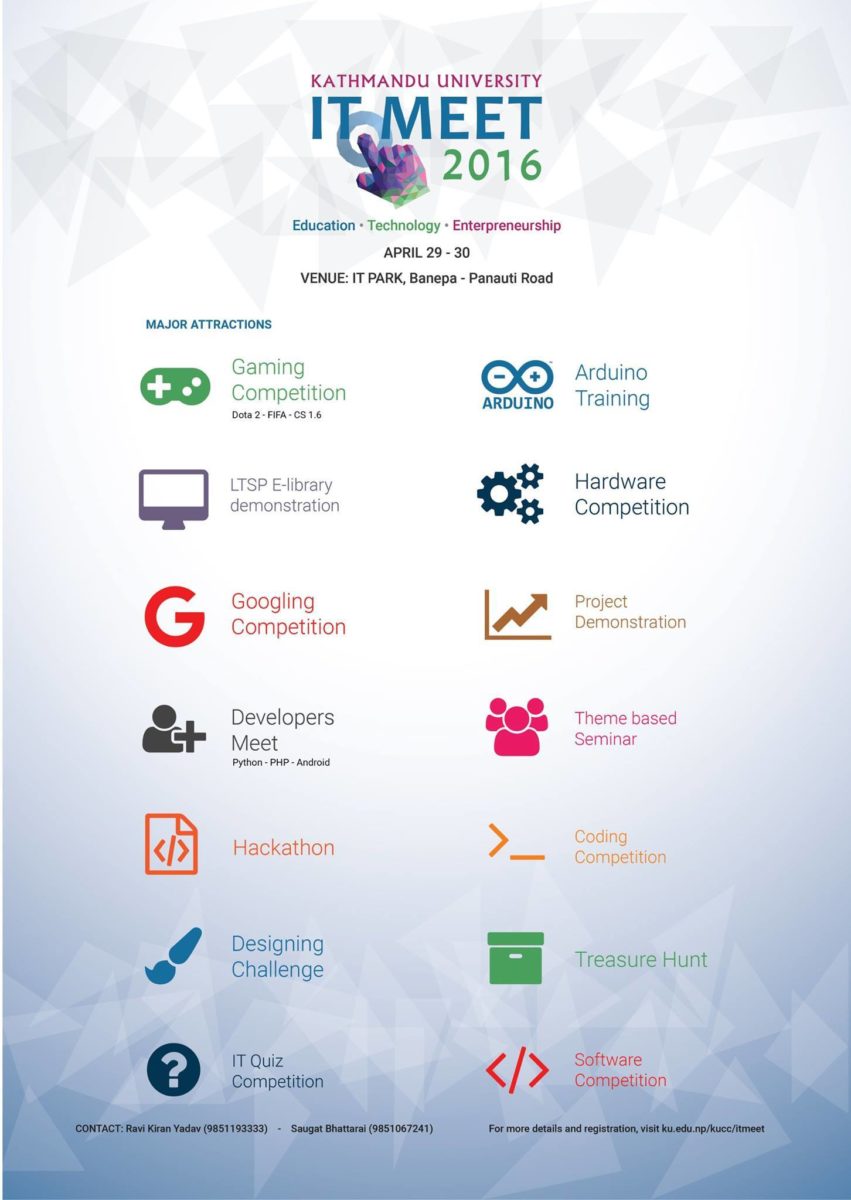 The entry fee to visit and see others exploring the things is free. But, if you are interested and want to be part of some of these programs then you'll require to sign up, even pay registration fees. You can find more details about these events on KU IT MEET 2016 website and on their Facebook Event as well.
Event Details
Entry: FREE
When: April 29-30, 2016
Where: IT Park, Banepa