After the announcement of Nepali version of famous reality show "Who wants to be a millionaire?", a mobile app was released on a short notice. To build even more hype among Nepali peers for the show, the app "KBC Nepal" was launched in February. It is now available for both Android and iOS devices.
KBC Nepal allows you to test your general knowledge and IQ with a built-in game that is a rip-off of the show. You also get ranked on the basis of how fast you solve a problem. So, if you want to test your IQ and instincts, this app is definitely for you.
KBC Nepal App Review
After it's release, we were intrigued to know what KBC Nepal had up its sleeves. So, we downloaded the app straight away and used it for a week. So without a further ado, let's get right into the app review of KBC Nepal.
Appearance and Layout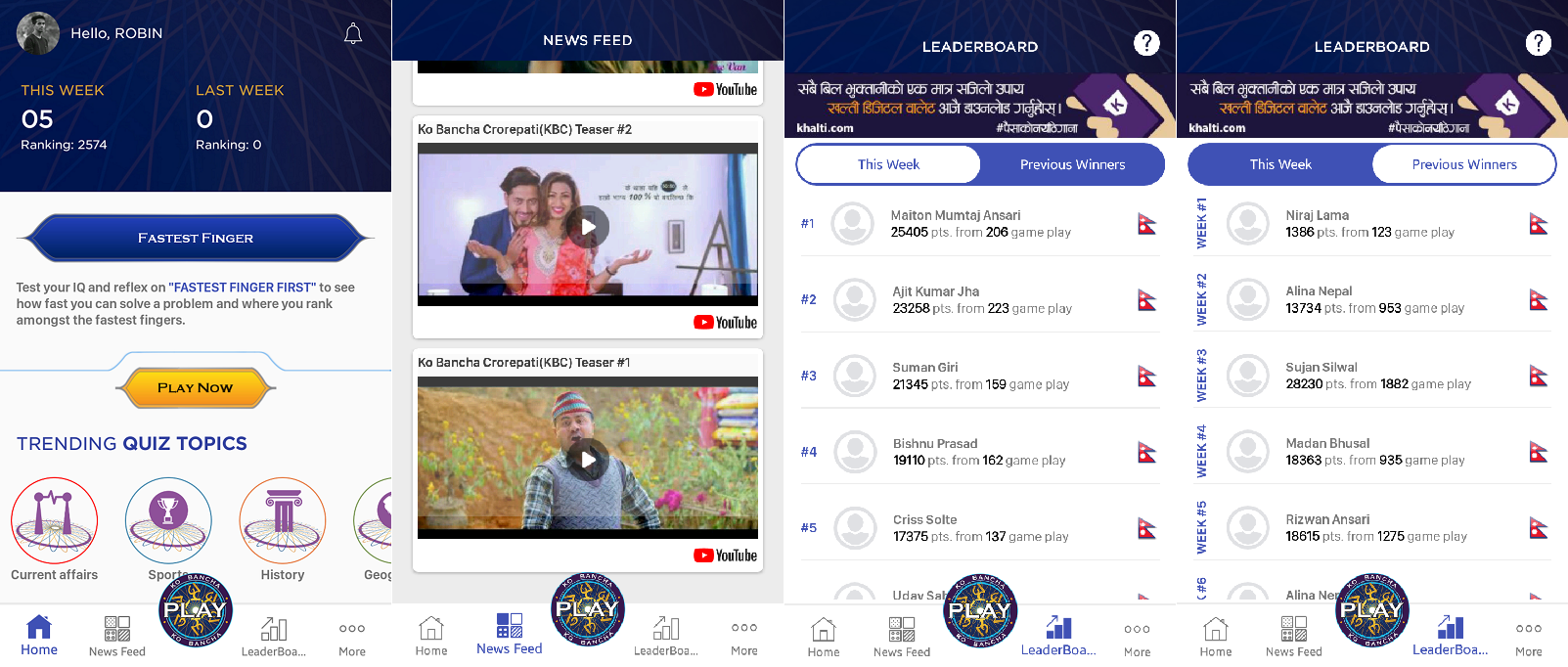 KBC Nepal has one of the most basic interface appearances we've seen — basic menu layout with home, news feed and leader-boards tab. First, you have to login as a user from either your Facebook or Google+ account. It could've been more better with additional options like adding friends and competing in quiz battle against them. However, since the app is still in development, it is considerable at this point.
The play button with the KBC logo is quite clever. Plus, you get a list of categories you can choose from a sliding menu which looks really decent. The blue, light purple and white colors blend well while viewing the news feed as well. The appearance that I found to be quite impressive was the Leaderboard section where you get to see the rankings of the week and previous winners.
The layout is also considerably good with an option to select trending quiz topics and the fastest finger game. The news feed section could be better with more content but on the bright side, it still has few YouTube videos.
Overall, the layout is easy to navigate through and self-explanatory, with pretty much-limited options to select from. I personally think that the one thing that the developers could do to improve this app would be to add more contents to the news feed. Also, they should add the in-adjustable font size to help the users see things better.
Features
KBC Nepal has quite neat features you want from a Quiz game. This app pertains to the TV show itself, such as the category of trending quiz topics for selection. You can either select from the list of categories that you are interested in or you can play the Ultimate Quiz itself which is a similar quiz to that of the show. There's also "FASTEST FINGER FIRST" for those who want to test their reflex while solving a problem. I found myself indulged in that part a lot.
The thing that drives me for playing a game religiously is the achievement I get from it. This is where their Leaderboard section comes in. You get ranked weekly among the thousands of players who play the game. These rankings help you improve more and compete for the weekly prize. Yes, you are also rewarded weekly if you rank first. Then again, you will have to start over which is a good thing actually. You have to stand out in the growing competition.
There are a few things that bugged me though — the questions get way too repetitive for a quiz game. I'm not sure if you have noticed but The Ultimate Quiz has all the same questions repeatedly asked in the same order. This is where the app needs improvement. If a game gets easy to beat, it gets boring. That's the bitter truth. Also, adding more features of competing against real-world players would be nice.
Overall, KBC Nepal has everything you want from the quiz game based on The TV show. You have "Phone a Friend", "50-50" and "Audience Poll" and you compete for the same goal of winning the sum of NRs. 1 crore, virtually at least. This app is building the hype for the show and is still in development. So, they can definitely add more features to it and update the news feed frequently after the show airs.
Final Verdict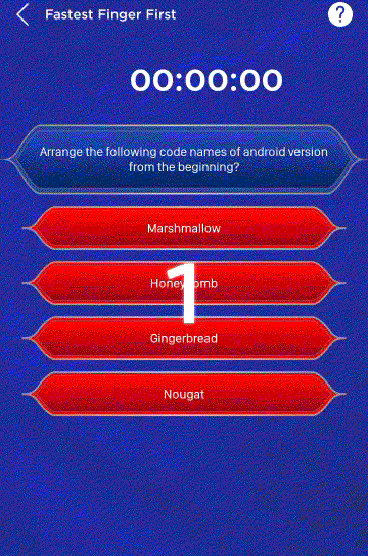 Keeping up the hype among the Nepali peers for the upcoming TV show, KBC Nepal has 10 thousand downloads on the Google Play Store and App Store as of now. After all, It's a good application that provides users with in-game experience of the show. However, the app is still buggy and frequently stops responding. After it gets fixed and the new features get added to it along with frequent news updates, this application has lots of potentials to grow.
Download the app from Google Play Store here.
Download the app from App Store here.
---
---