Jeep is an iconic American brand with its legacy rooted deep into adventure, sports, and luxury.
Jeep Compass is the perfect embodiment that combines every bit of that historic legacy. In a span of a few years, Compass has gone on to become one of the most popular premium SUVs in Nepal.
2021 Jeep Compass promises to continue that trend.
It comes with brand new changes and improvements, hoping to establish Compass as a true luxury SUV.
After spending some quality time with the Compass, I can confidently say that each new change was carefully planned and executed.
In this Jeep Compass full review article, we will share our experience with you.
Before doing so, let's talk pricing.
The 2021 Jeep Compass price in Nepal starts at Rs. 84.90 Lakhs to Rs.1.37 Crore. It is available across nine different variants and two engine configurations.
Now that the details are out of the way, let's get into the meaty aspects!
2021 Jeep Compass Specifications
Engine:

1.4L MultiAir Petrol Engine
2.0L Multijet Diesel Engine

Emission Standards: BS6
Displacement: 

1498 cc in Petrol
1956cc in Diesel

Dimension: 4405 x 1818 x 1640 mm
Wheelbase: 2636 mm
Max Power:

162 PS @ 5500 rpm in Petrol
170 PS @ 3750rpm in Diesel

Max Torque: 

250 Nm @ 2500 – 4000 rpm in Petrol
350 Nm @ 1750 – 2500 rpm in Diesel

Transmission:

6-Speed MT / 7-Speed DDCT in Petrol
6-Speed MT/ 9-Speed AT in Diesel

Drive Type:
Top Speed: 202 Kmph
Fuel Tank Capacity: 60 liters
Mileage: 16 Kmpl
Front Tyre: Disc

255/55 R17 in Sport, Longitude(O)
255/55 R18 in Limited (O), Model S

Rear Tyre: Disc

255/55 R17 in Sport, Longitude(O)
255/55 R18 in Limited (O), Model S

Tubeless Tyres: Yes
Safety System: ABS, EBD, EBA, ESP, HDA
Suspension Setup: MacPherson Strut and Multi-Link Suspension
Seating: 5-Seater
Storage Capacity: 438 liters
Ground Clearance: 178 mm
Kerb Weight: 1641 kg
Colors: White, Grey, Black, Red, Magnesio Grey, Green, and Blue
2021 Jeep Compass Price in Nepal: Rs. 84,90,000 – Rs. 1,36,90,000
2021 Jeep Compass Review
Improved Design
2021 Jeep Compass brings in the same styling that made it popular in the Nepali market. However, it gets a considerable refresh on both interior and exterior.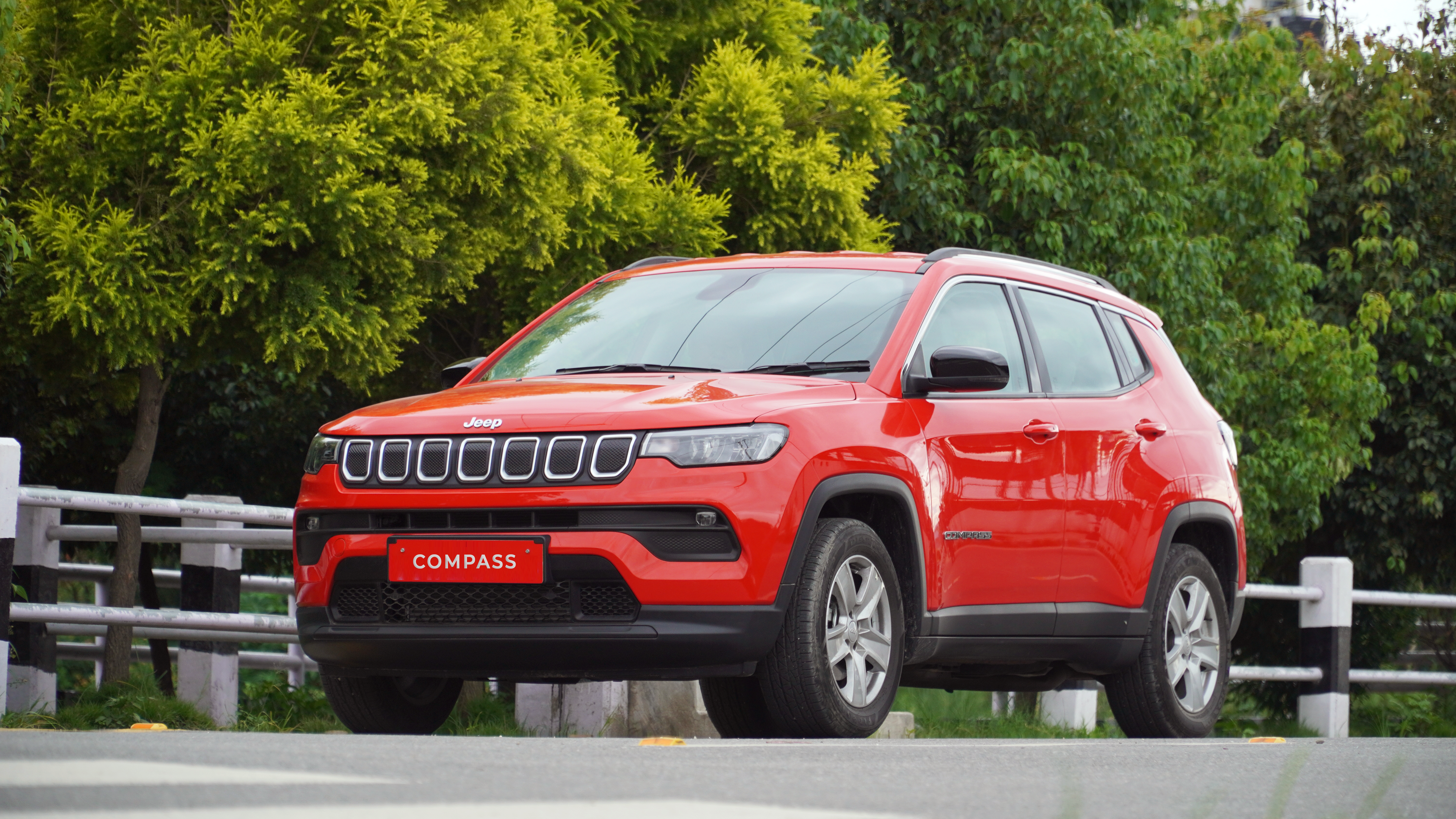 These changes might not seem that big. However, it is quite enough to boost the overall muscular profile of the SUV.
Compared to the last-gen model, the 2021 model feels bolder, well-toned, and distinctive.
Surprisingly, the Jeep Compass was able to achieve that by changing a few elements here and there.
Exterior Changes
Let's start with the front section.
Compass comes with an all-new LED Headlamp right along with distinctive LED DRLs.
More importantly, the placement of DRL has been changed. It has been shifted from the lower position to a higher position.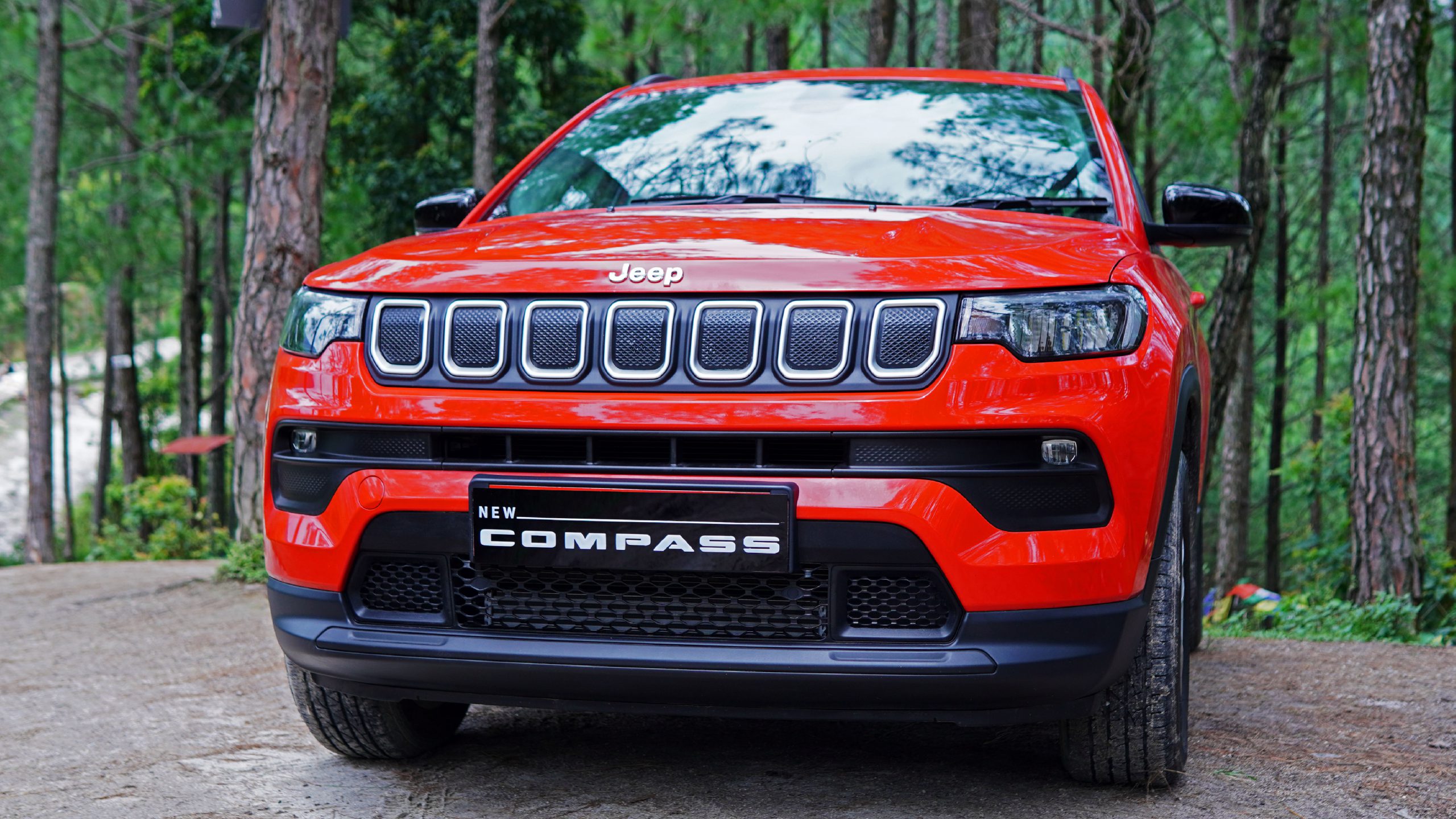 Furthermore, the overall LED Headlamp gets a slimmer profile. It sports newer LED reflector headlights for better nighttime visibility.
Compass also features projector headlamps on the top variant.
The iconic Jeep grille boasts a familiar styling, but with a slight redesign. It comes with either a Silver Satin-Finish or Grey Satin-Finish (depending on the variant).
The grille acts as a decorative piece rather than a functional one.
Instead, the air damp has been moved to the bumper whereas the fog lamps have been shifted upwards. It helps elevate the muscular stance of the vehicle.
Other Exterior Elements
There are minimal stylish lines on the side. It allows for contemporary styling without overdoing it.
Like all the premium SUVs, the side profile gets an attractive chrome-line wrapping around the SUV.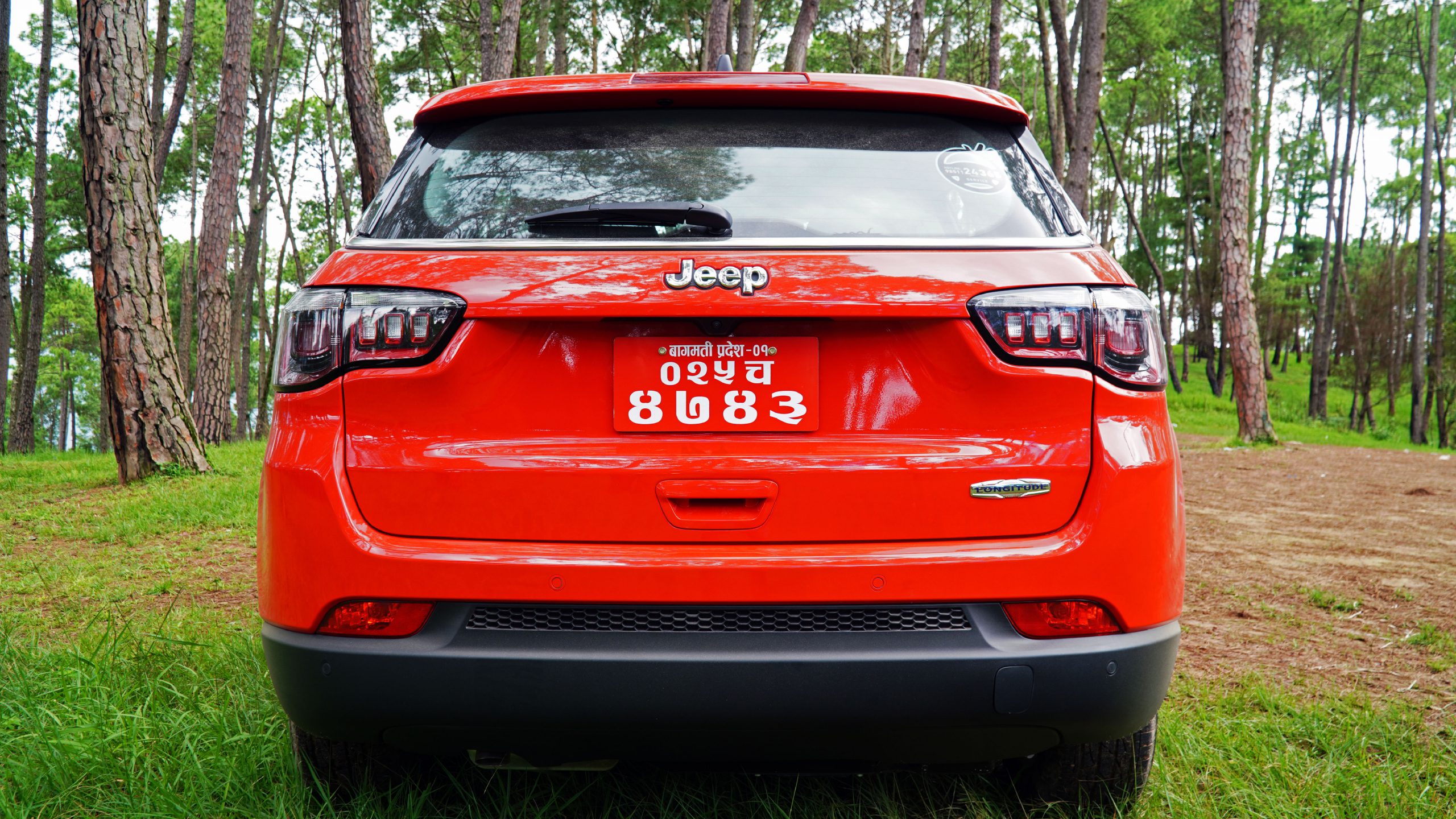 The rear profile is made attractive by a rear integrated spoiler. Talking about the rear LED lamp, the overall profile has been slightly changed.
In contrast to the front section, the rest of the exterior remains largely the same.
Interior Changes
Moving to the interior, the styling gets a major design overhaul.
The previous generation Compass featured a more rugged interior. Even though it was feature-packed, it did not live up to the mood set by its exterior.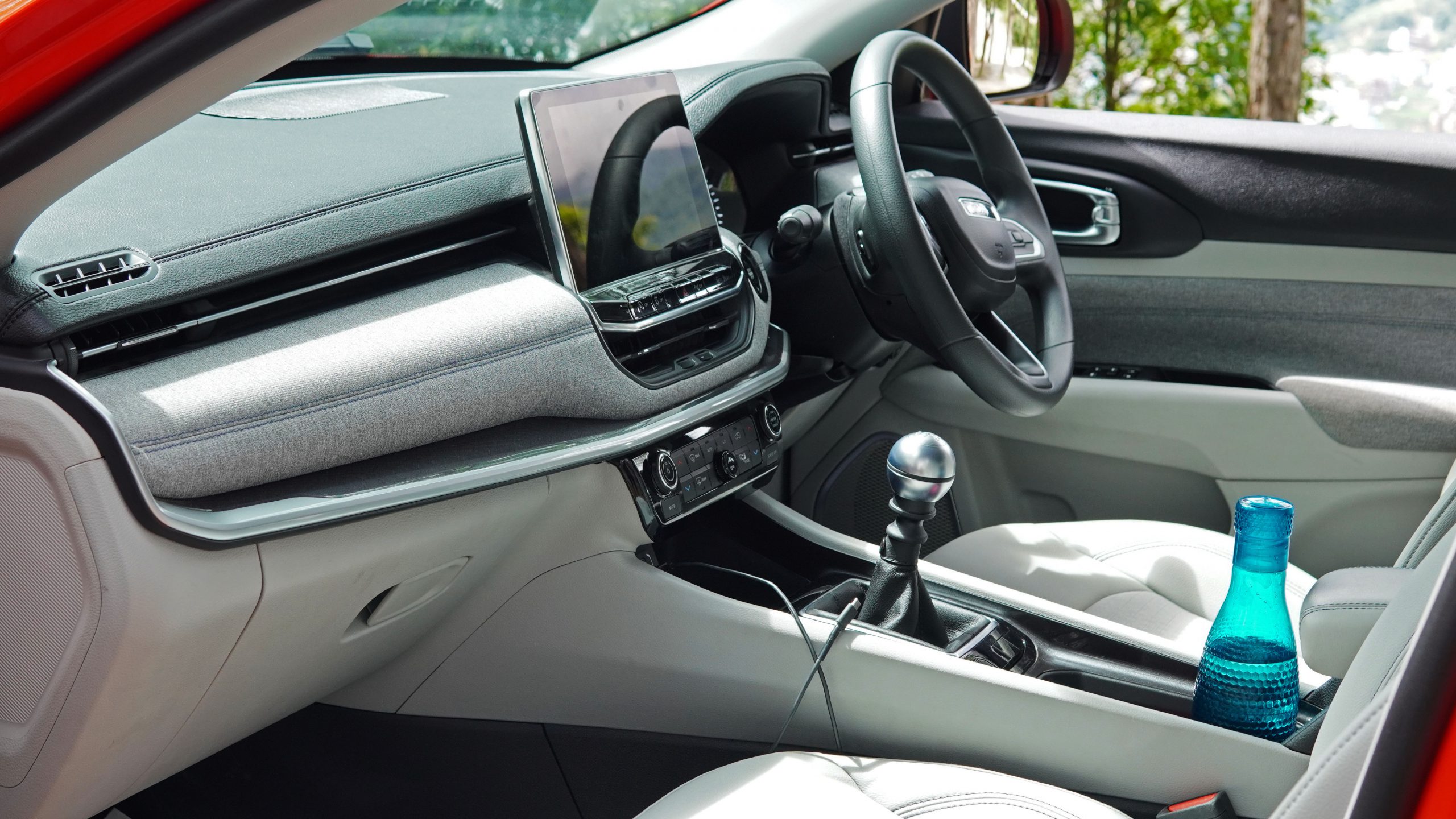 The old interior had a "rounded" feel to it, even when the exterior was more edged out.
Fortunately, the new Compass interior gets a premium makeover. It comes with a new Infotainment System, new Steering Wheel, improved Dashboard, and more stitched elements.
It focuses on comfort and luxury with new and improved elements.
Furthermore, it manages to include Ventilated Seats, Leather Wrapped Materials, a 360-degree Camera, and a fair bit of chrome finish.
These are all the features that were absent in the past model.
It moves away from the rugged feel to a more elegant feel.. at least on the interiors.
Without a doubt, these changes are quite enough to bolster the premium feel to the next level.
2021 Jeep Compass Design Highlights
Redesigned Front Grille
Improved LED Headlamps with LED DRLs
Slightly Redesign LED Taillamp
New Bumper with Faux Skid Plate
New Alloy Wheel Design
Redesigned Dashboard with New AC Vents
Dual-Tone Interiors with Chrome Finish
Leather Seats (available in Higher Variants)
Leather Wrapped Steering Wheel (available in Higher Variants)
2021 Jeep Compass comes in two engine configurations: 1.4L Turbo Petrol and 2.0L Diesel.
Talking about the 1.4L Turbo Petrol engine, it can generate a max power of 160.77bhp at 5500rpm and a max torque of 250 Nm at 2500-4000rpm. Moreover, it is mated to a 6-speed manual transmission.
Moving on to the 2.0L Diesel engine, it can generate a max power of 167.67bhp at 3750rpm and a max torque of 350 Nm at 1750-2500rpm. Furthermore, it is available in nine-speed automatic or seven-speed dual-clutch transmission.
The petrol engine will be available with FWD configuration whereas the Diesel engine will be available in both FWD and 4WD configuration.
Interestingly, there is no change in performance. It generates the same powertrain figures and the same performance feel.
S-Class Features
There is a perk of being a premium SUV. It gets all the necessary features, comfort-focused features, and then some more.
The same is true for the 2021 Jeep Compass.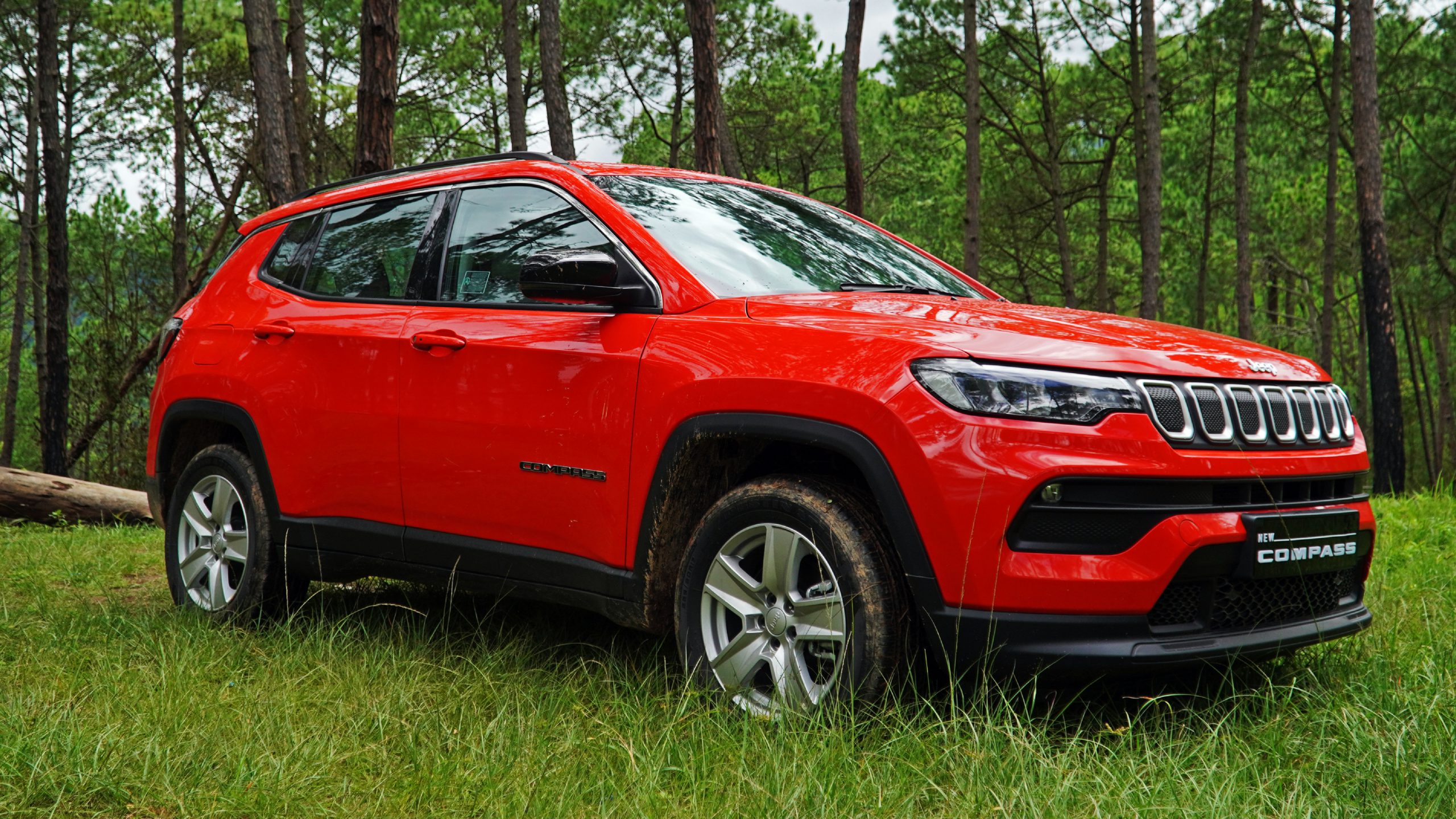 We have talked about some of these features in the above Design section. However, we should mention notable features.
New Dashboard and New Infotainment System
Jeep Compass packs in an all-new Dashboard. It is made with high-quality material with a good mix of hard and soft plastic.
It gets a stitching finish to elevate the cabin feel.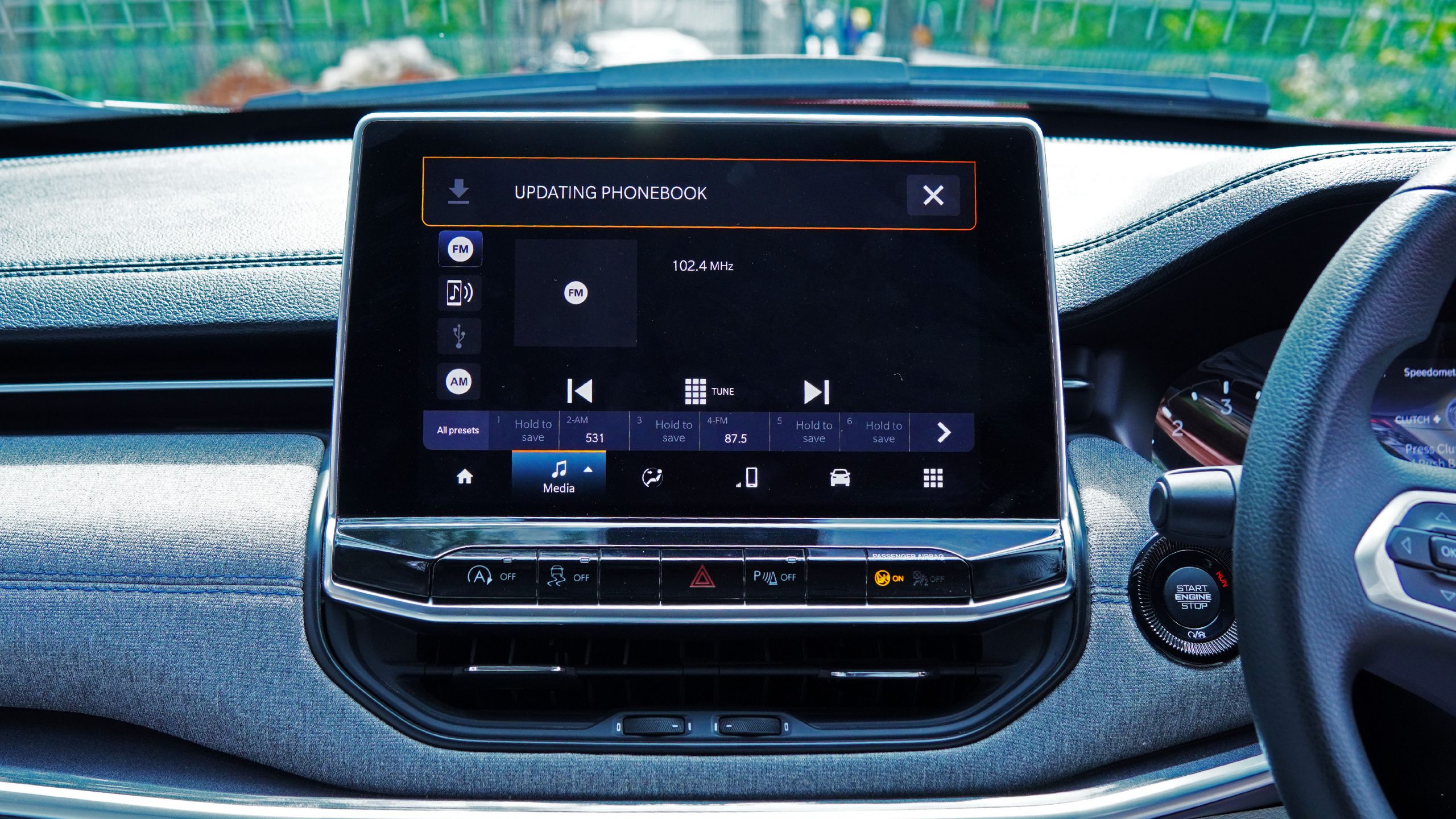 Compass comes with a large floating 10.1-inch Touchscreen Infotainment System with UConnect 5 system. It includes Apple Car Play and Android Auto as standard.
It is the main highlight feature in the new Compass.
The user interface is kept simple. Moreover, it is user-friendly and responsive to toggle through different settings. Plus, there is a dedicated AC control panel for convenience.
As expected, the fit and finishing are solid.
Spacious and Comfortable Cabin
Premium SUVs are known for providing top-tier comfort for all passengers. If it isn't comfortable, it isn't luxury.
Fortunately, the Jeep Compass shines through with a good balance between comfort and luxury. It comes with comfortable seats, perfect for a long-distance drive.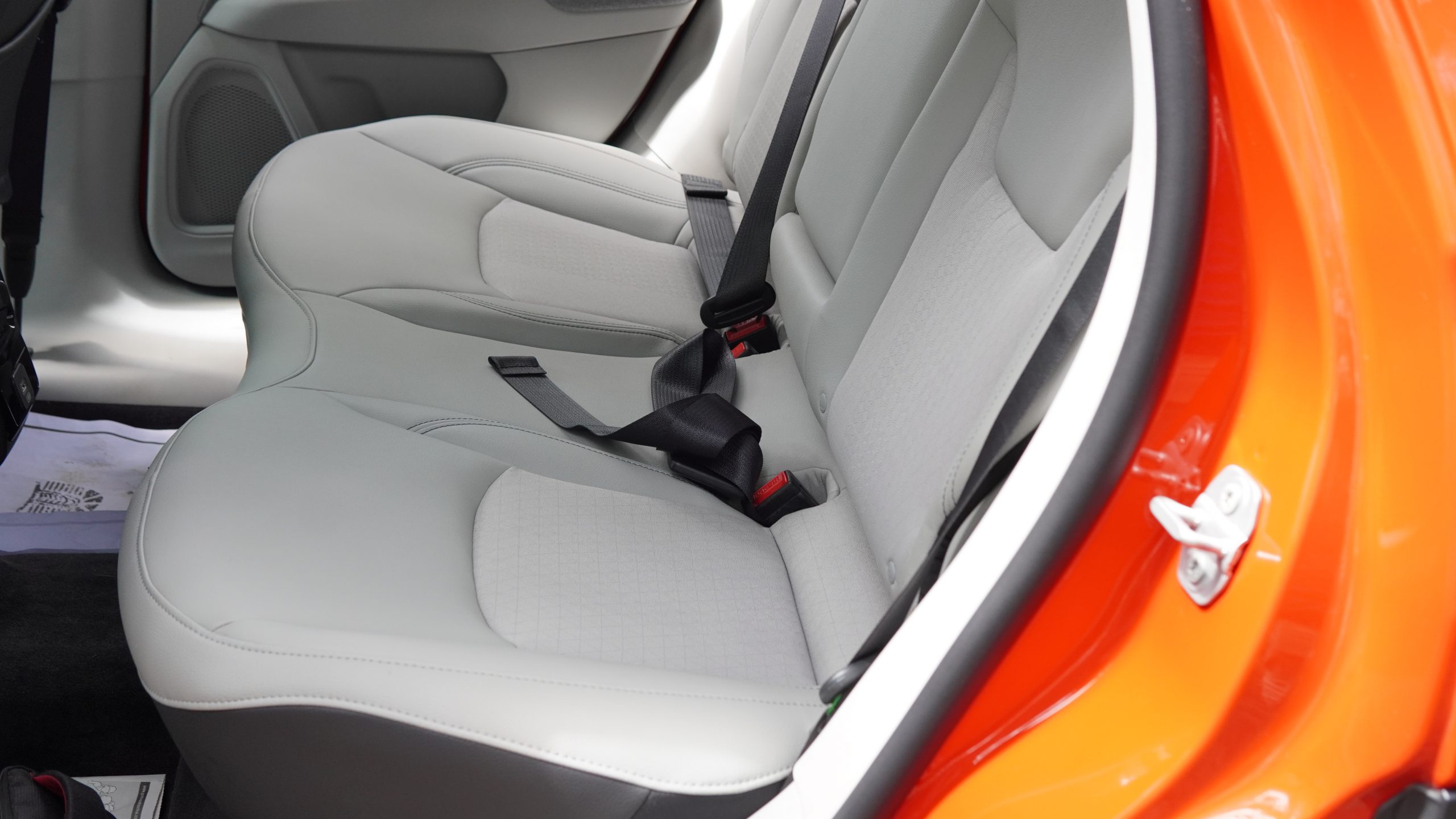 It gets a spacious cabin space with enough legroom and headroom. Moreover, there are convenient storage pockets are spreadtheir everywhere.
Plus, the top variant now comes with Ventilated Leather Seats, 8-Way Adjustable Seats, and Dual-Pane Panoramic Sunroof!
Practical Stuff
Along with the upmarket cabin feel, the Jeep Compass includes practical features. These are convenient features to improve quality of life.
Jeep Compass comes with an electronic parking switch, steering-mounted controls, driver-side multiple windows control, a dedicated headlamp switch, a wireless charger, and more.
The center panel sports an attractive arm-rest with convenient cup holders.
Compass has managed to put rear AC vents for rear passengers. Moreover, the rear passengers also get a pull-out arm-rest with cup-holders.
Off-Road Ready
Jeep Compass is touted as a mix of luxury, comfort, and adventure.
So far, we have explored the luxury and comfort section. Then, what about adventure?
Compass comes equipped with 4×4 capability in the Diesel – Automatic option with Multiple Terrain Modes. It will allow Jeep to explore adventurous terrains without any hiccups.
ABS, EBD, BA, ESC, and Traction Control are performance-assist features included as standard.
2021 Jeep Compass Feature Highlights
10.1-inch Touchscreen Infotainment System with UConnect 5
Dual-Zone AC
Premium Dual-Tone Interiors
Redesigned Center Console with Cup Holders
ABS + EBD
ESP + Traction Control
Hill Assist Controls
Cruise Control (AT Only)
Customizable Driver Information Meter (available in Higher Variants)
Six Airbags (available in Higher Variants)
Ventilated Seats (available in Higher Variants)
Wireless Charger (available in Higher Variants)
8-Way Driver Seat Control (available in Higher Variants)
360-Degree Camera (available in Higher Variants)
Multiple Terrain Modes (4×4 Only)
My Experience
On-Road Performance
After talking about ins and outs of the Jeep Compass, let's talk about its on-road experience.
We tested out the 2.0L Diesel Engine with 6-Speed Manual Transmission.
Unsurprisingly, the Jeep Compass pulls through with flying colors. It exhibits unrivaled performance with a strong on-road presence.
It handles perfectly well in almost all city-riding conditions.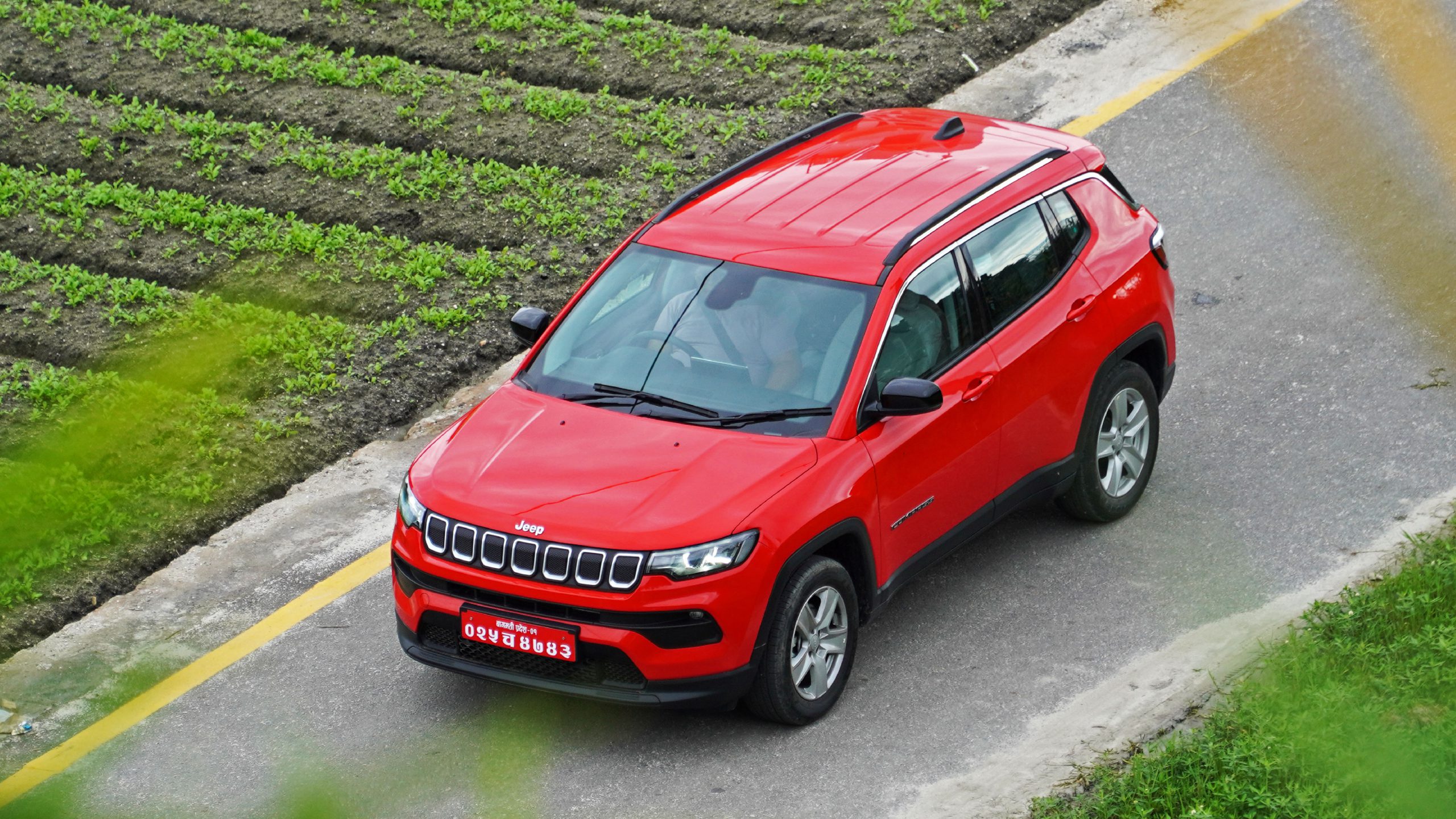 While the engine lags at the lower down, it makes up for it at the mid-range and top-end. The engine performance feels more refined at that point, creating a harmonious mixture between the power and torque.
Interestingly, the cabin blocks the engine sound pretty well.
Braking, Cornering, and Suspension experience remains unchanged. These are well-calibrated to maintain comfort level even at higher speeds.
Jeep Compass feels like a perfect build for long-drive or cross-district traveling, even though, 12 Kmpl mileage says otherwise.
Major Highlights
Jeep Compass supports adventure off-roading. It is perfectly capable of taking on the terrains with an uncompromised level of confidence.
Unfortunately, our test unit did not have 4×4 capabilities. So, we were limited to minor off-roading experiences.
Interestingly, the Jeep Compass managed to surpass every bit of challenge we threw at it.

Rough Terrains? Check. Road Bumps? Check. Uncomfortable Hill Ascent and Descent? Check.
It should be noted that we did all of that with Front-Wheel-Drive.
Imagine how the Jeep Compass would perform if it had 4×4 along with its multi-terrain modes.
Variant Difference
Let's keep things simple, there are 4 Trims available for the 2021 Jeep Compass: Sport, Longitude, Limited, and Model S.
This is a simple TDLR.
Sport: Sport is the entry-level Jeep Compass variant. It comes with standard features without breaking the bank.
Longitude: Longitude is the mid-level Jeep Compass variant. It comes with standard features along with a few more goodies.
Limited: Limited is the upper-level Jeep Compass variant. It features visual cues from the Longitude and Model S with more premium options.
Model S: Model S is the top-level Jeep Compass variant. It is the best of Compass, featuring premium options, luxurious style, and 4×4 capabilities.
Here is the full list of variants and its pricing.
| 2021 Jeep Compass | Variant | Price in Nepal |
| --- | --- | --- |
| 2021 Jeep Compass | Sport MT Petrol | Rs. 8490000 |
| 2021 Jeep Compass | Longitude (O) DDCT AT Petrol | Rs. 9990000 |
| 2021 Jeep Compass | Limited (O) DDCT AT Petrol | Rs. 11190000 |
| 2021 Jeep Compass | Longitude (O) MT Diesel | Rs. 9990000 |
| 2021 Jeep Compass | Limited (O) MT Diesel | Rs. 10990000 |
| 2021 Jeep Compass | Limited (O) AT 4WD Diesel | Rs. 12790000 |
| 2021 Jeep Compass | Model S MT Diesel | Rs. 11890000 |
| 2021 Jeep Compass | Model S AT 4WD | Rs. 13690000 |
| 2021 Jeep Compass | Trailhawk AT 4WD | Rs. 12880000 |
Shortcomings
While recollecting my experience with the 2021 Jeep Compass, I have mostly enjoyed my experience.
Honestly, it was collectively a fun experience.
It has the looks, performance, and features. However, all that comes at a price.
Because of the new changes, the Jeep Compass has gone through a price increase. Meaning that more people will be less likely to opt-in for the top-variant model.
It is a slight disappointment since the top variant includes most of the new changes and premium features.
Competition
Jeep Compass competes against Tata Harrier, Hyundai Tucson, and Skoda Karoq.
Unlike the competition, the Jeep Compass is the only SUV in this segment to offer a 2.0-liter Diesel Engine.
Furthermore, Compass also allows you to choose from 4×4 options if necessary.
Taking that into consideration, Jeep Compass 2021 sits at a higher ground than the competition.
Also Read: Foton Tunland E Review: Perfectly Balanced!
Conclusion
2021 Jeep Compass brings in new changes, in turn boosting its premium appeal in the premium SUV segment.
While the previous Compass was already popular, the 2021 Compass will be sure to take it to newer heights.
The price increase might deter some from experiencing the top-variant.
Nonetheless, other available variants are perfectly well-equipped with all the necessary features to handle the unforgiving Nepali streets with relative ease.