Pros
Sportier and Iconic Styling
Refined HET Engine
Good Fuel Economy
Softer Suspension Setup
Good Braking Feedback
Cons
Poor Headlamp Visibility
Smaller 10-inch Tyres
Lacks Noteworthy Features
Needs Improvement in Low-end and Top-end Performance
This is a detailed review of the iconic Honda Dio 110.
Honda Dio has always been a go-to choice for a reliable, affordable, and good scooter.
Despite the drastic changes in the scooter segment today, the Honda Dio continues to be one of the most popular scooters in Nepal.
It is the market leader in the 110cc segment.
Syakar Trading, the authorized distributor of Honda scooters in Nepal, continues to offer the Honda Dio at a more aggressive price than the rest, especially with the price tag of Rs. 2.18 Lakhs to Rs. 2.28 Lakhs for 2023.
This piqued our curiosity.
Despite the lack of segment-leading features or anything else, it continues to maintain a hallmark as a good scooter.
In our quest to find those answers, we have the all-new Honda Dio DLX in for review.
Honda Dio Key Specifications
Engine Type: Single-Cylinder, 4-Stroke, SI Engine
Emission Standards: BS4
Displacement: 109.19cc
Cooling System: Air-Cooled & Fan-Cooled
Starting Mechanism: Electric Starter & Kick Starter
Max Power: 8.00 PS @ 7000 rpm
Max Torque: 8.77 Nm @ 5500 rpm
Top Speed: 83 Kmph
Fuel Tank Capacity: 5.3 liters
Mileage: 55 kmpl
Front Tyre: 90/100-10 – Drum
Rear Tyre: 90/100-10 – Drum
Tubeless Tyres: Yes
Braking System: Combi Braking System (CBS)
Suspension Setup: Spring Loaded Hydraulic
Seat Height: 765 mm
Ground Clearance: 158 mm
Under Seat Storage Capacity: 18 liters
Kerb Weight: 105 Kg
Colors: Black, Green, Yellow, Grey
Honda Dio Price in Nepal: Rs. 2,18,900 – Rs. 2,28,900
Honda Dio DLX Review
Iconic Styling
The Honda Dio design has continued to evolve since its first introduction in 2011.
Interestingly enough, these design changes aren't as drastic as they used to be. It is the final BS4 iteration before it comes with a design overhaul in BS6.
Nevertheless, the Honda Dio still looks sportier, modern, and stylish.
The front section comes with a sculpted apron. It gets an apron-integrated LED headlamp with halogen side indicators.
Interestingly, there is a V-shaped LED DRL mounted on the handlebar.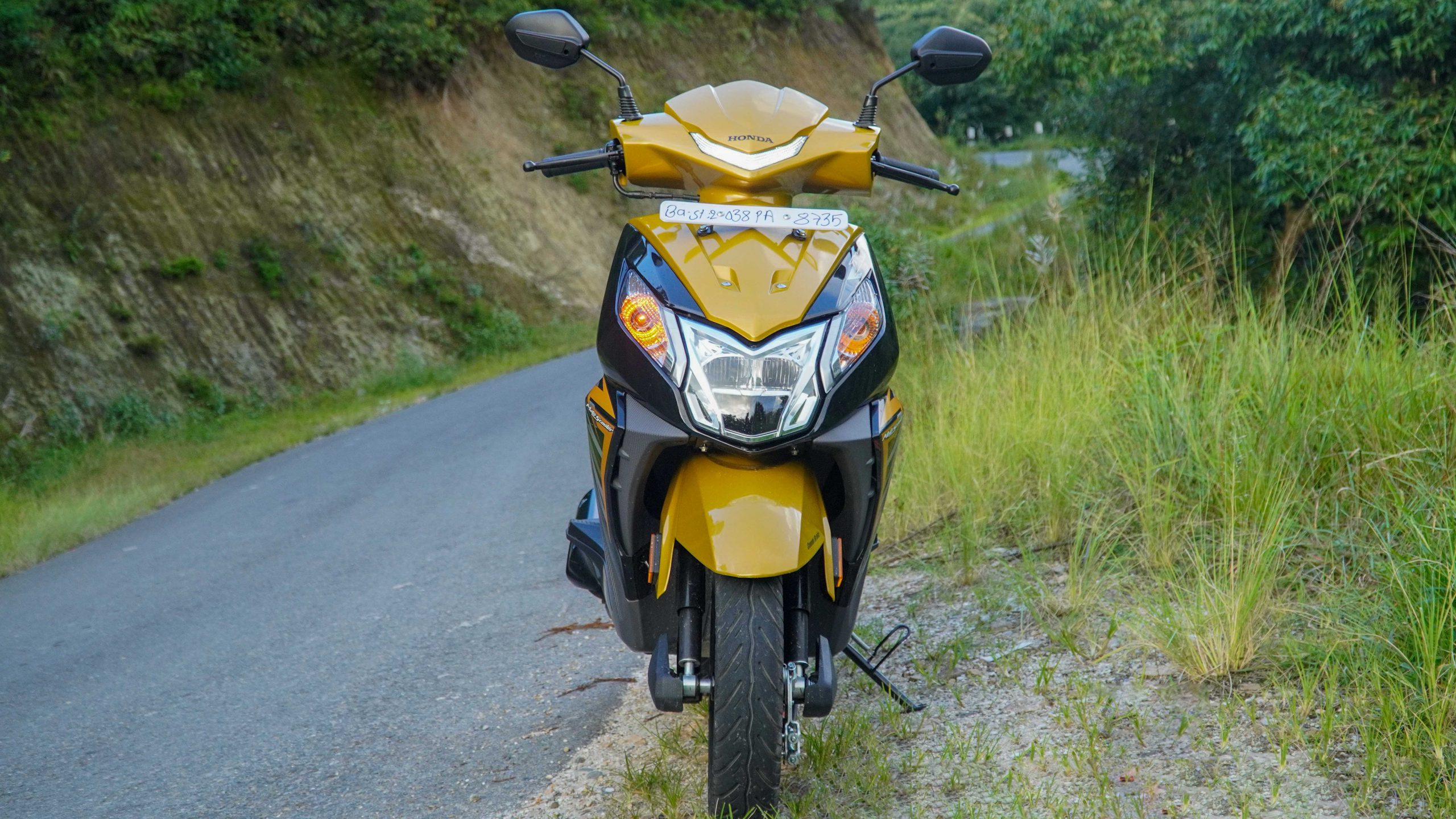 Similar styling can be noticed on the side profile as well. Dio includes a front and rear hook for increased practicality.
Moreover, the 'DX' stickering easily signifies that this is the Deluxe variant.
It gets a mix of sporty yet commuter-friendly designs. It includes elements like a Two-Level Seat, Single-Piece Handlebar, and Dual Tone Colors.
The seat includes a Perforated finish for an increased premium feel. Furthermore, the seats are spacious and comfortable enough for both riders and passengers.
Similarly, the rear section has the most beautiful tail lamp with a crystal finish.
All in all, these stylistic choices help Honda Dio preserve its ever-green styling. Despite its age, the Honda Dio continues to be modern and stylish.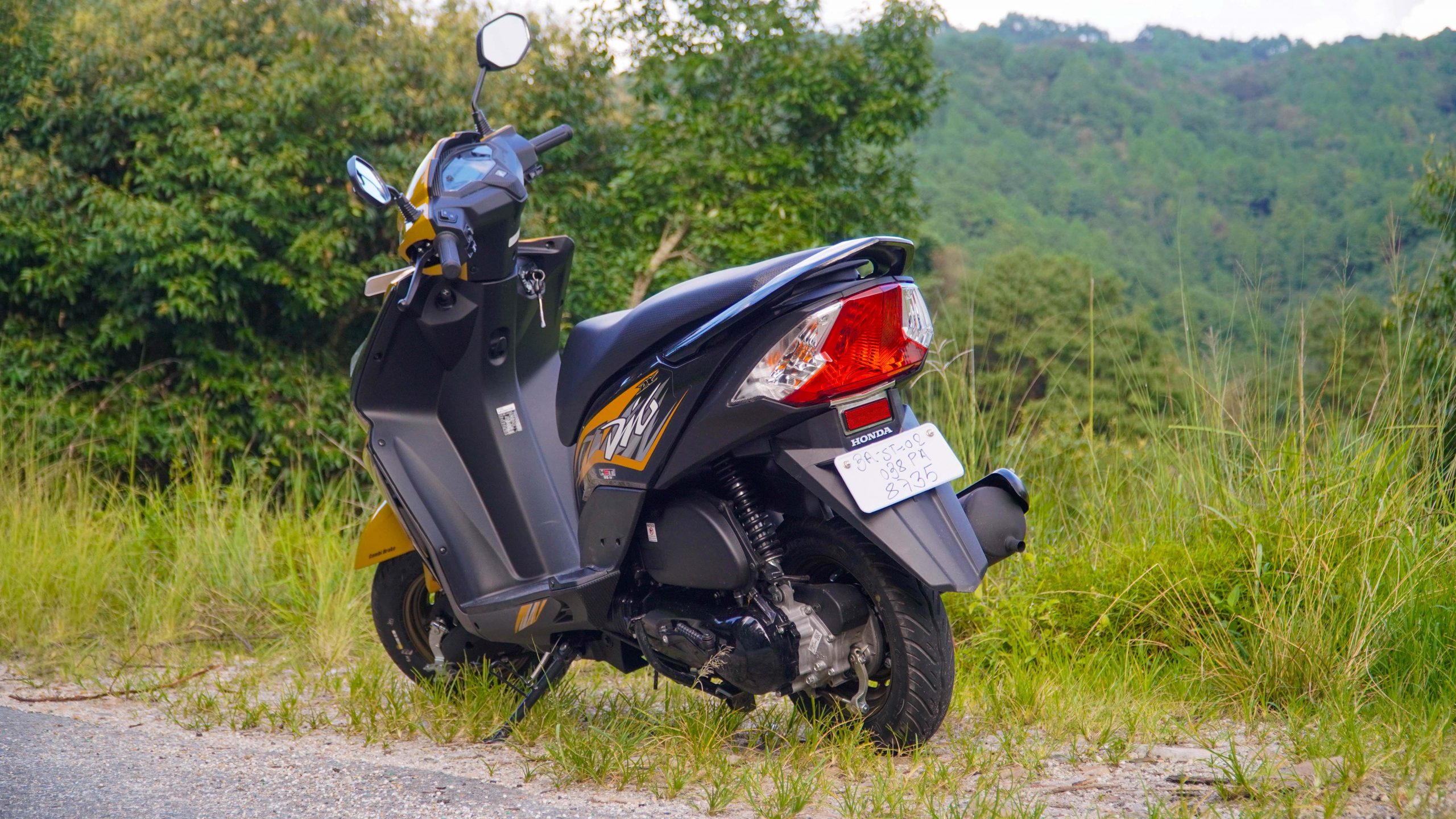 Additionally, Honda Dio comes in four different colors: Yellow, Green, Gray, and Black.
DLX Exclusives
Honda Dio comes in two different variants: Standard (STD) and Deluxe (DLX).
Both variants share the same engine, same styling, and same feature set.
However, three elements differentiate between the Dio STD and Dio DLX.
Honda Dio DLX gets a Digital Instrument Meter, Gold-Colored Rim, and DLX sticker badging. In contrast, the Honda Dio STD gets an Analog Meter and Black Rims.
There is about Rs. 10,000 difference between the two.
Riders can go for their preference, as the price difference is almost negligible.
Performance
Honda Dio is powered by a 109.19cc, Single-cylinder, Air-cooled, SI engine. It can generate a max power of 8.00PS at 7000rpm and a max torque of 8.77 Nm at 5500rpm.
Moreover, it is also mated to a V-Matic transmission with a fuel tank capacity of 5.3-liter.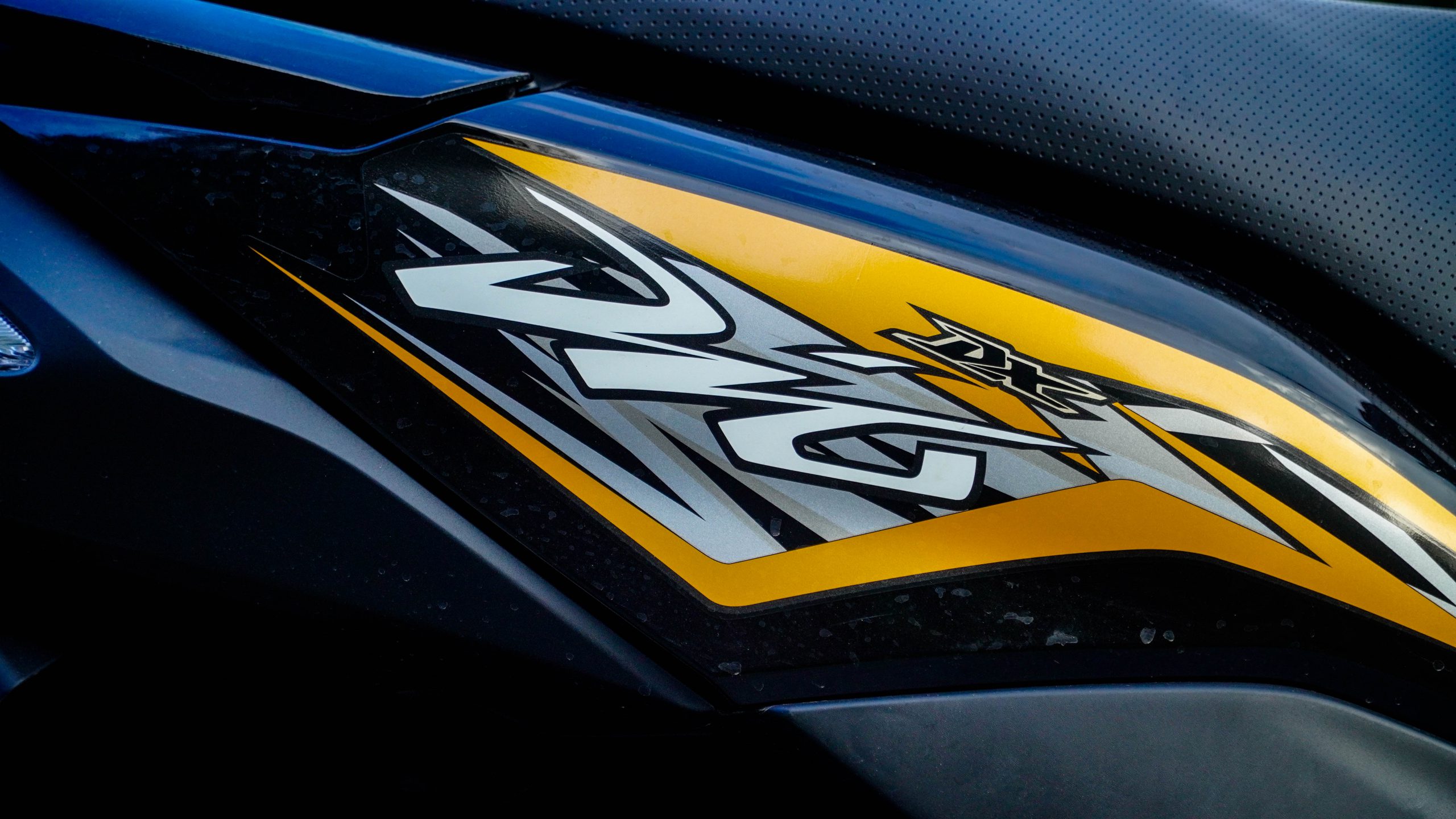 This is a BS4-compliant Carburetor engine.
However, it includes Honda Eco Technology (HET) engine for smoother performance and uncompromised mileage.
It is the tried and tested engine. So, Honda hasn't changed the engine much. Nevertheless, the engine's smoothness makes the overall experience a lot better.
Practical Features
Honda scooters are always practical. Fortunately enough, the Honda Dio continues that trend being practical with its interesting list of features.
Braking Performance
Honda Dio gets a 130mm Dual-Drum configuration with Combined Braking System (CBS).
Unfortunately, there is no Disc option.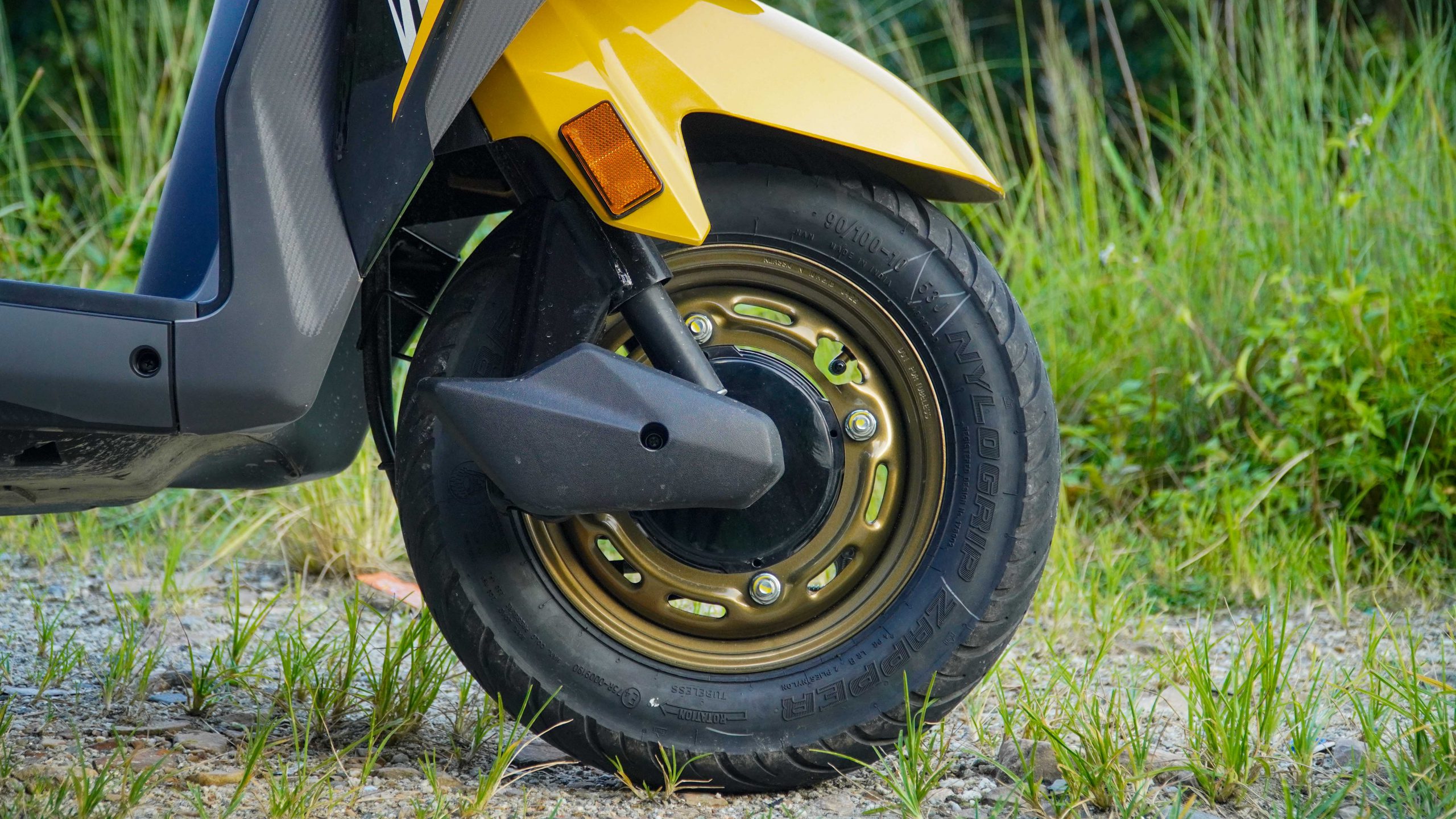 However, the drum brakes have good stopping power. While it isn't up to the Disc-Drum configuration, the Dual Drums do not disappoint and inspire confidence.
The braking system is beginner-friendly compared to a Disc-Drum configuration.
Tyres
Like the braking system, the front and rear tyres are also the same. Both are 90/100-section 10-inch tyres.
These are thinner and smaller tyres.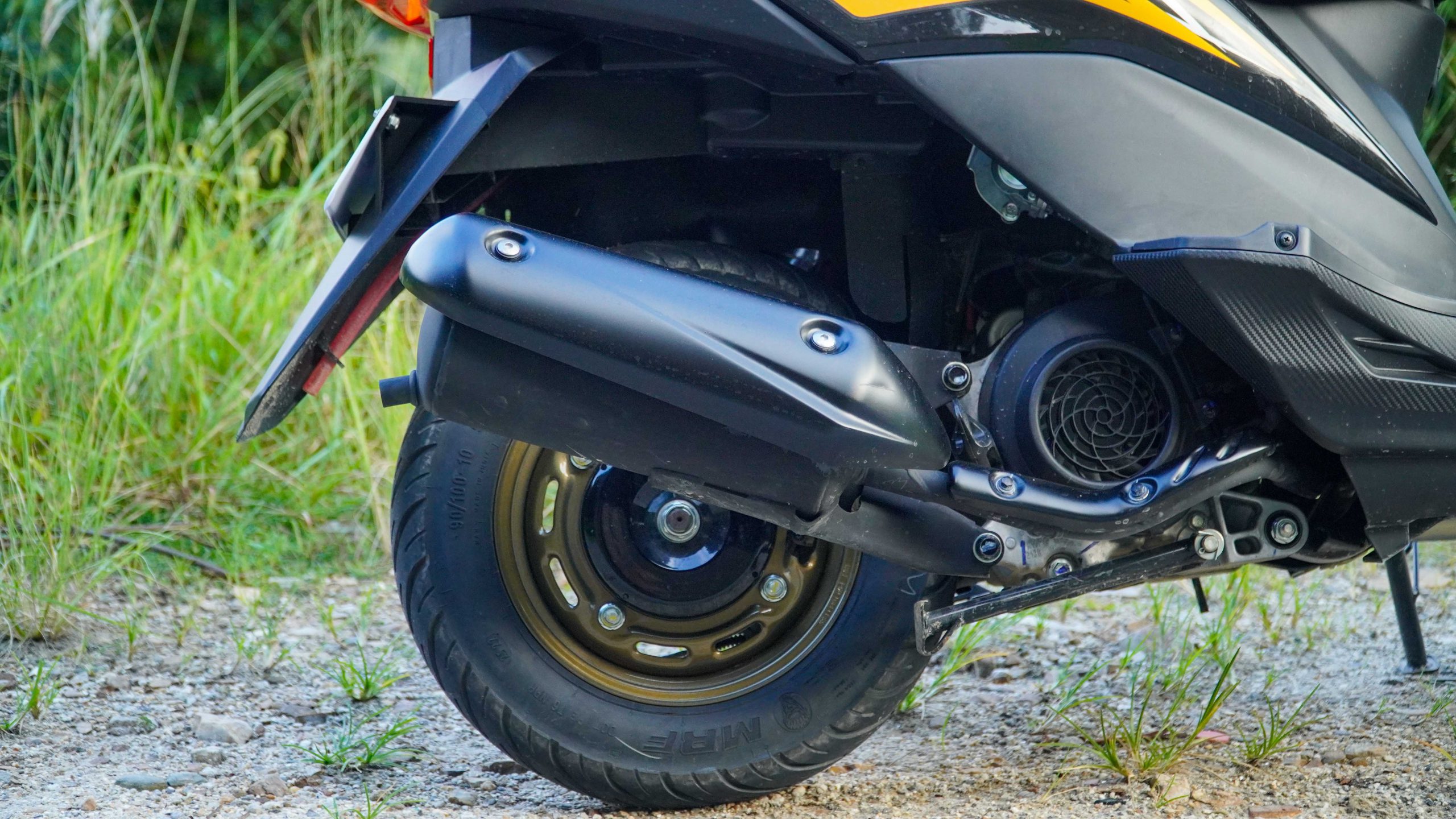 This is done to improve the fuel economy and cut down on costs. However, it comes at the cost of maintaining confidence at a higher speed, especially cornering.
It remains true for Gravel Roads and Muddy Roads as well.
The scooter is lightweight, so it is easier to control. However, the cornering and stability could have improved with 12-inch tyres or even wider 10-inch ones.
Suspension
Spring Loaded Hydraulic handles the suspension setup on both the front and the rear.
It is tuned for comfort.
The suspension is softer at the bumps, easily absorbing the impacts of the rough terrains. Furthermore, the seat also does a good job of soaking up impact.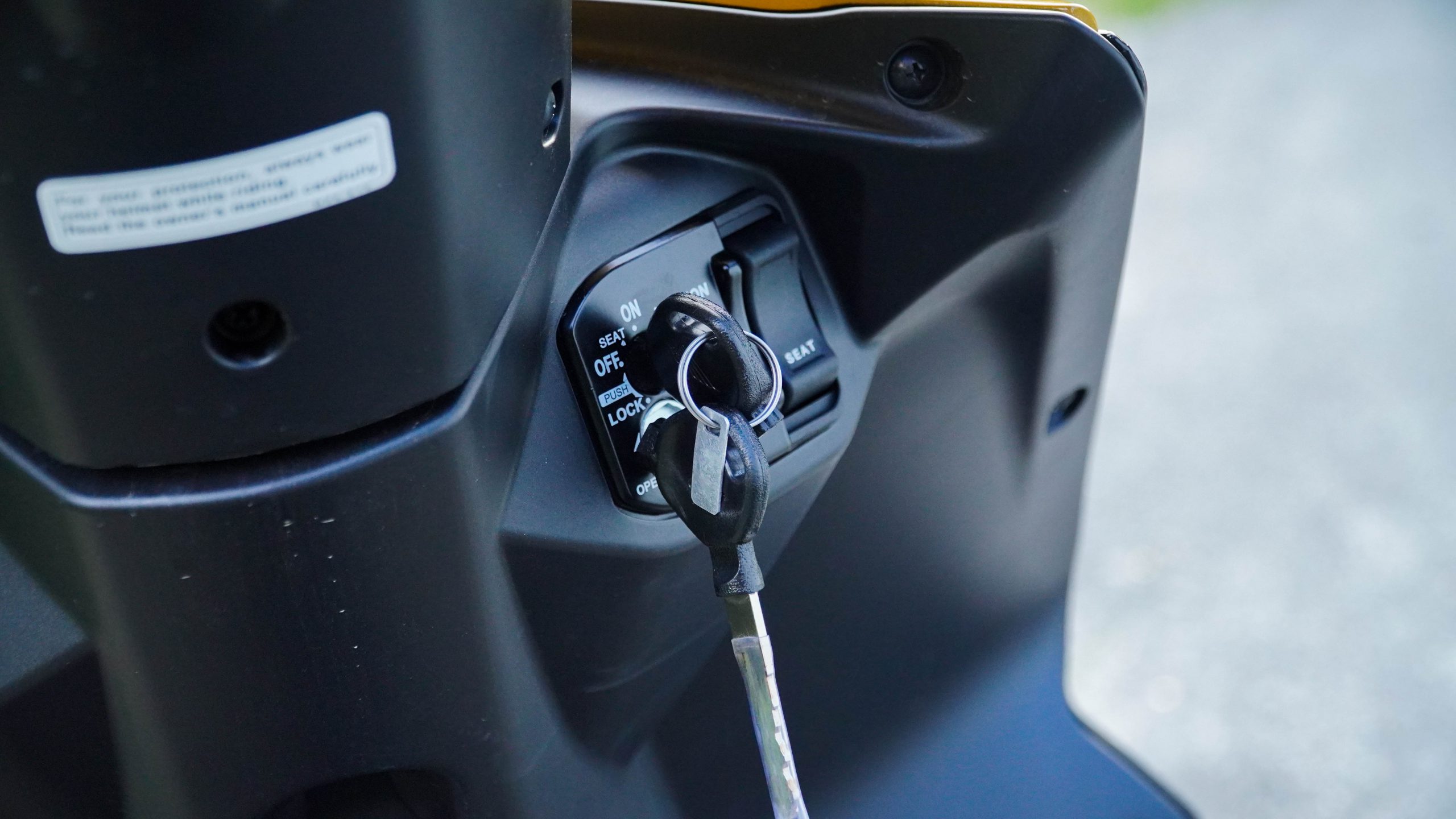 However, the rear suspension does feel a bit jumpy when coming across a larger plot hole.
Nevertheless, it can maintain a comfortable riding experience.
Seat Comfort and Pillion
Honda Dio gets a Two-Level Seat.
As stated earlier, the seat comes with a perforated finish. It is a bit more breathable than a standard seating material.
It provides enough space and a softer seat setup for both rider and pillion.
However, the comfort level decreases as the ride progresses. Hence, the rider must change their seating position from time to time if it is a long-distance ride.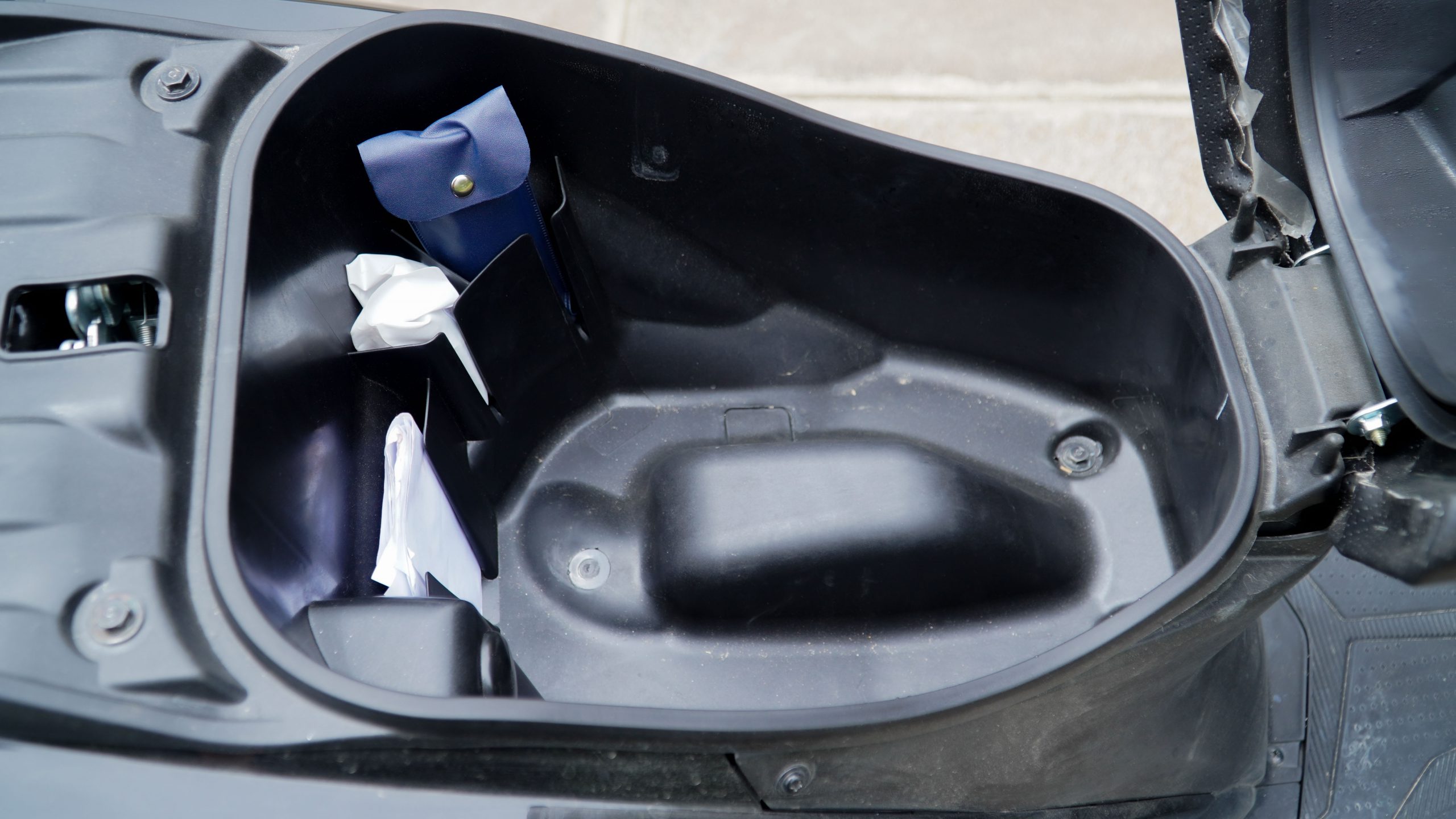 Talking about the seat, it gets an 18-liter Under Seat Storage. It is decently sized, easily fitting a half helmet.
There is no boot light. But riders can opt for USB Charging Port as an accessory.
Fuel Tank Capacity and Mileage
You will need to open the seat to access the Fuel Filler.
Honda Dio comes with a 5.3-liter fuel tank capacity.
We tested it out with a fair bit of a mix of riding styles. During that, we managed to get around 50-55Kmpl of mileage.
In general, the rider should get around 265-292Km on a Full Tank.
Other Features
Honda Dio DLX features a Fully Digital Meter. It displays information like Trip Meter, Clock, Service Due Indicator, and Eco-Indicator.
Additionally, it includes a 4-in-1 Lock System as an added security.
The dimensions are 1781mm in length, 710mm in width, and 1133mm in height. Moreover, the wheelbase sits at 1238mm.
Honda Dio comes with a 158mm ground clearance. And, the kerb weight is 105kg.
The ground clearance is doable for most city-riding conditions. However, there needs to be caution on off-roads, especially with a pillion.
Honda Dio Features Highlight
Honda Eco Technology (HET) Engine
Sporty Graphics with Dual Tone Colors
LED Headlamp with LED DRL
Front Hook with Retractable Rear Hook
Metal Muffler Protector
4-in-1 Lock with Seat Opening Switch
Combined Braking System (CBS)
Fully Digital Meter with ECO Indicator (in DLX Variant Only)
Golden Colored Rims (in DLX Variant Only)
My Experience with Honda Dio 110
City Cruiser
Honda Dio can be best described as a city cruiser.
While it is a Carburetor engine, the refinement levels are very impressive. It manages to contain any kind of vibrations at any speed.
The scooter does vibrate when you first start it.
Except for that instance, the engine manages to keep its composure even with intense pressure.
The powertrain figures are respectable for the 110cc engine.
The output is more linear with a considerable delay in pickup. Moreover, the performance takes time to build.
Top-end and Low-end performance is non-existent. However, it has a satisfying mid-range.
It performs its best in tight traffic and even crowded areas. However, it does not maintain the same level of consistency in off-road conditions and highways.
Nonetheless, the scooter struggles a bit during quick overtakes. Similarly, the scooter is underpowered on highways.
Given its engine displacement, it is understandable.
Interestingly enough, the powertrain figure does not hinder its practical features.
It shines the most in the urban jungle.
It is practical, reliable, and affordable. These are the things Honda Dio does quite well.
Shortcomings
We have already covered the shortcomings above.
Honda Dio could have included a wider tyre profile or an even larger one to improve on its high-speed stability and cornering.
Furthermore, the engine could have been tuned for better low-end or top-end performance.
Finally, the feature set isn't that great by modern standards. Fortunately, Honda has loaded up on features for its BS6 iterations.
Until the BS6 iteration makes its way into Nepal, this will have to do.
Battle with Competition
Honda Dio competes against the Hero Pleasure Plus, Yamaha Ray ZR 110, and TVS Jupiter. However, the competition does not even come close to the competition.
The powertrain is more or less similar.
However, the Honda Dio rules the segment with its added value. In addition, it also has strong value retention in the secondary scooter market.
Without a shadow of a doubt, the Honda Dio still sits on top!
Conclusion
Honda Dio has various factors at play to enhance and support its popularity.
It is a simple scooter.
But, it has a perfect balance between style, engine refinement, and affordability. More importantly, it continues to offer the most fuel-economic engine in its segment.
For the majority of hardworking normal folks out there, it is all they ask for in a good scooter.
And, that is where the Honda Dio shines the most.