Plenty of new brands are entering Nepal in the audio and smartwatch categories. HiFuture, a company based in Shenzen, China is now set to enter Nepal with TWS and Smart Wearables in a few weeks.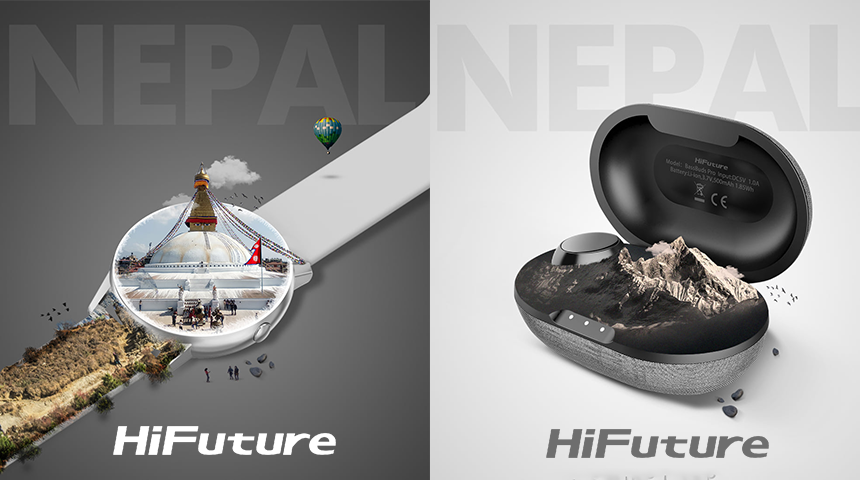 HiFuture offers a wide range of products ranging from wireless headphones, Bluetooth headphones, TWS, and smart wearables. It has 3000+ stores all over the world serving more than 4 million users from 30+ countries globally.
TechStudio Pvt. Ltd., a sister company of Opal Multinational Pvt. Ltd., will be the official distributor of HiFuture in Nepal.
The company is planning to launch 5 TWS in Nepal as the first phase of its official introduction. After that, they will launch 4 smart wearables in the upcoming months.
We are a professional smart wear brand with good success in the USA, France, UK, Italy, Singapore, and other countries. Our products are available in more than 30 countries and Nepal is a new market for us.

– Mr. Levin, Founder at HiFuture Group
Also, TechStudio is already in talks with Bhatbhateni, Big Mart, Sastodeal, Daraz, Analougemall, Miniso, and Techmax as HiFuture is set to have 25 distributors and 10 exclusive showrooms all over Nepal.
HiFuture aims to provide top quality products at an affordable price. Their smartwatches will be priced between Rs. 3,999 to Rs. 12,999 and their TWS will range from Rs. 999 to Rs. 4,999.
Besides, HiFuture is a member of High-Resolution Audio membership under the Japan Audio Society. So, we can expect some of their products to boast Hi-Res Audio.
HiFuture will have its own identity whether with the quality or with the technology. We want to push ourself to understand the need of consumers and try to build on that.

– Mr. Saunak, Brand & Creative Head at HiFuture Group
So, HiFuture looks quite confident over its product and are willing to provide quality products at affordable prices. They will launch their products within a few weeks, TWS being the first launch followed by smart wearables.