It seems that popular brands like Yamaha, Suzuki, Bajaj, and Hero are up against one another. Well, this isn't news as all brands are technically up against one another. However, this time around, the competition isn't about which brands have a better motorcycle. But rather, which one can come up with a better offer.
As you might know, Yamaha's recent offer included an exchange program in which you could exchange your old bike with a new Yamaha. But that's not all, you would get an additional Rs. 25,000 on top of market valuation. Seeing all the new Yamaha FZS v3.0 on the street, you could say that the event was a grand success.
But that's not the point! The offer was so genius that every other brand has copied it (*cough* Aprilia & Vespa *cough*). Will there be anybody who could top it? Well, I thought nobody would be able to top it. As history goes to show, I was wrong… again. That's why you are reading this article. So, what's the buzz all about? Let's find out!
Everything You Need to Know About Hero Offer
Recently, Hero MotoCorp has announced an offer so crazy and amazing, that it shocked most of us here at TechLekh. According to this offer, you can get your very own Hero motorcycle or scooter at 0% DOWN PAYMENT. So, theoretically, you could get your very own Hero bike or scooter at an extremely affordable rate. But that's not all! You will also get 30% discount in Engine Oil, 7% discount in spare parts, and Free Helmet!
I guess Hero MotoCorp wanted to get an upper hand against all the competition. In fact, I'm not complaining. The hero might've had a certain reason to make this kind of ridiculous offer. Honestly, I don't care. Clearly, more people can get their hands on a two-wheeler, which is awesome.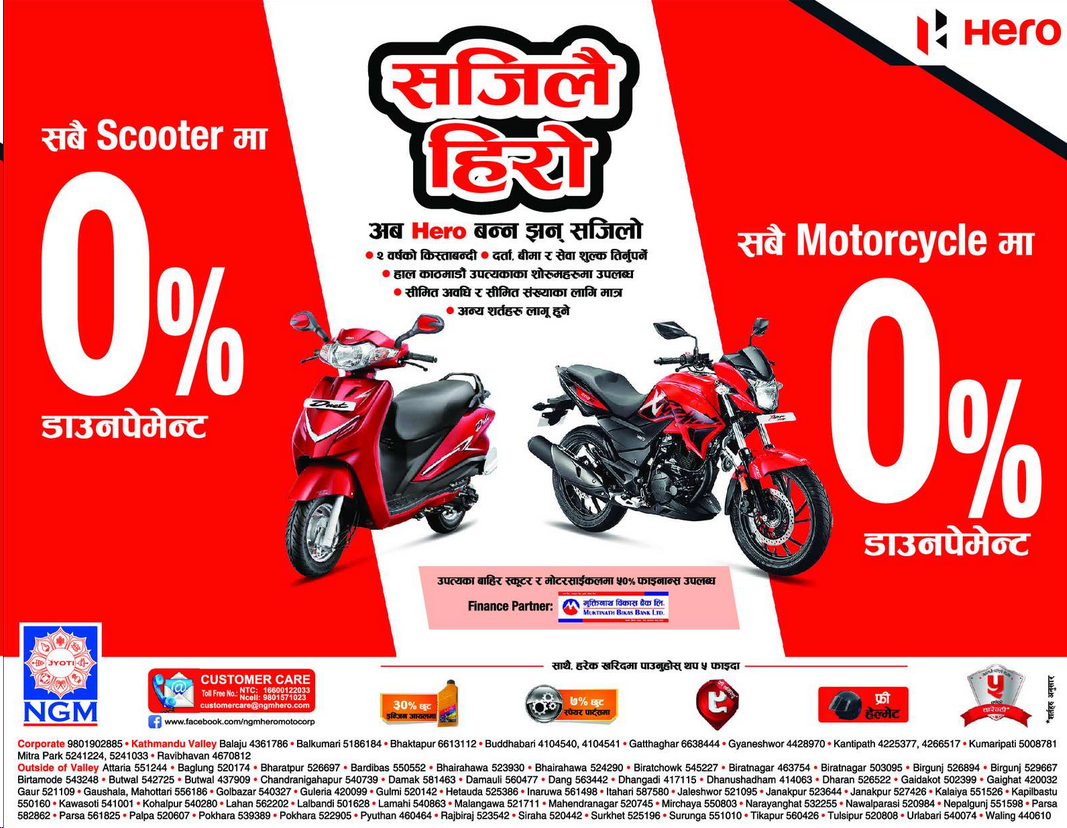 Things to Remember
Great! Let's just head down to the nearest Hero Showroom, and a new two-wheeler today. Not so fast! While the offer is enticing, there are few things to keep in mind.
'Sajilai Hero" offer is valid for all Hero bikes and scooters
Registration, Insurance, and Service charge must be paid during the time of purchase
16% EMI for the 2-year time period  
Valid for all showrooms in Kathmandu valley
Offer is valid for a limited period and comes with certain conditions.
Now that you know everything about the Hero's most ridiculously amazing offer, visit the nearest Hero Showroom to get your new Hero!