Hamro Patro, Nepal's most popular app, has launched its telehealth services named 'Hamro Patro Health' today. With the service, users can now consult with a specialist doctor on demand through the Hamro Patro mobile app itself.
Hamro Patro stated that the service is starting as a pilot rollout from Monday.
"It is available on Android devices for now, with an iOS version set to be released within two months."

― Shankar Uprety, Founder and CEO of Hamro Patro, Inc.
As stated above, the service is currently only available on Android devices; iOS users will have to wait for a few months. Android users will need to update their Hamro Patro app in order to use the telehealth service.
Hamro Patro Health allows patients to get on-demand consultations with specialist doctors. According to Hamro Patro, Hamro Patro Health was developed to provide healthcare to Nepalis who reside outside of the reach of healthcare systems. Any doctor accredited by the Nepal Medical Council (NMC) can join the service.
How does Hamro Patro Health work?
Patients first need to create an online profile by entering their name, age, and health condition. To provide a clearer case of patients' health conditions, patients can upload lab reports and other relevant documents to their online profiles.
Then, they need to buy an online ticket that costs NRs. 500 using a digital payment system. After buying the ticket, users can call an available specialist directly if they are online.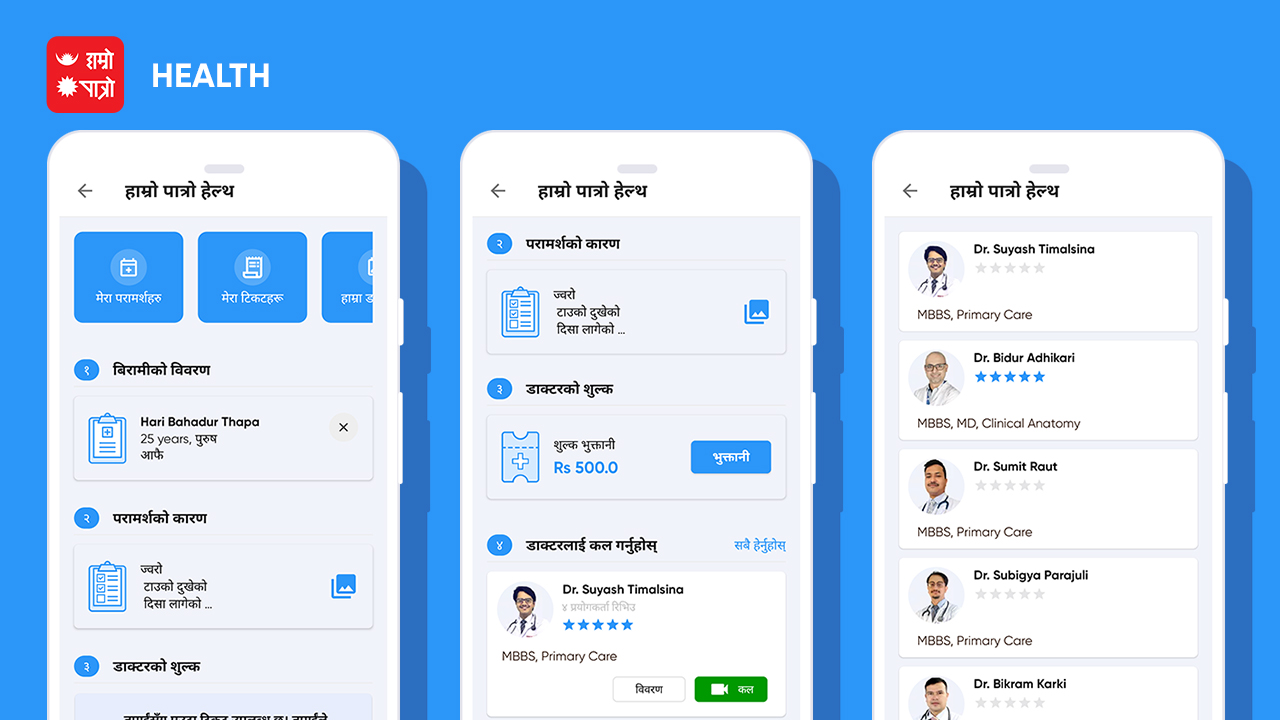 For one week, the same ticket will give users access to a physician for follow-ups and report submissions. Doctors may also issue prescriptions and recommend medications through in-app features.
It is worth noting that the ability to schedule an appointment with a doctor is not available yet. However, patients can look for a doctor's availability by looking at their profile.
As of today, twenty doctors have already enrolled in Hamro Patro Health, according to Hamro Patro. Doctors enrolled in the platform can come online as per their availability, and users can call any doctor online.
READ NEXT: Rohit Tiwari, CEO of Hamrobazar talks about the New Version Update & Future Plans
The pilot phase will last two months, following which the company will release a full version to public users and other doctors. Furthermore, in the near future, Hamro Patro claims to introduce a matching system to automatically connect patients to appropriate doctors.
Recently, Rudra Pandey, one of the most successful Nepali entrepreneurs in the US, also joined Hamro Patro.
(Referenced from PR)