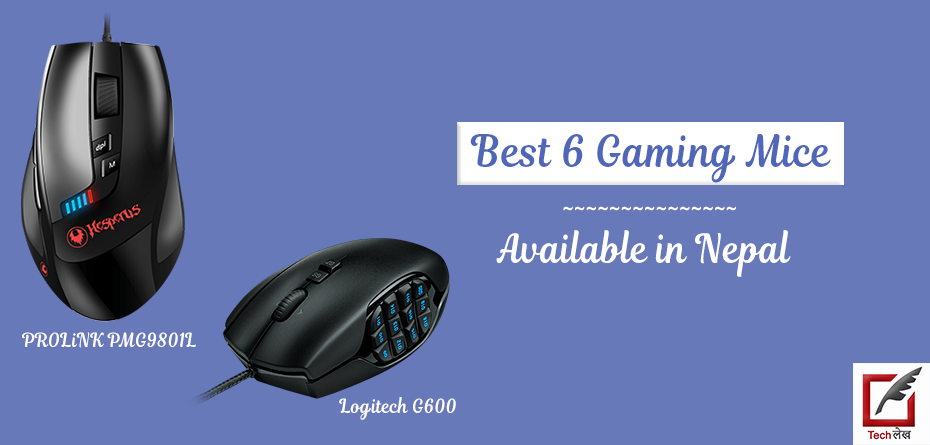 The choice of a mice depends entirely on your gaming preferences: if you're into first-person shooters like Battlefield & Overwatch you need the right balance of sensitivity and responsiveness, so be sure to check the DPI ratings and decide between optical or laser sensors.
But if you're into real-time strategy games, MMOs & MOBAs it's necessary to choose a mouse that lets you utilize macros triggering the actions you use most. In the context of Nepal, there isn't a lot of mouse to choose from however we have selected some of the best mouse's available.
Best 6 Gaming Mice in Nepal
---
PROLiNK PMG9801L

Comes with 6 cartridges giving you more freedom in optimizing your control of your mouse.
With 9 programmable buttons to allow quick access to profiles.
Profiles come with 4 DPI settings each to give you an edge in fast-changing gaming environments.
Super slick Teflon mouse feet to ensure agile movement.
Ergonomic rubber grips and grooves that fit in your hand comfortably in any mouse handling positions.
Gold plated USB connector for lightning response time and one 1.8 meters braided cable to prevent tangling of mouse wires.
8200dpi Avago sensor ensures ultra-fast speeds and precision when gaming.
PROLiNK PMG9801L Price in Nepal:

NRs. 3,300
---
PROLiNK®FURAX
2400dpi optical sensor
4-level quick switch DPI button
Frame rate up to 3000 times/sec
7-color Breathing LED design
Cord grip to improve durability
5 million clicks
2400 dpi
Frame rate up to 3000 times/sec
Tracking speed 28 inches/sec
PROLiNK®FURAX Price in Nepal: 

NRs. 700
---
Rapoo V20

Customizable Real-time Resolution
Adjustment
Accurate Navigation
16-million-color Smart Breathing Light
Seven programmable buttons
Onboard Memory, Save, And Play
Built-in memory to save the mouse configuration
Tracking Performance
Resolution: 250-3000 adjustable DPI
Image processing: 6400 FPS
2 Year Full Replacement Warranty


Rapoo V20 Price in Nepal:

NRs. 3,800
---
Logitech G600
20 MMO-tuned buttons
Built for comfort: Sculpted
shape and tuned buttons reduce click fatigue
8200 DPI laser sensor
Custom-Color Backlighting
Onboard Memory Profiles
On-The-Fly DPI Switching
Gaming Grade Laser
Braided USB Cable to keep the things tidy
1-Millisecond report rate
G-shift ring-finger button: Instantly double the number of actions you can perform with every button
Logitech G600 Price in Nepal:

NRs. 8,700
---
Logitech G100
On-the-fly DPI switching
Ambidextrous shape
Durable
Flexible Software/Driver
1m long USB Cable
2500-DPI optical sensor
Slick feet
Logitech G100 Price in Nepal:

NRs. 2,340
---
Logitech G400
3600 DPI optical engine
8 Buttons 1 x Wheel
Eight Programmable Buttons
Consistent response ratio
Battle-Tested & Durably Built
On-the-fly DPI switching
1-millisecond report rate
Sculpted comfort grip
Logitech G400 Price in Nepal:

NRs. 4,440
---
These are some of the best gaming mouse available in the Nepali market. Not the one with the top of the line features, but for the price these mice do offer a solid performance. The above-mentioned gaming mice are available in the following stores – check out these stores to buy them: