Fusemachines Nepal has made its name as a pioneer company in the field of Artificial Intelligence (AI) in Nepal. The company once again, seeks to provide a platform to IT scholars with a keen interest in revolutionizing the AI industry in Nepal.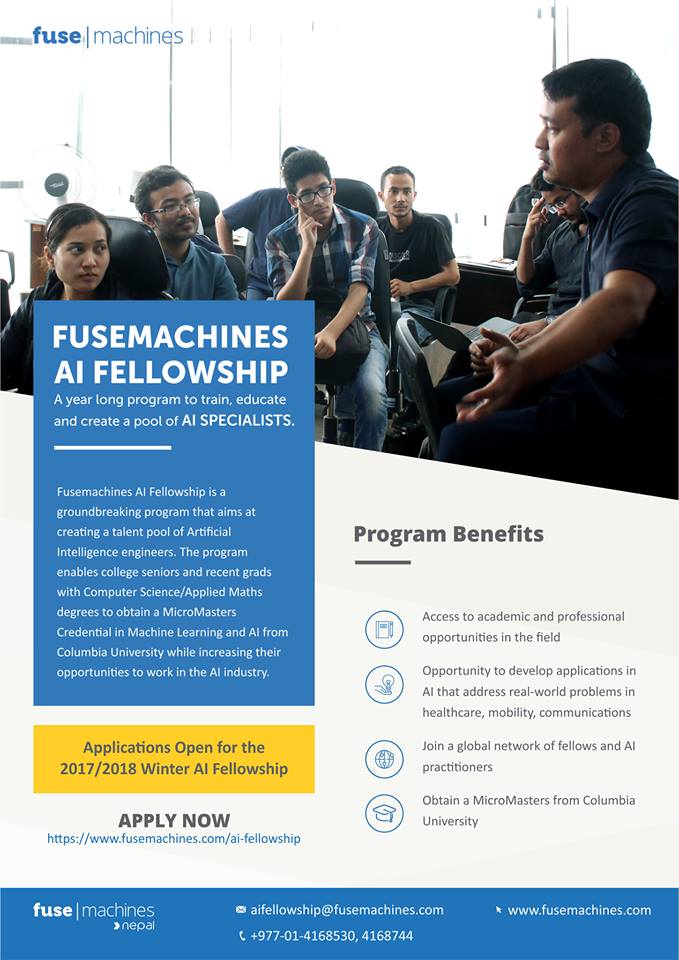 With this aim, Fusemachines Nepal has announced the second edition of its AI fellowship program. This time the company has taken the program in the global arena. The program, which started in Nepal last year is now taking place at two additional locations, New York City, and Dominican Republic.
About AI Fellowship Program
The AI Fellowship Program is one-year long fellowship program that is targeted at students majoring in maths/programming with motive of providing them proper guidance to learn AI. The scholars receiving the fellowship grant will have the perk of collaborating with Fusemachines Nepal under direct supervision from Fusemachines Inc.
The fellowship program is focused on providing real-life solutions by concentrating on AI sub-genres like Natural Language Processing, Computer vision, and Machine Learning techniques to address the real-world problems.
Interested candidates can apply for this program by filling up a form at this link.
The final candidates for this program will be selected based on their resume, past projects and interview with the Fusemachines team.
For further information, please visit this link.