Pros
Muscular Design with Aggressive Stance
Powerful Performance for the Price
Affordable Pricing for a Pickup Truck
Value for Money Proposition
Practical Focused Features
Cons
Yellow-lit Projector Headlamp
Stiffer Gear Shifts
Average Quality Interiors
Room for Improvements
Power. Practicality.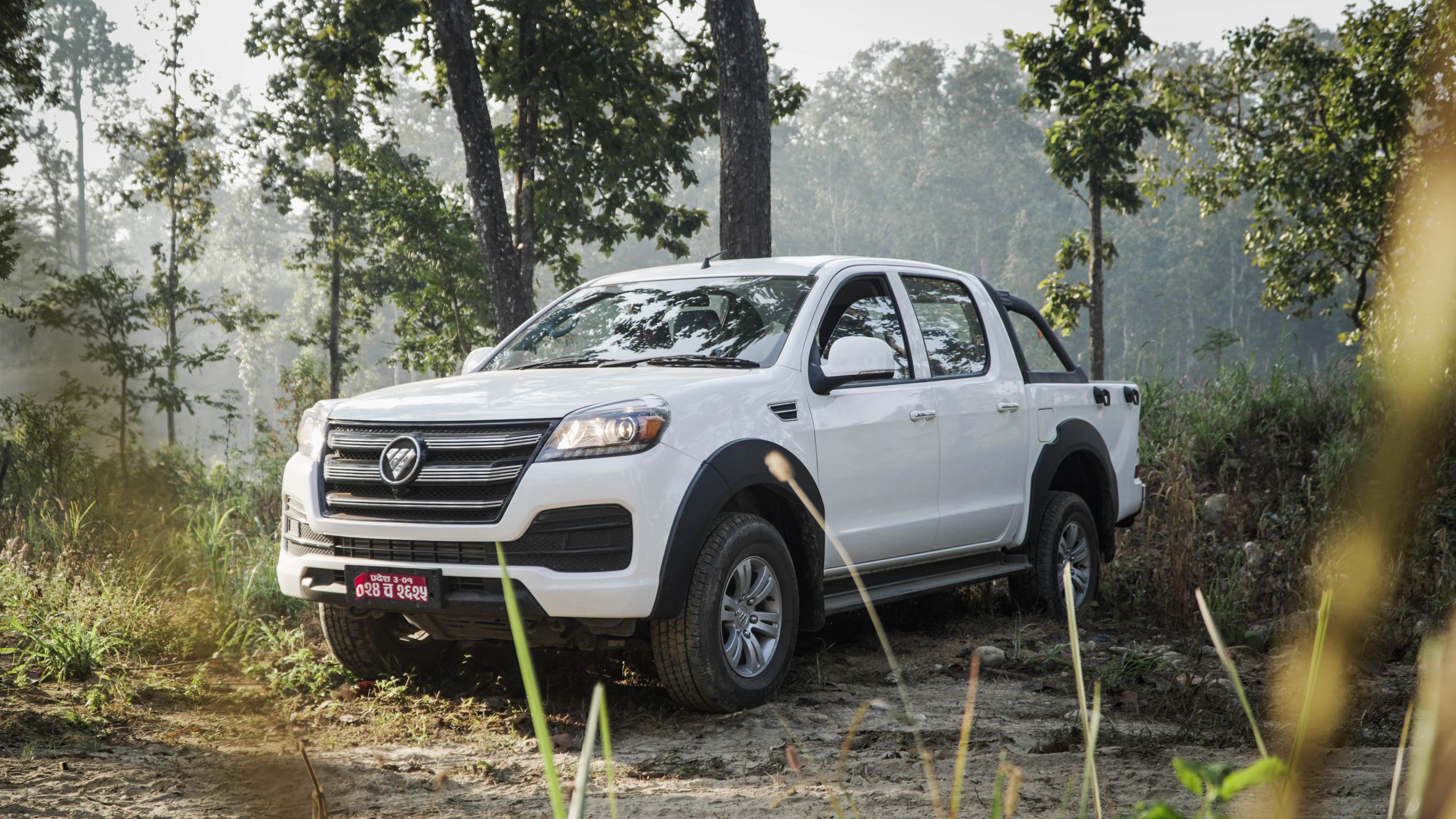 These are two essential characteristics that define the very core of a pickup truck.
MAW Vriddhi, the authorized distributor of Foton commercial vehicles in Nepal, has launched the new Foton Tunland E.
Tunland E combines those two key characters, offering an exceptional pickup at a relatively affordable price.
Talking about the pricing, Foton Tunland E is available in three different variants, with price starting at Rs. 49.90 Lakhs to Rs. 59.50 Lakhs.
So far, we have spent almost a week with the new Tunland E. During that time, we were pleasantly surprised by the overall experience.
Don't worry, we will get to all the tiny details and more in a bit. Before that, let's take a quick dive into the rich history of Foton Motors.
Foton Motor is a Chinese company and a leading commercial vehicle seller in the world. It is one of the fastest-growing automobile brands that is valued at 23.40 billion dollars.
Being a best-seller for 16 consecutive years around the world, Foton Motor is trying to recreate the same magic in Nepal.
With that introduction out of the way, let's take a look at the 2021 Foton Tunland E.
Foton Tunland E Specifications
Engine: 4 Cylinder, Common Rail, Turbo Intercooled Diesel
Displacement: 2771cc
Dimension: 5310 x 1880 x 1860 mm
Wheelbase: 3105 mm
Max Power: 113 bhp @ 3600 rpm
Max Torque: 280 Nm @ 1600-2400 rpm
Transmission: 5-Speed Manual
Drive Type: 4WD
Top Speed: n/a
Fuel Tank Capacity: 76 liters
Mileage: 14 kmpl
Front Tyre: 245/70 R16 – Disc
Rear Tyre: 245/70 R16 – Drum
Tubeless Tyres: Yes
Safety System: Dual Airbags, ABS, EBD
Suspension Setup: Independent Double Wishbone with Coil Springs and Soft Ride with Leaf Spring
Seating: 5-Seater
Payload Capacity: 1000 kg
Ground Clearance: 210 mm
Kerb Weight: 1785 kg
Colors: Black, Maroon, Grey, Blue, Light Grey, and White.
Foton Tunland E Price in Nepal: Rs. 49,90,000 (Base Variant) / Rs. 54,90,000 (with Accessories) / Rs. 59,50,000 (Full Option)
Foton Tunland E Review
Muscular Design
Starting with the exterior design, Tunland E features one of the more noticeable design elements.
It is a double cab pickup with both muscular and aggressive design aesthetics. However, it still manages to reserve a simple style with a dash of premium touches.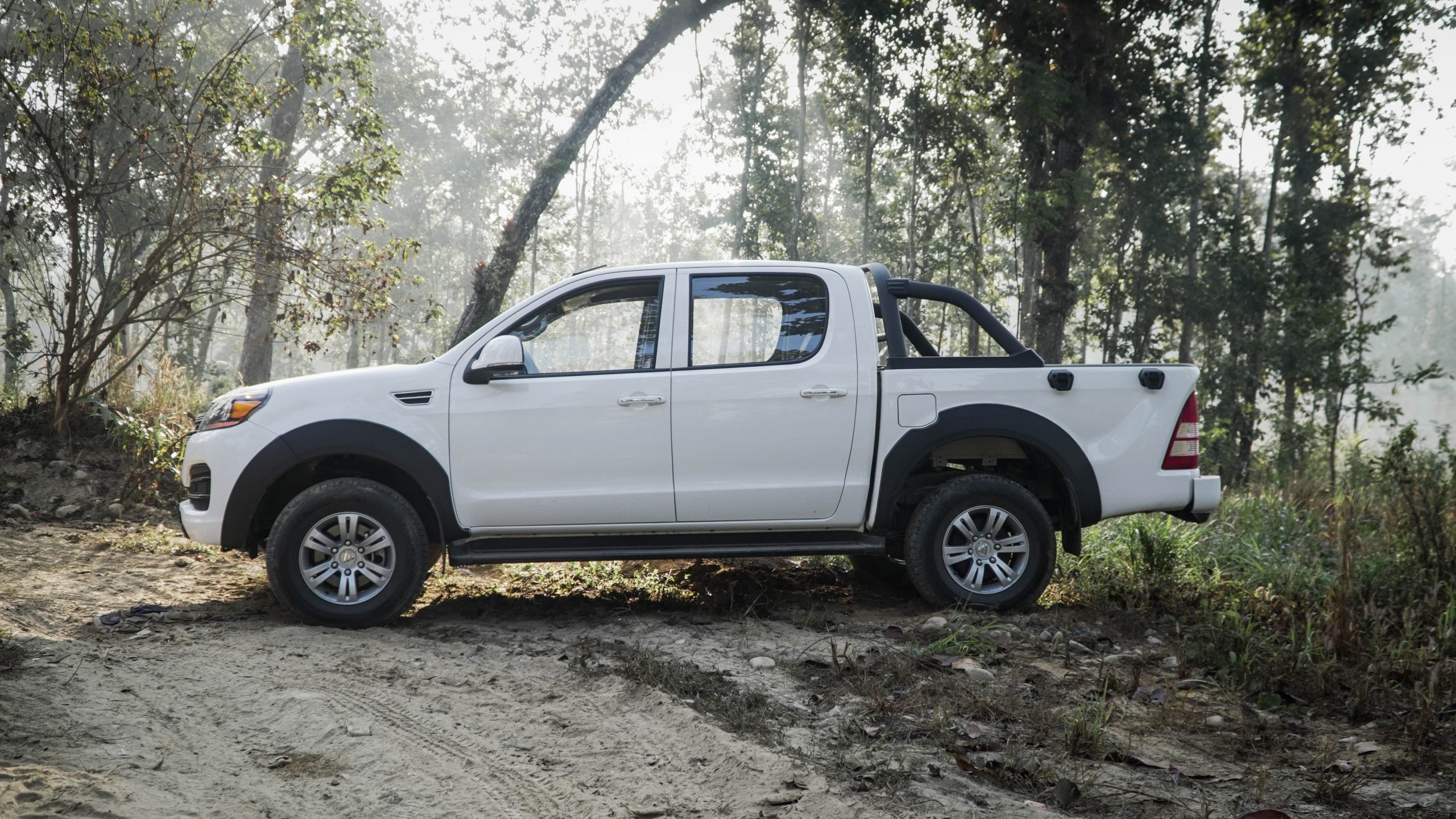 Simply put, it is a combination of simple styling matched with aggressive elements.
Considering the price point, Foton Tunland E features more style for the price.
Exterior
Starting with the exterior design, there is a lot to talk about.
On the front, Foton Tunland E gets a muscular grille, complete with chromed three-lines and Foton's diamond logo.
Adding to the aggressive appeal, the projector headlamp is a nice touch. However, the DRL elements are just visual than functional.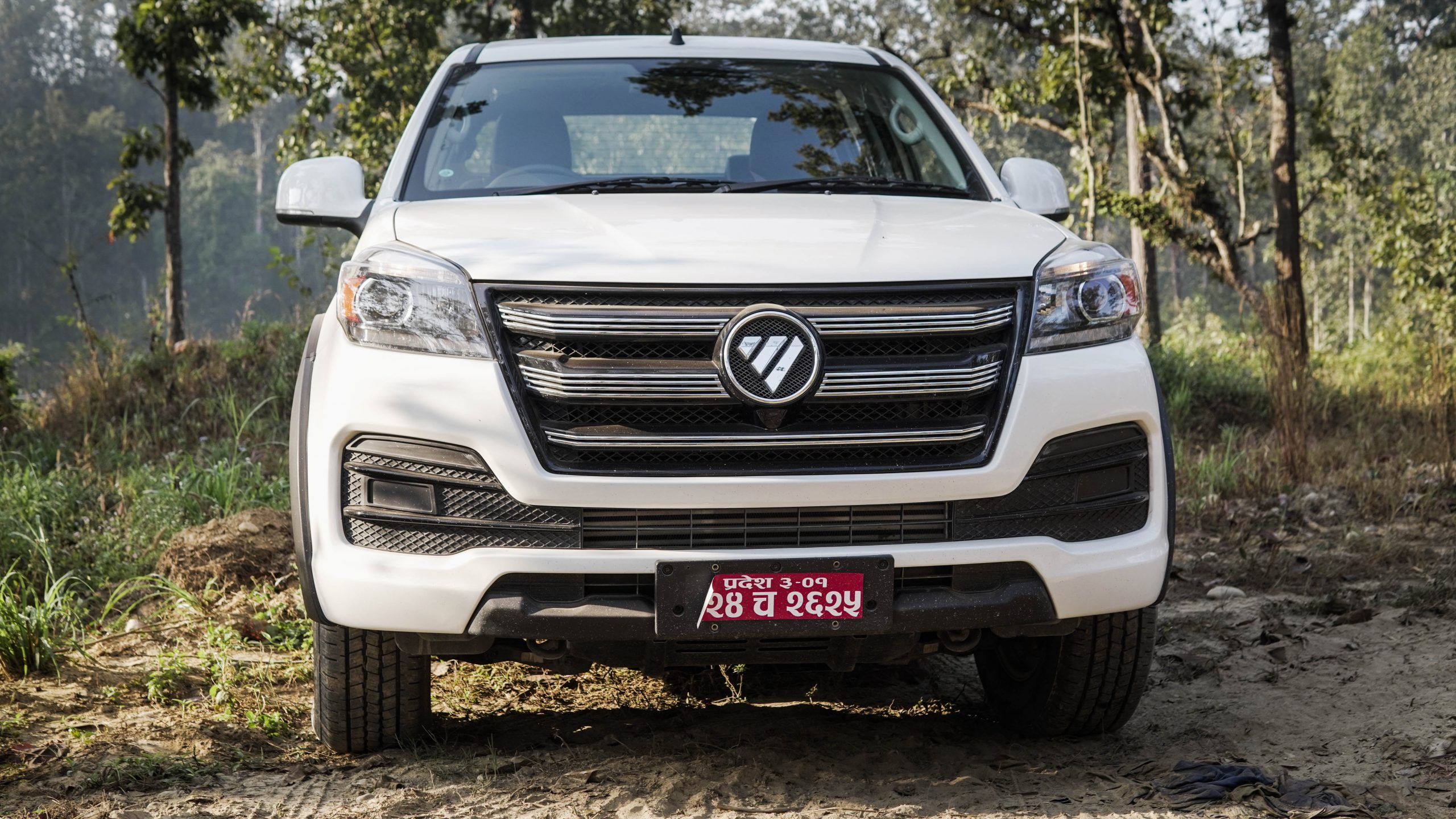 Similarly, the white-black color combination is beautifully done here. It comes with simple styling made more modern through the contrasting blacked-out wheel arches.
Typical sidelines are kept to a minimum, making Tunland E stand out from the crowd.
It feels premium through little touches like the chromed finishing on the handle, side indicator strip on the mirrors, and sidestep element.
However, the rear portion of the side profile feels incomplete thanks to the huge gap between the body and rear tyres. Despite featuring the same tyre sizes, the rear ones feel relatively smaller.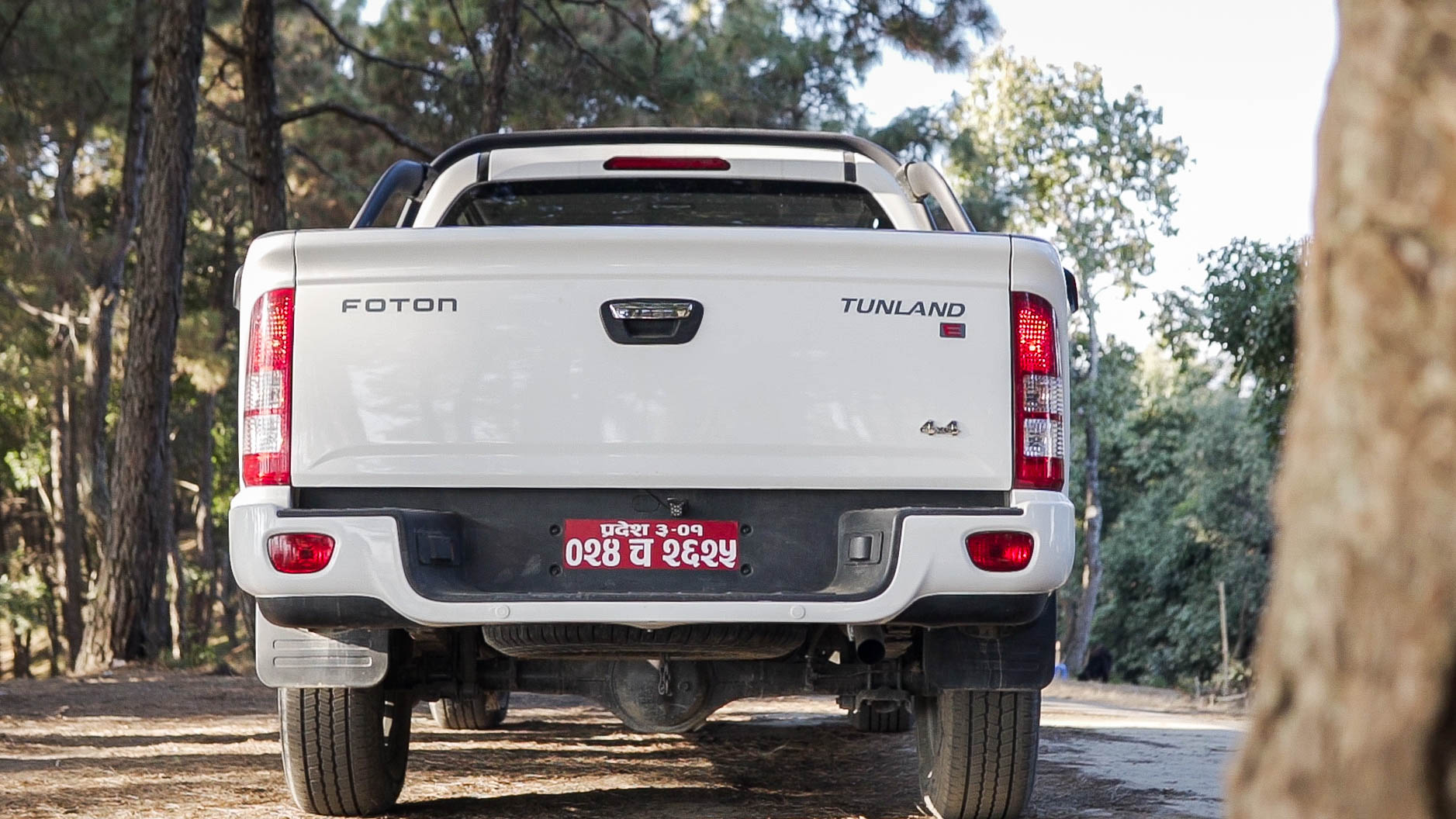 Finally, we move to the rear section.
Unlike other parts of the Foton truck, the rear is comparatively simpler with bulbed taillamps and 1000Kg capable cargo space.
Interior
We were thoroughly impressed with the exterior styling!
Unfortunately, it fails to continue with the same level of magic on the inside. The interior feels neglected, finished off with cheap plastic materials, and poor build quality.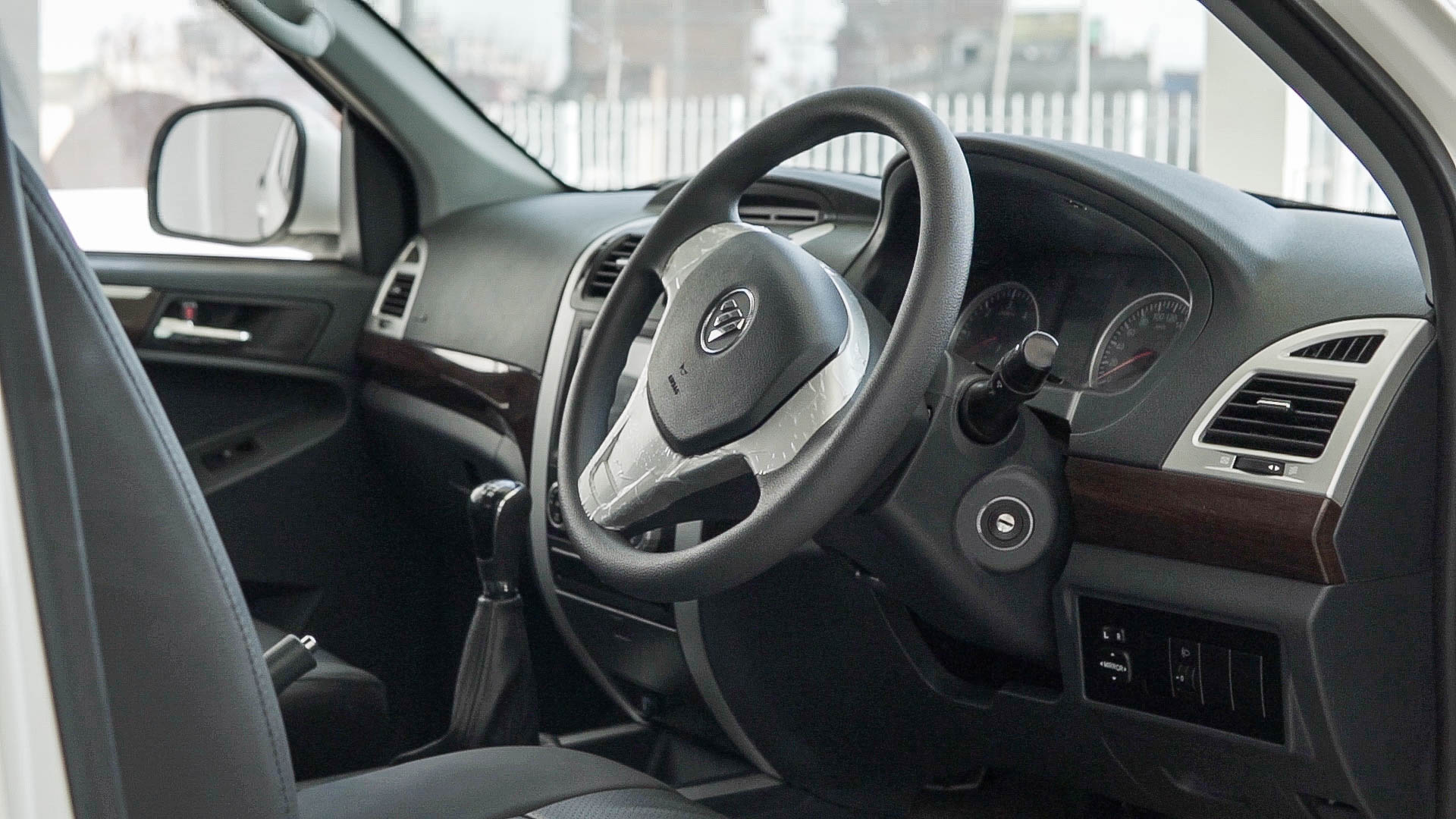 I think Foton had to cut costs somewhere, and this was the only reasonable place to do so.
Most people look for an aggressively-styled pickup truck packing in a good performance. So, the interior gets an easy pass with that in mind.
However, I still wish Foton could have put a better emphasis on the overall fit and finish.
Opening or closing storage boxes feel janky at best. On top of that, the interior plastic feels cheap somehow.
Nonetheless, Foton tries to counteract that with few premium touches like wood-panel finishing, good quality AC vents, and nice speakers.
Foton Tunland E Design Highlights
Simple and Muscular Design
Stylish Grille with Foton's Diamond Logo
Projector Headlamp Setup
Blacked Out Wheel Arches with Side Step
Chromed Door Handle
Body-Colored Mirrors with Side Indicator Strips
16-Inch Tyres
Wood Panel Finishing on Inside
Powerful Performance
Foton Tunland E is powered by a 2.8L, inline 4-Cylinder, Common Rail Diesel Engine. It can generate a max power of 113 bhp at 3600rpm and 280 Nm at 1600-2400rpm. Additionally, the engine comes with Turbo Charger and Intercooler as standard.
Moreover, it is mated to a 5-speed transmission with 4×4 capabilities.
It also gets a massive 76-liter fuel tank capacity with an average mileage of 14Kmpl.
The Tunland packs in impressive performance numbers, acceptable for a truck at this price point.
Practical Features
While the initial pricing might seem a lot, it is rather a low figure for a pickup truck. With that in mind, Tunland E has included all of the essential features as standard.
Additional features are available in top variants.
We tested out the Foton Tunland E (with Accessories) priced at Rs. 54.90 Lakhs.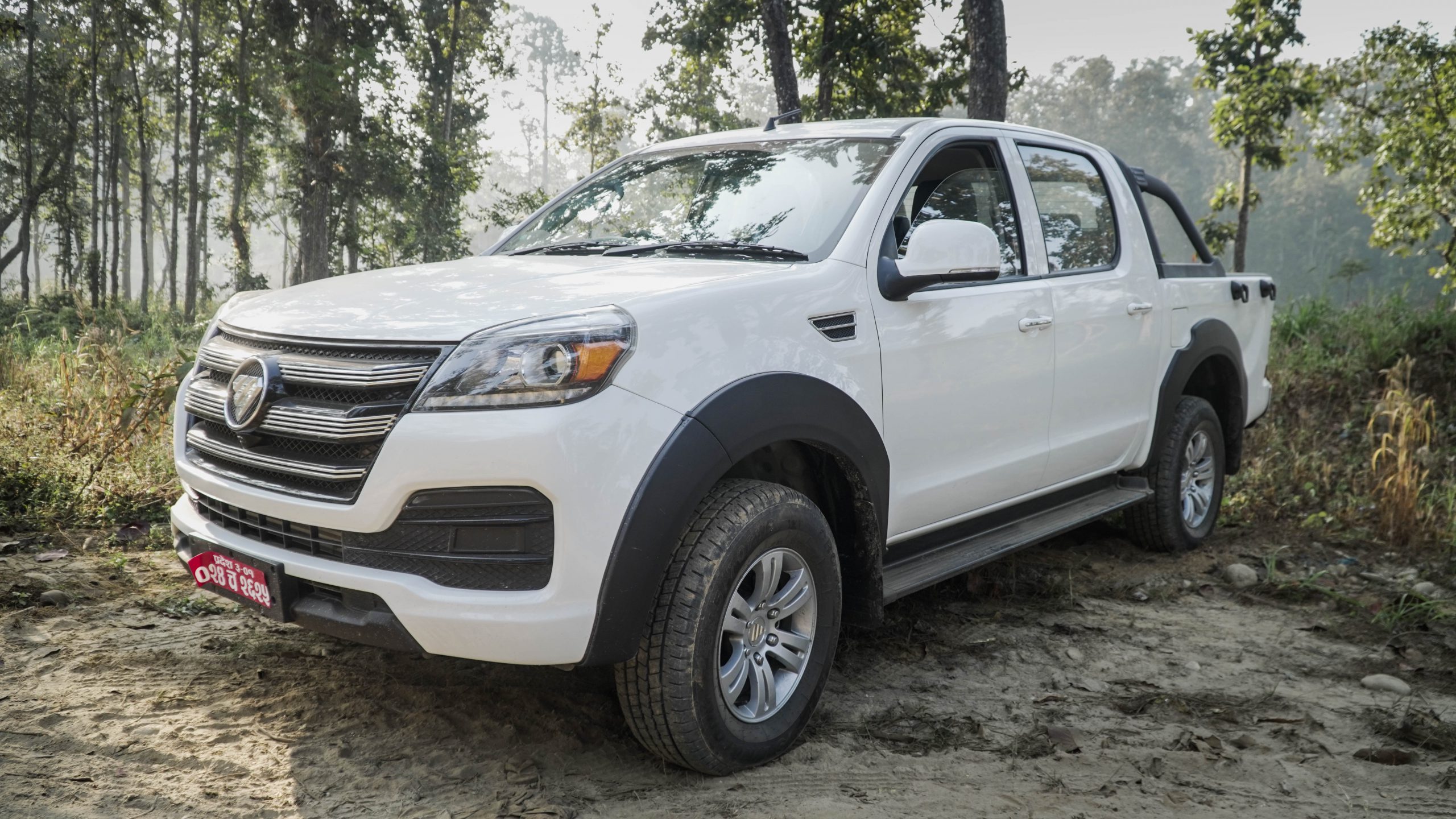 Braking
Talking about the braking configuration, the Foton Tunland E gets a standard Front Disc and Rear Drum combo.
In a real-world scenario, the braking performance is good. However, there is a slight millisecond delay in the reaction time after pressing down on the brakes.
Nonetheless, it is good enough.
Additionally, Tunland E gets ABS as standard. But the inclusion of Electron Brake Distribution (EBD) will depend on the specific variant.
Suspension
Moving to the suspension setup, Tunland E gets a Double Wishbone with Coil Springs at the front and Leaf Springs with Shock absorbers at the rear.
The suspension in a pickup truck is supposed to be flexible, absorbing bumps like a kid's play.
Tunland E does live up to that standard, feeling slightly rigid and stiff. Nonetheless, it does absorb most of the bumps with ease as expected.
Safety
Foton Tunland E gets standard safety features like ABS, dual airbags, auto-sensing door locks.
On top of the standard features, Tunland E also gets EBD, reverse camera, 360-degree camera, sidestep, and Bedliner as add ons.
It should be noted that some of the features installed are third-party. However, Tunland E will come with factory-made features in the 2021 model.
Spacious Cabin
I think this should be considered as a feature.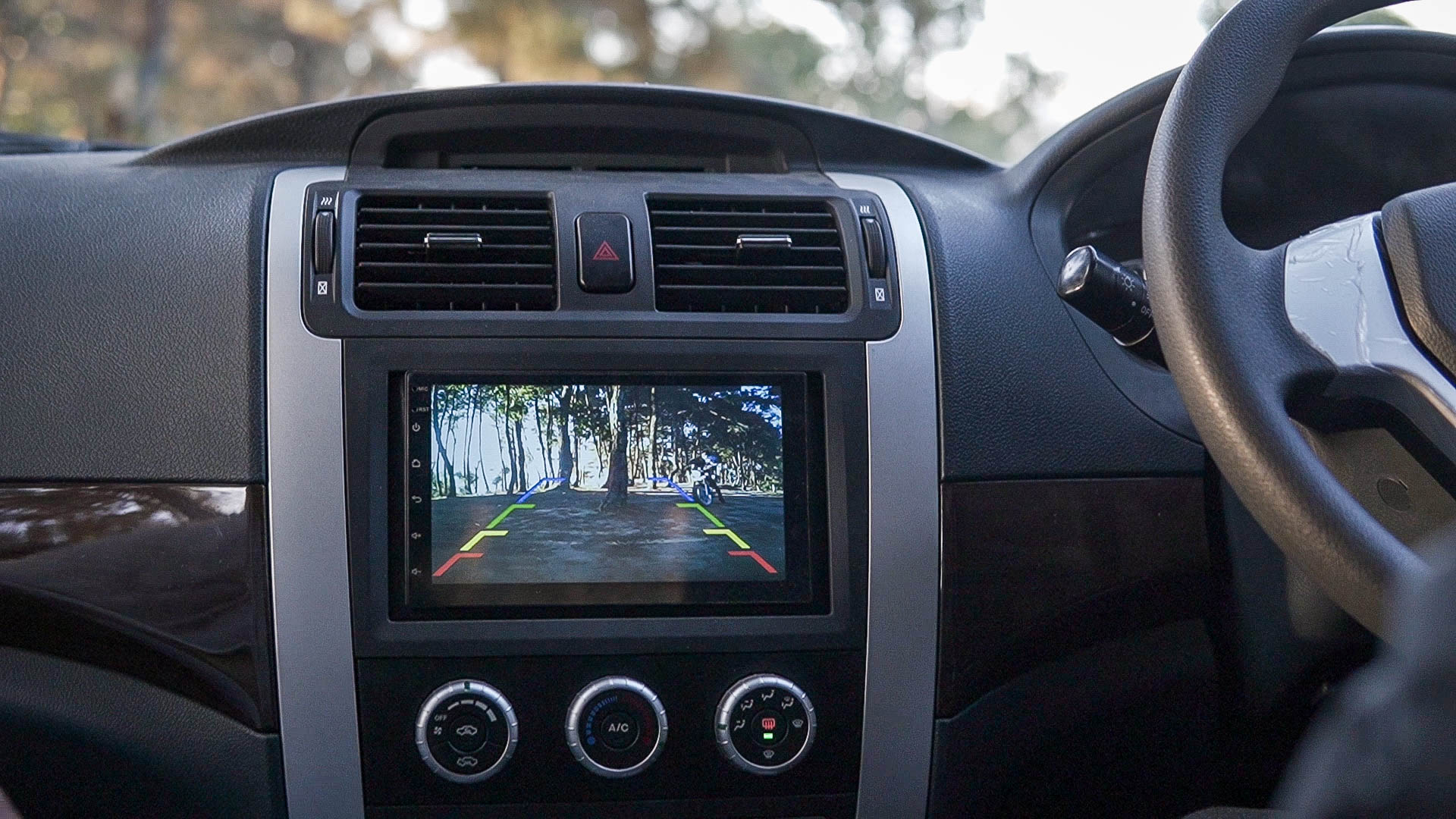 While the interior quality is just average, the overall cabin space feels spacious enough for both tall and short passengers.
There is adequate space with ample headroom and legroom. Furthermore, the passengers will maintain a level of comfort in the long-distance drive.
Compared to the competition, Foton Tunland E comes out on top with a segment-leading spacious cabin.
Cargo Capacity
Foton Tunland E features a cargo box with a dimension of 1520 x 1580 x 440. It comes with a standard roll bar and an optional Bedliner.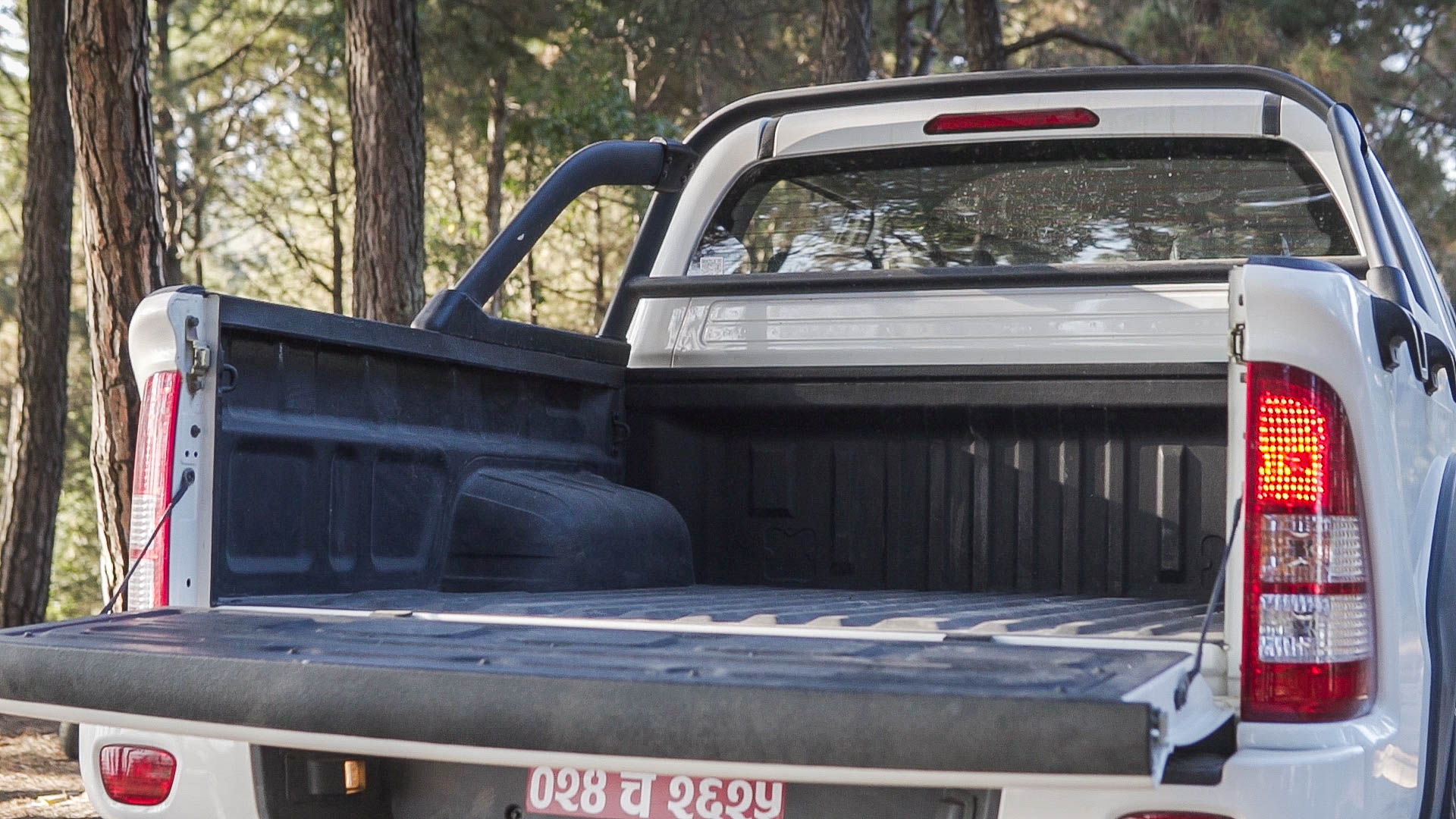 Like the interiors, the cargo box feels spacious, capable of holding about 1000Kg payload capacity.
We tested the cargo space by placing the Suzuki Access 125 inside the cargo box! Much to our surprise, Tunland E held strong, showcasing its practicality in a real-world scenario.
Optional Goodies
Foton Tunland E has included necessary features as standard. However, additional features are selectable as options in the mid and top variant.
The list of optional features includes Leather Seats, Side Step, Bedliner, Alloy Wheels, Touch Screen, Roll Bar, EBD, Reverse Camera, 360 Camera, and more!
Foton Tunland E Feature Highlights
Muscular Design with Stylish Exterior
Projector Headlamp Setup
Standard Dual Airbags
ABS with EBD
210mm Ground Clearance
1000Kg Payload Capacity
Analog Cluster with Center Digital Information Display
Automatic AC
Electric Rearview Mirrors with Side Indicator Strips
Power Steering
Central Locking System
Speed Sensing Door Locks
16-Inch Wheels (Alloy Wheels Optional)
Integrated Audio System with USB Support (Touchscreen Optional)
Rear Camera with 360 Camera (Optional)
My Experience
Real-World Performance
We spent about a week with the truck, traveling in city traffic to off-chance stroll into Bardiya National Park.
In our collective experience, the Tunland E managed to thoroughly surprise us.
The overall performance is good, where the engine roars with passion! With 4×4 capabilities, the truck can practically handle any ride conditions with ease.
Moreover, there is a sharp contrast between the engine sound and vibrations. The engine is loud but the vibrations are not!
Similarly, the experience is enjoyable with a smooth drive feel.
So, the Tunland E comes out on top in real-world scenarios with flying colors!
Superior Road Presence
Other than the strong road presence, the Tunland E also boasts a strong road presence.
If you are new to the world of pickup trucks, you should know that Rs. 49.90 Lakhs is one of the lowest prices for a truck.
Other brands at a time price point only feature bare-minimum styling, performance, and practicality.
Foton Motors has managed to do quite the opposite. It comes up with awesome new features at an exceptionally reasonable price.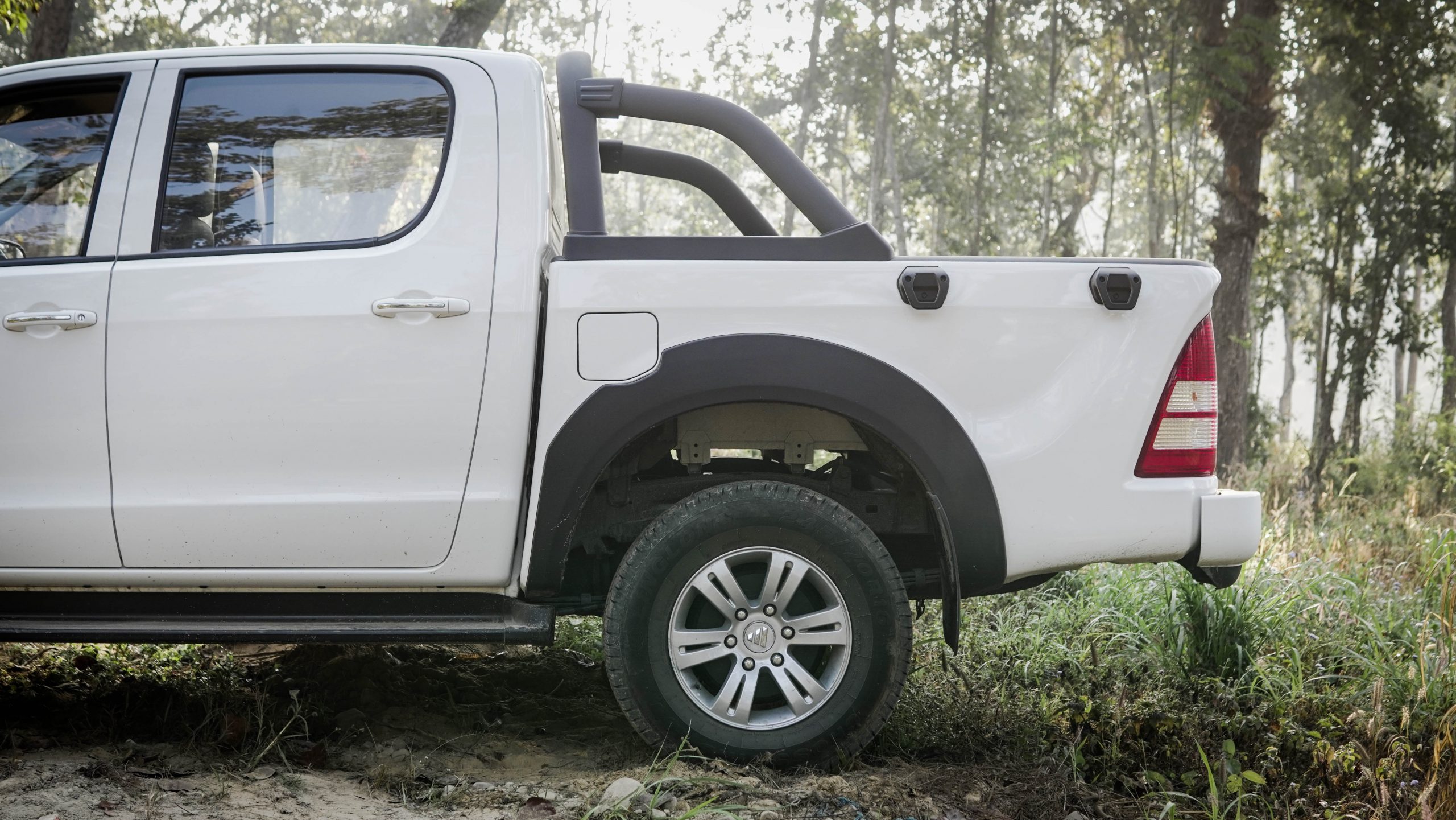 But, that isn't the standout part about this truck, the styling is.
I think we have already talked about the styling in detail. However, I believe that Foton should get a round of applause for putting such a good-looking truck for the price.
Compared to other four-wheelers out on the street, Foton Tunland E stands out the most with its superior road presence!
Battle With The Competition
Talking about the competition, Foton Tunland E competes against the likes of Mahindra Pickup S10 Double Cab and ISUZU Hi-Lander 4×4.
These are all affordable pickup trucks, trying their best to offer more for less.
In terms of styling, Foton Tunland E holds the most aggressive and muscular design. Moreover, it feels more modern with its projector headlamps and fancy side-indicators.
While the Mahindra Pickup prominently comes with a projector setup, it ends up looking like a modified Scorpio.
On the other hand, ISUZU Hi-Lander 4×4 tries to mimic a muscular stance, but simply fails due to its traditional halogen headlamps.
However, things are quite different on the inside.
Foton Tunland E comes with an average looking interior, which is modifiable to some extent. Nonetheless, it loses out against the competition which features good quality materials.
It should be noted that the looks are subjective.
So, you might feel differently than I did.
Shortcomings
We tested out the new Foton Tunland E for almost a week. Based on our tests, we were thoroughly impressed with the kind of offerings Foton Tunland provides.
If you are planning to test drive it in the future, there are two things you must carefully consider.
Firstly, the interior is just an average quality for the price. Foton Motors should focus on improving the quality of future products.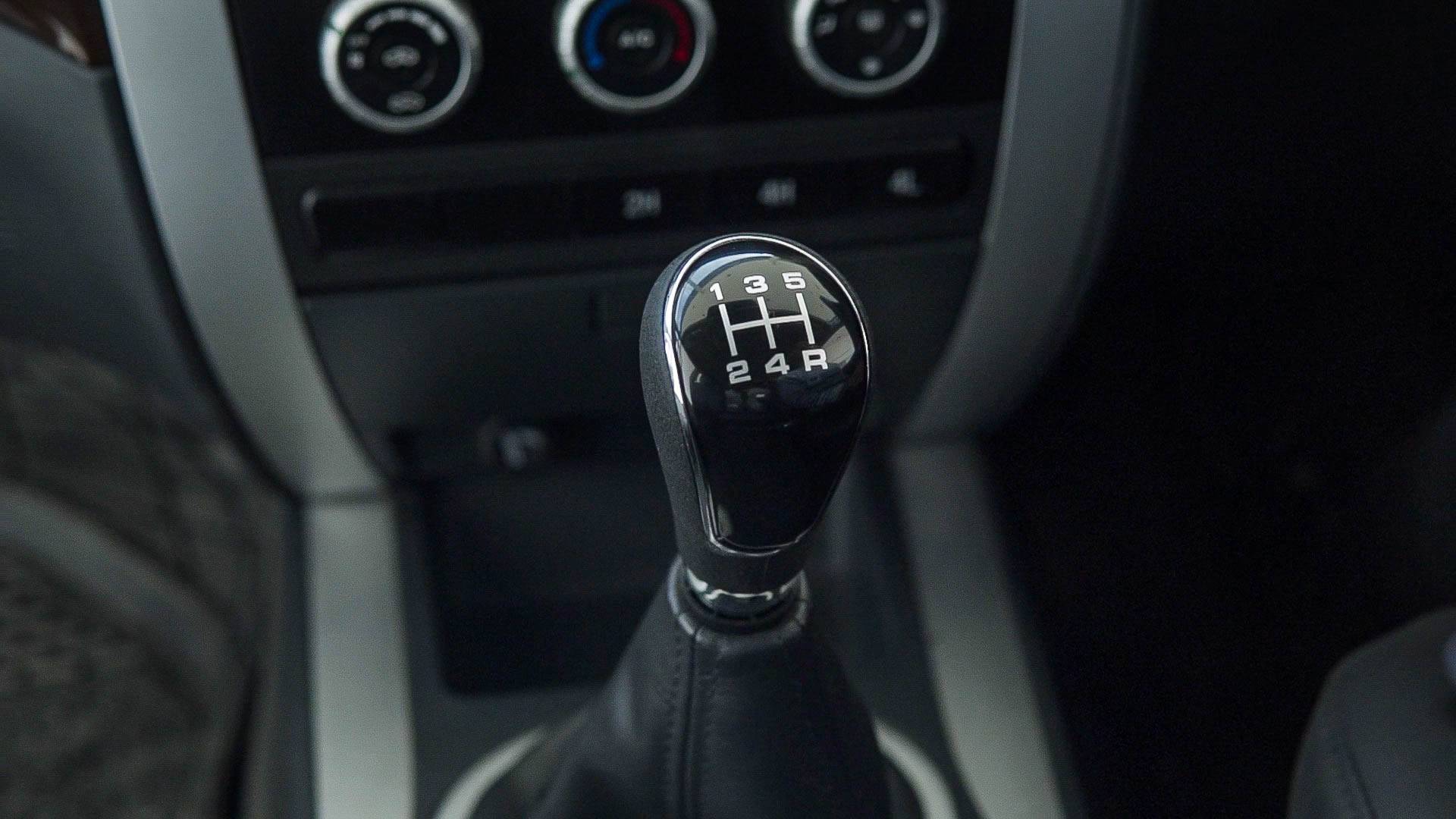 Secondly, the 5-speed transmission is stiff which makes gear changes in traffic conditions harder than it needs to be.
It didn't affect our experience with the trucks, but it should be considered regardless.
Conclusion
Foton Tunland E managed to surprise us big time, surpassing our level of expectations in style, quality, and performance.
The look and feel of the truck emulate its rivals like the Toyota Hilux and ISUZU D-Max V-Cross.
It is one of the more stylish offerings at this price point, putting behind rivals like Mahindra Pickup and ISUZU Hi-Lander.
Tunland E has both good and bad aspects. However, it goes an extra length to mitigate those bad aspects with additional good and practical features.
In short, the new Foton Tunland E is perfectly balanced!